Research article
Open Access
Prediction of cyclin-dependent kinase 2 inhibitor potency using the fragment molecular orbital method
Journal of Cheminformatics
2011
3:2
Received: 2 November 2010
Accepted: 10 January 2011
Published: 10 January 2011
Abstract
Background
The reliable and robust estimation of ligand binding affinity continues to be a challenge in drug design. Many current methods rely on molecular mechanics (MM) calculations which do not fully explain complex molecular interactions. Full quantum mechanical (QM) computation of the electronic state of protein-ligand complexes has recently become possible by the latest advances in the development of linear-scaling QM methods such as the ab initio fragment molecular orbital (FMO) method. This approximate molecular orbital method is sufficiently fast that it can be incorporated into the development cycle during structure-based drug design for the reliable estimation of ligand binding affinity. Additionally, the FMO method can be combined with approximations for entropy and solvation to make it applicable for binding affinity prediction for a broad range of target and chemotypes.
Results
We applied this method to examine the binding affinity for a series of published cyclin-dependent kinase 2 (CDK2) inhibitors. We calculated the binding affinity for 28 CDK2 inhibitors using the ab initio FMO method based on a number of X-ray crystal structures. The sum of the pair interaction energies (PIE) was calculated and used to explain the gas-phase enthalpic contribution to binding. The correlation of the ligand potencies to the protein-ligand interaction energies gained from FMO was examined and was seen to give a good correlation which outperformed three MM force field based scoring functions used to appoximate the free energy of binding. Although the FMO calculation allows for the enthalpic component of binding interactions to be understood at the quantum level, as it is an in vacuo single point calculation, the entropic component and solvation terms are neglected. For this reason a more accurate and predictive estimate for binding free energy was desired. Therefore, additional terms used to describe the protein-ligand interactions were then calculated to improve the correlation of the FMO derived values to experimental free energies of binding. These terms were used to account for the polar and non-polar solvation of the molecule estimated by the Poisson-Boltzmann equation and the solvent accessible surface area (SASA), respectively, as well as a correction term for ligand entropy. A quantitative structure-activity relationship (QSAR) model obtained by Partial Least Squares projection to latent structures (PLS) analysis of the ligand potencies and the calculated terms showed a strong correlation (r2 = 0.939, q2 = 0.896) for the 14 molecule test set which had a Pearson rank order correlation of 0.97. A training set of a further 14 molecules was well predicted (r2 = 0.842), and could be used to obtain meaningful estimations of the binding free energy.
Conclusions
Our results show that binding energies calculated with the FMO method correlate well with published data. Analysis of the terms used to derive the FMO energies adds greater understanding to the binding interactions than can be gained by MM methods. Combining this information with additional terms and creating a scaled model to describe the data results in more accurate predictions of ligand potencies than the absolute values obtained by FMO alone.
Keywords
Solvation Free EnergyQuantum Mechanical MethodEnthalpic ContributionFragment Molecular OrbitalExperimental Binding Affinity
Background
A major goal in computational structure-based drug design and virtual screening protocols is to accurately predict the free energy of ligand binding to a receptor in a timescale that is amenable to drug discovery [1]. This is attractive for reducing costs in the discovery process by replacing wet-lab experiments with computer simulation, accelerating the discovery process and assisting in lead optimisation [2]. A popular procedure to identify possible lead compounds is to run a virtual screening campaign by docking a large number of diverse compounds to a receptor binding site [3]. A score is then given to the docked pose based on a potential function which relates the spatial orientation of a ligand in a binding site to the free energy of binding. The scoring functions are generally used in a qualitative manner to rank ligand binding poses and in doing so estimate the free energy of binding. Docking programmes are generally recognised for making reasonably successful predictions of binding modes, however, the scoring functions used to predict the binding affinity are less reliable [4–6]. There must be a balance between the attempted accuracy of the scoring function and the computational time required to perform that calculation. A compromise for improved accuracy at greater computational expense can result in overly complicated and slower functions illsuited for the turn-around times required within a medicinal chemistry program. Methods to develop a physically satisfying model to estimate the free energy of ligand binding to a receptor accurately enough to be predictive and useful, in a reasonable amount of time, has proven challenging [7, 8].
The most rigorous theoretical methods that have been developed to estimate the free energy of binding from a thermodynamic standpoint are based on free-energy perturbation (FEP), thermodynamic integration (TI) and similar methodologies [9]. These methods are still limited by their use of MM force fields, and are further limited by high computational expense and are best suited to examining relative binding affinities of a small number of similar ligands. A number of approximate methods based on structural sampling, have been developed, to find appropriate stable structures and to cover enough conformational space for entropy estimations to be possible. These methods include linear-response approximation (LRA), the semi-macroscopic version of the protein-dipole Langevin-dipole approach (PDLD/S-LRA), the linear interaction energy (LIE) and molecular mechanics Poisson-Boltzmann surface area (MM-PBSA) approaches [10–15]. Also, there has been some validation for the use of a single molecular conformation, where the estimation of binding affinities is based on either physical or statistical measures [8, 16, 17].
The physical methods mentioned are based on calculations with a MM force field, enabling fast energy determination through the utilisation of extensive phase space sampling [18, 19]. Additionally, the system can be parameterised to account for solvation effects. However, the accuracy of the underlying force field underpins any estimation of binding free energies [20]. Conventional force fields are limited in that electronic effects are not accounted for adequately. It is becoming increasingly apparent that there are numerous kinds of non-classical intermolecular forces, such as cation-π [21, 22], dipole-π [23], halogen-π [24], carbonyl n-π* [25], and so-called "non-conventional hydrogen bonds", are playing an important role in inter- and intra-molecular interactions. Implementation of QM chemical calculations can significantly improve the accuracy of conventional force fields by accounting for charge transfer, polarisation effects, dispersion and other bonding interactions with greater rigor [26–28]. QM chemical calculations explicitly describe these non-classical interactions whereas they are not accounted for by MM force fields. Such QM methods are typically based on either semi-empirical calculations [29] or ab initio methods using fractional approaches, e.g., the fragment molecular orbital (FMO) method or the molecular fractionation with conjugate caps (MFCC) and related methods [30, 31]. The QM/MM method is another method that attempts to overcome the system size and sampling limitations of QM methods. In QM/MM simulations, a region that requires accurate analysis is studied quantum-mechanically, and other regions are studied by classical force field calculations.
Binding interaction energies can be studied in a new light using QM methods. The charge transfer and polarisation effects are particularly important when studying hydrogen bonding [32]. Many force fields treat hydrogen bond effects through their van der Waals (vdW) and fixed electrostatic contributions, however, hydrogen bonding interactions are complex. Hydrogen bonds are highly directional. There are however varying amounts of charge transfer and polarisation energy components that contribute to hydrogen bonding [33–35]. QM methods account for dispersion forces more adequately than MM force fields because the electronic correlation effects are taken into account appropriately [36]. Only one of these previous studies has been performed at a level (MP2/6-311(+)G(2 d.p)) for which there is hope that dispersion and polarisation effects are treated in a balanced and satisfactory way [37].
QM methods have begun to demonstrate their usefulness as scoring functions for calculating ligand binding free energies. Semi-empirical methods have been used to build PLS models to describe protein-ligand interactions [38, 39], and as computer power has increased ab initio QM methods have also been used [30, 40, 41]. Historically QM methods were primarily limited to smaller systems because of the computational expense, but these methods are now tenable for larger systems because of the advent of fractional QM methods. However, in order to provide reliable ligand-binding energies, additional terms accounting for solvent effects, entropy, and sampling need to be considered. Only recently has an estimate of ligand-binding energies with realistic QM methods, which considered these factors, been published [42].
The FMO method is an attractive method for dealing with large biomolecular systems quantum mechanically. In the FMO method, a large molecular system is divided into smaller fragments, and the conventional molecular orbital calculations are performed for each fragment and fragment pair. This QM method is gaining attention as an accurate and fast method to correlate binding affinity to calculated values [
43
–
46
]. We compare our results to MM-based scoring functions and show the importance of high level QM methods to obtain reasonable binding energy predictions. Using only the FMO method resulted in values for the gas phase binding interactions, however protein-ligand interactions are more complex than this, as illustrated in the thermodynamic cycle shown in Figure
1
. An alternative approach was then taken to account for all aspects of the binding phenomenon at various levels of approximation. In an effort to account for solvation and entropic binding events further terms were included, together with the enthalpic contribution of ligand binding calculated from the FMO method, to form a scoring function. The electrostatic interactions between the ligand and the protein and between the solvent and the protein-ligand complex are determined by solving the Poisson-Boltzmann equation. An entropic term was derived from the number of rotatable bonds present in the ligand. These terms were then used to build a PLS model as a scoring function to estimate the free energy of binding. The results show that consideration of other contributing terms pertaining to the thermodynamic cycle greatly enhances the predictability of free energy binding models. This was validated using a series of CDK2 inhibitors.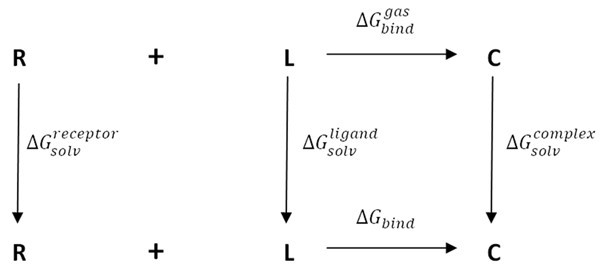 Computational and Experimental Details
Conclusions
The results show that a single point QM calculation using the FMO method gives a good correlation to experimentally determined free energies of ligand binding calculated from ligand potencies. The FMO method outperformed 3 other methods used to estimate the free energy of binding by MM-based methods. We conclude that the additional terms which treat charge transfer, polarisation and dispersion effects during ligand binding in this QM method significantly improves the estimation of ligand potency compared to MM-based procedures. Methods were then introduced to further improve upon the initial estimates. This paper presents the first attempt to calculate ligand-binding free energies using a combination of high-level ab inito FMO methods together with PBSA techniques to derive reasonable estimations of enthalpy, entropy and solvation energies. We used a PLS QSAR model to correlate the 4 components of our scoring function to build a model which was very robust and highly predictive. The data set was composed of ligands from a lead development program that resulted in a clinical candidate against CDK2, thus testing the QSAR model against a range of ligand potencies. The need to run a PLS model stems from the poor absolute prediction of free binding energies and therefore the need to adjust the data. This QM-based scoring function represents a new protocol to estimate ligand potencies in a congeneric series of compounds whereby single point changes can be performed on a known X-ray crystal structure to guide medicinal chemistry.
Declarations
Acknowledgements
The authors acknowledge Dmitri Fedorov for his support in implementing the FMO method.
Authors' Affiliations
(1)
Evotec (UK) limited, Abingdon, UK
Copyright
© Mazanetz et al; licensee Chemistry Central Ltd. 2011
This article is published under license to BioMed Central Ltd. This is an Open Access article distributed under the terms of the Creative Commons Attribution License (http://creativecommons.org/licenses/by/2.0), which permits unrestricted use, distribution, and reproduction in any medium, provided the original work is properly cited.