Chemical Entity Semantic Specification: Knowledge representation for efficient semantic cheminformatics and facile data integration
Journal of Cheminformatics
2011
3:20
Received: 20 December 2010
Accepted: 19 May 2011
Published: 19 May 2011
Abstract
Background
Over the past several centuries, chemistry has permeated virtually every facet of human lifestyle, enriching fields as diverse as medicine, agriculture, manufacturing, warfare, and electronics, among numerous others. Unfortunately, application-specific, incompatible chemical information formats and representation strategies have emerged as a result of such diverse adoption of chemistry. Although a number of efforts have been dedicated to unifying the computational representation of chemical information, disparities between the various chemical databases still persist and stand in the way of cross-domain, interdisciplinary investigations. Through a common syntax and formal semantics, Semantic Web technology offers the ability to accurately represent, integrate, reason about and query across diverse chemical information.
Results
Here we specify and implement the Chemical Entity Semantic Specification (CHESS) for the representation of polyatomic chemical entities, their substructures, bonds, atoms, and reactions using Semantic Web technologies. CHESS provides means to capture aspects of their corresponding chemical descriptors, connectivity, functional composition, and geometric structure while specifying mechanisms for data provenance. We demonstrate that using our readily extensible specification, it is possible to efficiently integrate multiple disparate chemical data sources, while retaining appropriate correspondence of chemical descriptors, with very little additional effort. We demonstrate the impact of some of our representational decisions on the performance of chemically-aware knowledgebase searching and rudimentary reaction candidate selection. Finally, we provide access to the tools necessary to carry out chemical entity encoding in CHESS, along with a sample knowledgebase.
Conclusions
By harnessing the power of Semantic Web technologies with CHESS, it is possible to provide a means of facile cross-domain chemical knowledge integration with full preservation of data correspondence and provenance. Our representation builds on existing cheminformatics technologies and, by the virtue of RDF specification, remains flexible and amenable to application- and domain-specific annotations without compromising chemical data integration. We conclude that the adoption of a consistent and semantically-enabled chemical specification is imperative for surviving the coming chemical data deluge and supporting systems science research.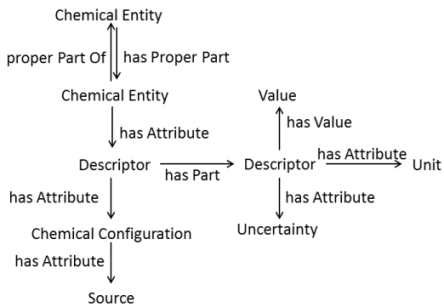 Keywords
Resource Description FrameworkChemical EntityChemical InformationProper PartSPARQL Query
Background
The importance of cataloguing and adequately representing chemical information has been realized fairly early in the development of chemistry and related sciences. From the dawn of the era of organic synthesis, thousands of chemical entities, reactions, and experimental outcomes were catalogued and stored in a human-readable form, some dating to as early as the eighteenth century when the understanding of molecular reactivity and chemical structure was nowhere near its current level (preserved in e.g. [1]). During the relatively long history of the development of chemical information archiving technologies, a large number of persistent redundancies and factors complicating chemical knowledge federation have been introduced. It may be argued, however, that these problems may be reduced to three major categories, some of which have been only recently partially addressed: i) a lack of a consensus canonical identifiers of all chemical entities, including reactions and macromolecules, as well as and their constituents, ii) absence of a single common flexible representation to satisfy the needs of most sub-disciplines of chemistry, and iii) a lack of a consensus chemical database structure or schema. We argue that the bulk of present-day complications in integrating chemical information can be traced to these three problems and that until an information representation that addresses these issues is introduced, truly integrative chemical research shall be a complicated and costly endeavour.
Conclusions
Unfortunately, many of the large chemical databases currently do not possess the means of chemical data integration and federation. Either for historical reasons or for efficiency improvement, a large number of these databases have been purpose-built for capturing data within a particular domain, and without much consideration of trans-domain knowledge aggregation. This further complicates the task of database integration and poses as an obstacle to productive chemical research. Fortunately however, the Semantic Web provides an excellent opportunity for significantly simplifying this problem with the appropriate data representation and sufficiently advanced data conversion tools.
In this work, our principal goal has been to present a novel chemical representation formalism that draws on the Semantic Web principles. We have attempted to make a compelling case for a universal semantic specification of chemical entities in cheminformatics by demonstrating the power, integrative capacity, and the flexibility of representation afforded by fully embracing Semantic Web technologies. By adopting consistent and canonical identifiers for every aspect of chemical entities identified here, we have demonstrated facile cross-domain chemical knowledge integration while preserving correct data correspondence and explicit data provenance information. Furthermore, we have demonstrated the power of CHESS in enabling integrative chemical research that draws on the entirety of chemical information available on the Web. While we do not believe that any specification can natively address outright errors in databases, CHESS representations allow us to explicitly and formally define the meaning of our data and enable machines agents to automatically reason over this data, checking it for consistency and completeness. This, in turn, enables a more accurate scientific discourse and a more reproducible and transparent way of doing science.
We have also demonstrated mechanisms by which chemical configuration-specific information may be encoded without loss of inter-configuration information aggregation and without introducing intra-configuration information mixing that is sometimes an unfortunate occurrence in traditional databases. For example, atomic coordinate information and heat of formation data may exist for multiple conformers of a single molecule, with every conformer annotated with the appropriate data. In principle, this chemical configuration concept allows one to aggregate information about the various electronic states of a given molecule when CHESS will be extended to include the explicit specification of electrons and related concepts. While CHESS does not aim to make statements with respect to the preferred chemical configuration of a given compound under a given set of conditions, CHESS allows the unambiguous and explicit identification of precise chemical configurations for the purpose of advancing and facilitating interdisciplinary scientific discourse.
We believe that outsourcing of chemical information integration to machine agents is of increasing importance as the rapidly growing collection of diverse chemical information already available on the web is overwhelming human integrative capacity. If no steps are taken to create, standardize, and adopt a set of consistent standard Semantic Web chemical information exchange ontologies and representation formalisms soon, we are risking missing yet another opportunity to truly federate the chemical web and trigger a transition to a new era of chemical research. Therefore, with this work, we would like to invite the broader cheminformatics community to initiate the discussion of representations, standards, and supporting ontologies. Truly, the infinite chemical space is full of mysteries, marvels, and opportunities - and we believe that it is only through the concerted and unified efforts of researchers in all fields of science, enabled by Semantic Web technologies, that we may hope to one day chart it.
Methods
Supporting Ontologies
CHEMINF is a collaboratively developed Web Ontology Language (OWL) [37] ontology for representing chemical information and descriptors, freely available to the broad cheminformatics community. Semanticscience Integrated Ontology (SIO) is an general ontology that provides over a 150 object relations and over 900 classes of various entities, including physical, processual, and informational ones. There is only one data property in the ontology, 'has value', with the other relations describing aspects of mereology, spatial positioning, temporal ordering, qualities, attributes, representations, participation, and agency. In addition to these ontologies, we use the CHEBI ontology for chemical entities and concepts.
Triplification of Chemical Information
The encoding of chemical information into its CHESS form was carried out with software we developed (sample source code available on the companion website [23]), based on the Jena API [38] and the Chemistry Development Kit [39]. A sample dataset of 90 antidepressants was obtained from a mesh-based keyword search on 'antidepressant' over the PubChem database. Chemical descriptors were computed using CDK and the Open Babel Java API [40]. Unique identifiers were obtained by hashing pertinent chemical data as a 40-letter SHA-1 hash using the Java Security API.
Query Testing
In order to test our chemical similarity queries, we used OpenLink Virtuoso version 6.01.3126 SPARQL endpoint [41]. To test DL Rule-based queries, we used the Pellet reasoner version 2.2 [42], running on a single CPU core. The machine used for these tests had dual Intel Xeon CPU at 2.9GHz, with 32GB of RAM.
Declarations
Acknowledgements
This research was funded in part by National Science and Engineering Research Council of Canada CGS award for LLC and Discovery Grant funding to MD.
Authors' Affiliations
(1)
Department of Biology, Carleton University, Ottawa, Canada
(2)
Institute of Biochemistry, Carleton University, Ottawa, Canada
(3)
School of Computer Science, Carleton University, Ottawa, Canada
Copyright
© Chepelev and Dumontier; licensee Chemistry Central Ltd. 2011
This article is published under license to BioMed Central Ltd. This is an Open Access article distributed under the terms of the Creative Commons Attribution License (http://creativecommons.org/licenses/by/2.0), which permits unrestricted use, distribution, and reproduction in any medium, provided the original work is properly cited.