Research article

Open Access
Open Data, Open Source and Open Standards in chemistry: The Blue Obelisk five years on
Journal of Cheminformatics
2011
3:37
Received: 1 July 2011
Accepted: 14 October 2011
Published: 14 October 2011
Abstract
Background
The Blue Obelisk movement was established in 2005 as a response to the lack of Open Data, Open Standards and Open Source (ODOSOS) in chemistry. It aims to make it easier to carry out chemistry research by promoting interoperability between chemistry software, encouraging cooperation between Open Source developers, and developing community resources and Open Standards.
Results
This contribution looks back on the work carried out by the Blue Obelisk in the past 5 years and surveys progress and remaining challenges in the areas of Open Data, Open Standards, and Open Source in chemistry.
Conclusions
We show that the Blue Obelisk has been very successful in bringing together researchers and developers with common interests in ODOSOS, leading to development of many useful resources freely available to the chemistry community.

Keywords
Open Source
Open Data
Resource Description Framework
Java Virtual Machine
Chemical Markup Language
Background
The Blue Obelisk movement was established in 2005 at the 229th National Meeting of the American Chemistry Society as a response to the lack of Open Data, Open Standards and Open Source (ODOSOS) in chemistry. While other scientific disciplines such as physics, biology and astronomy (to name a few) were embracing new ways of doing science and reaping the benefits of community efforts, there was little if any innovation in the field of chemistry and scientific progress was actively hampered by the lack of access to data and tools. Since 2005 it has become evident that a good amount of development in open chemical information is driven by the demands of neighbouring scientific fields. In many areas in biology, for example, the importance of small molecules and their interactions and reactions in biological systems has been realised. In fact, one of the first free and open databases and ontologies of small molecules was created as a resource about chemical structure and nomenclature by biologists [1].
The formation of the Blue Obelisk group is somewhat unusual in that it is not a funded network, nor does it follow the industry consortium model. Rather it is a grassroots organisation, catalysed by an initial core of interested scientists, but with membership open to all who share one or more of the goals of the group:
• Open Data in Chemistry. One can obtain all scientific data in the public domain when wanted and reuse it for whatever purpose.
• Open Standards in Chemistry. One can find visible community mechanisms for protocols and communicating information. The mechanisms for creating and maintaining these standards cover a wide spectrum of human organisations, including various degrees of consent.
• Open Source in Chemistry. One can use other people's code without further permission, including changing it for one's own use and distributing it again.
Note that while some may advocate also for Open Access to publications, the Blue Obelisk goals (ODOSOS) focus more on the availability of the underlying scientific data, standards (to exchange data), and code (to reproduce results). All three of these goals stem from the fundamental tenants of the scientific method for data sharing and reproducibility.
The Blue Obelisk was first described in the CDK News [2] and later as a formal paper by Guha et al. [3] in 2006. Its home on the web is at http://blueobelisk.org. This contribution looks back on the work carried out by the Blue Obelisk over the past 5 years in the areas of Open Data, Open Source, and Open Standards in chemistry.
Scope
The Blue Obelisk covers many areas of chemistry and chemical resources used by neighbouring disciplines (e.g. biochemistry, materials science). Many of the efforts relate to cheminformatics (the scope of this journal) and we believe that many of the publications in Journal of Cheminformatics could be completely carried out using Blue Obelisk resources and other Open Source chemical tools. The importance of this is that for the first time it would allow reviewers, editors and readers to validate assertions in the journal and also to re-run and re-analyse parts of the calculation.
However, Blue Obelisk software and data is also used outside cheminformatics and certainly in the five main areas that, for example, Chemical Markup Language (CML) [
4
] supports:
1.

Molecules: This is probably the largest area for Blue Obelisk software and data, and is reflected by many programs that visualise, transform, convert formats and calculate properties. It is almost certain that any file format currently in use can be processed by Blue Obelisk software and that properties can be calculated for most (organic compounds).

2.

Reactions: Blue Obelisk software can describe the semantics of reactions and provide atom-atom matching and analyse stoichiometric balance in reactions.

3.

Computational chemistry: Blue Obelisk software can interpret many of the current output files from calculations and create input for jobs. The Quixote project (see below and elsewhere in this issue) shows that Open Source approaches based on Blue Obelisk resources and principles are increasing the availability and re-usability of computational chemistry.

4.

Spectra: 1-D spectra (NMR, IR, UV etc.) are fully supported in Blue Obelisk offerings for conversion and display. There is a limited amount of spectral analysis but the software gives a platform on which it should be straightforward to develop spectral annotation and manipulation. However, currently the Blue Obelisk lacks support for multi-dimensional NMR and multi-equipment spectra (e.g. GC-MS).

5.

Crystallography: The Blue Obelisk software supports the bi-directional processing of crystal structure files (CIF) and also solid-state calculations such as plane-waves with periodic boundary conditions. There is considerable support for the visualisation of both periodic and aperiodic condensed objects.
Many of the current operations in installing and running chemical computations and using the data are integration and customisation rather than fundamental algorithms. It is very difficult to create universal platforms that can be distributed and run by a wide range of different users, and in general, the Blue Obelisk deliberately does not address these. Our approach is to produce components that can be embedded in many environments, from stand-alone applications to web applications, databases and workflows. We believe that a chemical laboratory with reasonable access to common software engineering techniques should be able to build customised applications using Blue Obelisk components and standard infrastructure such as workflows and databases. Where the Blue Obelisk itself produces data resources they are normally done with Open components so that the community can, if necessary, replicate them.
Much of the impetus behind Blue Obelisk software is to create an environment for chemical computation (including cheminformatics) where all of the components, data, specifications, semantics, ontology and software are Openly visible and discussable. The largest current uses by the general chemical community are in authoring, visualisation and cheminformatics calculations but we anticipate that this will shortly extend into mainstream computational chemistry and solid-state. Although many of the authors are employed as research scientists, there are also several people who contribute in their spare time and we anticipate an increasing value and use of the Blue Obelisk in education at all levels.
Open Source
The development of Open Source software has been one of the most successful of the Blue Obelisk's activities. The following sections describe recent work in this area, and Table
1
provides an overview of the projects discussed and where to find them online.
Table 1
Blue Obelisk Open Source Software projects discussed in the text
Name

Website

CML Tools

CMLXOM

JUMBO

Cheminformatics Toolkits

Chemistry Development Kit (CDK)

Cinfony

Indigo

JOELib

Open Babel

RDKit

Web Applications

ChemDoodle Web Components

Jmol

Integration

Bioclipse

CDK-Taverna

Lensfield2

Interconversion

CIFXOM [95]

JUMBO-Converters

OPSIN

OSRA

Structure Databases

Bingo

Chempound (Chem#)

Mychem

OrChem

pgchem

Text mining

ChemicalTagger [96]

OSCAR4

Computational Chemistry

Avogadro

cclib

GaussSum

QMForge

Computational Drug Design

Confab [97]

Pharao

Piramid

Sieve

Stripper

Other Applications

AMBIT2

Brunn

Toxtree

XtalOpt
Open Data
A considerable stumbling block in advocating the release of scientific data as Open Data has been how exactly to define "Open." A major step forward was the launch in 2010 of the Panton Principles for Open Data in Science [66]. This formalises the idea that Open Data maximises the possibility of reuse and repurposing, the fundamental basis of how science works. These principles recommend that published data be licensed explicitly, and preferably under CC0 (Creative Commons 'No Rights Reserved', also known as CCZero) [67]. This license allows others to use the data for any purpose whatsoever without any barriers. Other licenses compatible with the Panton Principles include the Open Data Commons Public Domain Dedication and Licence (PDDL), the Open Data Commons Attribution License, and the Open Data Commons Open Database License (ODbL) [68].
Despite this positive news, little chemical data compatible with these principles has become available from the traditional chemistry fields of organic, inorganic, and solid state chemistry. Table 2 lists a few notable exceptions, some of which are discussed further below. There is also data available using licenses not compatible with the Panton Principles, but where the user is allowed to modify and redistribute the data. A new data set in this category is the data from the ChEMBL database [69], which is available under the Creative Commons Share-Alike Attribution license. The RSC ChemSpider database [41], although not fully Open, also hosts Open Data; for example, spectral data when deposited can be marked as Open.
Importantly, publishing data as CC0 is becoming easier now that websites are becoming available to simplify publishing data. Two projects that can be mentioned in this context are FigShare [
70
], where the data behind unpublished figures can be hosted, and Dryad [
71
] where data behind publications can be hosted. Initiatives like this make it possible to host small amounts of data, and those combined are expected to become soon a substantial knowledge base.
Table 2
Open Data in chemistry.
| Name | License/Waiver | Description |
| --- | --- | --- |
| Chempedia [98] | CC0 | Crowd-sourced chemical names (project discontinued but data still available) |
| CrystalEye | PPDL | Crystal structures from primary literature |
| ONS Solubility | CC0 | Solubility data for various solvents |
| Reaction Attempts | CC0 | Data on successful and unsuccessful reactions |
Other areas of activity
While each Blue Obelisk project has its own website and point of contact (typically a mailing list), because of the breadth of Blue Obelisk projects it can be difficult for a newcomer to understand which of them, if any, can best address a particular problem. To address this issue, members of the Blue Obelisk established a Question & Answer website [
88
] (see Figure
5
). This is a website in the style of Stack Overflow [
89
] that encourages high quality answers (and questions) through the use of a voting system. In the year since it was established, over 200 users have registered, many of whom had no previous involvement with the Blue Obelisk, showing that the Q&A website complements earlier existing channels of communication.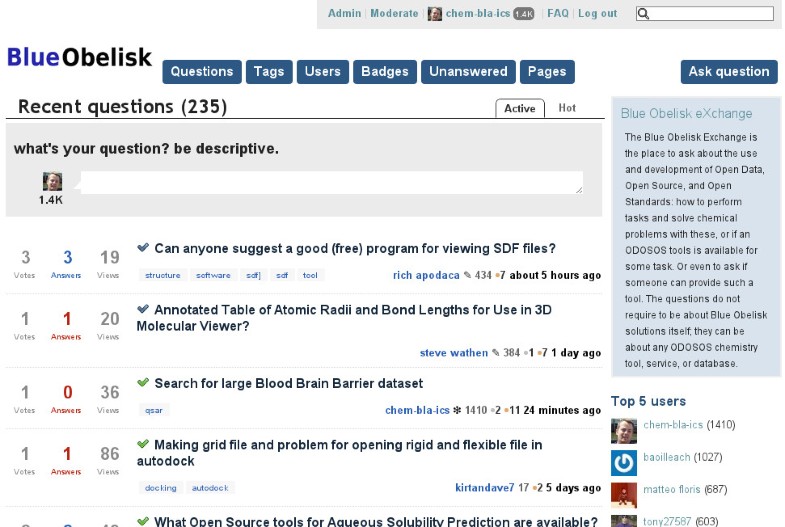 The rise of self-publishing and print-on-demand services has meant that publishing a book is now as straightforward as uploading to an appropriate website. Unlike the traditional publishing route where books with projected low sales volume would be expensive, websites such as Lulu [90] allow the sale of low-priced books on chemistry software, and books are now available for purchase on Jmol [91], the Chemistry Development Kit [92] and Open Babel [93].
Conclusions
We have shown that the Blue Obelisk has been very successful in bringing together researchers and developers with common interests in ODOSOS, leading to development of many useful resources freely available to the chemistry community. However, how best to engage with the wider chemistry community outside of the Blue Obelisk remains an open question. If the Blue Obelisk is truly to make an impact, then an attempt must be made to reach beyond the subscribers to the Blue Obelisk mailing list and blogs of members.
We hope to see this involvement between the Blue Obelisk and the wider community grow in the future. To this end, we encourage the reader to visit the Blue Obelisk website [94], send a message to our mailing list, investigate related projects or read our blogs.
Declarations
Acknowledgements
NMOB is supported by a Health Research Board Career Development Fellowship (PD/2009/13). The OSRA project has been funded in whole or in part with federal funds from the National Cancer Institute, National Institutes of Health, under contract HHSN261200800001E. The content of this publication does not necessarily reflect the views of the policies of the Department of Health and Human Services, nor does mention of trade names, commercial products, or organisations imply endorsement by the US Government.
Authors' Affiliations
(1)
Analytical and Biological Chemistry Research Facility, University College Cork, Cork, Ireland
(2)
NIH Center for Translational Therapeutics, Rockville, USA
(3)
Division of Molecular Toxicology, Institute of Environmental Medicine, Stockholm, Sweden
(4)
Unilever Centre for Molecular Sciences Informatics, Department of Chemistry, University of Cambridge, UK
(5)
Department of Pharmaceutical Biosciences, Uppsala University, Uppsala, Sweden
(6)
Department of Chemistry, Drexel University, Philadelphia, USA
(7)
Chemical Biology Laboratory, Basic Research Program, SAIC-Frederick, Inc., NCI-Frederick, Frederick, USA
(8)
St. Olaf College, Northfield, USA
(9)
Kitware, Inc., Clifton Park, USA
(10)
Department of Chemistry, University of Pittsburgh, Pittsburgh, USA
(11)
eMolecules Inc., Solana Beach, USA
(12)
Ideaconsult Ltd., Sofia, Bulgaria
(13)
Department of Engineering, Computer Science, Physics, and Mathematics, Oral Roberts University, Tulsa, USA
(14)
Leiden Institute of Chemistry, Leiden University, Leiden, The Netherlands
(15)
Department of Chemistry, State University of New York at Buffalo, Buffalo, USA
(16)
Université de Strasbourg, IPHC, CNRS, UMR7178, Strasbourg, France
(17)
GGA Software Services LLC, Saint Petersburg, Russia
(18)
Cheminformatics and Metabolism Team, European Bioinformatics Institute (EBI), Hinxton, UK
(19)
Department of Chemistry, University of Washington, Seattle, USA
(20)
iChemLabs, Piscataway, USA
Copyright
© O'Boyle et al; licensee Chemistry Central Ltd. 2011
This article is published under license to BioMed Central Ltd. This is an Open Access article distributed under the terms of the Creative Commons Attribution License (http://creativecommons.org/licenses/by/2.0), which permits unrestricted use, distribution, and reproduction in any medium, provided the original work is properly cited.