Avogadro: an advanced semantic chemical editor, visualization, and analysis platform
Journal of Cheminformatics
2012
4:17
Received: 25 June 2012
Accepted: 31 July 2012
Published: 13 August 2012
Abstract
Background
The Avogadro project has developed an advanced molecule editor and visualizer designed for cross-platform use in computational chemistry, molecular modeling, bioinformatics, materials science, and related areas. It offers flexible, high quality rendering, and a powerful plugin architecture. Typical uses include building molecular structures, formatting input files, and analyzing output of a wide variety of computational chemistry packages. By using the CML file format as its native document type, Avogadro seeks to enhance the semantic accessibility of chemical data types.
Results
The work presented here details the Avogadro library, which is a framework providing a code library and application programming interface (API) with three-dimensional visualization capabilities; and has direct applications to research and education in the fields of chemistry, physics, materials science, and biology. The Avogadro application provides a rich graphical interface using dynamically loaded plugins through the library itself. The application and library can each be extended by implementing a plugin module in C++ or Python to explore different visualization techniques, build/manipulate molecular structures, and interact with other programs. We describe some example extensions, one which uses a genetic algorithm to find stable crystal structures, and one which interfaces with the PackMol program to create packed, solvated structures for molecular dynamics simulations. The 1.0 release series of Avogadro is the main focus of the results discussed here.
Conclusions
Avogadro offers a semantic chemical builder and platform for visualization and analysis. For users, it offers an easy-to-use builder, integrated support for downloading from common databases such as PubChem and the Protein Data Bank, extracting chemical data from a wide variety of formats, including computational chemistry output, and native, semantic support for the CML file format. For developers, it can be easily extended via a powerful plugin mechanism to support new features in organic chemistry, inorganic complexes, drug design, materials, biomolecules, and simulations. Avogadro is freely available under an open-source license from http://avogadro.openmolecules.net.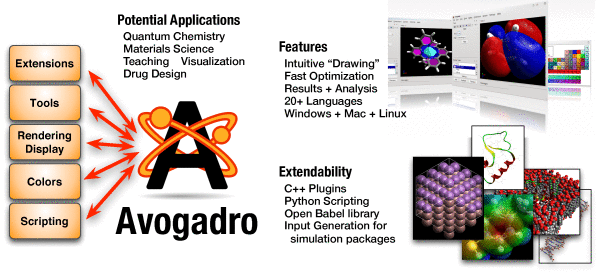 Keywords
Quantum CodeDisplay TypeNavigation ToolChemical Markup LanguageLeft Mouse Button
Background
Many fields such as chemistry, materials science, physics, and biology, need efficient computer programs to both build and visualize molecular structures. The field of molecular graphics is dominated by viewers with little or no editing capabilities, such as RasMol [1], Jmol [2], PyMOL [3], VMD [4], QuteMol [5], BALLView [6], VESTA [7], and XCrySDen [8, 9], among many others. The aforementioned viewers are all freely available, and most of them are available under open-source licenses and work on the most common operating systems (Linux, Apple Mac OS X, Microsoft Windows, and BSD).
The choice of software capable of building chemical structures in three dimensions is far smaller. There are existing commercial packages, such as CAChe/Scigress [10], ChemBio3D [11], GaussView [12], HyperChem [13], CrystalMaker [14], Materials Studio [15], and Spartan [16], which are polished and capable of constructing many different types of molecular structures. They are, however, not available for all operating systems (most of them only run on Microsoft Windows), and are not easily extensible, customized, or integrated into automated workflows. Licensing costs can be prohibitive. If the company were to change its direction or focus, this can lead to a loss of a significant research investment in a commercial product. Furthermore, in most cases, these programs use custom, proprietary file formats, and semantic and chemical data can be lost in conversion to other data formats.
The selection of free, open-source, cross-platform, three-dimensional, molecular builders was quite limited when the Avogadro project was founded in late 2006. Ghemical [17] was one of the only projects satisfying these needs at the time. Two of the authors (Hutchison and Curtis) contributed to Ghemical previously, but had found that it was not easily extensible. This led them to found a new project to address the issues they had observed in Ghemical and other packages. The Molden [18] application was also available, able to build up small molecules and analyze output from several quantum codes. However, it suffers from a restrictive license and it uses an antiquated graphical toolkit, which is not native on most modern operating systems.
Broad goals for the design of a molecular editor were identified following a case study of the available applications. One of the main issues with both commercial and open-source applications is a lack of extensibility; many of the applications also only work on one or two operating systems. The creation of an open and extensible framework that implements many of the necessary foundations for a molecular builder and visualizer would facilitate more effective research in this area. Further, the open, standardized Chemical Markup Language (CML) file format [19, 20] would be used, to secure semantic and chemical data and allow easy interoperability with other chemistry software.
At the time of writing, it is apparent that other researchers have perceived similar needs. Several new applications are available today that focus on both building and visualizing molecular structure. These include CCP1GUI [21], Gabedit [22] and some highly specific editors such as MacMolPlt [23] which focus on particular computational packages (i.e., GAMESS-US for MacMolPlt). Whilst offering many interesting and useful features, these projects suffer from the same issues centering around effective reuse of existing code, well commented and documented code, and easy extension to add new features and adapt for specialized areas.
Implementation
The Avogadro project was started in earnest in 2007, and over the first 5 years of development has been downloaded over 270,000 times [24], been translated into over 20 languages [25], and has over 20 contributors [26]. So far, it has been cited over 100 times [27], including applications in spectroscopy, catalysis, materials chemistry, theoretical chemistry, biochemistry, and molecular dynamics, among many others [28–47].
From the beginning, the project has strived to make a robust, flexible framework for both building and visualizing molecular structures. Much of the initial focus has been placed on preparing input and analyzing output from quantum calculations. Other applications such as preparing input for MD simulations and visualizing periodic structures will also be presented, demonstrating the flexibility of the Avogadro platform. The development team has also been members of the Blue Obelisk movement, following the three pillars outlined by the group: Open Data, Open Standards, and Open Source [48, 49].
Conclusions
Avogadro has grown over its first six years to become an important tool for building, editing, visualizing, and analyzing chemical and molecular data. With over 270,000 downloads, language translations and localizations, and over 100 citations, it has become an integral part of the chemical software toolbox. Through use of the native CML file format and a wide variety of chemical data import, Avogadro can provide semantic chemical data editing and conversion. We seek to provide an integrated environment in the simulation and cheminformatics workflow. While more must be done, particularly in regards to documentation, tutorials, ease-of-use, and automation, we aim to improve the quality and feature set with each new release.
Currently, two upcoming versions of Avogadro are under development. The first is Avogadro version 1.1, which adds additional features and refinement, particularly including crystallography support developed through the XtalOpt project. The second is a more substantial development for Avogadro version 2.0, where many of the core data structures are being rewritten in order to offer greater flexibility and scalability. Our goal is to support an increasing scope of chemical systems, including biomolecules (DNA, RNA, saccarides, etc.), materials (crystallography, polymers, surfaces), nanoscience (nanoparticles, nanotubes, graphene, etc.) with improved speed, intuitive ease-of-use and simpler non-reciprocal licensing terms.
Avogadro is freely available from http://avogadro.openmolecules.net/, and new contributors are welcome in all areas (users, developers, testers, translators, educators, students, researchers, dreamers).
Availability and requirements
Project Name: Avogadro Project home page:http://avogadro.openmolecules.net/Operating system(s): Cross-platform Programming language: C++, bindings to Python Other requirements (if compiling): CMake 2.6+, Open Babel, Qt 4.6+, Eigen 2 License: GNU GPL v2 Any restrictions to use by non-academics: None additional
Declarations
Acknowledgements
We wish to thank the many contributors to the Avogadro project, including developers, testers, translators, and users. We thank SourceForge for providing resources for issue tracking and managing releases, Launchpad for hosting language translations, and Kitware for additional dashboard resources. MDH and GRH thank the University of Pittsburgh for support. DEC would like to thank Jan Halborg Jensen for designing the GAMESS-US interface and supporting Avogadro in its infancy; believing Avogadro could be better than what was available. MDH acknowledges the Engineering Research Development Center (W912HZ-11-P-0019) for financial support. EZ and DL acknowledge the NSF (DMR-1005413) for financial support.
Authors' Affiliations
(1)
Department of Chemistry, University of Pittsburgh, Pittsburgh, USA
(2)
Department of Scientific Computing, Kitware, Inc., Clifton Park, USA
(3)
Department of Computer Science, Coe College, Cedar Rapids, USA
(4)
Department of Chemistry, State University of New York at Buffalo, Buffalo, New York, USA
(5)
Avogadro development team, USA
Copyright
© Hanwell et al.; licensee Chemistry Central Ltd. 2012
This article is published under license to BioMed Central Ltd. This is an Open Access article distributed under the terms of the Creative Commons Attribution License (http://creativecommons.org/licenses/by/2.0), which permits unrestricted use, distribution, and reproduction in any medium, provided the original work is properly cited.