mol2chemfig, a tool for rendering chemical structures from molfile or SMILES format to LATE X code
Journal of Cheminformatics
2012
4:24
Received: 21 August 2012
Accepted: 25 September 2012
Published: 2 October 2012
Abstract
Displaying chemical structures in LATE X documents currently requires either hand-coding of the structures using one of several LATE X packages, or the inclusion of finished graphics files produced with an external drawing program. There is currently no software tool available to render the large number of structures available in molfile or SMILES format to LATE X source code. We here present mol2chemfig, a Python program that provides this capability. Its output is written in the syntax defined by the chemfig TE X package, which allows for the flexible and concise description of chemical structures and reaction mechanisms. The program is freely available both through a web interface and for local installation on the user's computer. The code and accompanying documentation can be found at http://chimpsky.uwaterloo.ca/mol2chemfig.
Keywords
LATE X ChemfigMolfileSMILESMolecular structuresCode generation
Background
While TE X and LATE X provide excellent built-in support for mathematics and physics, the same cannot be said for chemistry. Several TE X and LATE X packages have been devised to address this lack of built-in support and to facilitate the hand-coding of chemical structures. Older examples of this approach are xymtex [
1
] and ppchTeX [
2
]. A recent development is chemfig [
3
], which in turn is built on top of the TiKZ general-purpose graphics package [
4
] (Figure
1
). The syntax implemented by chemfig is remarkably concise and regular, which makes hand-coding of simple organic molecules effortless. The package offers many ways to customize the appearance of the rendered structures. It also facilitates the depiction of chemical reaction mechanisms, and it seems fair to say that chemfig sets a new standard for chemical illustrations in LATE X. Nevertheless, the hand-coding approach remains time-consuming with large molecules. The purpose of the mol2chemfig program described here is to remove this requirement by allowing for the generation of chemfig code from readily available chemical structure file formats.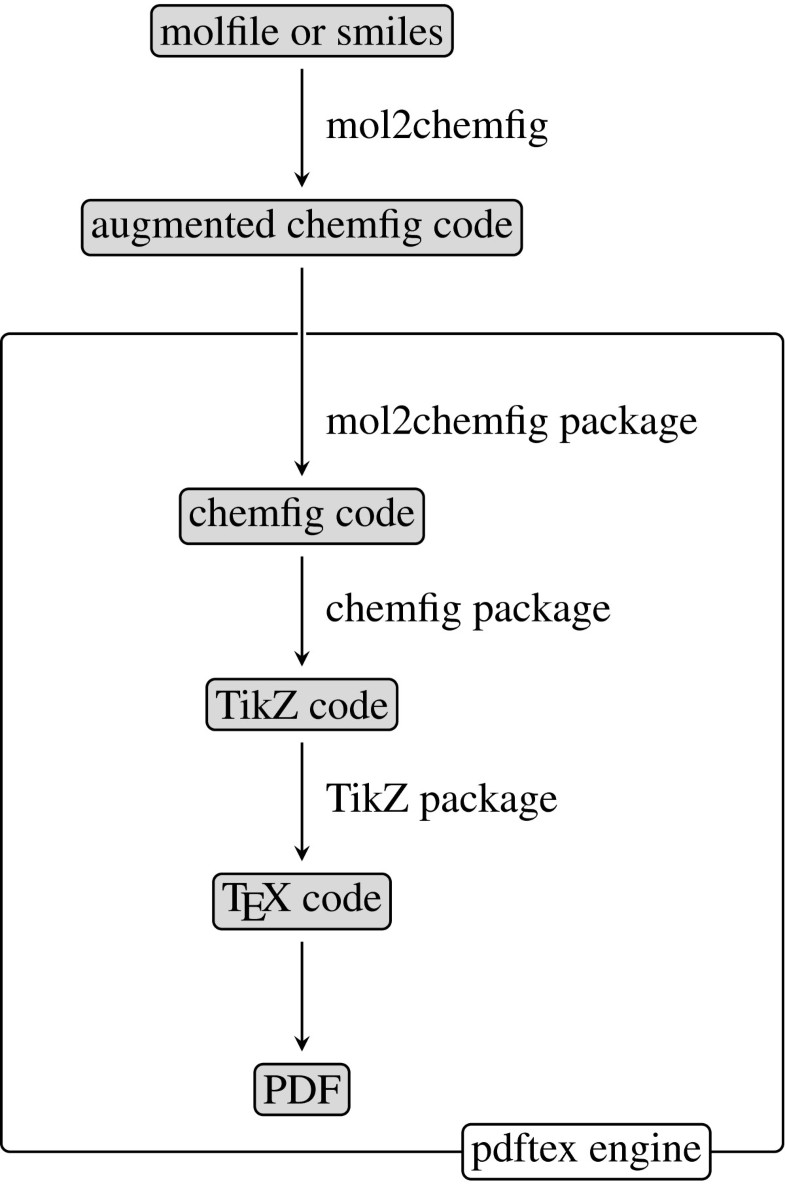 The molfile [5] and the SMILES [6] data formats are widely used to represent molecule structures with or without atomic coordinates, respectively. The entries in the PubChem database [7] are available in both formats. Other chemical data formats can be converted to molfile or SMILES using converters such as openbabel [8], and most interactive chemical drawing programs can export these formats as well. We therefore chose molfile and SMILES as input formats for mol2chemfig.
Implementation
mol2chemfig is written in Python version 2 [9]. It was tested only on Python 2.7 but uses no particular features of that version, and should therefore run on any recent Python 2.x installation. In addition to various modules from the standard library, it uses the indigo cheminformatics library and its accompanying Python API [10, 11], which it relies on for parsing of molfile and SMILES input, addition or removal of hydrogen atoms, and the calculation of missing coordinates.
The program, which is used from the command line, and its required libraries can be installed on the user's computer. Alternatively, a server installation of the program can be accessed through a web interface. As a third option, a command line-driven thin web client is available, which accepts input in the same way as the locally installed program but then hands it off to the server installation. The web interface is also implemented in Python. The thin client is implemented in Lua. Since TeXLive contains a Lua interpreter, it runs the thin client without installing any other software. MikTex should to the same, but the authors have not confirmed this. The thin client also transparently accesses the most up-to-date version of mol2chemfig.
The code in mol2chemfig is divided into several modules, whose functions are briefly outlined in Table
1
. Additional information is contained within the doc strings and comments in the source code. Execution of the program involves the following major stages:
1.

Using indigo, the molfile or SMILES input is read into the data structures defined by that library. If coordinates are missing (SMILES input) or the user has explicitly requested calculation of new ones, indigo is used to compute them.
Table 1
mol2chemfig code modules
| Module name(s) | Role |
| --- | --- |
| processor | Accepts and validates user input from the command line or through the web; invokes indigo to parse input and supply missing coordinates; hands over to molecule |
| molecule | Generates tree representation of the molecule, applies options, renders molecule to chemfig code |
| chemfig_mappings | Supplies translations and auxiliary code for rendering the molecule tree to chemfig code |
| atom, bond | Supply auxiliary classes for molecule |
| common | Supplies auxiliary classes and global settings |
| options, optionparser | Define and process options |
2.

From the data structures populated by indigo, a tree representation of the molecule is built.

3.

The tree is traversed and annotated in order to satisfy the user-selected options for molecule rotation, bond scaling and so forth.

4.

The tree is rendered to chemfig code, which is returned.
The chemfig code generated by mol2chemfig uses several custom macros. These macros must be loaded by LATE X documents in order to execute the generated code; they are contained within a separate small LATE X package (mol2chemfig.sty) that also takes care of loading the chemfig package. The chemfig package, in turn, requires and loads the TiKZ package (Figure 1).
As of this writing, both TiKZ and chemfig are available in the two major TE X distributions (MikTeX and TeXLive). The custom LATE X code for mol2chemfig is included in this program's download.
Results and discussion
The use of the program and its features will here be illustrated with a few short examples; some more examples are contained in the documentation available through the program's website, as well as in the Additional file 1 to this paper. While some basic elements of chemfig's syntax will be briefly introduced, the latter will not be covered systematically. The chemfig package's accompanying documentation is clearly written and thorough; reference [12] gives a brief but useful introduction.
Conclusion
The mol2chemfig program introduced here allows the conversion of molecules specified in molfile or SMILES format to the TE X-compatible format defined by the chemfig package. The generated code can be included in documents as is, or can be edited and integrated into larger chemfig graphics. We hope the program will be useful for authors who wish to illustrate the structures of organic molecules and reactions in LATE X documents.
Availability and requirements
Project Name: mol2chemfigProject home page: http://chimpsky.uwaterloo.ca/mol2chemfig/Operating system(s): Linux, Windows, MacProgramming language: Python 2.7Other requirements: For full version: Python 2.7, the indigo toolkit and its prerequisite libraries; for thin client: a Lua interpreter. The LuaTeX binary that is available through TeXLive or MikTeX satisfies this requirement. (The manual installation of indigo is described at https://github.com/ggasoftware/indigo/blob/master/README.txt; binary packages are available for several Linux distributions.)Any Restrictions to use by non-academics: None. The code is freely available under the LATE X public license.
The locally installable full version and the thin web client are packaged and available for download from the project's website. The server setup that is used by both the web interface and the web client is not routinely available, but the required code and setup instructions will be shared upon request.
Author's contributions
EB-M: code implementation and testing, preparation of manuscript; MP: code implementation, preparation of manuscript. Both authors have read and approved the manuscript.
Declarations
Acknowledgements
We thank the author of the chemfig package, Christian Tellechea, for helpful discussion and for the contribution of some auxiliary TE X code.
Authors' Affiliations
(1)
Department of Chemistry, University of Waterloo, Waterloo, Canada
Copyright
© Brefo-Mensah and Palmer; licensee Chemistry Central Ltd. 2012
This article is published under license to BioMed Central Ltd. This is an Open Access article distributed under the terms of the Creative Commons Attribution License (http://creativecommons.org/licenses/by/2.0), which permits unrestricted use, distribution, and reproduction in any medium, provided the original work is properly cited.