Research article

Open Access
Blind trials of computer-assisted structure elucidation software
Journal of Cheminformatics
2012
4:5
Received: 29 November 2011
Accepted: 9 February 2012
Published: 9 February 2012
Abstract
Background
One of the largest challenges in chemistry today remains that of efficiently mining through vast amounts of data in order to elucidate the chemical structure for an unknown compound. The elucidated candidate compound must be fully consistent with the data and any other competing candidates efficiently eliminated without doubt by using additional data if necessary. It has become increasingly necessary to incorporate an in silico structure generation and verification tool to facilitate this elucidation process. An effective structure elucidation software technology aims to mimic the skills of a human in interpreting the complex nature of spectral data while producing a solution within a reasonable amount of time. This type of software is known as computer-assisted structure elucidation or CASE software. A systematic trial of the ACD/Structure Elucidator CASE software was conducted over an extended period of time by analysing a set of single and double-blind trials submitted by a global audience of scientists. The purpose of the blind trials was to reduce subjective bias. Double-blind trials comprised of data where the candidate compound was unknown to both the submitting scientist and the analyst. The level of expertise of the submitting scientist ranged from novice to expert structure elucidation specialists with experience in pharmaceutical, industrial, government and academic environments.
Results
Beginning in 2003, and for the following nine years, the algorithms and software technology contained within ACD/Structure Elucidator have been tested against 112 data sets; many of these were unique challenges. Of these challenges 9% were double-blind trials. The results of eighteen of the single-blind trials were investigated in detail and included problems of a diverse nature with many of the specific challenges associated with algorithmic structure elucidation such as deficiency in protons, structure symmetry, a large number of heteroatoms and poor quality spectral data.
Conclusion
When applied to a complex set of blind trials, ACD/Structure Elucidator was shown to be a very useful tool in advancing the computer's contribution to elucidating a candidate structure from a set of spectral data (NMR and MS) for an unknown. The synergistic interaction between humans and computers can be highly beneficial in terms of less biased approaches to elucidation as well as dramatic improvements in speed and throughput. In those cases where multiple candidate structures exist, ACD/Structure Elucidator is equipped to validate the correct structure and eliminate inconsistent candidates. Full elucidation can generally be performed in less than two hours; this includes the average spectral data processing time and data input.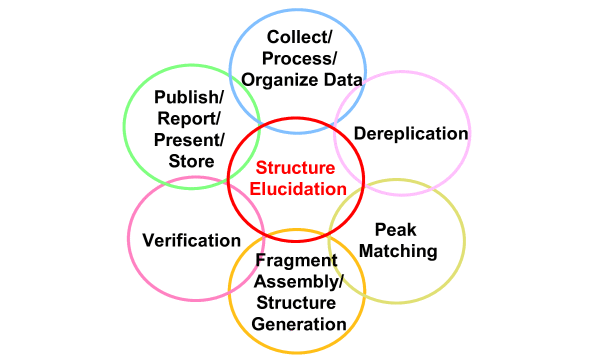 Keywords
Case SystemCandidate StructureLibrary SearchSpectral PurityPeak Picking
Background
With the advances of high throughput data collection and data processing for a variety of analytical techniques (e.g. NMR, MS, IR), there is an increasingly higher demand on the chemists to promptly and efficiently elucidate the structure of unknowns [1, 2]. This bottleneck has encouraged researchers to search for robust technologies that can improve throughput and ensure accuracy in solving the problem and computer-assisted structure elucidation (CASE) applications have been the primary area of focus [3–5]. The development of a CASE application mandates an adaptable application to a variety of challenges inherent with solving the complete structure for an unknown compound based on typical spectral data.
We present the results of a unique, multiyear worldwide blind trial study on a CASE application, namely ACD/Structure Elucidator (StrucEluc) [5, 6], and the necessary evolution of the CASE technology as various complex challenges were encountered. StrucEluc is an artificial intelligence system that can interpret data from a variety of spectral datasets including 1D and 2D NMR, MS, IR, etc. Based on the restrictions imposed by the set of spectral data, all possible atomic combinations are worked out to ensure that no plausible candidate escapes consideration [7]. In addition, a general viewpoint is presented regarding the inherent trends in the complex nature of the data associated with each challenge.
Conclusion
The penultimate test for a CASE application is through a set of blind trials. In this approach a submitter withholds the information on the structure so as not to bias the software operator. This is a single-blind trial. Double-blind trials serve the ultimate test and characterize the situation where the structure is unknown to both parties. We have reported a review of the analysis of 112 unique challenges submitted as either single or double-blind trials and the performance characteristics of the CASE system ACD/Structure Elucidator. Unfortunately the details of many of these elucidation studies have not been reported as the majority of the elucidations were performed under non-disclosure agreements. The software and underlying algorithms described in this work have been shown to offer excellent performance throughout these trials.
Our studies have demonstrated that the most ideal data sets for analysis include a single molecular formula (likely extracted from a high resolution mass spectrum), a pure spectrum (no complexities in the spectrum due to the presence of contaminants, tautomers, restricted rotation, etc.), a sufficient number of heteronuclear correlations to fully define the molecular skeleton and a minimal number of long-range correlations spanning > 3 bonds. While these are the ideals, iterative development of the software allows even these limitations to be handled. The results are sufficiently encouraging to suggest that CASE systems should become general utility tools for chemists to accelerate the identification of compounds with increased probability of success.
Abbreviations
CASE:

Computer-Assisted Structure Elucidation
NMR:

Nuclear Magnetic Resonance
COSY:

COrrelation SpectroscopY
HSQC:

Heteronuclear Single Quantum Correlation
HMBC:

Heteronuclear Multiple-Bond Correlation
MF:

Molecular Formula
MW:

Molecular Weight
SM:

Starting Material or derivatives
MS:

Mass Spectrometry
EA:

Elemental Analysis
UV:

UltraViolet
IR:

InfraRed
RDBE:

Ring and Double-Bond Equivalence
STDD:

STanDard Deviation
MCD:

Molecular Connectivity Diagram
RDBE:

Ring Double Bond Equivalence
Authors' Affiliations
(1)
Toronto Department, Advanced Chemistry Development, Toronto, Canada
(2)
Moscow Department, Advanced Chemistry Development, Moscow, Russian Federation
(3)
Royal Society of Chemistry, Wake Forest, USA
Copyright
© Moser et al; licensee Chemistry Central Ltd. 2012
This article is published under license to BioMed Central Ltd. This is an Open Access article distributed under the terms of the Creative Commons Attribution License (http://creativecommons.org/licenses/by/2.0), which permits unrestricted use, distribution, and reproduction in any medium, provided the original work is properly cited.