Computational mass spectrometry for small molecules
Journal of Cheminformatics
2013
5:12
Received: 23 November 2012
Accepted: 1 February 2013
Published: 1 March 2013
Abstract
The identification of small molecules from mass spectrometry (MS) data remains a major challenge in the interpretation of MS data. This review covers the computational aspects of identifying small molecules, from the identification of a compound searching a reference spectral library, to the structural elucidation of unknowns. In detail, we describe the basic principles and pitfalls of searching mass spectral reference libraries. Determining the molecular formula of the compound can serve as a basis for subsequent structural elucidation; consequently, we cover different methods for molecular formula identification, focussing on isotope pattern analysis. We then discuss automated methods to deal with mass spectra of compounds that are not present in spectral libraries, and provide an insight into de novo analysis of fragmentation spectra using fragmentation trees. In addition, this review shortly covers the reconstruction of metabolic networks using MS data. Finally, we list available software for different steps of the analysis pipeline.
Keywords
Mass spectrometryMetabolomicsSpectral libraryMolecular formula identificationStructure elucidationFragmentation treesNetworks
Introduction
Mass spectrometry (MS) is a key analytical technology for detecting and identifying small biomolecules such as metabolites [1–3]. It is orders of magnitude more sensitive than nuclear magnetic resonance (NMR). Several analytical techniques have been developed, most notably gas chromatography MS (GC-MS) and liquid chromatography MS (LC-MS). Both analytical setups have their advantages and disadvantages, see Section "Experimental setups" for details.
In recent years, it has been recognized that one of the most important aspects of small molecule MS is the automated processing of the resulting data. In this review, we will cover the development of computational methods for small molecule mass spectrometry during the last decades. Here, the term "small molecule" refers to all small biomolecules excluding peptides. Obviously, our review cannot be complete: In particular, we will not cover the "early years" of computational mass spectrometry of small molecules. First rule-based approaches for predicting fragmentation patterns, as well as explaining experimental mass spectra with the help of a molecular structure, were developed as part of the DENDRAL project that started back in 1965 [4–7]; see also Chapter 7 of [8]. Citing Gasteiger et al.[9]: "However, it is sad to say that, in the end, the DENDRAL project failed in its major objective of automatic structure elucidation by mass spectral data, and research was discontinued."
We will not cover methods that deal with processing the raw data, such as de-noising and peak picking, as this is beyond the scope of our review; see Section "Software packages" for a list of available software packages for this task. Furthermore, we do not cover the problem of aligning two or more LC-MS or GC-MS runs [10–13]. Finally, we will not cover computational methods that deal with the chromatography part of the analysis, such as predicting retention indices [14, 15].
Structure confirmation of an unknown organic compound is always performed with a set of independent methods, in particular NMR. The term "structure elucidation" usually refers to full de novo structure identification of a compound, including stereochemical assignments. It is commonly believed that structure elucidation is impossible using MS techniques alone, at least without using strong background information. We will not cover this aspect, but concentrate on the information that MS experiments can give.
"Computational mass spectrometry" deals with the development of computational methods for the automated analysis of MS data. Over the last two decades, much research has been focused on methods for analyzing proteomics MS data, with literally hundreds of articles being published in scientific journals [16–21]. The proteomics field has benefited tremendously from this development; often only the use of these automated methods enables high-throughput proteomics experiments. Computational methods for the analysis of proteins and peptides, as well as DNA and RNA [22, 23], glycans [24–26], or synthetic polymers [27, 28] are also part of computational mass spectrometry, but outside the scope of this review. Finally, disclosing methods is important for reproducible science. Thus, we will also not cover "anecdotal" computational MS where an automated method is mentioned in a paper, but no details of the method are provided.
Searching spectral libraries
The usual approach for identification of a metabolite is looking it up in a spectral library. Database search requires a similarity or distance function for spectrum matching. The most fundamental scorings are the "peak count" family of measures that basically count the number of matching peaks. A slightly more complex variant is taking the dot product of the two spectra, taking into account peak intensities.
Establishing the confidence is the more difficult part of compound identification using library search [31]. False negative identifications occur if the spectrum of the query compound differs from the spectrum in the library, for example due to contaminations, noise (especially in low signal spectra), or different collision energies (CID). A reliable identification of a compound depends on the uniqueness of its spectrum, but the presence and intensity of peaks across spectra is highly correlated, as these depend on the non-random distribution of molecular (sub-)structures. Therefore, structurally related compounds generally have similar mass spectra. Hence, false positive hits may hint at correct "class identifications", see Section "Searching for similar compounds" below. Different from proteomics, False Discovery Rates (FDR) cannot be estimated as no appropriate decoy databases can be constructed. Usually, confidence in search results must be manually assessed by the user, based on the used search algorithm and the quality of spectrum and library [77]. Another method that overcomes this limitation is the calculation of fragmentation trees from fragmentation spectra, see Section "Fragmentation trees" below. For a review on using spectral libraries for compound identification, see [31].
Electron ionization fragmentation spectra
To compare EI mass spectra, a huge number of scorings (or similarity measures) have been developed over the years. In 1971, the Hertz similarity index was introduced [78], representing the weighted average ratio of the two spectra. The Probability Based Matching (PBM) [79, 80] takes into account that some peaks are more informative than others. Atwater et al.[81] statistically evaluated the effects of several parameters on the PBM system, to provide a quantitative measure of the predicted reliability of the match. SISCOM[82] encodes spectra by selecting the most informative peaks within homologous ion series. Computing the dot product cosine of two mass spectra (that is, the inverse cosine of the dot product of the normalized spectra) was used in the INCOS data system [83]. Stein and Scott [84] evaluated normalized Euclidean distances [85], PBM, Hertz similarity index, and dot product for searching EI databases. Among these, they found the dot product to perform best. They proposed a composite search algorithm that optimizes the cosine score by varying the scaling and mass weighting of the peak intensities. Koo et al.[86] introduced novel composite similarity measures that integrate wavelet and Fourier transform coefficients, but found only a slight improvement over cosine correlation or the composite similarity measure. Kim et al.[87] showed how to find optimal weight factors for fragment masses using a reference library.
Regarding the differentiation between true and bogus hits in the database, not much progress has been made: Probabilistic indicators of correct identifications using "match factors" were introduced in [88]. Jeong et al.[89] used an empirical Bayes model to improve the accuracy of identifications and gave a false positive estimate. For this purpose, a competition score was added to the similarity score, based on the similarity score to other spectra in the library.
Tandem mass spectra
We noted above that LC-MS/MS is much less reproducible than fragmentation by GC-MS (see Figure
2
). Reliable library identifications can be achieved when a spectrum is acquired under the same conditions as the reference spectrum [
90
]. For each compound, libraries must contain tandem mass spectra at different collision energies and replicates on different instruments, to allow for an effective identification [
91
]. For example, Oberacher and coworkers [
71
,
72
,
92
] presented an inter-instrument and inter-laboratory tandem mass spectral reference library obtained using multiple fragmentation energy settings.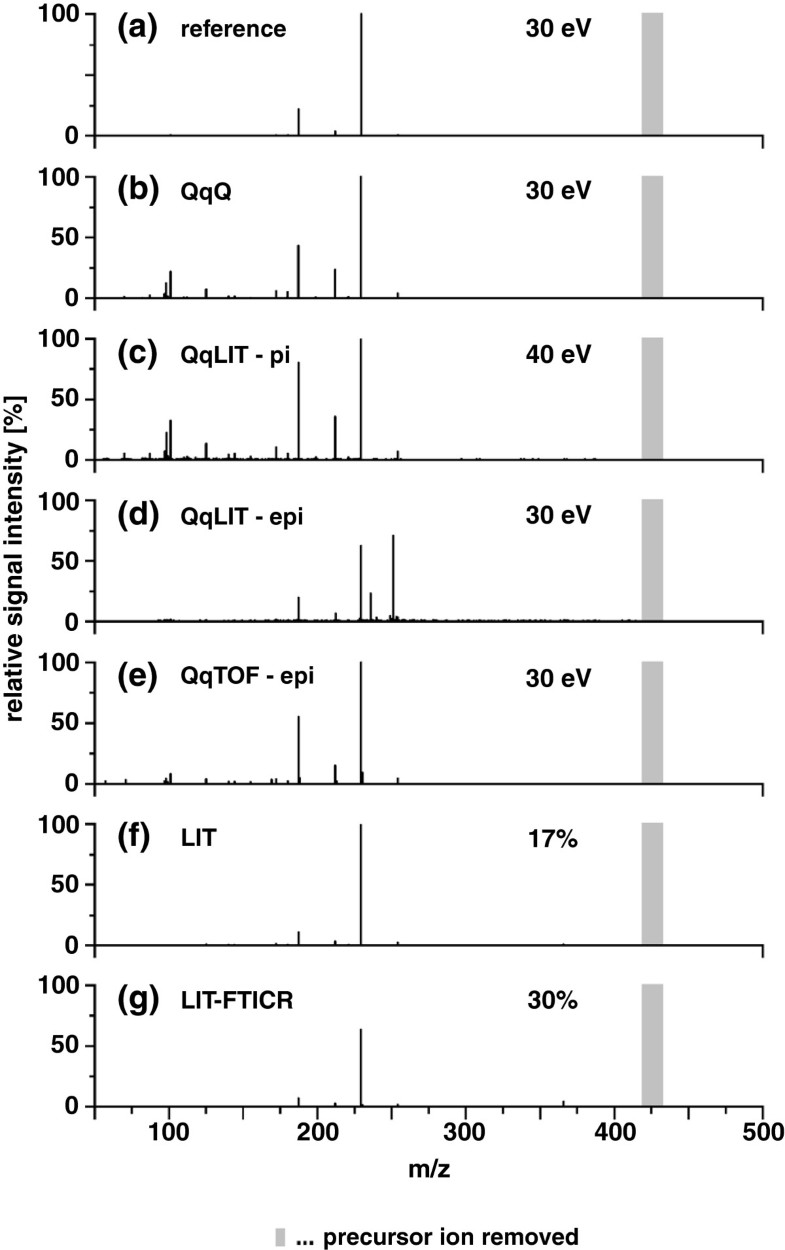 For searching in tandem mass spectral libraries it is possible to start with a precursor ion mass filtering with a specific m/z or mDa range. In case the actual compound is not in the database, it can be beneficial to omit this filtering step. This may reveal valuable information about structurally similar compounds [92]. Subsequently, similar approaches as for EI mass spectra can been applied, such as PBM [79, 80] or dot product cosine [84, 93]. Again, intensities can be weighted using peak masses [62, 63]. The scoring in [92] extends the common peak count. Zhou et al[94] proposed a support vector machine (SVM)-based spectral matching algorithm to combine multiple similarity measures. Hansen and Smedsgaard [95] used the Jeffrey-Matusitas distance [96] to find a unique correspondence between the peaks in the two spectra.
X-Rank replaces peak intensities by their rank, then estimates the probability that a peak in the query spectrum matches a peak in the reference spectrum based on these ranks [97]. Oberacher et al[71, 72] tackled the problem of low reproducibility of metabolite CID fragmentation using a dynamic intensity cut-off, counting neutral losses, and optimizing the scoring formula. To improve running times, the database can be filtered using the most intense peaks and user-defined constraints [98].
Molecular formula identification
One of the most basic — but nevertheless highly important — steps when analyzing an unknown compound, is to determine its molecular formula, often referred to as the "elemental composition" of the compound. Common approaches first compute candidate molecular formulas using a set of potential elements. The six elements most abundant in metabolites are carbon (C), hydrogen (H), nitrogen (N), oxygen (O), phosphorus (P), and sulfur (S) [
99
]. For each candidate molecular formula, an isotope pattern is simulated and compared to the measured one, to determine the best matching molecular formula. For this purpose, high mass accuracy is required and is nowadays available from a multitude of MS platforms. The molecular formula of the compound can serve as a basis for subsequent structure elucidation. Some software packages for molecular formula identification using isotope patterns are summarized in Table
1
.
Table 1
Software for the three basic steps of molecular formula identification using isotope patterns
Decomposing monoisotopic peaks

for arbitrary alphabets of elements

requires only little memory

swift in practice

implementing Decomp approach for MS

decomposing real-valued masses

"Seven GoldenRules" [104]

to filter molecular formulas

Simulating isotope patterns

IsoPro[105]

multinomial expansion to predict "center masses"

memory- and time-consuming

Mercury[106]

pruning by probability thresholds and/ormass range

reduced memory and time consumption

reduced accuracy of the predictions

iterative (stepwise) computation of isotopepattern

probability-weighted center masses

probabilities and masses are updated as atomsare added

IsoDalton[108]

models the folding procedure as a Markovprocess

BRAIN[109]∗

Newton-Girard theorem and Vietes formulae to calculate intensities and masses

Fourier[110]∗

2D Fast Fourier Transform that splits up thecalculation in a coarse and a fine structure

running time improvement for large compounds

Scoring candidate compounds

SigmaFit

commercial software by Bruker Daltonics

SIRIUS[102]∗

Bayesian statistics for scoring intensities andmasses of the isotope pattern

MZmine[111]

simple scoring based only on intensities
Different from the above, some authors propose to use molecular structure databases to determine the candidate molecular formulas [112]. This "simplifies" the problem as the search space is severely restricted; but only those molecular formulas can be determined where a compound is available in the structure database. To this end, we will ignore this somewhat arbitrary restriction of the search space.
In the following, we assume that elements are unlabeled or only partially labeled. If certain elements are (almost) completely labeled by heavy isotopes such as 13C, and both the unlabeled and the labeled compound are present, this allows us to directly "read" the number of atoms from the spectrum using the mass difference. We will come back to this particular type of data in Section "Isotope labeling".
Identifying the unknowns
To yield information beyond the compound mass and molecular formula, the analyte is usually fragmented, and fragmentation mass spectra are recorded. Using spectral comparison one can identify huge numbers of metabolites that are cataloged in libraries. However, where the compound is unknown, comparing the spectrum obtained to a spectral library will result in imprecise or incorrect hits, or no hits at all [
33
,
35
,
99
]. The limited capability for metabolite identification has been named one of the major difficulties in metabolomics [
117
]. Manual analysis of unidentified spectra is cumbersome and requires expert knowledge. Therefore, automated methods to deal with mass spectra of
unknown unknowns
(that is, "unexpected" compounds that are not present in spectral libraries [
31
]) are required. Some approaches for analyzing fragmentation mass spectra of
unknown unknowns
are summarized in Table
2
.
Table 2
Approaches for analyzing fragmentation mass spectra of unknown unknowns that is, "unexpected" compounds that are not present in spectral libraries [[31]]
In silico fragmentation

Searching for similarcompounds

Mass spectral classifiers

Rule-based spectrumprediction

Combinatorialfragmentation

Fragmentation trees

searching for similarspectra in a library,assuming thatspectral similarity isbased on structuralsimilarity

predicting substructures orcompound classes bylearning spectral classifiers

predicting spectra byapplying fragmentationrules to known molecularstructures

mapping the fragmentationspectrum to the compoundstructure to explainthe peaks

computing a fragmentation tree that explains the peaks; aligning fragmentation trees to find similar compounds

NIST MSInterpreter[153]

FingerID[169]

Mass Frontier, ACD/MSFragmenter, MOLGEN-MS[196]

MetFrag[179]
Fragmentation trees
If we want to assign molecular formulas to the precursor and product ions, we may use the formula of the precursor to filter bogus explanations of the product ions, and vice versa. This fact has been exploited repeatedly, see for example [111, 146] and Section "Molecular formula identification" above. This is only the most simplistic description of the fragmentation process: It is obvious that all product ions must be fragments of the precursor; but what is the dependency between the fragments? In fact, MS experts have drawn fragmentation diagrams for decades. For this task, the MS expert usually has to know the molecular structure of the compound and its tandem MS fragmentation spectrum.
Fragmentation trees must not be confused with spectral trees for multiple stage mass spectrometry [155], or the closely related multistage mass spectral trees of Rojas-Cherto et al[145] (referred to as "fragmentation trees" in [145, 215, 216]). Spectral trees are a formal representation of the MS setup and describe the relationship between the MS n spectra, but do not contain any additional information. We stress that all computational approaches described below target tandem MS, unless explicitly stated otherwise. To compute a fragmentation tree, we need neither spectral libraries nor molecular structure databases; this implies that this approach can target "true unknowns" that are not contained in any molecular structure database.
Böcker and Rasche [
147
] introduced fragmentation trees (see Figure
7
) to find the molecular formula of an unknown, without using databases: Here, the highest-scoring fragmentation tree for each molecular formula candidate is used as the score of the molecular formula itself. Only later, fragmentation trees were conceived as a means of structural elucidation [
148
]. Algorithmic aspects of computing fragmentation trees were considered in [
217
]. Hufsky
et al
[
56
] computed fragmentation trees from EI fragmentation spectra with high mass accuracy, and used this to identify the molecular ion peak and the molecular formula of compounds. Fragmentation trees computed from both tandem MS [
148
] and EI fragmentation data [
218
] were found to be of good "structural quality" by expert evaluation. Finally, Scheubert
et al
[
219
,
220
] computed fragmentation trees from multiple MS data.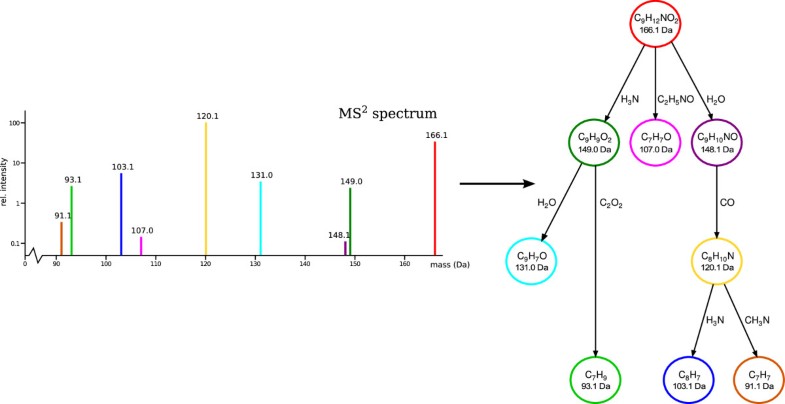 To further process fragmentation trees, Rasche et al[221] introduced fragmentation tree alignments to cluster unknown compounds, to predict chemical similarity, and to find structurally similar compounds in a spectral library using FT-BLAST (Fragmentation Tree Basic Local Alignment Search Tool). FT-BLAST also offers the possibility to identify bogus hits using a decoy database, allowing the user to report results for a pre-defined False Discovery Rate. Faster algorithms for the computationally demanding alignment of fragmentation trees were presented in [222]. FT-BLAST results were parsed for "characteristic substructures" in [209]. Rojas-Chertó et al[215] presented a related approach for the comparison of multistage mass spectral trees, based on transforming the trees into binary fingerprints and =comparing these fingerprints using the Tanimoto score (Jaccard index). This was applied for metabolite identification in [216].
Aligning fragmentation trees is similar in spirit to the feature tree comparison of Rarey and Dixon [223]. Feature trees were computed from the molecular structure of a known compound, and represent hydrophobic fragments and functional groups of the compound, and the way these groups are linked together.
Network reconstruction
Network elucidation based on mass spectrometry data is a wide field. On the one hand, detailed information like quantitative fluxes of the network is achieved by metabolic flux analysis. Here, based on isotope labeled compounds, the flux proceeding from these compounds can be tracked. On the other hand, measured metabolites can be mapped on a known network. This can elucidate distinct metabolic pathways that are differentially "used" dependent on environmental conditions. Both of these variants require previous known metabolic network graphs. In this section, we will only cover the pure de novo reconstruction of networks from metabolite mass spectrometry data.
The reconstruction of networks solely from metabolic mass spectrometry data is a very young field of research. It can be subdivided into two main approaches: either the network reconstruction is based on metabolite level correlation of multiple mutant and wild type samples, or on data from only one sample by using information of common reactions or similarity between metabolites.
A first approach that used metabolite mass spectrometry data of multiple expressed samples was introduced by Fiehn et al[224]. Their method clusters metabolic phenotypes for example by principle component analysis (PCA). In contrast Arkin et al[225] and Kose et al[226] developed a method that does not group samples but metabolites with correlating intensity regarding all samples. Metabolites of a group have a similar concentration behavior in all samples. This leads to the assumption that the metabolites of a group are probably somehow connected in a metabolic network. As the concentration of metabolites taken from plants with identical genotype and grown under uniform conditions still show variability, this approach can also be used if no multiple mutant genotypes are available [227]. The disadvantage of this simple approach is, that it results in very dense networks that do not only cover direct reactions but also indirect ones. Krumsiek et al. 2011 [228] suggested to apply Gaussian graphical models to such data. Gaussian graphical networks have the ability to calculate only direct correlations while indirect correlations are not taken into account.
In 2006, Breitling et al[229] reconstructed networks based on high-resolution mass spectrometry data of only one dataset. They inferred accurate mass differences between all measured metabolites. These mass differences give evidences of biochemical transformations between the metabolites and allow the reconstruction of a network. Rogers et al[152] used a similar approach on molecular formula level to assign better molecular formulas to metabolites (see Section "Other approaches for molecular formula identification").
Watrous
et al
[
230
] used additional information from spectral alignments of tandem MS data to determine a structural similarity between the metabolites. Two structurally similar metabolites are supposed to be connected in the network (see Figure
8
). They found the compound thanamycin in
Pseudomonas sp. SH-C52
that has an antifungal effect and protects sugar beet plants from infections by specific soil-borne fungi.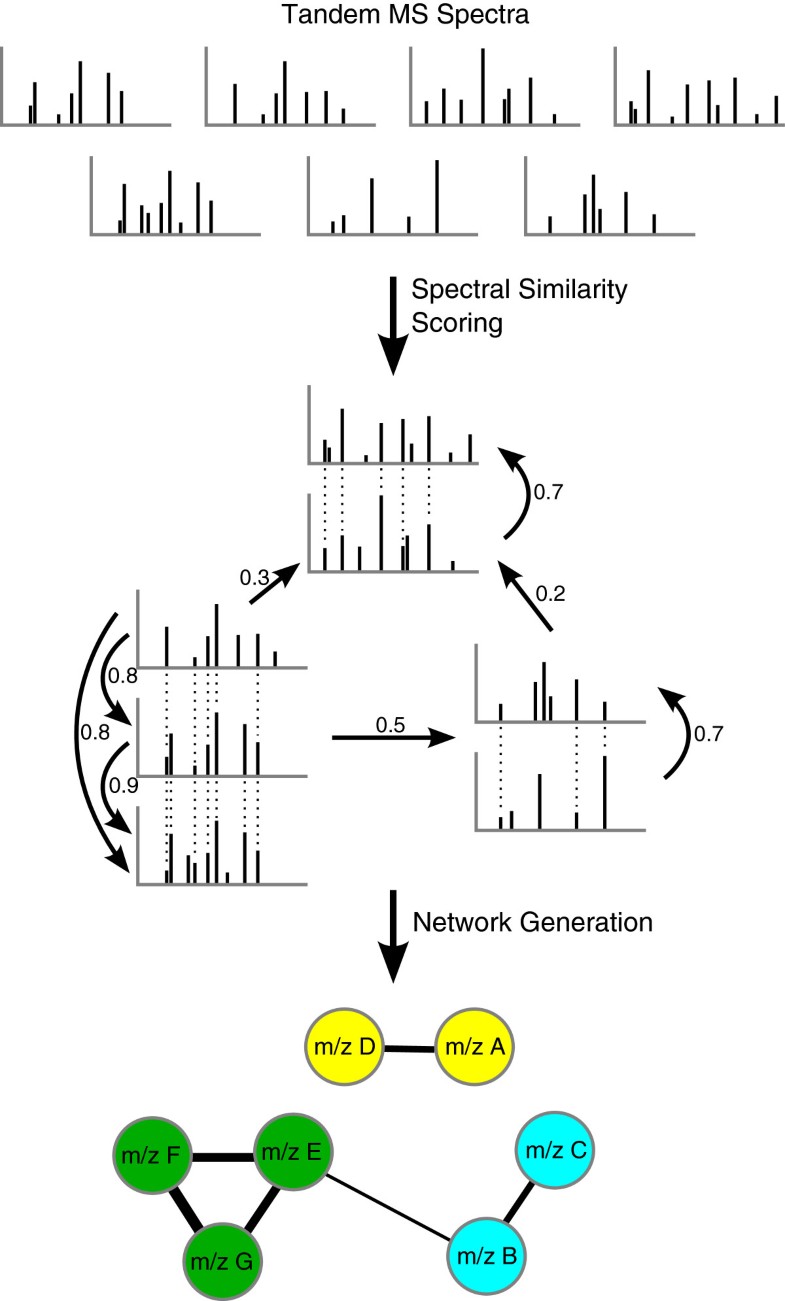 Software packages
Several open source, or at least freely available, software packages assist with processing and analyzing GC-MS metabolomics data. The freely available AMDIS[231] is the most widely used method for extracting individual component spectra (mass spectral deconvolution) from GC-MS data. MathDAMP[232] helps with the identification and visualization of differences between complex metabolite profiles. TagFinder[233, 234] supports the quantitative analysis of GC-MS-based metabolite profiling experiments. The MetaboliteDetector[235] detects and subsequently identifies metabolites and allows for the analysis of high-throughput data. TargetSearch[236] iteratively corrects and updates retention time indices for searching and identifying metabolites. Metab[237] is an R package that automates the pipeline for analysis of metabolomics GC-MS datasets processed by AMDIS. PyMS[238] comprises several functions for processing raw GC-MS data, such as noise smoothing, baseline correction, peak detection, peak deconvolution, peak integration, and peak alignment. ADAP-GC 2.0 [239] helps with the deconvolution of coeluting metabolites, aligns components across samples and exports their qualitative and quantitative information. Castillo et al. 2011 [240] developed a tool to process GC ×GC-TOF-MS data.
For LC-MS data, XCMS[13] enables retention time alignment, peak detection and peak matching. XCMS2[241] additionally searches LC-MS/MS data against METLIN and also provides structural information for unknown metabolites. It also allows for the correction of mass calibration gaps [242] caused by regular switches between the analyte and a standard reference compound. XCMS Online[243] is the web-based version of the software. AStream[244] enables the detection of outliers and redundant peaks by intensity correlation and retention time, as well as isotope detection. MetSign[245] provides several bioinformatics tools for raw data deconvolution, metabolite putative assignment, peak list alignment, normalization, statistical significance tests, unsupervised pattern recognition, and time course analysis. CAMERA[246] is designed to post-process XCMS feature lists and integrates algorithms to extract compound spectra, annotate peaks, and propose compound masses in complex data. MetExtract[247] detects peaks corresponding to metabolites by chromatographic characteristics and isotope labeling. IDEOM[248] filters and detects peaks based on XCMS[13] and mzMatch.R[249], enables noise filtering based on [249, 250] and allows for database matching and further statistics. Brodsky et al[251] presented a method for evaluating individual peaks in a LC-MS spectrum, based on replicate samples.
For both, GC-MS and LC-MS data, MZmine[252] and MZmine2[253] allow for data visualization, peak identification and peak list alignment. MET-IDEA[254] proceeds from complex raw data files to a complete data matrix. MetAlign[255] is capable of baseline correction, peak picking, as well as spectral alignment.
To compare the power of these software packages, an independent validation would be desirable. But up to now, there exists no such comparison. One reason is the limited amount of freely available mass spectra, see Section "Conclusion". Another reason is that some of the packages are developed for special experimental setups or instruments, and have to be adapted for other data, what makes an independent validation difficult.
Conclusion
No computational de novo method is able to elucidate the structure of a metabolite solely from mass spectral data. They can only reduce the search space or give hint to the structure or class of the compound. Computational mass spectrometry of small molecules is, at least compared to proteomics, still very much in a developmental state. This may be surprising, as methods development started out many years before computational mass spectrometry for proteins and peptides came into the focus of bioinformatics and cheminformatics research [183, 185]. But since then, methods development in computational proteomics has proliferated [16, 21] and long surpassed that in metabolomics and small molecule research. To a great extend, this can be attributed to the fact that freely sharing data and benchmark test sets has become a tradition in proteomics, providing developers of novel computational methods with the required input for training and evaluation of their methods.
In metabolomics, a comparative evaluation of methods is very limited due to restricted data sharing. Recently, a first benchmark test for small molecules was provided as part of the CASMI challengea. CASMI is a contest in which GC-MS and LC-MS data is released to the public, and the computational mass spectrometry community is invited to identify the compounds. Results and methods will be published in a special issue of the Open Access MDPI journal Metabolites. This is a first step towards reliable evaluation of different computational methods for the identification of small molecules. Lately, the importance of computational methods has gained more attention in small molecule research: Citing Kind and Fiehn [33], "the ultimate success of structure elucidation of small molecules lies in better software programs and the development of sophisticated tools for data evaluation."
With the advent of novel computational approaches [169, 206, 207], searching spectral libraries may be replaced by searching molecular structure databases within in the next five to ten years. Beyond molecular databases, only few approaches aim at overcoming the limits of the "known universe of organic chemistry" [256], one example being fragmentation trees [56, 148, 221].
Declarations
Acknowledgements
K Scheubert funded by Deutsche Forschungsgemeinschaft (BO 1910/10). F Hufsky supported by the International Max Planck Research School Jena.
Authors' Affiliations
(1)
Chair of Bioinformatics, Friedrich Schiller University, Jena, Germany
(2)
Max Planck Institute for Chemical Ecology, Beutenberg Campus, Jena, Germany
Copyright
© Scheubert et al.; licensee Chemistry Central Ltd. 2013
This article is published under license to BioMed Central Ltd. This is an Open Access article distributed under the terms of the Creative Commons Attribution License (http://creativecommons.org/licenses/by/2.0), which permits unrestricted use, distribution, and reproduction in any medium, provided the original work is properly cited.