Applications of the InChI in cheminformatics with the CDK and Bioclipse
Journal of Cheminformatics
2013
5:14
Received: 4 December 2012
Accepted: 28 February 2013
Published: 13 March 2013
Abstract
Background
The InChI algorithms are written in C++ and not available as Java library. Integration into software written in Java therefore requires a bridge between C and Java libraries, provided by the Java Native Interface (JNI) technology.
Results
We here describe how the InChI library is used in the Bioclipse workbench and the Chemistry Development Kit (CDK) cheminformatics library. To make this possible, a JNI bridge to the InChI library was developed, JNI-InChI, allowing Java software to access the InChI algorithms. By using this bridge, the CDK project packages the InChI binaries in a module and offers easy access from Java using the CDK API. The Bioclipse project packages and offers InChI as a dynamic OSGi bundle that can easily be used by any OSGi-compliant software, in addition to the regular Java Archive and Maven bundles. Bioclipse itself uses the InChI as a key component and calculates it on the fly when visualizing and editing chemical structures. We demonstrate the utility of InChI with various applications in CDK and Bioclipse, such as decision support for chemical liability assessment, tautomer generation, and for knowledge aggregation using a linked data approach.
Conclusions
These results show that the InChI library can be used in a variety of Java library dependency solutions, making the functionality easily accessible by Java software, such as in the CDK. The applications show various ways the InChI has been used in Bioclipse, to enrich its functionality.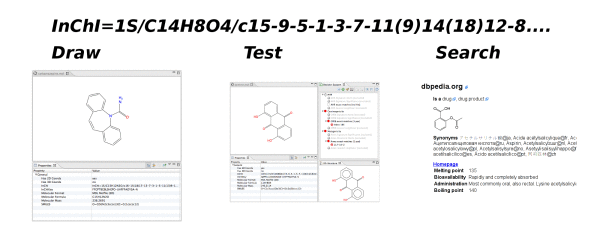 Keywords
InChI
InChIKey
Chemical structures
JNI-InChI
The Chemistry Development Kit
OSGi
Bioclipse
Decision support
Linked data
Tautomers
Databases
Semantic web
Background
It is of great importance that chemical structures can be serialized in standard formats in order to enable exchange and linking of chemical information. The IUPAC Chemical Identifier (InChI) [1] is such a standardized identifier for chemical structures, which lately has seen a great adoption in the cheminformatics community [2]. A recent special issue details this further [3]. Two important use cases are querying for exact matches in databases, and linking chemical structures using semantic web technologies. The official implementation of InChI is in C as a library, in order to provide a single implementation that everyone can use. This however limits its use in other programming languages such as Java. We here describe the packaging of InChI in Java, to enable frameworks and applications written in this language, like the applications mentioned in this paper, BioJava [4], JOELib [5], and JChem [6], to take advantage of the benefits of InChI. We present the integration of InChI in the cheminformatics library the Chemistry Development Kit as well as the graphical workbench Bioclipse. We also provide demonstrations where InChI is used in decision support for chemical liability assessment, for tautomer generation, and for knowledge aggregation using a linked data approach.
Results and discussion
The applications below have additional information on how to install and perform them available on: http://www.bioclipse.net/inchi.
Applications of InChI in cheminformatics
a) Decision support in computational pharmacology
In chemical safety assessment, the first step when faced with a new chemical structure is to see weather it already has been synthesized, and if any in vitro assays or in vivo studies have been performed. Given the large size of knowledge bases in companies and organizations, exact database lookups have become ubiquitous tools and used on a daily basis. Bioclipse Decision Support provides a framework for running exact match queries against a library of chemical structures, which was demonstrated for 3 open safety endpoints [
18
]. An example query can be seen in Figure 
2
.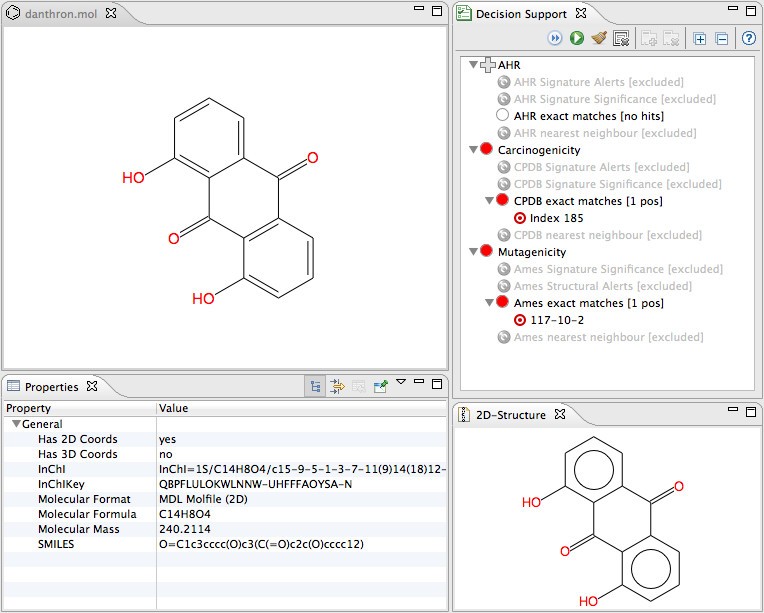 b) Linked data spidering in Bioclipse with Isbjørn
Molecular structures on the internet can be searched using InChI and InChIKeys [21] directly. However, they can also be used as seed to spider (the process of following links on the world wide web) the Linked Data section of the World Wide Web [22]. We developed a plugin to Bioclipse that searches the Internet for information about a molecule, initiated with the InChI and a web service we developed earlier, providing Universal Resource Identifiers for molecules, available at http://rdf.openmolecules.net/[23]. This service provides a number of initial links to other Linked Data resources, and links to other resources are followed using owl:sameAs and skos:exactMatch predicates.
While spidering the web of molecular information, common ontologies are recognized and use to extract information about the compound. Recognized ontologies include general ontologies like Dublin Core (
http://dublincore.org/
), RDF Schema [
24
], SKOS [
25
], and FOAF [
26
], as well as domain specific ontologies, like ChemAxiom [
27
], CHEMINF [
28
], and specific predicates used by specific databases, including Bio2RDF [
29
], DBPedia [
30
], and ChemSpider [
31
] (see Figure 
3
left).

But by educating Isbjørn about further ontologies we can even, for example, extract drug side effects from the SIDER database [32], as exposed by the Free University Berlin RDF services, as shown in Figure 3 right. The search results of Isbjørn are presented in Bioclipse as a HTML page and opened in a browser window (not shown).
c) CDK tautomer calculation in Bioclipse
The InChI library can also be used to generate tautomers [
14
]. This method has been implemented in the CDK by Rijnbeek [
33
], and exposed in the Bioclipse Scripting Language. Tautomers can be calculated for any molecule, for example, created from a SMILES string in this example for phenol:
Using this approach we can generate tautomers for any molecules, though it is limited by the heuristic rules implemented by the InChI library. We typically only find a subset of tautomers, rather than a full set. For example, for warfarin it finds only six tautomers out of the 40 reported ones [34].
Conclusions
The InChI project has chosen the path to rely on a single implementation for standardizing InChI calculations, and it is important that this code is readily available for all cheminformatics software development. This paper describes the packaging of InChI as a Java library using a JNI bridge (JNI-InChI), which is available as a Java Archive (jar file), and as Maven bundles. It further shows the integration into the CDK library and how the JNI-InChI as OSGi bundles renders InChI easily available for software using this dynamic module system, such as the Bioclipse workbench. The various binary packages make the InChI library easily usable in a variety of Java environments.
A feature of the InChI is that it supports various layers of detail in describing the chemical structure, which has confused end users of cheminformatics software. This resulted in a set of chosen layers, resulting in the standard InChI. The CDK supports generation and processing of both the standard and non-standard InChIs. Bioclipse provides a preference page where users can indicate which InChI they like to be calculated by default.
The uses in the CDK and Bioclipse have shown that the InChI is of great utility for uniquely identifying molecular structures in a canonical form, and is therefore well suited for exact matches in database searches, as exemplified in computational pharmacology example. This makes it also highly suitable for mining the internet and the Linked Data network. We demonstrate this with our Isbjørn plugin for Bioclipse, which aggregates knowledge about chemical compounds from an increasing list of disparate sources. The use of the InChI here shows the potential for the common task to collect as much information as possible about a novel chemical structure, uniquely identified by the InChI. But the use of the InChI algorithms is not limited to that purpose, and has further benefits. We demonstrate this with the exposure in the CDK and Bioclipse to generate tautomers.
Our results show that it is possible to overcome the problem that the InChI algorithm is not implemented in Java, but this however comes at a price. Using non-Java code in a Java environment requires a bridge, for which we used JNI, but crossing this bridge is computationally expensive. Furthermore, the integration into the CDK requires bridging two data models: one for the CDK and one for the InChI library. A suite of unit tests is in place to validate that information is correctly translated from the CDK data model into calculated InChIs. However, a full validation using the InChI project test suite has not been completed yet.
Availability and requirements
● Project Name: JNI-InChI
● Project home page: http://jni-inchi.sourceforge.net/
● Operating system(s): Windows, GNU/Linux, OS/X
● Programming language: C and Java
● Other requirements (if compiling): InChI library
● License: GNU LGPL v3 or later
● Any restrictions to use by non-academics: None additional
● Project Name: The Chemistry Development Kit
● Project home page: http://cdk.sourceforge.net/
● Operating system(s): Platform independent
● Programming language: Java
● Other requirements (for the InChI module): JNI-InChI
● License: GNU LGPL v2.1 or later
● Any restrictions to use by non-academics: None additional
● Project Name: Bioclipse
● Project home page: http://www.bioclipse.net/
● Operating system(s): Windows, GNU/Linux, OS/X
● Programming language: Java
● Other requirements (for InChI functionality): JNI-InChI, The Chemistry Development Kit
● License: Eclipse Public License
● Any restrictions to use by non-academics: None additional
Declarations
Acknowledgements
We acknowledge Mark Rijnbeek for implementing the InChI-based tautomer generation in the CDK.
Authors' Affiliations
(1)
Department of Pharmaceutical Biosciences, Uppsala University, Uppsala, Sweden
(2)
Unilever Centre for Molecular Sciences Informatics, University Chemical Laboratory Cambridge, UK
(3)
Department of Bioinformatics - BiGCaT, Maastricht University, Maastricht, The Netherlands
Copyright
© Spjuth et al.; licensee Chemistry Central Ltd. 2013
This article is published under license to BioMed Central Ltd. This is an Open Access article distributed under the terms of the Creative Commons Attribution License (http://creativecommons.org/licenses/by/2.0), which permits unrestricted use, distribution, and reproduction in any medium, provided the original work is properly cited.