Extracting and connecting chemical structures from text sources using chemicalize.org
Journal of Cheminformatics
2013
5:20
Received: 14 February 2013
Accepted: 18 April 2013
Published: 23 April 2013
Abstract
Background
Exploring bioactive chemistry requires navigating between structures and data from a variety of text-based sources. While PubChem currently includes approximately 16 million document-extracted structures (15 million from patents) the extent of public inter-document and document-to-database links is still well below any estimated total, especially for journal articles. A major expansion in access to text-entombed chemistry is enabled by chemicalize.org. This on-line resource can process IUPAC names, SMILES, InChI strings, CAS numbers and drug names from pasted text, PDFs or URLs to generate structures, calculate properties and launch searches. Here, we explore its utility for answering questions related to chemical structures in documents and where these overlap with database records. These aspects are illustrated using a common theme of Dipeptidyl Peptidase 4 (DPPIV) inhibitors.
Results
Full-text open URL sources facilitated the download of over 1400 structures from a DPPIV patent and the alignment of specific examples with IC50 data. Uploading the SMILES to PubChem revealed extensive linking to patents and papers, including prior submissions from chemicalize.org as submitting source. A DPPIV medicinal chemistry paper was completely extracted and structures were aligned to the activity results table, as well as linked to other documents via PubChem. In both cases, key structures with data were partitioned from common chemistry by dividing them into individual new PDFs for conversion. Over 500 structures were also extracted from a batch of PubMed abstracts related to DPPIV inhibition. The drug structures could be stepped through each text occurrence and included some converted MeSH-only IUPAC names not linked in PubChem. Performing set intersections proved effective for detecting compounds-in-common between documents and merged extractions.
Conclusion
This work demonstrates the utility of chemicalize.org for the exploration of chemical structure connectivity between documents and databases, including structure searches in PubChem, InChIKey searches in Google and the chemicalize.org archive. It has the flexibility to extract text from any internal, external or Web source. It synergizes with other open tools and the application is undergoing continued development. It should thus facilitate progress in medicinal chemistry, chemical biology and other bioactive chemistry domains.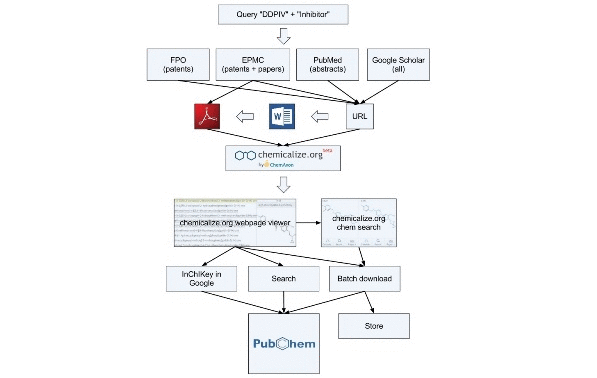 Keywords
Dipeptidyl PeptidaseDatabase EntryBioactive ChemistrySource LinkDocument Extraction
Background
The majority of chemical information and related data generated by biomedical research is specified in text form [1]. A proportion of these primary reports have been captured in public and commercial databases that include a document cross-reference linked to standard chemical representations [2, 3]. Two basic methods are used to populate chemical databases via text. The first is expert manual curation (EMC) typically using a chemical sketcher for input. The second is automated name-to-structure conversion, also termed chemical named entity recognition (CNER). A third option, automated conversion of images to structures, has only just begun to contribute to public database entries via SureChemOpen [4].
A number of questions arise in regard to the global corpus of bioactive chemistry represented in text. These include (a) the total "out there" (b) the number represented in major public databases and (c) the ratio between source types. The upper limit for (a) could be the 70 million substances collated in the CAS commercial database but there are factors suggesting this exceeds the text-based corpus [5]. At 47 million, PubChem is not only the largest open repository but also provides content counts by submission types that can be used to answer (b) and (c) [6]. Patent-extracted structures have four major sources in PubChem. Three of these use CNER, SureChem (9.3 million) SCRIPDB (4.0 million) and IBM (2.4 million). The fourth, Thomson Pharma, is an EMC source (3.8 million). The union between these is 15 million. The largest journal extraction source is ChEMBL, with 0.8 million structures, and PubMed abstracts have 0.2 million linked structures. The chemistry capture ratio for patents: papers: abstracts is therefore approximately 70:4:1, with the union being 16 million. Even if the 70 million CAS-substances exceeded the text-specified total, the implication is that explicit document links for anywhere between 20 and 40 million unique structures are missing from public databases. Paradoxically, because of access constraints, this shortfall is largest for journal content, since the availability of full-text from the major patent offices is now largely complete [7].
Researchers exploring bioactive chemistry thus need ways of extracting structures from document "tombs". In this work we explore the utility of chemicalize.org for this task [8]. Developed by ChemAxon, this web application uses a CNER algorithm and dictionaries to identify chemical structures in text from names and identifiers. The value of this lies in addressing practical questions, the answers to which are important to support decisions in both academic and commercial R&D settings.
Results
To present a coherent and relevant set of extractions from a potentially wide range of examples we have made three restrictions. The first is that we have orientated searches around a specific medicinal chemistry theme of Dipeptidyl Peptidase 4 (DPPIV) inhibitors [
15
]. As a declared drug target for diabetes since 1998, this shows useful specificity as a document keyword search. This extends forwards to current drug discovery research, as well as backwards over many years to patent filings, clinical trials and approved drugs (e.g. saxyglyptin in Figure
1
). This protease target therefore makes a good example to explore global R&D activities. The second restriction was to illustrate utility for just the three key document types of patents, papers and abstracts. The third was to orientate results towards answering practical questions that typically arise in the context of a drug discovery project. A set of these is listed below. The first six are document-centric while the last three are structure-centric.
1.

Can chemical structures be identified in this document?

2.

How many can be extracted?

3.

Which ones have database entries?

4.

Which database entries have links to this document?

5.

Where in the document are the structures specified?

6.

Can SAR data be linked to structures in the document?

7.

What other documents include this structure?

8.

Which database records for this structure have links to other documents?

9.

What additional connections can be made using similarity searches?
In the context of these restrictions we can present a schematic of the options that can be used in conjunction with chemicalize.org (Figure
3
).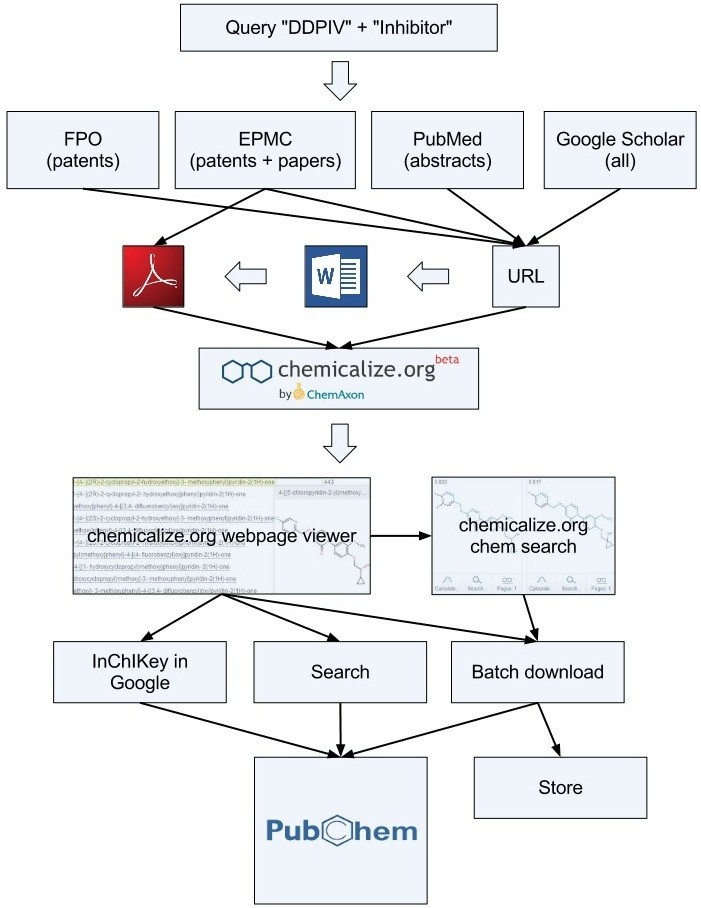 Conclusions
The results above demonstrate the value of chemicalize.org to answer questions related to the chemical content of the key document types for biomedical research. It should also be pointed out that the strong growth in open-access journal content (as PDF and/or URLs) will expand chemicalization.org options. The approaches outlined are not only technically straightforward for those unfamiliar with cheminformatics but they can also be extended to any text source, including internal documents and chemical information on the web. The ability to make reciprocal document-to-document, document-to-database or document-to-web connectivity is of crucial importance. In addition, the indexing of PubChem and ChemSpider by Google has become complementary and transformative because over 50 million aggregated databases entries (including the chemicalize.org archive) can now be checked for an InChIKey match [12]. Similarity searches in databases extend this connectivity even further.
In regard to connectivity, the absolute correctness and completeness extraction of any document extraction per se is less important than the ability to make joins using just a sample of the important extracted structures. For example, there is high value in establishing that patent A, journal article B, PubMed abstract C and database record D, are, from the bioactivity standpoint, probably referring to the same canonical chemical entity. This means that the associated data can be merged between documents, regardless of salt form or isomer differences. In the case of boutique sources that either cross-reference thinly or not at all, chemicalize.org may be the only way to make such joins. There are also synergies with other open tools (in addition to Venny). These include OPSIN for IUPAC names [23], OSRA for chemical images [24] and Utopia for bio-entity recognition [25]. The performance and scope of chemicalize.org is being continually developed, including implementation for mobile phones [26]. It is therefore destined to make an increasing impact in medicinal chemistry, chemical biology and other bioactive chemistry domains.
Availability and requirements
The application is publicly available for on-line use at chemicalize.org and can be accessed with any modern web browser. There is also a free Android mobile app. The core underlying functionality is available as the ChemAxon's "Naming" commercial product suite that includes the chemical name conversion and mining engine. Use of these products on chemicalize.org is covered by Creative Commons BY-NC-SA 3.0 license.
Declarations
Acknowledgements
We would like to acknowledge Daniel Bonniot de Ruisselet and Ferenc Csizmadia for their contributions to the project and thank additional ChemAxon colleagues for reviewing the draft manuscript. We also appreciated the referees comments that enhanced the final submission.
Authors' Affiliations
(1)
TW2Informatics Ltd, Göteborg, Sweden
(2)
ChemAxon Kft, Budapest, Hungary
Copyright
© Southan and Stracz; licensee Chemistry Central Ltd. 2013
This article is published under license to BioMed Central Ltd. This is an Open Access article distributed under the terms of the Creative Commons Attribution License (http://creativecommons.org/licenses/by/2.0), which permits unrestricted use, distribution, and reproduction in any medium, provided the original work is properly cited.