Research article

Open Access
Drug-likeness analysis of traditional Chinese medicines: 2. Characterization of scaffold architectures for drug-like compounds, non-drug-like compounds, and natural compounds from traditional Chinese medicines
Journal of Cheminformatics
2013
5:5
Received: 3 October 2012
Accepted: 8 January 2013
Published: 21 January 2013
Abstract
Background
In order to better understand the structural features of natural compounds from traditional Chinese medicines, the scaffold architectures of drug-like compounds in MACCS-II Drug Data Report (MDDR), non-drug-like compounds in Available Chemical Directory (ACD), and natural compounds in Traditional Chinese Medicine Compound Database (TCMCD) were explored and compared.
Results
First, the different scaffolds were extracted from ACD, MDDR and TCMCD by using three scaffold representations, including Murcko frameworks, Scaffold Tree, and ring systems with different complexity and side chains. Then, by examining the accumulative frequency of the scaffolds in each dataset, we observed that the Level 1 scaffolds of the Scaffold Tree offer advantages over the other scaffold architectures to represent the scaffold diversity of the compound libraries. By comparing the similarity of the scaffold architectures presented in MDDR, ACD and TCMCD, structural overlaps were observed not only between MDDR and TCMCD but also between MDDR and ACD. Finally, Tree Maps were used to cluster the Level 1 scaffolds of the Scaffold Tree and visualize the scaffold space of the three datasets.
Conclusion
The analysis of the scaffold architectures of MDDR, ACD and TCMCD shows that, on average, drug-like molecules in MDDR have the highest diversity while natural compounds in TCMCD have the highest complexity. According to the Tree Maps, it can be observed that the Level 1 scaffolds present in MDDR have higher diversity than those presented in TCMCD and ACD. However, some representative scaffolds in MDDR with high frequency show structural similarities to those in TCMCD and ACD, suggesting that some scaffolds in TCMCD and ACD may be potentially drug-like fragments for fragment-based and de novo drug design.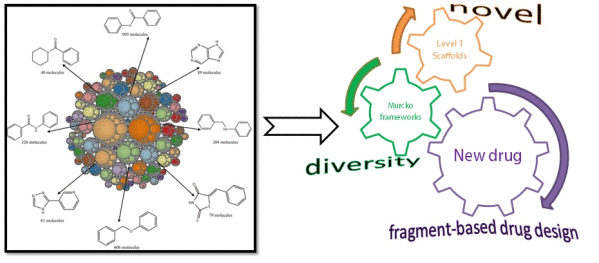 Keywords
ScaffoldDrug-likenessTraditional Chinese medicinesMurcko frameworksScaffold treeTree maps
Introduction
Natural products are generally considered as a rich source of biologically active substances [1]. Many drugs approved by the Food and Drug Administration (FDA) directly come from natural products. In the period of 1981–2002, 5% of the 1031 new chemical entities (NCE) approved as drugs by the FDA are natural products, and other 23% are natural-product-derived molecules [2]. Historically, 60% of cancer drugs and 75% of infectious disease drugs are derived from natural products [2]. Because natural products have been selected during evolution to bind to various proteins during their life-cycle, they are good starting points for drug discovery [3, 4]. Traditional Chinese medicines (TCMs) are primarily based on a large number of herbal formulations that are used for the treatment of a wide variety of diseases. The discovery of hits or leads from natural compounds in TCMs has become a feasible and popular strategy in modern drug discovery pipelines [2].
With the rapid development of high-throughput screening (HTS) and combinatorial synthesis, it becomes possible to generate and evaluate tens of thousands of compounds in a very short period of time with relatively low cost. Unfortunately, the new drugs approved by the FDA did not soar in recent years and even declined slightly, and even only one de novo combinatorial compound was approved in the last 25 years before 2007 [5]. This low success rate may be partly caused by low chemotype, limited scaffold diversity and lack of biological relevant scaffolds of combinatorial compounds [6]. Therefore, searching and designing molecule collections with novel scaffolds and high structural diversity will offer more opportunities for molecules to become leads, and ultimately to become new drugs. It is believed that natural compounds are a good source of novel molecular scaffolds [2, 5, 7–9] and the scaffolds derived from natural compounds have preferable or privileged scaffold architectures [10]. Since the scaffolds of natural compounds are potentially valuable, how to characterize and define the scaffolds that are meaningful for drug design/discovery is the center question we are facing now. It is well known that ring systems form the cornerstone of molecules, and they determine the basic shapes and flexibilities of molecules [11]. In drug design process, ring systems are usually used as the core or central scaffolds to build virtual libraries, and the ring systems in known active compounds can usually be replaced or modified to find new active candidates by using the "scaffold hopping" technique [12].
To data, numerous approaches have been developed to analyze the scaffold architectures of different compound libraries [
9
,
11
,
13
–
18
]. In order to characterize the scaffold diversity of a compound library, a suitable representation or definition of scaffolds is required. In 1996, Bemis and Murcko proposed a method to dissect molecules in CMC into framework which is the union of ring systems and linkers in a molecule, side chains and linkers (Figure
1
). The graph theory analysis shows that there were 1179 different frameworks present in 5120 known drugs and the 32 most frequently occurring frameworks accounted for 50% of the 5120 known drugs [
13
]. In 1999, Bemis and Murcko found that there were 1246 different side chains in CMC that have 5090 compounds and the average number of side chains per molecule is 4 [
14
].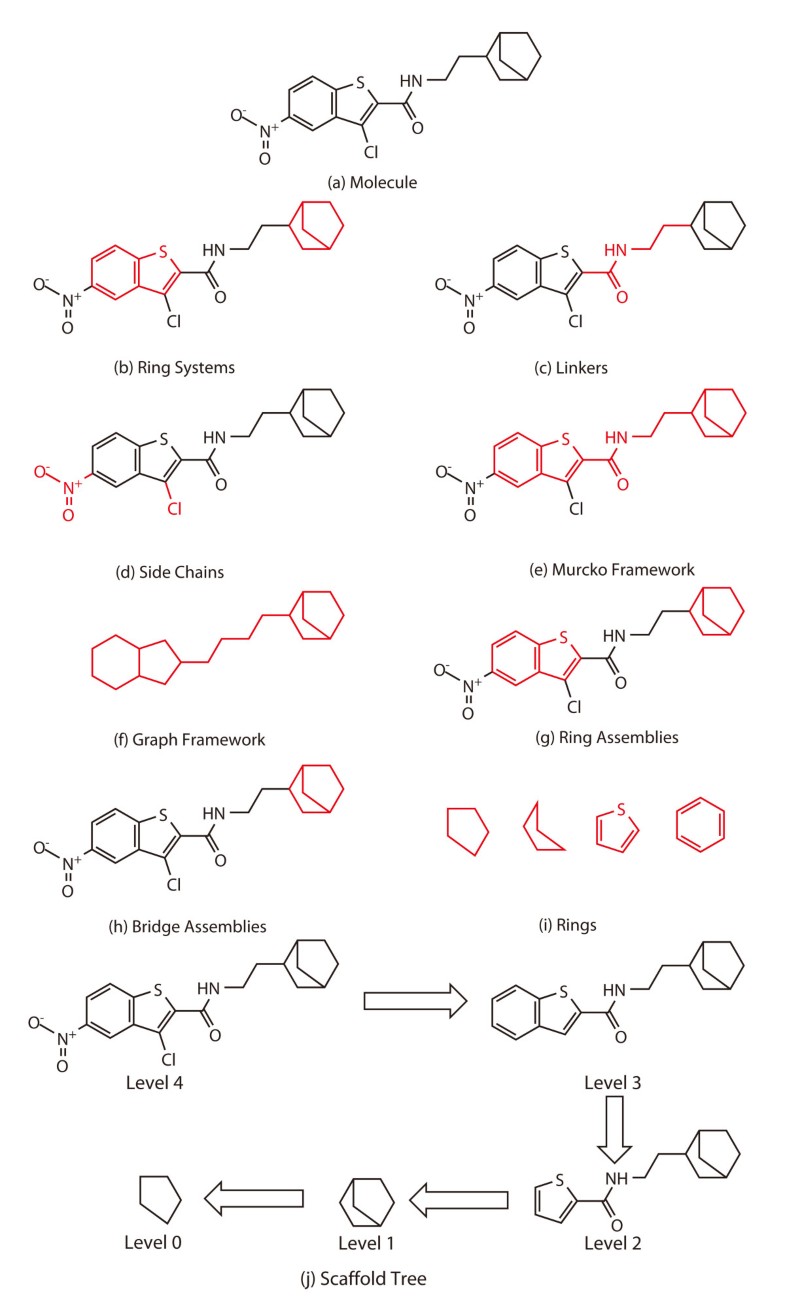 In 2001, Lipkus proposed a simple strategy to organize chemical rings based on three integer descriptors, and he found that the distribution of 40,182 different ring topologies derived from a comprehensive collection of chemical rings from the CAS registry was not compact and had many significant voids [17].
In 2001, Lee et al. used a two-step protocol to determine whether natural products contain appealing novel scaffold architectures for potential use in combinatorial chemistry [9]. The ring systems were extracted from natural products and trade drugs and clustered on the basis of structural similarity in a Self-Organizing Map (SOM), which demonstrates that current trade drugs and natural products have several topological pharmacophore patterns in common. Approximately 35% of the ring systems in trade drugs were present in natural products, but only 17% of the ring systems found in natural products can be found in trade drugs.
In 2006, Ertl and coworkers investigated the simple aromatic ring systems present in a set of 149,437 bioactive compounds and only 780 unique simple aromatic scaffolds [11]. Additionally, 216 of these scaffolds were singletons (present only once in the entire bioactive collection). Moreover, only 10 such scaffolds are present in more than 1% of bioactive molecules and 64 in more than 0.1%. Self-organizing map (SOM) was then used to separate 780 scaffolds present in the bioactive molecules from 575,776 scaffolds present in a virtual library, and the results demonstrated that the 780 biologically active scaffolds are sparsely distributed in the chemical space, forming only a limited number of small, well-defined "activity islands".
In 2005, Koch et al. developed a structural classification of natural products (SCONP), which arranges the scaffolds present in natural products (NP) in a tree-like fashion. The NP Scaffold Tree can be used as a strategic and guiding tool for the selection of underlying frameworks for NP-inspired compound library development [16]. Similarly, in 2007, Schuffenhauer et al. proposed the Scaffold Tree (ST) technique to give a hierarchical classification of chemical scaffolds obtained by pruning all terminal side chains [18]. The techique iteratively removes ring one by one according to a set of prioritization rules, and in the end the substructure with only one ring is obtained. The hierarchical structure for a molecule is numbered sequentially from Level 0 (one ring substructure) to Level n (the whole molecule) (Figure 1j), and Level n-1 represents the Murcko framework (Figure 1e). All-Level structures for a molecule are then combined into a tree. Recently, the Scaffold Tree technique has been widely used to analyze the scaffold diversity of compound libraries [19, 20].
In 2010, we applied a brute force approach to enumerate all the possible scaffolds in a molecule for 1240 marketed drugs and 6932 drug candidates entering clinical trials. We found that the top 50 scaffolds cover about 52.6% of marketed drugs and 48.6% of drug candidates. The drug likeness of each scaffold was evaluated using the ratio of the hit rates in drug data set to that in the screening data set (a subset of the ZINC database containing 1.95 million entries) [21].
Apparently, many studies discussed above illustrate that many compound libraries do not have enough scaffold diversity. In previous studies, the scaffold diversity for natural products has been investigated [9, 16]. However, to our knowledge, the study on the analysis of scaffold architectures and scaffolds for natural compounds from TCMs has never been reported. It is quite possible that the novel scaffolds present in natural compounds from TCMs may serve as good starting points for the development of natural product-like compound libraries. Here, the scaffold architectures and scaffold diversity were investigated for three classes of compounds collections, including MACCS-II Drug Data Report (MDDR), Available Chemical Directory (ACD), and Traditional Chinese Medicine Compound Database (TCMCD). The new version of the TCMCD database developed in our group contains 63,759 molecules identified from more than 5000 herbs used in traditional Chinese medicines (TCMs) [22]. To our knowledge, the number of molecules in TCMCD is the largest around the world. Here, we used three structural partition strategies to represent scaffolds, including (1) Murcko framework [13], (2) Scaffold Tree [18], and (3) a scheme based on rings, ring assemblies [23], bridge assemblies and side chains. Then, Tree Maps were used to visualize the distribution of molecular compounds over scaffolds based on the molecular fingerprint similarity of these scaffolds. The representative scaffolds in each dataset and the difference of the scaffold diversity between the studied datasets were highlighted by the Tree Maps.
Conclusions
We have used different scaffold representations to examine the structural diversity of MDDR, ACD and TCMCD. Our analysis shows that the number of the unique Murcko frameworks for MDDR is much larger than those for ACD and TCMCD. At the same time, MDDR has the largest number of the non-duplicated side chains. Therefore, we believe that the molecular diversity of MDDR is higher than those of ACD and TCMCD.
The analysis of the ring assemblies and bridge assemblies suggests that natural compounds in TCMCD are more complicated than molecules in ACD and MDDR. By analyzing the different levels of the Scaffold Tree for the three datasets, we found that at the lower levels (from Level 0 to 4) the scaffold diversity for MDDR is the highest, while at the higher Levels (Level 5 or even higher) the scaffold diversity for TCMCD is the highest. Consequently, we realized that the higher molecular diversity of MDDR may be explained by the complexity and diversity of the linkers to connect the lower level ring systems.
By analyzing the cumulative frequency of the Murcko frameworks, the Level 1 and Level 2 scaffolds, we found that the top 1000 Level 1 scaffolds can represent most molecules in the three datasets, which demonstrates that the Level 1 scaffolds can serve as typical scaffolds to characterize the core structures present in the studied molecules in MDDR, ACD and TCMCD.
The similarity analysis for the scaffolds present in the studied datasets show that there are structural overlaps of scaffolds between MDDR and TCMCD, but TCMCD still contains many novel ring systems that cannot be found in MDDR. Finally, the Level 1 scaffolds for each dataset were clustered and visualized by Tree Maps. The results indicate that the distributions of the Level 1 scaffolds of MDDR are sparser than those of ACD and TCMCD, confirming the higher structural diversity of the scaffolds in MDDR. In addition, some Level 1 scaffolds with the highest frequencies of MDDR are similar to those of TCMCD, indicating that some ring substructures extracted from TCMCD may be served as valuable substructure resource for drug discovery.
Declarations
Acknowledgements
This study was supported by the National Science Foundation of China (20973121 and 21173156 to T. Hou), the National Basic Research Program of China (973 program, 2012CB932600 to T. Hou), the NIH (R21GM097617 to J. Wang) and the Priority Academic Program Development of Jiangsu Higher Education Institutions (PAPD).
Authors' Affiliations
(1)
Institute of Functional Nano & Soft Materials (FUNSOM) and Jiangsu Key Laboratory for Carbon-Based Functional Materials & Devices, Soochow University, Suzhou, China
(2)
College of Pharmaceutical Sciences, Soochow University, Suzhou, China
(3)
Department of Biochemistry, The University of Texas Southwestern Medical Center, Dallas, USA
(4)
College of Chemistry and Molecular Engineering, Peking University, Beijing, China
Copyright
© Tian et al.; licensee Chemistry Central Ltd. 2013
This article is published under license to BioMed Central Ltd. This is an Open Access article distributed under the terms of the Creative Commons Attribution License (http://creativecommons.org/licenses/by/2.0), which permits unrestricted use, distribution, and reproduction in any medium, provided the original work is properly cited.