Research article
Open Access
Protoss: a holistic approach to predict tautomers and protonation states in protein-ligand complexes
Journal of Cheminformatics
2014
6:12
Received: 6 January 2014
Accepted: 17 March 2014
Published: 3 April 2014
Abstract
Abstract
The calculation of hydrogen positions is a common preprocessing step when working with crystal structures of protein-ligand complexes. An explicit description of hydrogen atoms is generally needed in order to analyze the binding mode of particular ligands or to calculate the associated binding energies. Due to the large number of degrees of freedom resulting from different chemical moieties and the high degree of mutual dependence this problem is anything but trivial. In addition to an efficient algorithm to take care of the complexity resulting from complicated hydrogen bonding networks, a robust chemical model is needed to describe effects such as tautomerism and ionization consistently. We present a novel method for the placement of hydrogen coordinates in protein-ligand complexes which takes tautomers and protonation states of both protein and ligand into account. Our method generates the most probable hydrogen positions on the basis of an optimal hydrogen bonding network using an empirical scoring function. The high quality of our results could be verified by comparison to the manually adjusted Astex diverse set and a remarkably low rate of undesirable hydrogen contacts compared to other tools.
Keywords
Protein-ligand complexTautomersProtonation statesHydrogen placement
Background
Crystal structures of protein-ligand complexes play an important role in the drug development process. They provide valuable insights into where and how molecules interact with their respective target proteins and thus are the basis for further optimization strategies. They also serve as starting point for numerous structure-based in-silico techniques such as molecular docking or pharmacophore generation. Furthermore, the statistical analysis of large collections of crystal structures is a common means to gain general knowledge about molecular interactions and geometry. These results are often used to derive parameters for various computational methods. All of the above-mentioned applications depend on information about the interactions between protein and molecules with hydrogen bonds being one of the most important types. Due to insufficient resolution, the vast majority of the entries in the Protein Data Bank (PDB) [1] only contain coordinates of non-hydrogen atoms. In order to be able to work with these entries, automated procedures for the placement of hydrogen atoms are needed. Considering its importance, it is not surprising that a large number of different methodologies have been developed to tackle this task. A thorough review of these different approaches has been given by Forrest and Honig [2].
While many of these applications show substantial differences concerning their subjective function or their underlying optimization algorithms, most of them share the degrees of freedom which are used to tackle the uncertainties of structure determination [3–8]. Typically, these comprise rotatable hydrogens, tautomers and protonation states of particular amino acids, alternative water orientations, and terminal side chain flips. Indeed, this covers the most important ambiguities of protein structures, but neglects crucial aspects of ligand molecules. Different tautomers and protonation states can lead to substantially different interaction patterns. Hence, considering alternative ligand states has a high impact on the quality of hydrogen bonding networks, especially for applications dealing with ligand binding. Neglecting these degrees of freedom might easily lead to erroneous predictions, including the omission of relevant hydrogen bonds and the generation of hydrogen clashes. Nevertheless, targeting this problem has not drawn much attention in the literature yet. This might be reasoned in a deviating focus of most hydrogen prediction tools, which concentrate rather on the whole protein than on single binding sites, but it might also reflect the difficulty of properly modeling complex phenomena like tautomerism and ionization of arbitrary organic molecules. However, some of the more recently developed methods consider these effects at least to some extent.
Protonate 3D [9, 10] has been developed for the prediction of hydrogen coordinates as a preprocessing step to structure-based computational applications, e.g. protein-ligand docking or molecular dynamics. Beside well-established degrees of freedom for protein side chains, it is also capable of considering selected alternative states of other chemical groups. This is technically realized by a SMARTS [11]/SMILES [12]-based template collection stored in a predefined parameter file which must explicitly contain all tautomeric and protonation states that should be considered for a specific chemical group. Furthermore, Protonate 3D uses a prioritizing branch-and-bound algorithm in combination with a preceding dead-end elimination to handle the state space optimization problem and a force field based energy model including additional terms for tautomerism and ionization effects.
The modeling and simulation suite YASARA [13, 14] provides a sub-module for the prediction of hydrogen coordinates which is able to consider alternative protonation states and tautomers of non-protein-like chemical substructures. Similarly to Protonate 3D, a configuration file contains template definitions for different potential states of these substructures represented as SMILES strings. Its default collection of considered substructures is a little more comprehensive, but its generality is still limited by the fact that all molecular states have to be explicitly defined. The optimization problem is tackled with an algorithm, originally developed for side chain prediction, which combines a dead-end elimination, a branch-and-bound backtracking, and a graph decomposition approach [15]. Interestingly, the underlying empirical scoring model, in contrast to most other hydrogen prediction tools, targets a minimization of the amount of unsaturated hydrogen bond donors or acceptors instead of a maximization of the number of attractive interactions.
We present a novel method for the placement of hydrogen coordinates in protein-ligand complexes. By using the consistent chemical description provided by the NAOMI model [16], tautomeric and protonation states of both protein and ligand are handled consistently. The method is a substantial extension of Protoss [17] which has been developed earlier. The optimal hydrogen bonding network is determined on the basis of the quality of all possible hydrogen bonds in combination with the stability of the involved chemical groups. There is to the best of our knowledge no other method described in the literature which is able to handle the degrees of freedom for protein and ligand in an comparable generality.
Methods
The purpose of the presented method is the generation of the most probable hydrogen placement for a given protein-ligand complex. The underlying optimization procedure is based on an empirical scoring scheme designed to identify an optimal hydrogen bonding network. This scheme takes both the quality of hydrogen bond interactions and the relative stability of different chemical species into account. The procedure is performed in separate steps which will be explained in detail in the following sections. Due to the exceptional importance of the PDB as source for input structures, we have added a subsection in which the necessary preprocessing steps for working with PDB files are discussed.
Results and discussion
Tautomeric frequencies
Most hydrogen prediction tools for protein-ligand complexes only handle tautomerism for moieties from proteinogenic amino acids or by explicit lists of substructure transformation rules. In order to demonstrate the insufficiencies of this approach, we counted all substructures contained in the Ligand Expo database (accessed Jan 3, 2014) [23], for which we were able to identify sensible alternative tautomers or protonation states. Furthermore, we split the set into two groups. First, the set of functional groups which also appear in protein side chains, namely carboxylates, primary amines, and imidazoles (classical VMRs). Second, all other functional groups and conjugated substructures for which more than one sensible state could be created (advanced VMRs). Rotational degrees of freedom were neglected for this analysis.
We found that only 19% of the Ligand Expo database molecules did not show any VMR with alternative tautomers or protonation states. Furthermore, 17% of all molecules only contain substructures from the classical VMRs set. For all other molecules, at least one advanced VMR was observed.
Overall, we found 1802 structurally different, canonical VMR types. In order to analyze the relevance of these different substructures, we first sorted the list of VMRs according to the portion of molecules containing the respective VMR and then plotted the amount of molecules whose variability with respect to tautomerism and protonation can be completely described by a set of the
k
most frequent VMRs (see Figure
3
). The results show that, e.g., a set of approximately 430 substructures is required to consider the full variability for 90% of all molecules in the Ligand Expo database. In general, the curve progression clearly illustrates the strong dependency of low prediction error rates on the consideration of a wide range of chemical substructures.
Figure
4
additionally depicts the absolute amount of different VMRs for various chemical classes. This classification demonstrates that the high amount of different VMRs is mostly reasoned in the diversity of aromatic substructures. The difficulty of correctly treating more complicated substructures, such as annulated aromatic ringsystems, motivates a generic approach for handling tautomerism.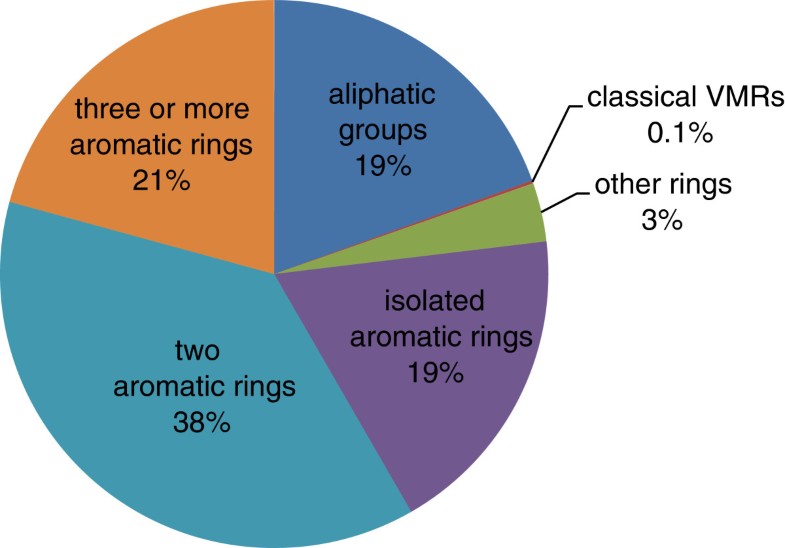 Undesirable contacts
One of the primary requirements on hydrogen placement is to avoid the generation of undesirable contacts such as close donor-donor, donor-metal or acceptor-acceptor interactions. In order to evaluate the effect of considering alternative protonation and tautomeric states on this issue, we analyzed the occurrence of undesirable contacts in the results of the hydrogen prediction tools Protonate 3D (as implemented in MOE 2013.08 [10]), YASARA (version 13.9.8 [14]), and Protoss. The latter was used in two alternative versions, with and without an analysis of alternative tautomers and protonation states. Apart from that, all tools were applied with default settings. The sc-PDB database v.2012 [24] served as basis for this test, as it constitutes a comprehensive and diverse database of pharmacological relevant protein-ligand complexes. However, as the protein files provided by the sc-PDB do not contain water molecules, we used the corresponding original files from the PDB instead. The sc-PDB v.2012 consists of all in all 8077 protein-ligand complexes. Nine of them were not available in the PDB anymore (November 2013) and have therefore been excluded. The remaining 8068 structures were further processed by a clean-up step removing all existing hydrogen atoms, atom duplicates, and overlapping entities in order to reduce possible error sources which might bias the hydrogen prediction and validation experiments. This procedure comprises a series of atom entry filtering steps which were processed in the following order. First, all hydrogen atom entries were erased. Second, all residue entries were identified that overlap with the reference ligand. In this and all following cases, an overlap was defined as an atom distance of equal or less than 1 Å. Furthermore, an overlapping residue entry was defined to represent a part of the reference ligand if for each of its atom entries the closest atom of the reference ligand has a maximum distance of 1 Å and the same chemical element type. (This rather fuzzy matching criterion was chosen because some sc-PDB ligands are shifted or have a slightly different conformation compared to the original PDB structure). Otherwise the overlapping entry was removed. If an overlapping residue entry contains alternate locations we only kept that conformation which fits the reference ligand best. In case that the best conformation does not fulfill the matching criterion, the residue entry was only retained if the first alternate location has no overlap with the reference ligand. In the third step, all other atom entries were checked for alternate locations and only the first position per atom was kept. In a final step, all residue entries were dropped, which overlap with any preceding entry in the file or exhibit an internal atom overlap.
In 27 cases this cleanup procedure led to a partial or total removal of the reference ligand's heavy atoms, e.g. if the sc-PDB ligand, compared to the original PDB structure, exhibits a different conformation, deviating element, additional atoms, or an internal atom overlap. Therefore these structures were also removed.
For the remaining set of 8041 files, all three tools were used to add new hydrogen atoms and to optimize the hydrogen bonding networks. As the Yasara version used in this study shuts down during the prediction for one complex (3ptq), this structure was also excluded. Eventually, the results were scanned for undesirable contacts, which were defined as follows: All oxygen and nitrogen atoms of the ligand or the active site (6.5 Å around the ligand) which have at least one hydrogen bound were considered as hydrogen bond donors. Two hydrogen bond donors are defined to form an undesirable contact if the hydrogen atom distance is equal or less than a certain threshold. Likewise, an undesirable contact between a donor and a metal ion is determined on the basis of the hydrogen-metal distance (see Figure
5
). For both cases, exactly one of the counterparts had to be part of the ligand. Beside this simple distance criteria, we also analyzed both types of contacts under consideration of additional measures, namely the heavy atom distance and the angles formed by both heavy atoms and one of the hydrogens (see Figure
6
). We also defined different threshold sets to investigate the dependency of the error frequency on the precision of the interaction criterion. All used precision levels and their respective thresholds are listed in the tables in Figure
5
and Figure
6
. Although an additional investigation of acceptor-acceptor contacts could provide further insights, we explicitly avoided this analysis, because acceptor orientations cannot be analyzed without interpreting the input data on the basis of geometric assumptions of an internal chemical model, which would compulsorily influence the evaluation. Overall, the possibly most conspicuous and expected finding is that the error frequency increases with decreasing precision of the interaction criterion. This effect can be observed for all prediction tools. The higher rate of undesirable contacts for the Protoss version without tautomer analysis throughout all precision levels clearly demonstrates the benefit of considering tautomerism and protonation states for the performance of hydrogen prediction.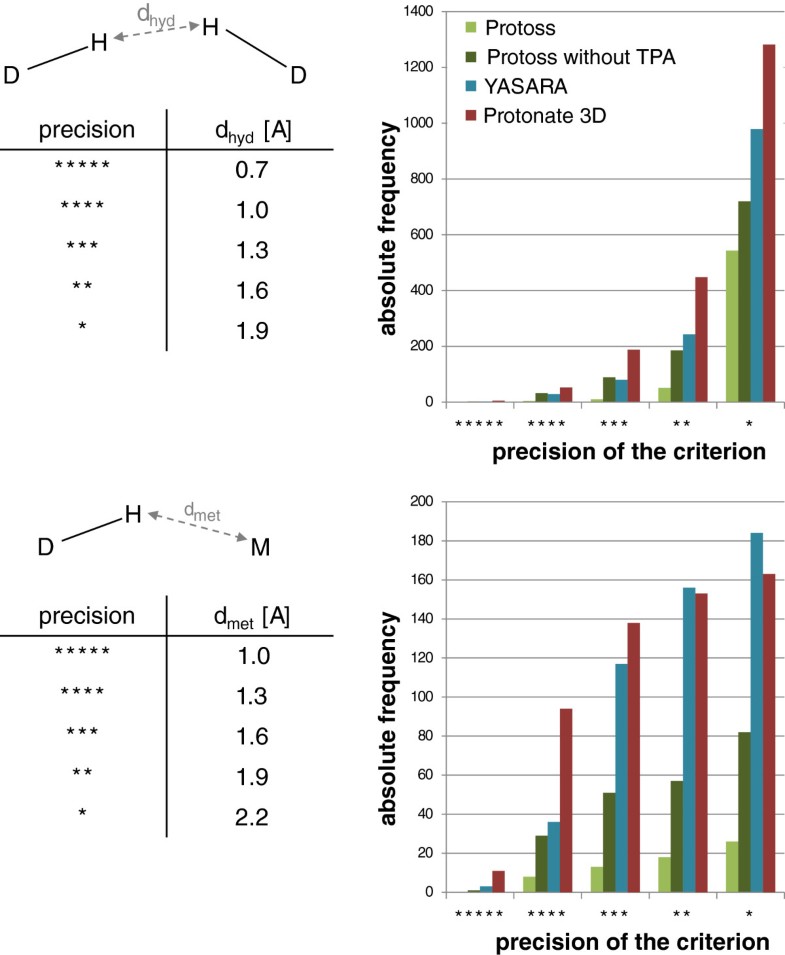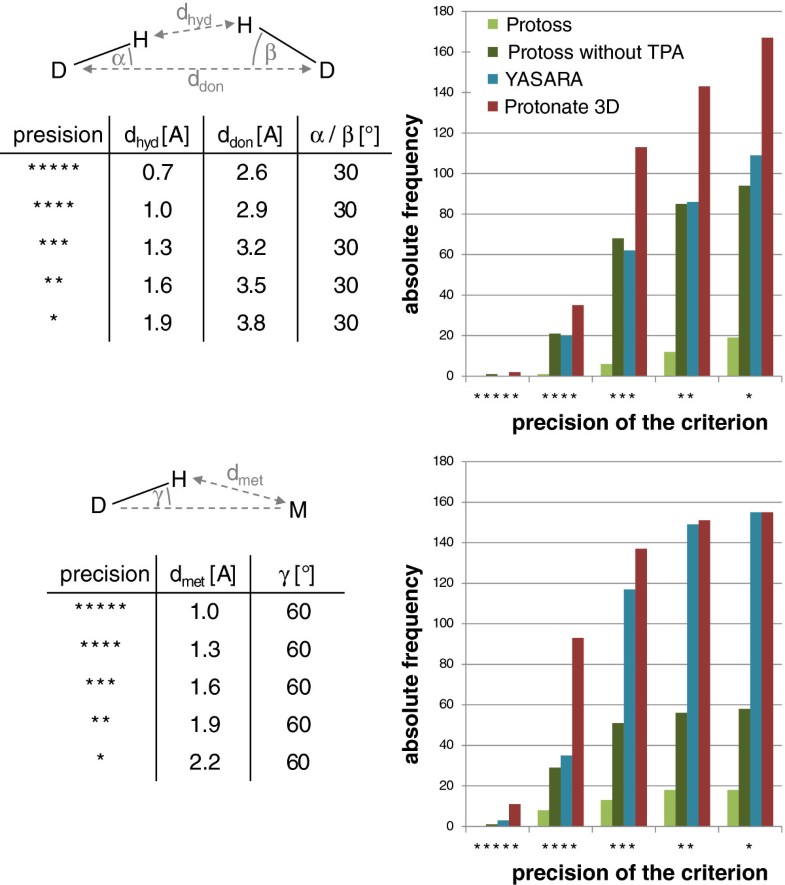 Comparison to manual adjustment
Ultimately, a hydrogen prediction tool should be validated against experimental data. Unfortunately, there is only a very limited amount of experimental data that might be used for such an evaluation due the difficulties of determining hydrogen coordinates with X-ray crystallography.
As a result of the insufficient amount of experimental data, we intend to demonstrate the properness of our approach on the basis of the Astex diverse set [25] (Astex Set). This collection of 85 protein-ligand complexes, which was developed for the validation of docking performance, contains ligands which are manually adjusted with respect to their protonation and tautomeric states. Therefore, the Astex Set seems to be suitable for a verification of predicted ligand states. For each target structure in the dataset, the original file was retrieved from the PDB, preprocessed as described in the previous section (removing existing hydrogen atoms, atom duplicates, and overlapping entities) and given to Protonate 3D, YASARA, and Protoss for generating new hydrogens as well as their coordinates. The results were then written to PDB files and compared to the ligand topology given in the Astex Set.
The topological ligand comparison was realized by a simple string comparison of Unique SMILES [26]. However, as the bond orders of the internal molecule representation that was used for the Unique SMILES generation are derived from PDB files, there is still a theoretical risk of misinterpreting the molecular topology. Therefore, all automatically detected deviations where additionally confirmed by visual comparison to the graphical molecular representations of the respective tools.
The deviating solutions are classified according to the deviation type, thus whether the solution constitutes a different tautomer, protonation state, or redox form. Furthermore, the quality of the hydrogen bonding network with respect to undesirable contacts and missing a hydrogen bonds is analyzed. Since a different redox form constitutes a more serious problem, the latter aspect is only evaluated for deviating tautomers and protonation states. In contrast to erroneous redox forms, deviating protonation or tautomeric states are not necessarily incorrect. However, a worse hydrogen bonding network is at least a strong hint that the respective structure is inferior. A hydrogen bond was defined by a maximum heavy atom distance of 3.5 Å and a minimal donor-hydrogen-acceptor angle of 150°. Undesirable contacts were defined on the basis of precision level 2 (**) (see Figure 5).
Computing time
On average, the hydrogen prediction by Protoss took 2.47 seconds for a complex from the Astex Set. The median of this prediction series is 0.93 seconds. This includes file IO, preprocessing, and hydrogen bonding network optimization for the whole protein-ligand complex with all ligands, co-factors and water molecules. All runtime measurements were performed on a single core of an Intel Core i7-2600 with 3.4 GHz and 8 GB of memory.
Conclusion
There are several known cases in which a small change in the ligand molecule, resulting in a single additional hydrogen bond, makes a huge difference in binding affinity. Therefore, the correct assignment of the ligand's tautomeric form, its protonation state and hydrogen orientations is a mandatory step in structure-based molecular design. Especially precise protein-ligand scoring functions, as a key component in docking and lead optimization procedures, rely on a correct protonation. Since validation procedures for docking and scoring are mostly based on carefully, hand-prepared test cases, the influence of wrong tautomerism and protonation is quickly overseen.
Several methods exist already addressing this important preprocessing step, however, most approaches lack a comprehensive model of ligand tautomerism. Here, we present a novel method for the placement of hydrogen coordinates in protein-ligand complexes under consideration of both tautomeric and protonation states. The method implements an optimization procedure designed to identify the best hydrogen bonding network based on a generic scoring function. Its main application is the automatic preparation of protein binding sites for structure-based virtual screening and large-scale statistical analysis of molecular interactions in biological systems. Our validation studies show that for this purpose our approach yields results which are in good agreement with manually adjusted ligand states. Numerous case studies demonstrate that the resulting molecular states are both comprehensible and chemically reasonable.
Declarations
Acknowledgements
The authors would like to express their thanks to the development team of BioSolveIT for the long standing cooperation in software development, especially Martina Brümmer for her help in creating a reliable, stable and well-tested Protoss executable.
Authors' Affiliations
(1)
Center for Bioinformatics(ZBH), Universität Hamburg, Hamburg, Germany
(2)
BioSolveIT GmbH, St. Augustin, Germany
Copyright
© Bietz et al.; licensee Chemistry Central Ltd. 2014
This article is published under license to BioMed Central Ltd. This is an Open Access article distributed under the terms of the Creative Commons Attribution License (http://creativecommons.org/licenses/by/2.0), which permits unrestricted use, distribution, and reproduction in any medium, provided the original work is properly credited. The Creative Commons Public Domain Dedicationwaiver (http://creativecommons.org/publicdomain/zero/1.0/) applies to the data made available in this article, unless otherwisestated.