Research article
Open Access
Experimental validation of FINDSITEcomb virtual ligand screening results for eight proteins yields novel nanomolar and micromolar binders
Journal of Cheminformatics
2014
6:16
Received: 30 August 2013
Accepted: 15 April 2014
Published: 26 April 2014
Abstract
Background
Identification of ligand-protein binding interactions is a critical step in drug discovery. Experimental screening of large chemical libraries, in spite of their specific role and importance in drug discovery, suffer from the disadvantages of being random, time-consuming and expensive. To accelerate the process, traditional structure- or ligand-based VLS approaches are combined with experimental high-throughput screening, HTS. Often a single protein or, at most, a protein family is considered. Large scale VLS benchmarking across diverse protein families is rarely done, and the reported success rate is very low. Here, we demonstrate the experimental HTS validation of a novel VLS approach, FINDSITEcomb, across a diverse set of medically-relevant proteins.
Results
For eight different proteins belonging to different fold-classes and from diverse organisms, the top 1% of FINDSITEcomb's VLS predictions were tested, and depending on the protein target, 4%-47% of the predicted ligands were shown to bind with μM or better affinities. In total, 47 small molecule binders were identified. Low nanomolar (nM) binders for dihydrofolate reductase and protein tyrosine phosphatases (PTPs) and micromolar binders for the other proteins were identified. Six novel molecules had cytotoxic activity (<10 μg/ml) against the HCT-116 colon carcinoma cell line and one novel molecule had potent antibacterial activity.
Conclusions
We show that FINDSITEcomb is a promising new VLS approach that can assist drug discovery.

Keywords
Drug discoveryVirtual ligand screening (VLS)High-throughput screening (HTS)Differential scanning fluorimetry (DSF)Ligand homology modeling
Background
Traditional experimental approaches to drug discovery rely on two different strategies [1]. The first selects a reliable therapeutic target that might be essential for an organism's or cell's survival, and then, using chemical library screening, potential leads that bind to and modulate the activity of the target in vitro and subsequently, in vivo, are identified. The second approach tests small molecules on animal disease models or cell cultures (called phenotypic screening), and once activity is gleaned, the protein target is experimentally identified by target deconvolution [2]. Both approaches have contributed to the discovery of new drugs despite suffering from substantial disadvantages of high cost and time. Fragment-based drug discovery approaches have recently gained prominence as a distinct and complementary approach to drug discovery [3]. Integration of a robust VLS methodology with experimental HTS approaches constitutes one of the many methods that might accelerate the drug discovery process [4].
Despite its current limitations, VLS may be employed as a possible first step in drug discovery [5]. It not only aids in the selection of an appropriate protein target but also narrows down the chemical space that is experimentally screened to arrive at significant protein-ligand interactions. In practice, both ligand- and structure-based VLS approaches [6] have been used. The principal disadvantage of a ligand-based approach is the need for a priori knowledge of a set of ligands known to bind to the target [7]. Structure-based approaches require a high-resolution structure of the target; this situation typically only holds for a minority of proteins in a given proteome [8]. To overcome these limitations, ligand homology modeling (LHM) was developed to predict ligands that bind to the protein target [9–11]. LHM relies on the fact that evolutionarily distant proteins share functional overlap and their ligand-binding information provides diverse bound ligands that can be employed in a general VLS approach. Thus, it does not suffer from the limitations of quantitative structure-activity relationship (QSAR)-based approaches. In large scale benchmarking, the FINDSITEcomb LHM approach exhibited significant performance advantages over traditional approaches in terms of enrichment factor, speed, and insensitivity as to whether experimental or predicted protein structures are used [12]. However, experimental assessment of the method, where blind predictions are made and then experimentally tested, has not been done. To ensure robustness, a diverse set of proteins and ligands must be examined, and the strengths and limitations of the approach demonstrated.
A reliable and fast method that would test VLS predictions and identify hits could help accelerate the drug-discovery process. This could help alleviate the inherent complexity of treating diseases due to cross-reactivity and could address the rapid evolution of resistance to available drugs by pathogenic microbes. We have resorted to the thermal shift assay methodology to assess the predictions from VLS [13]. The methodology is an inexpensive way to assess the binding of small-molecules by the stability they confer on thermal denaturation of the protein target of interest. Upon thermal denaturation, the hydrophobicity of proteins increases, leading to an increase in fluorescence of an extrinsic fluorophore reporter dye. This method is amenable to miniaturization and can screen hundreds of molecules simultaneously for their ability to bind to the protein target of interest.
Recognizing the importance of these issues, in the present paper, to assess if FINDSITEcomb [12] can improve VLS, we selected an assortment of medically-relevant proteins with differing fold-architectures from diverse organisms including the causative agents of human and primate malaria, Plasmodium falciparum and Plasmodium knowlesi, an opportunistic pathogen Escherichia coli, and proteins implicated in mammalian disorders (from Homo sapiens and Rattus norvegicus). For these proteins, top ranked ligands predicted by FINDSITEcomb are experimentally assessed for binding by thermal-melt assays. After validating the small molecule binding predictions, we tested their physiological function by their ability to kill bacteria such as multi-drug resistant E. coli (MDREC), methicillin-resistant Staphylococcus aureus (MRSA), Vancomycin-resistant Enterococcus faecium (VREF), and their cytotoxic activity using HCT-116 colon carcinoma tumor cell line. The encouraging experimental results for both binding and physiological activity show that FINDSITEcomb is an effective VLS tool.
Results
The section summarizes the results from FINDSITEcomb's VLS predictions on eight different proteins and their validation by the thermal shift assay methodology.
Prior to assessing the VLS results on the eight protein test set, the thermal shift methodology was validated on three proteins having known binding and nonbinding ligands. Only cognate protein-ligand pairs showed shifts in the transition mid-point of thermal melt curves, Tm, while non-cognate ligands displayed no such shifts (Additional file 1: Figure S1 and SI).
We next applied the methodology, as shown in Figure
1
, in benchmark mode to eight diverse proteins, viz., FINDSITE
comb
only considered template proteins whose sequence identities to the target was <30%. Typically on the order of 50 ligands per protein gave interpretable thermal shift curves. Of these, the experiments identified a total of 47 small-molecule/protein binding interactions with μM or better affinities. Ten ligands with apparent nM binding affinities (less than 1 μM) were identified for dihydrofolate reductase from
E. coli
and the two mammalian protein tyrosine phosphatases (PTPs). Except for a small fraction of known inhibitors, which further validated the methodology, most are novel. The prediction percentage success rate ranged from 3.9% of ligands tested for the
P. falciparum
ubiquitin-conjugating enzyme to almost 47% for dihydrofolate reductase from
E. coli
(Table
1
). This is a major advancement over previously reported success rates [
14
]. The small-molecules that displayed biological activity had low μM or nM affinities in the
in vitro
thermal shift assay (Table
2
; Additional file
1
: Tables S3-S5). This supports the conjecture that their
in vivo
biological activity might result from binding of the small-molecule with the intended target protein. A more detailed summary of the results is presented below.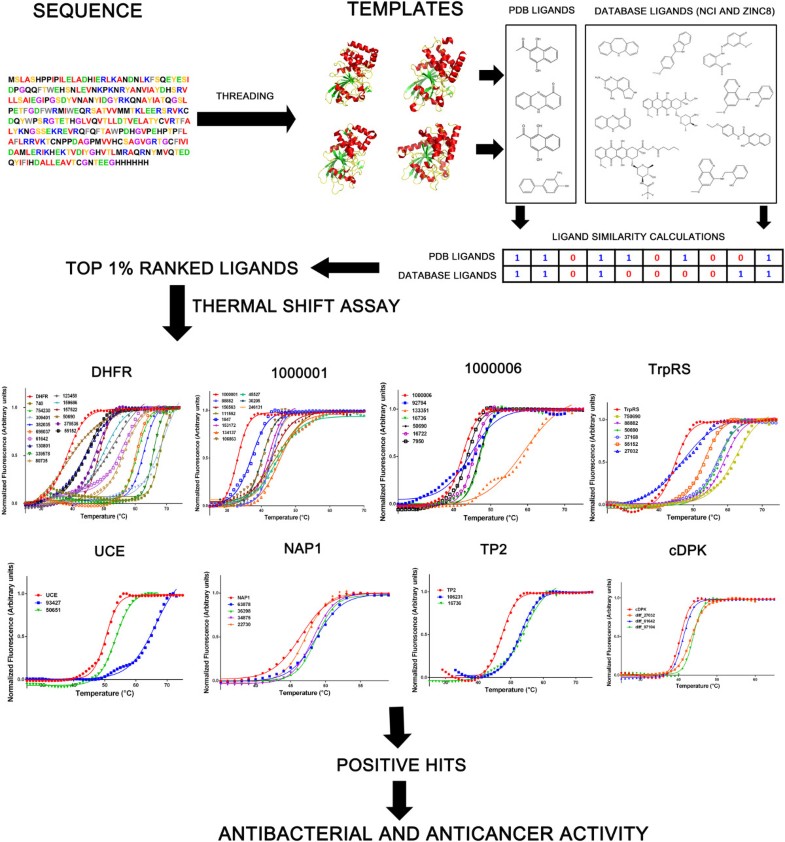 Table 1
Results from the thermal shift assays on eight proteins, ranked by best ligand binding*
| Protein | Organism | No. of ligands tested | No. of good curves | No. of + veashifts/% + veashifts | Best hit (NSC) | ΔTm(°C) | KD(nM)b | Best hit structure |
| --- | --- | --- | --- | --- | --- | --- | --- | --- |
| DHFR | E. coli | 83 | 32 | 15/46.9 | 309401 | 30.74 | 48.21 | |
| 1000006 | H. sapiens | 59 | 43 | 6/13.9 | 133351 | 16.76 | 168.29 | |
| 1000001 | R. norvegicus | 86 | 42 | 10/23.8 | 134137 | 12.30 | 406.0 | |
| TrpRS | H. sapiens | 94 | 12 | 5/41.7 | 750690 | 14.57 | 1277.51 | |
| UCE | P. falciparum | 80 | 51 | 2/03.9 | 93427 | 14.86 | 1376.09 | |
| TP2 | P. falciparum | 67 | 12 | 2/16.7 | 106231 | 5.7 | 40872.77 | |
| cDPK | H. sapiens | 80 | 19 | 3/15.8 | 27032 | 2.95 | 48538.90 | |
| NAP 1 | P. knowlesi | 82 | 54 | 4/07.4 | 36398 | 2.21 | 180135.58 | |
Table 2
Antimicrobial and anticancer activities of a representative set of small-molecules b
Proteina

Identity (NSC)

DH5α (MIC)

MDREC (MIC)

MRSA (MIC)

VREF (MIC)

HCT-116 (IC-50)

DHFR

309401

7.813

125

31.25

31.25

0.130

740*

ND

ND

ND

500

0.048

339578*

62.5

250

31.25

31.25

6.11

382035*

ND

ND

31.25

31.25

0.182

754230*

ND

ND

ND

ND

<<0.031

1000001

111552

NA

NA

NA

NA

2.2

246131@

NA

NA

NA

NA

0.024

30205

NA

NA

NA

NA

0.146

88882

NA

NA

N A

NA

4.44

106863

NA

NA

NA

NA

14.5

1000006

92794

NA

NA

NA

NA

9.78

TrpRS

750690¥

NA

NA

NA

NA

1.11

88882

NA

NA

NA

NA

4.44

37168

NA

NA

NA

NA

1.34
Discussion
In this paper, we describe the large-scale experimental validation of the FINDSITEcomb VLS methodology and demonstrate that the approach is applicable to a wide variety of proteins. In contrast, previous instances of VLS coupled to experimental screening of ligands reported in the literature mostly concentrate on either a single enzyme or a single enzyme family [36–41]. FINDSITEcomb, being a hybrid of structure-based and ligand-based VLS approaches, has many advantages: It identifies a structurally diverse set of ligands as potential hits, retains the speed of traditional ligand-based approaches, and removes the requirement of traditional structure-based approaches that a high-resolution structure of the protein target of interest be solved. Thus, ~75% of a given proteome is accessible to this VLS methodology. This affords the possibility not only of identifying novel hits, but also for repurposing FDA approved drugs, and concomitantly suggesting possible drug side effects.
Demonstration of the methodology on a diverse set of proteins with differing folds suggests that the method is a general and effective approach to discovering novel protein-ligand binding interactions. The primary success rates of 4%-47% are dramatic when compared to rates reported in the literature. Since only a tiny fraction of the protein/ligand binding predictions were assessed experimentally (20-50 of the top ranked predictions from FINDSITEcomb), these success rates are even more significant than the raw numbers would suggest. For instance, in another study describing the HTS of a diverse library of 50,000 small-molecules against E. coli DHFR, the primary hit rate was 0.12% [14], whereas 47% of the 32 molecules predicted by FINDSITEcomb bind with μM affinities or better. Indeed, the finding that many ligands have KDs in the nM and μM range is encouraging. For three different proteins, novel nM binders were identified. Demonstration of antibacterial and cytotoxic activity by some of these compounds further suggests that the present methodology is a promising approach to identify novel hits and could help enrich the drug discovery pipeline. However, we are aware that hits generated through thermal-shift methodology relying on an extrinsic fluorophore will require additional validation.
Not only has a methodological advance been demonstrated, but also the results hold possible medical significance. We have identified several interesting hits that might represent starting scaffolds for drug design for a number of clinically important protein targets. For example, DHFR, a pivotal enzyme in the nucleotide biosynthetic pathway in E. coli [42] evolves resistance to available inhibitors by several mechanisms [43, 44]. This is a major problem because drug-resistant E. coli causes the highest number of infections in hospitalized patients [35]. Thus, there is an urgent need to identify novel potent inhibitors of DHFR. In that regard, the current study provides nine novel structurally diverse small-molecule binders with apparent affinities ranging from nM to μM that are interesting hits that could be developed as lead molecules for E. coli DHFR inhibition. By assessing the potential of these ligands against a diverse set of drug-resistant microbial strains and colon cancer cells, we established the range of effectiveness of these compounds. A potent antibacterial and 7 molecules with cytotoxic effect against HCT-116 colon carcinoma cell line were found. This information can be exploited in designing species-specific inhibitors. Yet other examples are the pathogens P. falciparum, which causes malignant malaria in humans, and P. knowlesi, implicated in an emergent form of malaria that can infect humans [45]. Rapid evolution of resistance to known antimalarials is a major issue [46]. The present study yielded 8 hits to three different enzymes that carry out critical processes of ubiquitin-mediated post-translational modification (UCE) [47], oxidative protection of the parasite during its intraerythrocytic stages (TP2) [48] and histone transport & chromatin assembly (NAP1) [49], in the pathogen. Finally, four distinct target proteins representing members of three families, tRNA synthetases [50], phosphatases and kinases [51, 52] implicated in diseases such as cancer, were examined with 24 novel protein-ligand binding interactions reported. Interestingly, these studies also identified unanticipated binding interactions of well-known drugs with alternative targets. Sunitinib, a well-documented inhibitor of receptor tyrosine kinases [34], binds to TrpRS with high-affinity. This reinforces the belief that drug molecules, at least partly, work by interfering with the function of multiple targets within the cellular milieu. It is well known that developing a new drug is a time consuming and expensive process that can take 12–15 years. Such off-target interactions could be exploited towards repurposing available drugs for alternative protein targets, thus reducing the cost and time duration of drug-discovery.
Conclusions
In conclusion, we have demonstrated that FINDSITEcomb is an automated, robust and rapid methodology that can identify novel protein-ligand binding interactions that are often in the nM range or better, and which, in combination with appropriate mechanistic studies and biological activity assays can be a promising tool for lead identification/drug discovery. The presented results show that predicted structures can be successfully used for virtual ligand screening, and by exploiting the ideas of LHM, diverse novel small molecule binders can be identified even when the closest template is distantly related to the protein target of interest. Since medically relevant proteins often have a large number of evolutionarily related solved, holo protein structures that can serve as templates, they are a particularly good class of targets for the present methodology. However, we note that the methodology also works when there are few solved holo templates structures in the PDB, e.g. for GPCRs [12]. Work is now in progress to extend and experimentally validate the approach on a broader class of proteins and small molecule ligands.
Abbreviations
VLS:

Virtual ligand screening
HTS:

High throughput screening
DMSO:

Dimethyl sulfoxide
PTP:

Protein tyrosine phosphatase
DHFR:

Dihydrofolate reductase
UCE:

Ubiquitin-conjugating enzyme
TrpRS:

Tryptophanyl tRNA synthetase
NAP:

Nucleosome assembly protein
TP:

Thioredoxin peroxidase
cDPK:

Catalytic domain of cAMP-dependent protein kinase.
Declarations
Acknowledgement
This project was funded by GM-37408 and GM-48835 of the Division of General Medical Sciences of NIH, with partial support by the International Cooperative Biodiversity Groups Grant U01 TW007401 from NIH and NSF. The authors wish to thank Drs. Steven Almo, Greg Crowther, Wesley Van Voorhis, Paul Schimmel, Eugene Shakhnovich, Susan Taylor, the Structural Genomics of Pathogenic Protozoa Consortium and the New York Structural Genomics Consortium for providing proteins, Sebastian Engel and Chris Lane for assisting with the antibacterial studies, Ambrish Roy for critically reading the manuscript and Bartosz Ilkowski for managing the computer cluster on which the computations were conducted.
Authors' Affiliations
(1)
Center for the Study of Systems Biology, School of Biology, Georgia Institute of Technology, Atlanta, USA
(2)
School of Biology, Atlanta, USA
(3)
School of Chemistry and Biochemistry, Aquatic Chemical Ecology Center, Institute of Bioengineering and Biosciences, Georgia Institute of Technology, Atlanta, USA
Copyright
© Srinivasan et al.; licensee Chemistry Central Ltd. 2014
This article is published under license to BioMed Central Ltd. This is an Open Access article distributed under the terms of the Creative Commons Attribution License (http://creativecommons.org/licenses/by/2.0), which permits unrestricted use, distribution, and reproduction in any medium, provided the original work is properly credited.