QSAR DataBank - an approach for the digital organization and archiving of QSAR model information
Journal of Cheminformatics
2014
6:25
Received: 30 December 2013
Accepted: 11 March 2014
Published: 14 May 2014
Abstract
Background
Research efforts in the field of descriptive and predictive Quantitative Structure-Activity Relationships or Quantitative Structure–Property Relationships produce around one thousand scientific publications annually. All the materials and results are mainly communicated using printed media. The printed media in its present form have obvious limitations when they come to effectively representing mathematical models, including complex and non-linear, and large bodies of associated numerical chemical data. It is not supportive of secondary information extraction or reuse efforts while in silico studies poses additional requirements for accessibility, transparency and reproducibility of the research. This gap can and should be bridged by introducing domain-specific digital data exchange standards and tools. The current publication presents a formal specification of the quantitative structure-activity relationship data organization and archival format called the QSAR DataBank (QsarDB for shorter, or QDB for shortest).
Results
The article describes QsarDB data schema, which formalizes QSAR concepts (objects and relationships between them) and QsarDB data format, which formalizes their presentation for computer systems. The utility and benefits of QsarDB have been thoroughly tested by solving everyday QSAR and predictive modeling problems, with examples in the field of predictive toxicology, and can be applied for a wide variety of other endpoints. The work is accompanied with open source reference implementation and tools.
Conclusions
The proposed open data, open source, and open standards design is open to public and proprietary extensions on many levels. Selected use cases exemplify the benefits of the proposed QsarDB data format. General ideas for future development are discussed.

Keywords
Data formatData interoperabilityOpen scienceQSARQSPR
Background
Theoretical computational chemistry offers direct numerical methods for calculating several chemical and physical properties of single molecules. However, there are much more biological, chemical and physical properties relevant to everyday needs which are either too expensive for direct numerical calculation or not enough understood for this kind of treatment. Quantitative Structure-Activity Relationship (QSAR) or Quantitative Structure–property Relationship (QSPR) is a subfield of theoretical computational chemistry that applies indirect statistical approaches for investigating such properties. It is based on the similarity principle, where similar molecules are assumed to exhibit similar activities and properties. The original function of QSAR or QSPR has been describing and explaining relationships between the chemical structure and the activity or property of interest for structurally or chemically similar data. QSAR has provided a foundation for the physical organic chemistry and experimental medicinal chemistry and has led to ground-breaking achievements also in the environmental risk assessment and in the analysis of technological properties of industrial chemicals. Contemporary QSAR is often less about analyzing similarities, and more about predicting the chemical and biological activities and physical properties of yet to be synthesized chemical compounds. This ability is critical for different drug design, risk assessment, decision support etc. policies.
The development of useful and reliable QSAR models is a creative process and requires lots of expertise from life sciences to statistics making it complex, but effective group of methods. Over the years, QSAR modelers have successfully addressed a series of challenging problems that have helped to establish working protocols and procedures [1]. The extensive development of new modeling algorithms and making them available in commercial and free software has led to a situation where QSAR model development is accessible to a wider audience than ever. This software is well marketed and promoted. Unfortunately, recent scientific literature provides several examples of user errors [2] and too high expectations [3]. The downside of the complexity of QSAR methods is twofold. First, the proper communication of the modeling results is difficult and causes the lack of reproducibility and transparency in the published models. Second, the correct use of models requires good education, which has further separated model developers and the intended model users from each other.
The dominating communication approach for the publication of models is printed media, which has its advantages and disadvantages. The main advantage is peer review process for the independent evaluation of the scientific work and established distribution channels to reach the intended audience. The disadvantage is consequence caused by the static nature of printed media that makes the independent verification of claims rather difficult. The problems start with the sheer availability of the original data. The traceability and reproducibility of the whole in silico experiment from a scientific publication is more of an exception than a rule. The authors' prior attempts to re-engineer published QSAR or QSPR models suggest that most results beyond the simplest (multi-) linear regression models are not recoverable, least usable for practical applications. All this hinders independent exploration, practical usage and putting published knowledge into work. Clearly, there is a need to improve digital organization and archival of results and data.
The authors have tackled the problem of digital organization, archiving and using QSAR model information over the course of two earlier research projects, where the main objective was to apply QSAR methodology in the grid computing environment [4]. The grid is a federation of loosely coupled, heterogeneous and geographically dispersed computer resources that can be arranged to perform different tasks. From the application development perspective, the main challenge lies in the efficient and reliable exchange of data between participants in the distributed system. In grid computing as well as in electronic communication in general, the interoperability is mainly achieved via the use of open standards.
The first project was OpenMolGRID (Open Computing Grid for Molecular Science and Engineering) that addressed in silico ADME/Tox profiling and reverse QSAR applications [5, 6]. OpenMolGRID employed an internal data exchange format for the development and use of QSAR models within the automated workflow system [7]. At that time the modeling capabilities of the system were limited to CODESSA PRO [8] software.
The second project was Chemomentum (Grid services based environment to enable innovative research) that addressed predictive toxicology applications with the emphasis on environmental risk assessment and decision support, for the QSAR use cases in the EU REACH legislation [9, 10]. Chemomentum is a direct successor of OpenMolGRID in ideological plane, but features completely new grid middleware software and much greater number (up to 24) of computational chemistry software. One of the aims was the development of a QSAR data exchange format that could be employed both inside and outside of the system. The QsarDB data format was developed and stabilized during that time (years 2006–2009) and has been employed in in-house projects over several years, with occasional minor adjustments and/or extensions. Today, it is felt that the QsarDB data format is ready for extended discussion and adoption by a larger community.
The authors, to the best of their knowledge, are aware of two other proposals for the digital organization and archiving of QSAR model information. The QSAR Model Reporting Format (QMRF) is a harmonized template for summarizing and reporting key information on QSAR models [11]. Many of its underlying ideas and concepts are inherited from the OECD principles for the validation, for the regulatory purposes, of QSAR models [12]. QMRF was established and is maintained under the mandate of the European Commission (JRC/IHCP, mostly for the purposes of REACH). QMRF resulted in publicly accessible QMRF Inventory, which at the time of writing this text records about 70 QSAR models [13]. QMRF is intended for informing human consumers about existing QSAR models, but not making them actually accessible and usable.
The QSAR-ML is an open XML-based data format for defining interoperable and reproducible QSAR data sets [14]. The original authors position QSAR-ML as the first step towards the standardization of QSAR analyses. QSAR-ML is designed for working with raw data sets, i.e. chemical structure representations together with activity or property and descriptor data. It pays great attention to the formalization of descriptor calculation using the ontology approach. QSAR-ML reference implementation is available as a set of plugins for the Bioclipse graphical workbench [15].
In the current publication the authors are proposing a new framework for creating the dynamic representation of QSAR or QSPR models so that all the relevant information is easily accessible for visualization and analysis tools, suitable for different archiving, publishing and reusing needs. It is called the QsarDB data format and provides a digital organization method for QSAR or QSPR models by seamlessly integrating the mathematical representation of stored models with all the related data, including experimental property, chemical structure and descriptor data. It is designed to be extensible for different modeling approaches by following various openness principles.
The main purpose of the present publication is to give an overview of the QSAR data organization and archival format. The article is organized in three major parts. The results and discussion part covers QsarDB data format, which specifies how the QsarDB data schema is realized in run-time and persistence data structures. The most critical aspect to it is the QDB archive layout conventions. This is followed in experimental part by the use cases and examples how one could benefit from QsarDB in practice. The methods part covers QsarDB data schema, which provides vocabulary for representing QSAR objects and their relationships with one another. General directions and suggestions of future developments are also described.
Results and discussion
QsarDB data format
In the QSAR field, raw data sets are traditionally exchanged as spreadsheet files or SD files [16]. QsarDB splits the representation of a data set between multiple files and data formats. The benefits of splitting one large file into many smaller files are mostly related to more efficient data reading and writing operations. The split-up occurs along borderlines of data belonging together and how frequently and in which mode they are accessed. The split-up is invariant of the size of the data set. For example, QSAR data sets that contain tens of data points and tens of thousands data points are handled in a similar fashion.
Collection of files approach requires a system of naming and grouping files. In longer term, the preferred paradigm is "conventions over configuration" [17]. Files are named based on their material and/or behavioural characteristics. Likewise, files are grouped on one or more levels based on their (inter-)relationships. Carefully crafted conventions have the potential to eliminate the need for exhaustive end user documentation.
The main benefit of using multiple data formats is to improve extensibility. Text data formats are generally not extensible, because they do not support advanced content encoding and escaping mechanisms. Extensible Markup Language (XML) format addresses all those shortcomings. For example, XML data formats may mix freely different XML vocabularies when XML namespaces are employed. The main difficulty with extending existing XML data formats is the addition of complexity, because with each change the XML parser must be configured beforehand to correctly recognize and handle all features. In contrast, the combination of several less complex data formats makes the required software more modular, maintainable and easier to evolve.
The current version of QDB uses exclusively XML as the data serialization format for container registries and tries to use established XML-based data formats for cargos. The open and extensible design of QDB allows in the future, when data loads rise and technologies evolve, to use of some other data serialization formats (e.g. JSON and YAML data formats) which serve some specific purposes better. System cargos use predefined data formats. For example, the Parameter values cargo is required to be in TSV data format. Extension cargos should choose the appropriate data format with the following advice in mind:
1.

Text, not binary. The intermediary between the two is XML. The choice of data representation is a trade-off between (i) human readability/editability and (ii) machine processing ease and efficiency.

2.

Extensive high-level software support and low-level programming library support.

3.

High level of standardization and documentation.
QsarDB archive layout conventions
QDB archive layout conventions give instructions about the formulation of paths. Here (and elsewhere in this work), all paths are given relative to the root directory assuming XML as the default data serialization format.
The path of the archive descriptor is "archive.xml". Every Container type is represented by a subdirectory. The path of a subdirectory is the plural form of the lowercase type name. For example, the path of the subdirectory that contains data about all Compounds
a
becomes "compounds" (Figure
1
). The path of the corresponding Compound registry is formed by appending the plural form of the lowercase type name together with the "xml" file name extension to the above subdirectory path. Path components are separated from one another using the forward slash character ('/'). For example, the path of the compound registry becomes "compounds/compounds.xml" (Figure
1
). Empty paths are not represented. When the QDB archive does not contain data about some Container type then the corresponding subdirectory should be omitted. The path of a cargo is formed by first appending the object identifier and then the cargo identifier to the above subdirectory path. For example, the path of the "smiles" structure cargo of a Compound whose identifier is "1" becomes "compounds/1/smiles" (Figure
1
).

Container and cargo identifiers have to comply with the following requirements in order to ensure the validity of cargo paths across all QDB archive storage options ("QsarDB archive storage", see below):
1.

Identifiers must not contain whitespace or path separator (operating system dependent) characters. Ideally, identifiers should only contain alphanumeric characters and selected separator characters such as the dot ('.'), hyphen ('-') and the underscore characters ('_') from the US-ASCII character encoding scheme.

2.

Identifiers are case-sensitive, but should be effectively treated as case-insensitive. Ideally, identifiers should only contain lowercase letters. For example, two Compounds whose identifiers are "cmp_0" and "Cmp_0" would produce cargo paths that clash on the Windows operating system.
The proposed layout is informative and easy to manage. The overview of a QDB archive can be obtained by listing the contents of the root directory. QDB archives containing raw data sets list two or three subdirectories, whereas fully developed QDB archives list all five subdirectories. The latter can be "reduced" to the former by simply removing the extra "models" and "predictions" subdirectories. Similarly, in most cases, the total number of Container instances in a container registry can be obtained by listing the contents of the subdirectory. However, Containers (and their cargos) should be managed by special purpose QDB tools and not manually. For example, a QDB archive will be corrupted if the Container cargos attribute is not updated accordingly when adding or removing one or more cargo paths.
QsarDB archive storage
QsarDB data format is storage independent. It is practical to use different storage options for a QDB archive during the model development, archival and distribution stages. The development stage is characterized by a frequent need to add new data or modify existing data. A suitable storage is a directory tree in the local file system (Figure 1). This directory can be evolved under a revision control software (e.g. git, Mercurial) [18], providing a complete change history and the ability to examine, reorder and revert individual changes.
The archival and distribution stage are characterized by a need to keep data together and ensure its integrity and authenticity. A suitable storage is the ZIP file format which offers nicely balanced data archiving and data compression functionality. The main advantage of the ZIP file format over other archive file formats (e.g. the TAR file format) is the ubiquity of external tool support. The recommended file name extension is two-level "qdb.zip", which is informative and preserves operating system file type associations.
QDB archive authors are encouraged to develop more storage implementations that provide interoperability with existing infrastructure. The main requirement is to provide mapping between types defined in the QsarDB data schema and paths specified in QDB archive layout conventions (see chapter above). From the data accessing point of view it may be desirable for a new storage implementation, to distinguish between "systemic" types in QsarDB data schema (i.e. archive descriptor and container registry XML documents) and cargos. The "systemic" types have predictable sizes (i.e. the size of the container registry file is directly proportional to the number of Containers in it) and are accessed regularly. The cargos could be of any size and are accessed occasionally by specific demand. For example, Parameter UCUM cargos are typically only a few bytes in size whereas Compound structure cargos could be hundreds of kilobytes to several megabytes in size (e.g. quantum-chemical optimization and property calculation output files).
Experimental
QsarDB is fully backed by production-quality Java reference implementation (RI) [19]. This Java RI and various command-line and GUI applications that depend on it have been successfully employed in facilitating everyday QSAR modeling work. The following chapters describe use cases that are covered with existing open source software. The Additional file 1 (Section 2) includes a practical tutorial about the authoring of an example QsarDB archive.
Conclusions
An approach for the representation of QSAR data sets and models has been described. The specification has evolved and matured over a number of years and it is considered to be stable. QsarDB main features are: (i) complete integration and representation of full in silico model information (i.e. experimental values, chemical structure representation and numerical description, model representation, model diagnostics and validation); (ii) extensibility with additional in silico model information depending on model type and modeling needs; (iii) thorough openness following the open data, open source and open standards principles; (iv) QsarDB data format is based on collections of files approach that speeds up processing and makes future evolution easier; (v) QsarDB data format prefers conventions over configuration and is easily intelligible and manageable without specific tools; (vi) QsarDB data format is suitable for distribution and long term archival; (vii) The QsarDB format is accompanied with a Java reference library for the handling of QDB archives and a toolkit that provides a rich set of relevant tools. All the listed features should help to alleviate QSAR community from unnecessary menial and repetitive work. One aspect is the technical readiness. Another, much more compelling aspect is seeding and spreading the mentality that sharing research results is beneficial to everybody. Transparent and machine accessible data should facilitate building on existing works.
The communication of QSAR models occurs via peer-reviewed scientific journals. An article consists of a mandatory textual part and an optional supplementary information part. It is the textual part that usually gets all the attention - this is where the hypothesis is (i) proposed, (ii) supported or refuted through experimentation and (iii) concluded. However, when the supplementary information part is missing or does not meet quality criteria, then all the above cannot be verified independently. QDB archives are good candidates for supplementary information. They help to ensure that all the relevant content is available and reproducible indiscriminately. The authors of any given publication are in the best position to create QDB archives, because they have direct access to the unabridged data. After the data has been represented as QDB archive it is essential to inform the QSAR community about it. The most logical place is the supplementary information. However, scientific journals do not permit the submission of new supplementary information after the article has been published, especially if attempted by other parties. Obviously, QSAR community needs complementary data sharing and distribution mechanisms.
The authors are developing a QsarDB repository and accompanying software. The platform is augmented with proper extra meta-data schemas. Also, the repository software offers more detailed and dynamic insights into the deposited QDB archives via specialized and interactive web applications. The full description of the QsarDB repository [30] will be given in a follow-up publication.
Methods
Chapter provides details of QsarDB data schema setup. Data schemas convey two kinds of information, (i) type definitions and (ii) type relationships. There are two kinds of type definitions (Figure
3
): abstract and concrete. Abstract (parent) type definitions, Container and Parameter, contain a number of common attributes for generic identification and description purposes. Concrete type definitions, chemical Compounds, biological and chemical Properties, Descriptors, Models, and Predictions, contain attributes for more specific identification and description purposes. The high level summary about the relationships between types is provided at the end in "Container relationships" chapter.Container type definition (see chapter "Container" below and Figure
3
) also includes cargos. A cargo is a document attachment (Figure
3
) that characterizes the Container object in a specific free-format way. For example, the 2D or 3D structure of a Compound object can be attached to it as a Cargo in any chemistry file format. Every Container type has a limited number of "system" cargos that describe its basic function. All cargos listed in the current article are system cargos which are necessary to guarantee the base functionality of the proposed approach. Additionally, every Container type may have any number of "extension" cargos that describe user-defined function. A container registry is simply an ordered list of Containers. The container registry ensures that included Containers are uniquely identifiable by the identifier attribute.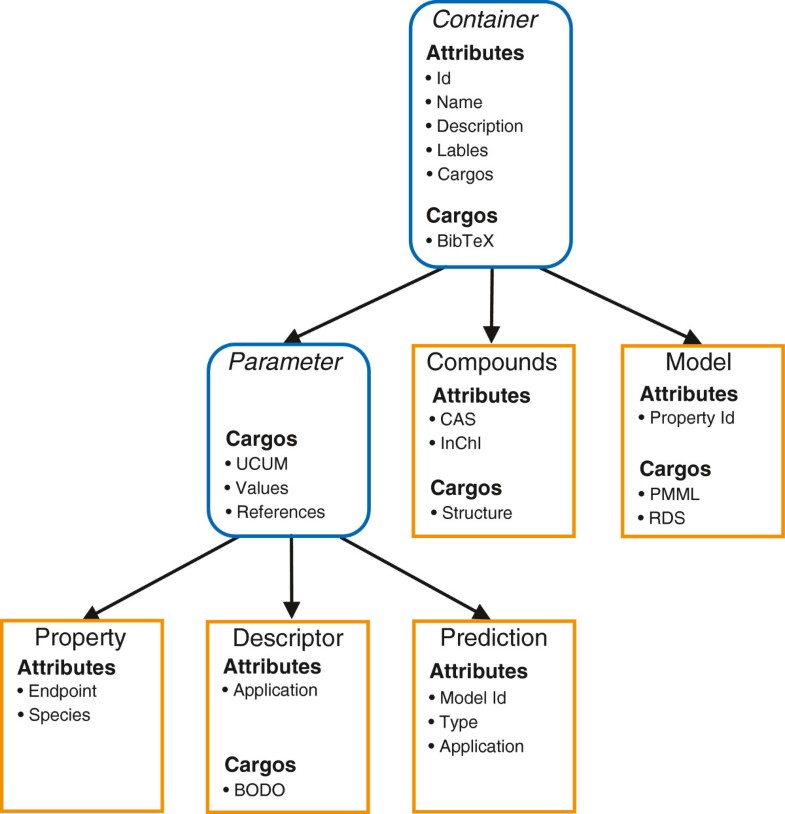 QsarDB type definitions are given in full technical detail in Additional file 1 (Section 1) as XML Schema. The following chapters elaborate the intent and purpose of every attribute and cargo individually. We selectively give certain design rationales with appropriate title under attribute or cargo bullets. If there are topics that need emphasizing, the discussions with respective title are provided at the end of each chapter.
Endnotes
aPublication is using different designations to distinguish QSAR concept (regular text) from QsarDB concept (ie. type definition, regular text with capital initial letter). QSAR concepts are chemical compound (system), activity/property, descriptor, (Q)SAR model, prediction (training, validation, testing) and QsarDB concepts Compound, Property, Descriptor, Model, Prediction respectively.
bThrough all text bullets for attributes are filled squares and bullets for the Cargos are empty rings.
Declarations
Acknowledgement
European Union FP6 Chemomentum Project (IST-5-033437: years 2006 – 2009); Estonian Science Foundation (Grants – 5805: years 2004–2008; 7709: years 2009–2011); Estonian Ministry for Education and Research (Grants – SF0182644Bs04: years 2004 – 2008; SF0140031Bs09: years 2009 – 2014); European Union, Regional Development Fund (3.2.1201.13-0021: years 2013–2015).
Authors' Affiliations
(1)
Institute of Chemistry, University of Tartu, Tartu, Estonia
Copyright
© Ruusmann et al.; licensee Chemistry Central Ltd. 2014
This article is published under license to BioMed Central Ltd. This is an Open Access article distributed under the terms of the Creative Commons Attribution License (http://creativecommons.org/licenses/by/2.0), which permits unrestricted use, distribution, and reproduction in any medium, provided the original work is properly credited. The Creative Commons Public Domain Dedication waiver (http://creativecommons.org/publicdomain/zero/1.0/) applies to the data made available in this article, unless otherwise stated.