Research article
Open Access
Expanding the fragrance chemical space for virtual screening
Journal of Cheminformatics
2014
6:27
Received: 25 March 2014
Accepted: 12 May 2014
Published: 22 May 2014
Abstract
The properties of fragrance molecules in the public databases SuperScent and Flavornet were analyzed to define a "fragrance-like" (FL) property range (Heavy Atom Count ≤ 21, only C, H, O, S, (O + S) ≤ 3, Hydrogen Bond Donor ≤ 1) and the corresponding chemical space including FL molecules from PubChem (NIH repository of molecules), ChEMBL (bioactive molecules), ZINC (drug-like molecules), and GDB-13 (all possible organic molecules up to 13 atoms of C, N, O, S, Cl). The FL subsets of these databases were classified by MQN (Molecular Quantum Numbers, a set of 42 integer value descriptors of molecular structure) and formatted for fast MQN-similarity searching and interactive exploration of color-coded principal component maps in form of the FL-mapplet and FL-browser applications freely available at http://www.gdb.unibe.ch. MQN-similarity is shown to efficiently recover 15 different fragrance molecule families from the different FL subsets, demonstrating the relevance of the MQN-based tool to explore the fragrance chemical space.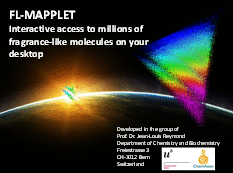 Keywords
Virtual ScreeningFragrance MoleculeChemical SpaceMenthoneSteviol Glycoside
Background
Fragrance molecules are relatively small, lipophilic and volatile organic compounds that trigger the sense of smell by interacting with olfactory receptor neurons in the upper part of the nose which display a diverse array of olfactory G-protein coupled receptors [1–7]. These molecules are essential ingredient in foods, perfumes, soaps, shampoos or lotions, and can be classified according to their perceived smell into tens to hundreds of families [8]. Fragrance molecules form an important class of compounds, [9, 10] and a sizable number of them have recently been collected in the public databases SuperScent [11] and Flavornet, [12] which list almost two thousand documented fragrance molecules and their properties.
However, global chemical space analyses of fragrance molecules have only been very limited so far [13, 14]. Chemical space is understood as the ensemble of all organic molecules in the context of drug discovery, [15–27] and comprises millions of known molecules collected in public databases such as PubChem, [28] ChemSpider, [29] ZINC, [30]or ChEMBL, [31] and an even much larger number of theoretically possible molecules such as the Chemical Universe Databases GDB-11, [32, 33] GDB-13 [34] and GDB-17, [35] listing all organic molecules possible up to 11, 13, and 17 atoms obeying simple rules for chemical stability and synthetic feasibility [30–33]. Herein we used the concept of chemical space to analyse and visualize fragrance molecules. Starting from the public databases Superscent and Flavornet, a "fragrance-like" property range was defined, and used to expand the fragrance chemical space by extracting fragrance-like molecules from the public databases ChEMBL, PubChem, ZINC and GDB-13 to form the corresponding fragrance-like subsets ChEMBL.FL, PubChem.FL, ZINC.FL and GDB-13.FL. The resulting fragrance-like chemical space was then analyzed using Molecular Quantum Numbers (MQN), a set of 42 simple integer value descriptors that count atoms, bonds, polar groups and topological features such as cycles. MQN provide a simple classification system for large databases with good performance in prospective virtual screening [36, 37] as well as for database visualization [38, 39]. The MQN-space approach was used to classify and represent the fragrance-like chemical space in form of an interactive application, the FL-mapplet, which is adapted from a previously reported MQN-mapplet application for the focused FL chemical space (freely available from http://www.gdb.unibe.ch) [40, 41]. FL-molecules stand out from this visualization as being relatively simple due to the low number of heteroatoms and functional groups, and therefore appealing from the point of view of organic synthesis.
Fragrance chemistry is constantly searching for new fragrance molecules. A series of 15 different subsets of fragrance molecules were extracted from the SuperScent database and used to test ligand-based virtual screening (LBVS). MQN-similarity sorting enabled the efficient recovery of these known fragrance molecule families from the various FL subsets with equal or better performance that binary substructure fingerprints (Sfp) or extended connectivity fingerprints (ECfp4), illustrating the relevance of the MQN-classification with regards to fragrance molecule properties. The search for MQN-nearest neighbours is enabled by the FL-browser, which might serve as as a guide to identify new fragrance molecules.
Conclusion
The general properties of fragrance molecules, which are relatively small organic compounds with few polar functional group such as to be volatile, were used to define a "fragrance-like" subset of the chemical space which was extracted from the public databases PubChem, ChEMBL, ZINC and GDB-13. The FL chemical space contains fragment-size, relatively non-polar molecules, and is clearly separate from the well-known drug-like chemical space [59]. The representation of the FL chemical space using interactive color-coded MQN- maps illustrates the extent of the structural diversity at hand. The corresponding FL-mapplet for interactive visualization (Java application to download) and FL-browser for fast MQN-similarity searching of the various FL subsets are freely accessible at gdb.unibe.ch. Inspecting fragrance molecules through these interactive tools shows that FL-molecules appear as particularly appealing from the point of view of organic synthesis due to the low number of heteroatoms and functional groups.
The fragrance chemical space, although relatively narrowly defined, is currently only relatively sparsely populated compared to its potential, implying that many millions of additional fragrance molecules remain to be discovered. Here we showed the MQN-similarity searching efficiently recovers known fragrance molecule families collected from SuperScent from the various FL subsets, with equal or better performance than substructure fingerprints Sfp of the extended connectivity fingerprint ECfp4. The ability to perform efficient LBVS by MQN-proximity searching as enabled by the FL-browser suggests that this resource might facilitate the identification of new fragrance molecules by rapidly pointing to compound series to be evaluated.
Methods
FragranceDB and TasteDB
Structure representations from SuperScent [11] were retrieved from their chemical classes' folder. The list was inspected visually and in some few cases corrected. Names from Flavornet [12] were retrieved and converted by Molconvert from ChemAxon Pvt. Ltd (http://www.chemaxon.com/). Furthermore, in some cases Msketch (from ChemAxon) was used. Both datasets were combined and checked for duplicates to a final list of 1760 fragrance molecule structures. For TasteDB structure representations were retrieved from the browsing option of BitterDB [42] and from the Sweet-tree of SuperSweet [43]. Both datasets were combined and checked for duplicates to a final list of 806 taste structures.
FL-mapplet and MQN-browser for fragrance molecules
The FL-mapplet has been adapted from our previously published MQN-mapplet [40] by mapping the various FL-subsets (Table 1) on the (PC1,PC2)-plane of the PCA calculated for FragranceDB (see Figure 2), creating the corresponding color-coded maps, and importing the data into the MQN-mapplet. For the PCA maps and assembly of FL-mapplet, PC1-PC2 plane was represented by 1000x1000 grid points (pixels), followed by the assignment of the each of the database molecule on to the grid. Each of the point (pixel) was colour coded according to the average and standard deviation of property (for e.g. heavy atom count) of molecules residing in that pixel. HSL colour space was used for the colour coding. Base colour (H) changes from blue-cyan-green-yellow-red-magenta with increasing average value of property in the pixel, while base colour fades towards the grey with increasing standard deviation. The average molecule for each of the pixel was the determined as follows: a) 42 average MQN values were determined considering MQNs of all of the molecules in given pixel b) City block distance was calculated between 42 MQN values of each of the molecule in the pixel and the 42 average MQN values c) molecule with lowest city block distance to average MQN values was considered as "average molecule" for the pixel.
FL-mapplet is a Java application. Details of the application usage are available on the help page accessible from within the application.
The MQN-browser for fragrance molecules is a web-based application which is accessible from within the FL-mapplet or directly at gdb.unibe.ch. This browser was programmed as previously described for the MQN-browser for other databases to allow nearest neighbour searching of any query molecules within the FL-subsets using CBDMQN as similarity measure [57]. Searching in database space is enabled by use of bit mask values to store the database information of the structures. Bits were assigned to each database. During similarity searching, choice of databases made by user defined as "wanted bit mask" using Bitwise OR operation.
Ligand-based virtual screening
Enrichment studies for the recovery of various fragrance molecule classes (actives) from the fragrance like databases (decoys) ChEMBL.FL, FragranceDB, PubChem.FL, ZINC.FL and GDB-13.FL were carried out using a java program written in-house using the JChem chemistry library from ChemAxon Ltd. as starting point. Fragrance classes were collected from the SuperScent database (http://bioinf-applied.charite.de/superscent/). Later, molecules within each of the fragrance class were filtered for duplicates and FL criteria. After processing, 15 fragrance classes containing at least 10 molecules in each, were retain for further study. In case of enrichment against GDB-13.FL, fragrance classes were additionally filtered to contain molecules with maximum of 13 heavy atoms. This results in the 12 fragrance classes with at least of 10 molecules in each of them.
Following the ionization of molecules at pH 7.4, Molecular Quantum Numbers (MQN, 42 dimensions), Daylight type binary substructure fingerprint (Sfp, 1024 bits, path length 7), circular Extended Connectivity fingerprint with bond diameter of 4 (ECfp4, 1024 bits) and Molecular weight (MW) were calculated for fragrance molecule classes and database molecules. Computation of molecular properties and fingerprints were enabled by JChem 5.4.1 Chemistry library from ChemAxon Pvt. Ltd. City block distance (CBD) was used as scoring function for virtual screening. Within each of the fingerprint space, enrichment studies were carried as follows: a) for each of the 15 fragrance molecule classes (defined above, 12 in case of GDB-13.FL) reference/query molecule was defined as compound which is most similar to all the other compounds (molecule with lowest CBD to all the other compounds) in the given fragrance molecule class. b) Each of the 15 fragrance molecule classes (12 in case of GDB-13.FL) was separately diluted in five FL like databases ((4*15) + 12 = 72 databases) c) diluted databases were screened against respective query molecule using city block distance as scoring function d) each of the screened database was sorted with increasing CBD to the query molecule, which was followed by the computation of ROC (receiver operator characteristic) curve, EF at 0.1%, 1% and 10%. Data in Figure 3A was obtained by averaging AUC values for 15 fragrance classes (12 in case of GDB-13.FL) within each of the fingerprint space.
Declarations
Acknowledgment
This work was supported financially by the University of Bern and the Swiss National Science Foundation.
Authors' Affiliations
(1)
Department of Chemistry and Biochemistry, University of Bern, Bern, Switzerland
Copyright
© Ruddigkeit et al.; licensee Chemistry Central Ltd. 2014
This article is published under license to BioMed Central Ltd. This is an Open Access article distributed under the terms of the Creative Commons Attribution License (http://creativecommons.org/licenses/by/4.0), which permits unrestricted use, distribution, and reproduction in any medium, provided the original work is properly credited. The Creative Commons Public Domain Dedication waiver (http://creativecommons.org/publicdomain/zero/1.0/) applies to the data made available in this article, unless otherwise stated.