iDrug: a web-accessible and interactive drug discovery and design platform
Journal of Cheminformatics
2014
6:28
Received: 20 March 2014
Accepted: 12 May 2014
Published: 23 May 2014
Abstract
Background
The progress in computer-aided drug design (CADD) approaches over the past decades accelerated the early-stage pharmaceutical research. Many powerful standalone tools for CADD have been developed in academia. As programs are developed by various research groups, a consistent user-friendly online graphical working environment, combining computational techniques such as pharmacophore mapping, similarity calculation, scoring, and target identification is needed.
Results
We presented a versatile, user-friendly, and efficient online tool for computer-aided drug design based on pharmacophore and 3D molecular similarity searching. The web interface enables binding sites detection, virtual screening hits identification, and drug targets prediction in an interactive manner through a seamless interface to all adapted packages (e.g., Cavity, PocketV.2, PharmMapper, SHAFTS). Several commercially available compound databases for hit identification and a well-annotated pharmacophore database for drug targets prediction were integrated in iDrug as well. The web interface provides tools for real-time molecular building/editing, converting, displaying, and analyzing. All the customized configurations of the functional modules can be accessed through featured session files provided, which can be saved to the local disk and uploaded to resume or update the history work.
Conclusions
iDrug is easy to use, and provides a novel, fast and reliable tool for conducting drug design experiments. By using iDrug, various molecular design processing tasks can be submitted and visualized simply in one browser without installing locally any standalone modeling softwares. iDrug is accessible free of charge at http://lilab.ecust.edu.cn/idrug.
Keywords
Online drug design platformCavity detectionPharmacophore search3D similarity calculationTarget prediction
Background
Computer-aided drug design (CADD) is a widely used term that represents computational tools and sources for the storage, management, analysis and modeling of compounds [1]. Benefiting from the dramatic increase of biomacromolecular and small molecular information, CADD techniques are used at various stages of a drug-discovery project, from target identification and validation to lead discovery and optimization, even extending to preclinical trials [2].
A huge body of CADD software has been developed over the years in many different research groups [3–11]. However, most molecular design packages, with single client interface and powerful algorithms, may require separate license keys to be purchased individually. In addition, due to the complexity and diversity of molecular design procedures, sometimes even trained computational chemists can not perfectly excel in what they are computing [12]. In parallel, the open source and easily accessible software, which provides a great opportunity to perform research in CADD, has often encountered two main problems when being used by medicinal chemists [13]. First, in many instances the authors of CADD software pay more attention to scientific details rather than the usability of software, thus making it rarely associated with the graphical user interface and difficult to use for non-expert experimentalists. Second, individual program usually requires a specific input structure and produces a specific output format, making users incapable of combining different programs.
The striking growth of web technologies provides an alternative strategy to offer the possibility of accessing and running computational chemistry tools directly on the web with a simplified user interface. The major advantages of these web-based solutions are that users can submit models and data to the online servers without regularly downloading and updating the data collections and tools to their local disks. An increasing number of web applications for performing molecular modeling and processing are also available for end users [14–17]. However, these tools are always not able to integrate various molecular design programs and enormous data collections to meet the systematic operations of users to achieve the best results [18]. Besides, even if some initiatives combining different computational programs exists, e.g. for e-LEA3D [19], Sanjeevini [20], only focused on structure-based drug design such as molecular docking and de novo drug design which rely on the knowledge of the given structure of the target macromolecule.
Here, we developed an online interactive platform, termed
i
Drug, to break expensive commercial suites and command line barrier and introduce a user-friendly web environment to conduct 3D molecular similarity calculation and to construct pharmacophore models for virtual screening. The user may select the molecular processing engine used by
i
Drug and setup and initiate jobs. Currently the system allows access to derive pharmacophore models directly from the given receptor regardless of a molecular 3D structure in the corresponding binding pose conformation provided as the reference (Cavity [
8
] and PocketV2 [
21
]); generate novel molecules for the given site using pharmacophore mapping approach; predict targets of a chemical of interest such as drugs, lead compounds and natural products (PharmMapper [
22
]); and rank candidates based on similarity-based database searching (SHAFTS [
7
,
23
,
24
]). Different modules described above (Table
1
) have been incorporated, which work in a pipeline as depicted in the architecture (Figure
1
). It also features a session based working bench to save, resume, and reuse the jobs and configurations customized by users, which can be accessed and updated through the interface easily. As
i
Drug addresses common problems associated with either biomacromolecule or small molecule, it is expected to help both experts and non-specialists to achieve the automated molecular design of daily research demands, as well as being a routine adjunct to experimental studies.
Table 1
List of computational techniques supported by i Drug
| Name | Method | Refs | Free for academia |
| --- | --- | --- | --- |
| Cavtiy | Detect and score potential binding sites of a protein | | Yes |
| Pocket v.2 | Derive pharmacophore models based on a given receptor of complex structure | [21] | Yes |
| PharmMapper | Pharmacophore mapping (online web service) | [22] | Yes |
| SHAFTS | 3D similarity calculation | | Yes |
| Cyndi | Molecular conformation generation | | Yes |
| Pybel | Python wrapper for the OpenBabel cheminformatics toolkit | | Yes |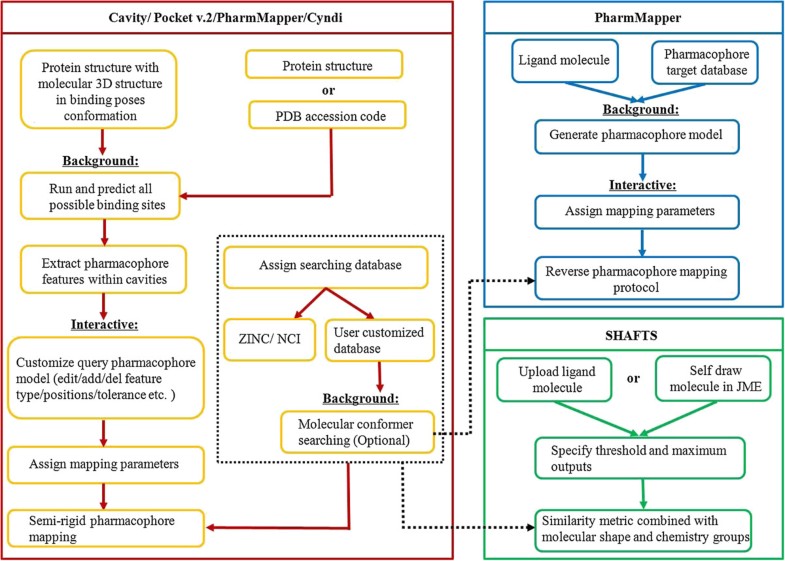 Experimental
Compound data sets
Datasets from four different public sources were used. A set of over 3 million compounds extracted from ZINC [28] and NCI [27] were used for both pharmacophore and 3D similarity based virtual screening. Cyndi [38] was used to generate a maximum of 50 low-energy conformations for each compound. The MUV data sets are based on bioactivity data. MUV consists of 17 targets, each with 30 actives and 15000 decopys [44]. In this study we reproduced the evaluation of Sanders et al[47] and derived pharmacophore queries from the crystal structure of CDK2 (PDB:1AQ1). The DUD-E was originally designed for benchmarking of docking methods [45]. A subset was later extracted for the use in 3D similarity-based virutal screening experiments. The DUD-E contains 102 targets with 22886 clustered ligands drawn from ChEMBL, each with 50 property-matched decoys drawn from ZINC. In this study EGFR with 542 actives were used. Besides, for the user uploaded target compounds, multi conformations (at most 100) would be generated online with Cyndi prior to virtual screening if the 'Generate Conformers' is toggled on.
Target pharmacophore databases
The target protein structures co-complexed with small molecules were selected from DrugBank, BindingDB, PDBBind, and PDTD databases. All the small ligands with molecular weight lower than 100, such as solvents, buffers and metal cations, and all the cofactors with molecular weight over 600, such as CoAs, polypeptides and nucleic acids were regarded. For the proteins existing as homopolymers, only one monomer was reserved for analysis. For the proteins determined by NMR with multiple structure models, only the first model was selected for pharmacophore generation. LigandScout [9] was used in the process of pharmacophore model derivation. As a result, a database with 7302 pharmacophore models were generated and stored in iDrug. This database has been used in our previous publications [22].
Conclusions
We presented iDrug, a versatile web server for both pharmacophore- and similarity-based virtual screening and target identification to facilitate computational drug discovery. The interface is easy-to-use and can be accessed by user customized sessions to free them from installing standalone softwares. iDrug provides ready-to-access compounds and pharmacophore target databases for virtual screening and target identification. Various applications like binding site identification, structure-based pharmacophore derivation, conformational sampling, pharmacophore searching, and 3D similarity calculation are integrated as individual modules. It enables interactive editing and refinement of pharmacophore hypothesis as well as flexible customization of the parameters. The featured job management system ensures the user privacy and project tracking through a session-based mechanism.
Declarations
Acknowledgments
This work was supported by the 863 Hi-Tech Program of China (grant 2012AA020308), the National Natural Science Foundation of China (grants 81230090, 81222046 and 81230076), the Shanghai Committee of Science and Technology (grant 12401900801), and the National S&T Major Project of China (Grants 2013ZX09507004). Honglin Li is also sponsored by Shanghai Rising-Star Tracking Program (grant 13QH1401100) and Fok Ying Tung Education Foundation (141035).
Authors' Affiliations
(1)
Shanghai Key Laboratory of New Drug Design, State Key Laboratory of Bioreactor Engineering, School of Pharmacy, East China University of Science and Technology, Shanghai, China
(2)
School of Information Science and Engineering, East China University of Science and Technology, Shanghai, China
(3)
BNLMS, Center for Quantitative Biology, State Key Laboratory for Structural Chemistry of Unstable and Stable Species, College of Chemistry and Molecular Engineering, Peking University, Beijing, China
Copyright
© Wang et al.; licensee Chemistry Central Ltd. 2014
This article is published under license to BioMed Central Ltd. This is an Open Access article distributed under the terms of the Creative Commons Attribution License (http://creativecommons.org/licenses/by/4.0), which permits unrestricted use, distribution, and reproduction in any medium, provided the original work is properly credited. The Creative Commons Public Domain Dedication waiver (http://creativecommons.org/publicdomain/zero/1.0/) applies to the data made available in this article, unless otherwise stated.