Research article

Open Access
In Silicotarget fishing: addressing a "Big Data" problem by ligand-based similarity rankings with data fusion
Journal of Cheminformatics
2014
6:33
Received: 12 March 2014
Accepted: 10 June 2014
Published: 18 June 2014
Abstract
Background
Ligand-based in silico target fishing can be used to identify the potential interacting target of bioactive ligands, which is useful for understanding the polypharmacology and safety profile of existing drugs. The underlying principle of the approach is that known bioactive ligands can be used as reference to predict the targets for a new compound.
Results
We tested a pipeline enabling large-scale target fishing and drug repositioning, based on simple fingerprint similarity rankings with data fusion. A large library containing 533 drug relevant targets with 179,807 active ligands was compiled, where each target was defined by its ligand set. For a given query molecule, its target profile is generated by similarity searching against the ligand sets assigned to each target, for which individual searches utilizing multiple reference structures are then fused into a single ranking list representing the potential target interaction profile of the query compound. The proposed approach was validated by 10-fold cross validation and two external tests using data from DrugBank and Therapeutic Target Database (TTD). The use of the approach was further demonstrated with some examples concerning the drug repositioning and drug side-effects prediction. The promising results suggest that the proposed method is useful for not only finding promiscuous drugs for their new usages, but also predicting some important toxic liabilities.
Conclusions
With the rapid increasing volume and diversity of data concerning drug related targets and their ligands, the simple ligand-based target fishing approach would play an important role in assisting future drug design and discovery.

Keywords
Target fishingBig dataMolecular fingerprintsData fusionSimilarity searching
Background
For many decades, the drug discovery and development have been directed by the idea of 'one drug–one target–one disease'. The paradigm is shifting since many drugs elicit their therapeutic activities by modulating multiple targets, as indicated by the polypharmacology [1–3]. However, multi-target interactions are either unknown or insufficiently understood in most cases, which inspired many efforts to predict and characterize drug–target associations.
Use of in silico tools to predict targets of small molecules has drawn more and more attentions in recent years. These predicted drug targets can be divided into two types: I) unexploited novel drug targets that can be used alone or with other drugs in combination chemotherapy treatment [3]; II) existing drug targets that provide new uses and indications for existing drugs [4]. One of the most prominent examples for drug repositioning is Sildenafil, which was initially developed for use for hypertension and angina, and then repositioned for the treatment of male erectile dysfunction [5]. Other notable drug repositioning examples include Memantine [6], Buprenorphine [7], Requip [8, 9], Colesevelam [10], and so on. Numerous computational strategies for target fishing have been published. These studies enable researchers to deepen the understanding of the bioactive space of new chemical entities, which provide an efficient way in designing ligands with favorable pharmacological and safety profile. Generally, available target fishing approaches fall into the following two major categories:
1. Target-based Methods
Target-based methods use the information of target proteins, which includes molecular docking, similarity comparison of protein sequence or binding pocket, and so on. For example, INVDOCK [11] and TarFisDock [12] screen a query small molecule against a panel of predefined target protein structures whereby putative targets are sorted by docking score [13]. This approach has been demonstrated to be useful in target identification, and some of the predicted results have been verified by bioassay and crystallographic studies [14, 15]. Although significant improvements have been made in this area, there are still practical limitations for target structure-based approaches, such as unavailable crystal structures (especially for most trans-membrane proteins), high false positive rate, the choice of an appropriate scoring function and high requirement of computational resources [16]. To circumvent these issues, several target-based methods relying on the analysis of existing drug-target interaction data have been developed. For instance, Luo et al. developed a web server DRAR-CPI to identify drug repositioning and adverse drug reactions by mining chemical–protein interactome [17]. Milletti et al.[18] and Wang et al.[19] predicted polypharmacology by comparing the structural similarity of binding sites. Recently, Jacob et al.[20] and Wang et al.[21] constructed chemogenomics approaches for qualitatively predicting ligand-protein interaction that only require the primary sequence of proteins and the structural features of small molecules. These approaches transform the target fishing problem to a machine learning problem in the ligand–target space. Though potentially useful, they are sensitive to how a given target protein or ligand-protein pair is represented by descriptor vectors, and have a limited application domain defined by their training set range.
2. Ligand-based Methods
Ligand-based methods simplify the problem to a similarity searching problem, and only use ligand information to predict target. Compared with the structure-based approaches, ligand-based approaches do not rely on the complete knowledge of ligand-target interaction mechanisms and requires relatively low computational cost. Based on how a given ligand is represented, these methods can be divided as 2D fingerprint, molecular shape, pharmacophore, and bioactivity spectrum-based, etc.
Chemically similar drugs often bind biologically relevant protein targets. To uncover the pharmacological relationships among proteins, Keiser et al. developed a statistics-based chemoinformatics approach called similarity ensemble approach (SEA) [22], in which each target was represented solely by the structures of its set of known ligands. SEA has been applied to quantitatively identify pharmacological links between targets by the similarity of the ligands bind to them, expressed as expectation values (E-value). It was further successfully applied to large-scale test for drug repurposing [23]. Furthermore, three dimensional (3D) molecular shape descriptors have turned out to be especially successful in describing and comparing molecular profiles. Abdul Hameed et al. developed a novel approach by comparing shape similarity using program ROCS [24]. In their approach, target profiles were generated for a given query molecule by computing the maximal 3D-shape and chemistry-based similarity to the collection of drugs assigned to each protein target [25]. Pharmacophore, like molecular docking, can also be reversely used for in silico drug target identification. Recently, Liu et al. reported a free web interface PharmMapper that uses pharmacophore to predict protein targets for small molecules [26]. This approach automatically performs reverse mapping against the deposited pharmacophore models and outputs the top ranked hits. With the rapid growth in bioactivity data of small molecules and their targets, it is possible to employ the information to infer targets for drugs or bioactive compounds. Cheng et al. developed an approach named bioactivity profile similarity search (BASS), for associating targets to small molecules by comparing the bioactivity profiles that are derived from the NCI-60 cell lines [27].
A notable strategy for similarity searching is data fusion (DF) that utilizes multiple reference structures to search against a database. A DF process is to combine the information provided by multiple independent sensors in order to make judgments on an event, which was firstly proposed by Peter Willett and his coworkers [28]. Afterwards, Whittle et al. [29] and Hert et al.[30] used 2D fingerprint similarity ranking with DF for virtual screening, and demonstrated its effectiveness over conventional similarity searching in scaffold-hopping searches for structurally diverse sets of active molecules [31]. Due to its high searching quality and low computational cost, this approach is especially fit for the exponential growth in biological data.
Although many advances have been made over the last decades, drug target prediction is still a very challenging task as reflected by the low clinical target validation success rate. The reasons are manifold, yet what poses the greatest difficulty might be the amount of protein targets and known active small molecules. For example, the current version ChEMBL database (version 17) [32] contains 12,077,491 bioassay data for 9,356 targets and 1,324,941 compounds. Such data collection is so large and complex that it becomes difficult to process using traditional molecular modeling process and target-ligand interaction applications. In this regard, we may consider the target fishing as a 'big data' problem. As defined by Donglas Laney [33], big data problems mainly have three aspects of features of data growth, i.e. having increasing volume (amount of data), velocity (speed of data in and out), and variety (range of data types and sources). For target fishing, vast amount of data in various measurements (Ki, Kd, IC50, inhibition rates and so on) are being generated daily from different sources, with the fast development of many high-throughput bioassay systems. Given the data of these features, we need firstly make a practical trade-off between the amount of employed data and the complexity of models. Though under debate, it has been widely realized that using more data is more beneficial, because it provides the contextual richness in data and does not rely on unproven assumptions and weak correlations. From this aspect, we may argue that more emphasis should be placed on the data set used for target fishing, instead of developing algorithms that are more sophisticated. In this study, we try to address the target fishing problem from the 'big data' perspective. A large reference ligand library is first established, with each ligand set to represent a single target. Here, the DF strategy is adopted to calculate the highest K similarity scores (or their average value) between the query and the ligands sets in reference library, using Tanimoto coefficients (Tc) of ECFP4 fingerprints. The value of K can be 1, 3, and 5 (denoted as Max, 3NN, and 5NN, respectively), and the average fusion similarity is a centroid score, which is described in Methods section. The target profile of a query chemical is then provided according to the ranked fusion scores. The performance of this scheme is tested on two test sets, and a further validation is made to identify new (off-) targets and hERG related toxicity. The aim of the study is to benchmark the target fishing capability by using a simple ligand-based similarity searching approach, in the meantime, by employing the available data as much as possible.
The SEA approach represents a notable recent advance in identifying protein targets. Here, a locally implemented SEA approach was run in parallel with our approach for accuracy assessment, of which the E-value was used to rank potential targets [22]. We perform this comparison because both SEA and our approach use active ligand set to represent target, and use 2D fingerprint based similarity to obtain the score of a target (The SEA approach can be considered as a data fusion scheme, where the score of a target is normalized by the size of its ligand set). It should be pointed out that SEA requires that the product of the ligand set sizes is not less than 100 to guarantee statistically reliable result [34]. It means that the current SEA is not appropriate for fishing targets without sufficient reference ligands. Nevertheless, its result can serve as a control to see how existing approaches perform on the current data set.
Results and discussion
Drug related targets (DRTs) and their ligands are favorable sources for analyzing target-ligand interaction and understanding polypharmacological effects of drugs. As described in Methods section, one reference library containing DRTs with active ligand set and two validation sets were compiled for this study. Table
1
summarizes the number of compounds and targets of each set. We further analyzed the polypharmacological profile of the ligands in the reference library. As shown in Figure
1
, most active ligands have only one single target, while there are also significant amount of ligands having two or three targets. The number of ligands having many targets is small, and 1,512 ligands have the number of targets greater than five.
Table 1
Statistics of the data sets used as reference ligand library and for external validation sets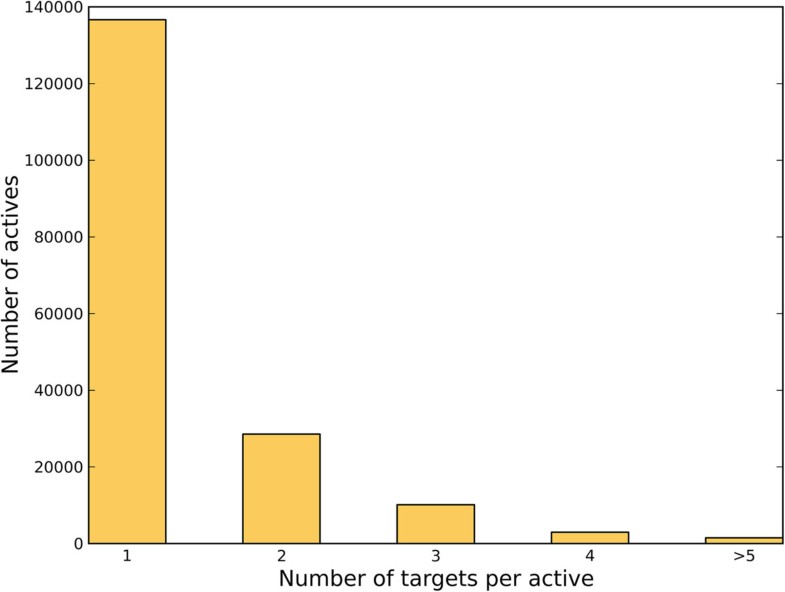 Given a ligand that has m experimentally verified targets, a target fishing scheme yields n predicted targets for the ligand (i.e., the top ranked n targets), we used the following evaluation metrics to measure the performance of the scheme: Precision (PR n ), Recall (RE n ), F-measure (F n ) [35], and the uninterpolated precision (PR') [36]. PR' is given by the averaged precision values PR i from the ranking places 1 to m. Here, m for a query ligand is the number of its interacting targets. The detailed definitions of these terms are provided in the Methods section.
Experimental
1. Reference set preparation
While there are many public databases (ChEMBL [
39
], BindingDB [
40
], PubChem,
etc.
) storing bioactive small molecules and target information, there are no special collections for ligands of DRTs. Here, we build a collection of the active ligands from BindingDB for FDA-approved drug targets from DrugBank [
41
]. The detailed procedures for the data set preparation are as follows:
(I)

DrugBank provides a list of FDA-approved drug targets, among which all protein sequences of drug targets of small molecules were downloaded. Sequences of protein targets deposited in BindingDB were used to create a local BLAST database with NCBI blast [42].

(II)

The downloaded sequences from DrugBank were used to perform similarity search against the local BLAST database, to find drug-target related targets in BindingDB and to retrieve their interacting ligands. Using an E-value threshold (1E-50), we obtained target mapping between BindingDB sequences and drug target sequences from DrugBank. A protein target of BindingDB exhibiting high homology with any of the drug targets was considered as a potential drug target.

(III)

The ligands were further filtered to eliminate those with weak binding affinity to a specific protein. The threshold for "active" ligand was set as IC50, Ki, Kd or EC50 < 10 μM, or ΔG <28.53 kJ/mol.

(IV)

The above retrieved protein targets were redundant (i.e. there are identical proteins with different names), and some of them are highly homologous to each other (e.g. mutants or from different source organisms). To address the issue, we combined the proteins showing high sequence similarities by another round of BLAST searches, with a more stringent E-value threshold of 1E-120. All the active ligands of a "combined" protein target were pooled together. The resulting database contained 725 targets in all.

(V)

To ensure every target has a certain amount of ligand representatives, we filtered those targets whose active ligands were less than or equal to 10. At last, our curated database covers 533 targets with 179,807 active ligands in total. Approved drugs are used as an independent test set for additional validation.
This established chemical reference library is organized according to DRTs, and each of them is represented by a set of corresponding active ligands. In our reference library, the ligand set contains unique ligands for each target. All the data preparation procedures are performed with in-house Python scripts. The reference library is designed to enable further updating by adding new target-ligand interaction data.
2. Validation sets preparation
The following two datasets were used to test the target predicting performance of different approaches, including approved drugs from Therapeutic Target Database (TTD) [43], and approved drugs from DrugBank 3.0 [41]. These datasets contains drug or drug-like compounds and their protein target sequences. For each set, the small molecules existing in the reference library were firstly removed, and the sequences were mapped onto DRTs by similarity searching against the local BLAST database mentioned above.
Conclusions
With the rapid advancement of high-throughput screening technology, the shear amount of bioassay data is so huge and increasing so fast that many traditional frameworks encounter difficulties on launching a large campaign of target fishing. The exploration of more efficient approach in the context of 'big data' is needed for the challenging task. In this study, we exploited a simple scheme using 2D fingerprint similarity ranking with a DF strategy to predict drug-relevant targets based on a reference library containing 533 targets with 179,807 active ligands. This scheme exhibits good performance on predicting both therapeutic and non-therapeutic targets for the approved drugs from DrugBank and TTD. It can also reproduce 62 out of 65 new drug-target associations identified by SEA, and successfully predict both on-target and off-target interactions for 9 drugs withdrawn due to hERG toxicity. Encouraged by the results, we expect that the proposed scheme will enable large-scale target fishing, which is useful for both systematically identifying the new uses of old drugs and exploring the molecular basis of their adverse events.
Methods
1. Similarity fusion for target fishing
2D fingerprint is one of the most widely used forms to represent the chemical structure in molecular similarity searching. Among various fingerprint algorithms, the extended-connectivity fingerprint (ECFP) is noteworthy due to its efficiency and the ability to capture highly specific atomic information [
44
]. In this study, the ECFP4 fingerprint was calculated by a component ("Molecular Fingerprints") implemented in Pipeline Pilot 7.5 [
45
]. Given a query compound, its similarity score to a target is represented by a set of reference ligands is obtained by fusing the pairwise fingerprint-based molecular similarities. The similarity is measured by the Tanimoto coefficient [
46
,
47
]. For a given target
j
with
N
j
reference ligands, the following scores are calculated by different similarity fusion schemes:
(I)

KNN score (KSj) is the average similarity of K most similar ligands of the target j to the query;

(II)

Max score (MSj) is a special case of KNN when K equals to 1, which only considers the most similar ligand of the target j to the query;

(III)

Centroid score (CSj) is the average similarity of Nj ligands of the target j to the query.
Figure
7
outlines the target fishing workflow. The first step is to elaborately prepare a well-curated reference library that covers 533 targets represented by their active ligands as comprehensive as possible. Then, for a given query compound, 2D fingerprint based similarity searching runs through the entire sets, and the fusion scores of each target are calculated. Altogether four types of fusion scores were calculated, which are KS
j
MS
j
and CS
j
. Finally, for each fusion score, all the 533 targets were ranked in a descending order, and the top ranked targets were regarded as potential targets of the query. The predictive performances of different types of fusion score were compared with a 10-fold cross-validation test, in terms of the evaluation metrics defined in the next section.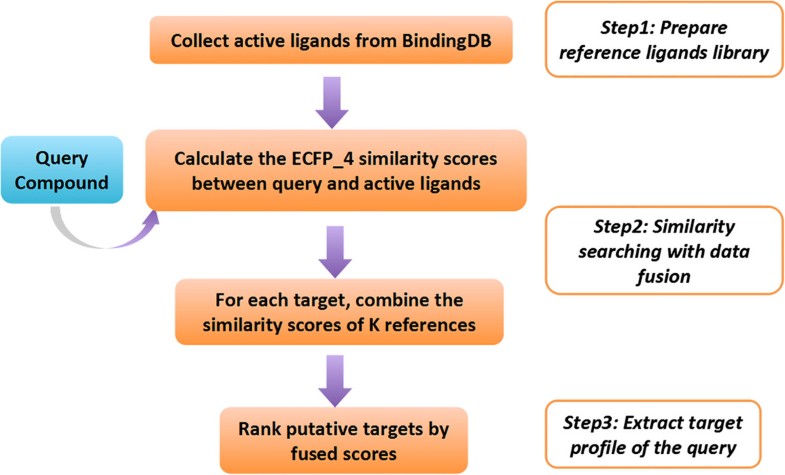 2. Evaluation metrics
The metrics we used are defined below:
In this study, PR n (eq.1) means the fraction of positive predictions that are "true" (experimentally verified targets) where TP n is the number of true positive prediction in the top ranked n targets; RE n (eq.2) means the fraction of the "true" targets that can be recognized (predicted as positive). Both PR n and RE n are therefore based on an understanding and measure of a model's ability to identify true targets. F n (eq.3) is the harmonic mean of PR n and RE n , and a higher F n score means a better performance on discriminating true targets based on an overall consideration.
The PR' was introduced by Amini et al.[36] For every correctly predicted target that appears at the i-th position in the top m ranked targets, which corresponds to the number of true targets of the ligand, the precision value at that position PR i was calculated. PR' is given by the averaged precision values PR i from the ranking places 1 to m (eq.4). According to this definition, the relevant targets that do not appear in the top m ranked targets receive a precision score of 0. In the end, the averaged values of the PR n , RE n , F n and PR' for all compounds of validation datasets were reported.
Declarations
Acknowledgements
This work was supported by the Hi-TECH Research and Development Program of China (Grant 2012AA020302), the National Science and Technology Major Project "Key New Drug Creation and Manufacturing Program" (Grants 2013ZX09507001 and 2014ZX09507002), and the National Natural Science Foundation of China (Grants 81230076 and 21210003).
Authors' Affiliations
(1)
Drug Discovery and Design Center, State Key Laboratory of Drug Research, Shanghai Institute of Materia Medica, Chinese Academy of Sciences, Shanghai, China
(2)
School of Life Science and Technology, ShanghaiTech University, Shanghai, China
Copyright
© Liu et al.; licensee Chemistry Central Ltd. 2014
This article is published under license to BioMed Central Ltd. This is an Open Access article distributed under the terms of the Creative Commons Attribution License (http://creativecommons.org/licenses/by/4.0), which permits unrestricted use, distribution, and reproduction in any medium, provided the original work is properly credited. The Creative Commons Public Domain Dedication waiver (http://creativecommons.org/publicdomain/zero/1.0/) applies to the data made available in this article, unless otherwise stated.