The CHEMDNER corpus of chemicals and drugs and its annotation principles
Journal of Cheminformatics
2015
7(Suppl 1):S2
Published: 19 January 2015
Abstract
The automatic extraction of chemical information from text requires the recognition of chemical entity mentions as one of its key steps. When developing supervised named entity recognition (NER) systems, the availability of a large, manually annotated text corpus is desirable. Furthermore, large corpora permit the robust evaluation and comparison of different approaches that detect chemicals in documents. We present the CHEMDNER corpus, a collection of 10,000 PubMed abstracts that contain a total of 84,355 chemical entity mentions labeled manually by expert chemistry literature curators, following annotation guidelines specifically defined for this task. The abstracts of the CHEMDNER corpus were selected to be representative for all major chemical disciplines. Each of the chemical entity mentions was manually labeled according to its structure-associated chemical entity mention (SACEM) class: abbreviation, family, formula, identifier, multiple, systematic and trivial. The difficulty and consistency of tagging chemicals in text was measured using an agreement study between annotators, obtaining a percentage agreement of 91. For a subset of the CHEMDNER corpus (the test set of 3,000 abstracts) we provide not only the Gold Standard manual annotations, but also mentions automatically detected by the 26 teams that participated in the BioCreative IV CHEMDNER chemical mention recognition task. In addition, we release the CHEMDNER silver standard corpus of automatically extracted mentions from 17,000 randomly selected PubMed abstracts. A version of the CHEMDNER corpus in the BioC format has been generated as well. We propose a standard for required minimum information about entity annotations for the construction of domain specific corpora on chemical and drug entities. The CHEMDNER corpus and annotation guidelines are available at: http://www.biocreative.org/resources/biocreative-iv/chemdner-corpus/
Keywords
named entity recognitionBioCreativetext miningchemical entity recognitionmachine learningchemical indexingChemNLP
Introduction
There is a pressing need to extract information of chemical compounds and drugs from the rapidly growing scientific literature [1]. Text mining and information extraction techniques are showing promising results in the biomedical domain: A range of applications have been implemented [2] to detect bio-entities [3, 4] and their relations (e.g. protein-protein interactions [5], gene-disease relations [6], and protein-mutation associations [7]), or to select relevant documents for a particular topic [8]. One of the first steps required for more complex relation extraction tasks is to find mentions of the entities of interest. In the life sciences domain the entities that have attracted most attention are genes and proteins [9], while in case of more generic texts and newswire, efforts have been made to detect information units including names of persons, organizations or locations [10].
Automated techniques with the aim of detecting (tagging) mentions of named entities in text are commonly called named entity recognition (NER) systems. Although early NER taggers typically relied on hand-crafted rules, the current trend increasingly points towards the use of supervised machine learning techniques for entity recognition [10]. Such systems learn a statistical model to identify entity mentions by inferring which characteristics (features) distinguish them from the surrounding text. Exploited features can be the presence of certain combinations of orthographic features, like consecutive characters or words (n-grams), their letter case, or the presence of digits, special characters (e.g. hyphens, brackets, primes, etc.), and symbols (Greek letters, @, $, etc.). Also the ending or beginning of words (affixes) and the presence of particular terms found in a list (gazetteer) of precompiled names are often exploited by NER systems [10, 11] and can help identify a word's morphology (inflections, gerund, pronouns, etc.). For instance, when looking at the chemical literature, it becomes clear that in case of systematic chemical names they do look quite different from common English words, mainly due to the nomenclature rules that define chemical naming standards.
Supervised methods classify word (token) sequences by assigning them to one of a set of predefined entity classes. For this task, they require labeled example data that commonly is split in two collections. The first collection is called the training set, from which the model infers its parameters. The trained model is then used to detect entity mentions in the second collection, the test set ; This set is used to evaluate the quality of the learned model. If satisfactory, the parameterized model can then be applied to detect entities in new, unlabeled text. Therefore, labeled text is important not only to build machine learning-based entity taggers: It also can be used to evaluate the performance of any kind of NER system, regardless the underlying method used. Producing labeled data for this purpose therefore refers to the construction of properly annotated text, a so-called corpus. This process requires adding metadata (the annotations) to the original text according to specific annotation guidelines.
Over 36 corpora have been generated in the biomedical field [12] already. When the corpus contains documents with manually marked up annotations done by domain experts, they are known as Gold Standard Corpora (GSC). Because the manual annotation process is very laborious, lower quality corpora can be constructed by using automated techniques. A few such Silver Standard Corpora (SSC) have been published, too, such as the CALBC corpus [13]. Chemical (named) entities are important for chemistry, but also for other research areas such as life sciences, pharmacology, medicine, material sciences or physics. Yet, despite their wide-spread use, only few corpora with manually labeled chemical entities exist to date.
Methods
The construction of the CHEMDNER corpus started with the definition of the overall annotation goal together with an exhaustive revision of previous work done on annotation of chemical entities as well as named entities in the biomedical and other domains. The aim while defining the chemical entities annotated for the CHEMDNER corpus was to capture only those types of mentions that are practically relevant. The common characteristic among all the chemical mention types used for the CHEMDNER corpus was that they could be associated to chemical structure information with at least a certain degree of reliability. We consider this aspect of crucial practical relevance. The annotation carried out for the CHEMDNER corpus was only exhaustive for this particular type of chemical mention, which we named Structure Associated Chemical Entity Mentions (SACEMs). For example 'nitric oxide', 'resveratrol' or 'malondialdehyde' would constitute example cases of SACEMs, while general chemical concepts like 'inactivator' or 'pigment', biological roles like 'hormone', 'antibiotic' or 'metabolite' and reactivity roles like 'nucleophile' or 'chelator' do not qualify as SACEMs. This implies that other types of mentions of chemicals and substances were not annotated. In order to construct the CHEMDNER corpus we examined several critical aspects that we thought influence the corpus quality.
Corpus selection and sampling.

Annotation guidelines and their corpus-driven refinements.

Entity annotation granularity.

Human annotator expertise and training.

Annotation tools and interface.

Annotation consistency and definition of upper and lower performance boundaries to be expected by automated systems.

Corpus format and availability.
From an initial examination of SACEM mentions it was clear that chemicals in text appeared in various forms. We therefore proposed a more granular annotation schema that covered the most important types of chemical mentions that can be found in the literature. We introduced seven classes of SACEMs, inspired by previously introduced chemical mention types [
35
]. Figure
1
provides an overview of the chemical mention classes together with a short description and example cases. When defining these classes, the following issues were contemplated:
semantically relevant aspects
of chemicals, the usefulness of the class information for subsequent NER detection methods (
detection strategies
) and their implication in chemical structure normalization of the mentions (
normalization strategies
). Depending on the chemical mention class, different strategies for linking mentions to chemical structures have to be used (e.g. dictionary-based strategy for trivial names or name to structure conversion software for systematic names). In the CHEMDNER corpus, the following
CEM classes
were introduced: SYSTEMATIC, IDENTIFIERS, FORMULA, TRIVIAL, ABBREVIATION, FAMILY and MULTIPLE.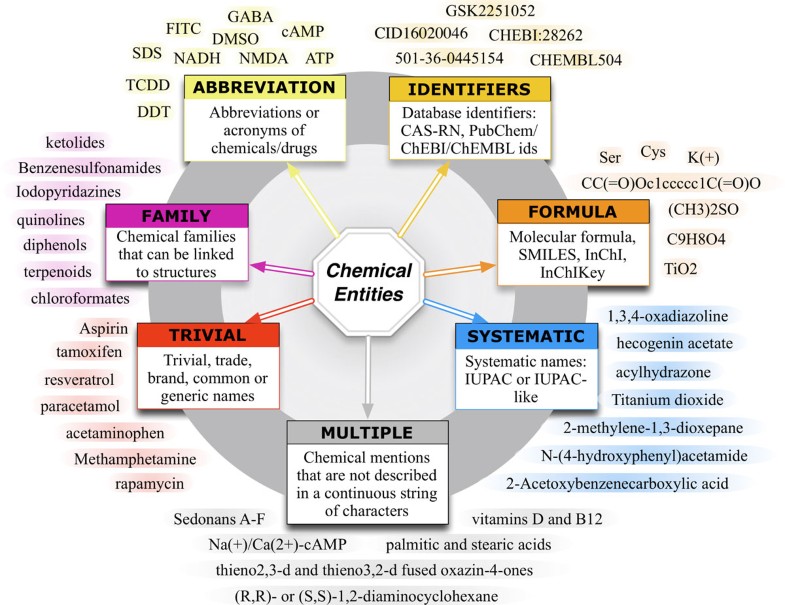 Discussion and conclusions
The CHEMDNER corpus is a publically available, manually annotated, machine-readable text corpus large enough to train chemical entity taggers. It is representative of modern chemical language (recent papers) for a range of central chemical disciplines. During the construction of this corpus, we have defined several
corpus hallmarks
that are key for the construction of manually annotated text corpora, not only for the chemical domain. These proposed hallmarks characterizing the CHEMDNER corpus are summarized in Figure
4
. We consider it crucial to provide
minimal information
for each of these essential aspects of corpus construction. Prior to the construction of the CHEMDNER corpus, we encountered a range of problems with previous studies, related to corpus availability, lack of proper documentation, lack of document selection criteria, not enough information on annotation guidelines or problems with the corpus format. For the annotation of chemical entity mentions we believe that curators need to consider the entire abstract as context for manual annotation, beyond individual sentences. Chemical entity annotations should be done at the character level and not at the level of individual word tokens due to the intrinsic challenges of tokenizing chemical texts [
33
]. We think that the CHEMDNER corpus could be a valuable resource not only for entity recognition but also for the implementation of improved chemical text processing software (chemistry-tuned tokenization methods optimized for the correct identification of chemical entities) or to develop text categorization systems for triage of documents that do contain chemical mentions for manual curation. This corpus can potentially be used for the implementation of sub-domain specific chemical taggers tuned for more fine-grained chemistry disciplines. Through the examination of both manually annotated and automatically extracted chemical mentions, it should be possible to better understand the
chemical vocabulary
and define the
chemical space
of published articles. The CHEMDNER corpus and the taggers developed with it can be used to generate lexical resources, i.e. gazetteers, containing chemical entities: For example, previous studies showed that IUPAC names are poorly covered by existing chemical dictionaries [
35
]. The recognition of this type of chemical names can thus only be addressed either by machine learning and/or rule-based approaches that certainly benefit from the availability of manually labeled text like the CHEMDNER corpus. Considering the competitive performance of systems trained on the CHEMDNER corpus, we expect that these could be effective to generate pre-annotations that in turn can then be manually validated or corrected in a quick curation procedure. The CHEMDNER silver standard corpus can be interpreted as a sort of collaborative effort to annotate chemical entities. For this dataset there are still aspects that would benefit from further analysis, such as alternative harmonization strategies of the mentions or a comparative analysis on the performance of systems trained on silver-standard corpora versus gold standard corpora. The release of automatically extracted chemical mentions from the entire PubMed database (of systems trained the CHEMDNER corpus) would demonstrate how scalable those methods are and help in the curation of chemical data from PubMed. Moreover, determining ways to differentiate those mentions that are of practical relevance for curators still needs additional analysis, but some preliminary studies that took into account simply the position of the chemical names in the text and restricting the selection to certain sections of the abstract showed interesting outcomes [
26
]. The performance of these tools on other documents, including patents and full text articles could potentially highlight both the adaptability as well as challenges associated with each particular document type. For an enhanced version of the CHEMDNER corpus, aspects that could improve the impact of this resource include a more granular classification of the SACEM classes. With this respect, a simple ontology or hierarchical classification of chemical entity mention classes would be important. The underlying classes would have to be useful to improve automatic detection of entities and to facilitate the normalization of mention to either structures or chemical databases. Some mention classes can only be normalized using a dictionary based approach, others using name to structure software. Some of the current entities contained in the CHEMDNER dataset cannot be directly normalized without some more granular mention subtypes (e.g. in case of the SACEM class FAMILY). Well-specified, generally used workflows of the underlying normalization process of chemical entity mentions to structures/databases are currently missing. We also think that a more granular annotation strategy could help to improve the recognition of other entity mentions such as genes and proteins. In addition to a more detailed chemical mention classification, some annotations would benefit from a more granular labeling at the level of substrings, for instance in case of hybrid chemical mentions (e.g. chemical mentions that are formed by strings belonging to different SACEM classes like SYSTEMATIC and TRIVIAL). In the case of chemical mentions of the class MULTIPLE, which cover chemical entities that appear in form of separated or unconnected expressions (discontinuous) they are being annotated together in order to generate integrated forms. Improvement of this type of mention would require defining dependencies/relationships between the token spans. The CHEMDNER corpus currently is only concerned with chemistry-related information, missing annotation of linguistic aspects, syntactic and grammatical information. Adding this kind of information goes beyond the scope of this corpus, but could potentially be useful for other natural language processing tasks. Finally, the annotation of named entities, although a key step, is only the first task for the subsequent extraction of more practically useful information, such as chemical interactions. Annotation of a predefined set of relation types involving chemicals from the CHEMDNER corpus could help to promote research in the area of chemical relation extraction.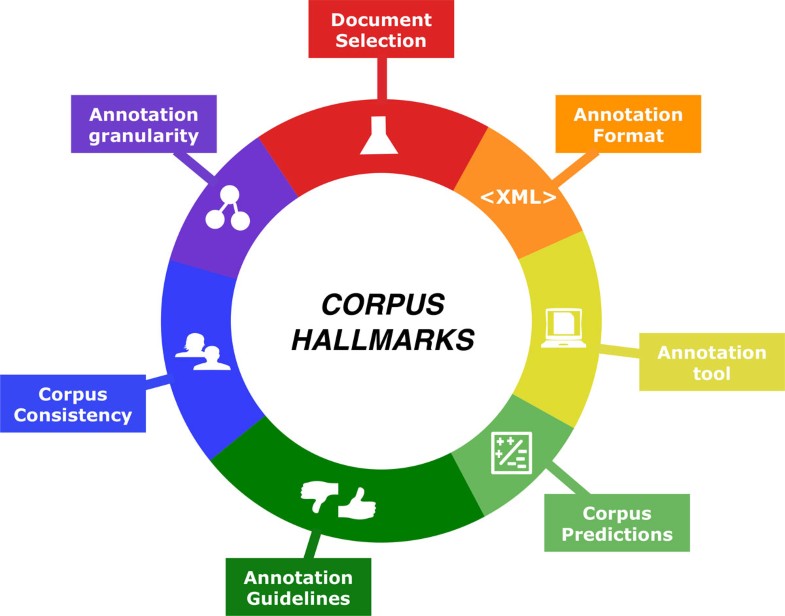 Declarations
Acknowledgements
This work is supported by the Innovative Medicines Initiative Joint Undertaking (IMI-eTOX) and the MICROME grant 222886-2. We would like to thank Peter Corbett, Colin Batchelor and Corinna Kolarik their colleagues for their pioneering work on chemical entity annotation.
Declarations
We would like to acknowledge funding for this publication by the Innovative Medicines Initiative Joint Undertaking (IMI-eTOX, under Grant Agreement nr. 115002)
This article has been published as part of Journal of Cheminformatics Volume 7 Supplement 1, 2015: Text mining for chemistry and the CHEMDNER track. The full contents of the supplement are available online at http://www.jcheminf.com/supplements/7/S1.
Authors' Affiliations
(1)
Structural Computational Biology Group, Structural Biology and BioComputing Programme, Spanish National Cancer Research Centre, Madrid, Spain
(2)
Small Molecule Discovery Platform, Molecular Therapeutics Program, Center for Applied Medical Research (CIMA), University of Navarra, Pamplona, Spain
(3)
Computational Intelligence Group, Department of Artificial Intelligence, Universidad Politecnica de Madrid, Madrid, Spain
(4)
Faculte de Medecine La Timone, Marseille, Marseille, France
(5)
National Center for Biotechnology Information (NCBI), National Institutes of Health, Bethesda, USA
(6)
Natural Language Processing Lab, Wuhan University, Wuhan, Hubei, PR China
(7)
NextMove Software Ltd, Innovation Centre, Unit 23, Cambridge, UK
(8)
National Centre for Text Mining, Manchester Institute of Biotechnology, Manchester, UK
(9)
Humboldt-Universität zu Berlin, Knowledge Management in Bioinformatics, Berlin, Germany
(10)
Department of Computer Science, University College London, London, UK
(11)
Campus Universitario de Santiago, IEETA/DETI, University of Aveiro, Aveiro, Portugal
(12)
Department of Computer Science, Harbin Institute of Technology, Shenzhen Graduate School Shenzhen, GuangDong, PR China
(13)
School of Biomedical Informatics, The University of Texas Health Science Center at Houston, Houston, USA
(14)
Database/Bioinformatics Laboratory, School of Electrical and Computer Engineering, Chungbuk National University, Cheongju, South Korea
(15)
RelAgent Pvt Ltd, Taramani, Chennai, India
(16)
Faculty of computer and information science, University of Ljubljana, Ljubljana, Slovenia
(17)
OntoChem GmbH, Halle, Germany
(18)
Department of Medical Informatics, Erasmus University Medical Center, Rotterdam, The Netherlands
(19)
Information Technology Supporting Center, Institute of Scientific and Technical Information of China, Beijing, PR China
(20)
School of Economics and Management, Beijing Forestry University, Beijing, PR China
(21)
Department of Computer Science and Engineering Indian institute of Technology, Patna, India
(22)
Graduate School of Information Science and Technology, Hokkaido University, Sapporo, Japan
(23)
Department of Computing and Information Systems, University of Melbourne, Melbourne, Australia
(24)
National ICT Australia Victoria Research Laboratory, West Melbourne, Australia
(25)
Computer Science and Engineering, The Pennsylvania State University, Pennsylvania, USA
(26)
Information Sciences and Technology, The Pennsylvania State University, Pennsylvania, USA
(27)
Department of Health Sciences Research, Mayo College of Medicine, Rochester, USA
(28)
LaSIGE, Department of Informatics, Faculty of Sciences, University of Lisbon, Lisbon, Portugal
(29)
Graduate Institute of BioMedical Informatics, College of Medical Science and Technology, Taipei Medical University, Taipei, Taiwan
(30)
Department of Computer Science and Information Engineering, National Central University, Taoyuan, Taiwan
(31)
Department of Computer Engineering, Middle East Technical University, Ankara, Turkey
(32)
Departament Ciències Mèdiques Bàsiques, Universitat de Lleida, Lleida, Spain
(33)
Departament d'Informatica i Enginyeria Industrial, Univesitat de Lleida, Lleida, Spain
(34)
Computer Science Department, Universidad Carlos III de Madrid, Madrid, Spain
Copyright
© Krallinger et al.; licensee Springer. 2015
This article is published under license to BioMed Central Ltd. This is an Open Access article distributed under the terms of the Creative Commons Attribution License (http://creativecommons.org/licenses/by/4.0), which permits unrestricted use, distribution, and reproduction in any medium, provided the original work is properly cited. The Creative Commons Public Domain Dedication waiver (http://creativecommons.org/publicdomain/zero/1.0/) applies to the data made available in this article, unless otherwise stated.