LeadMine: a grammar and dictionary driven approach to entity recognition
Journal of Cheminformatics
2015
7(Suppl 1):S5
Published: 19 January 2015
Abstract
Background
Chemical entity recognition has traditionally been performed by machine learning approaches. Here we describe an approach using grammars and dictionaries. This approach has the advantage that the entities found can be directly related to a given grammar or dictionary, which allows the type of an entity to be known and, if an entity is misannotated, indicates which resource should be corrected. As recognition is driven by what is expected, if spelling errors occur, they can be corrected. Correcting such errors is highly useful when attempting to lookup an entity in a database or, in the case of chemical names, converting them to structures.
Results
Our system uses a mixture of expertly curated grammars and dictionaries, as well as dictionaries automatically derived from public resources. We show that the heuristics developed to filter our dictionary of trivial chemical names (from PubChem) yields a better performing dictionary than the previously published Jochem dictionary. Our final system performs post-processing steps to modify the boundaries of entities and to detect abbreviations. These steps are shown to significantly improve performance (2.6% and 4.0% F1-score respectively). Our complete system, with incremental post-BioCreative workshop improvements, achieves 89.9% precision and 85.4% recall (87.6% F1-score) on the CHEMDNER test set.
Conclusions
Grammar and dictionary approaches can produce results at least as good as the current state of the art in machine learning approaches. While machine learning approaches are commonly thought of as "black box" systems, our approach directly links the output entities to the input dictionaries and grammars. Our approach also allows correction of errors in detected entities, which can assist with entity resolution.
Keywords
LeadMinegrammarsdictionarieschemical entity recognitionCHEMDNERBiocreative IV
Background
With the rapidly increasing volume of scientific publications machine assisted knowledge extraction is becoming a necessity. Entity recognition allows the association of concepts with a document such as a research article, patent or thesis. Knowledge of the position of entities within text facilitates higher level relationship extraction (e.g. associating quantities with chemical entities), identifying interactions between chemicals and other entity types (e.g. chemical-protein), determining the role of chemicals in a chemical reaction etc. All such activities work best when the chemical entity recognition step has both high recall and precision.
To test the current state of the art in chemical entity recognition, and drive further innovation in the field, BioCreative IV introduced the Chemical compound and drug name recognition task (CHEMDNER) [1]. This task consisted of a corpus of 10,000 PubMed abstracts that were annotated by domain experts to provide a gold standard. 3,500 of these were released to task participants as the "training corpus" with a further 3,500 released as the "development corpus". These 7,000 abstracts were used by participants to train and validate their solutions. The remaining 3,000 abstracts formed the test set and were provided to participants (along with 17,000 decoy abstracts) so that they could predict the entities that were annotated by the domain experts.
Attempts to tackle the problem of chemical entity recognition have invariably identified that the problem is not amenable to pure dictionary approaches due to the continuing discovery of novel compounds and the many ways in which systematic nomenclature allows compounds to be named [2]. Hence, state of the art systems use machine learning techniques to learn weights for pre-engineered features indicative of chemical nomenclature, e.g. character sequences, word morphology, features of surrounding words etc. Examples include OSCAR4 which employs a maximum-entropy Markov model [3], and ChemSpot which employs a conditional random field model [4]. Comprehensive reviews of the area have been performed by Vazquez et al. [5] and Gurulingappa et al. [6].
LeadMine instead encodes the rules used to describe systematic chemical nomenclature (as grammars), with large dictionaries being used for trivial names (unsystematic names). Compared to machine learning approaches this makes the results easily understandable; false positives can be pin-pointed to a particular grammar/dictionary and false negatives are readily corrected by adding the relevant nomenclature rule to a grammar or trivial name to a dictionary.
Implementation
Figure
1
shows the workflow we developed; the steps are explained below. It should be noted that every step subsequent to LeadMine annotation can be considered a form of post-processing, and any or all of these steps may be omitted.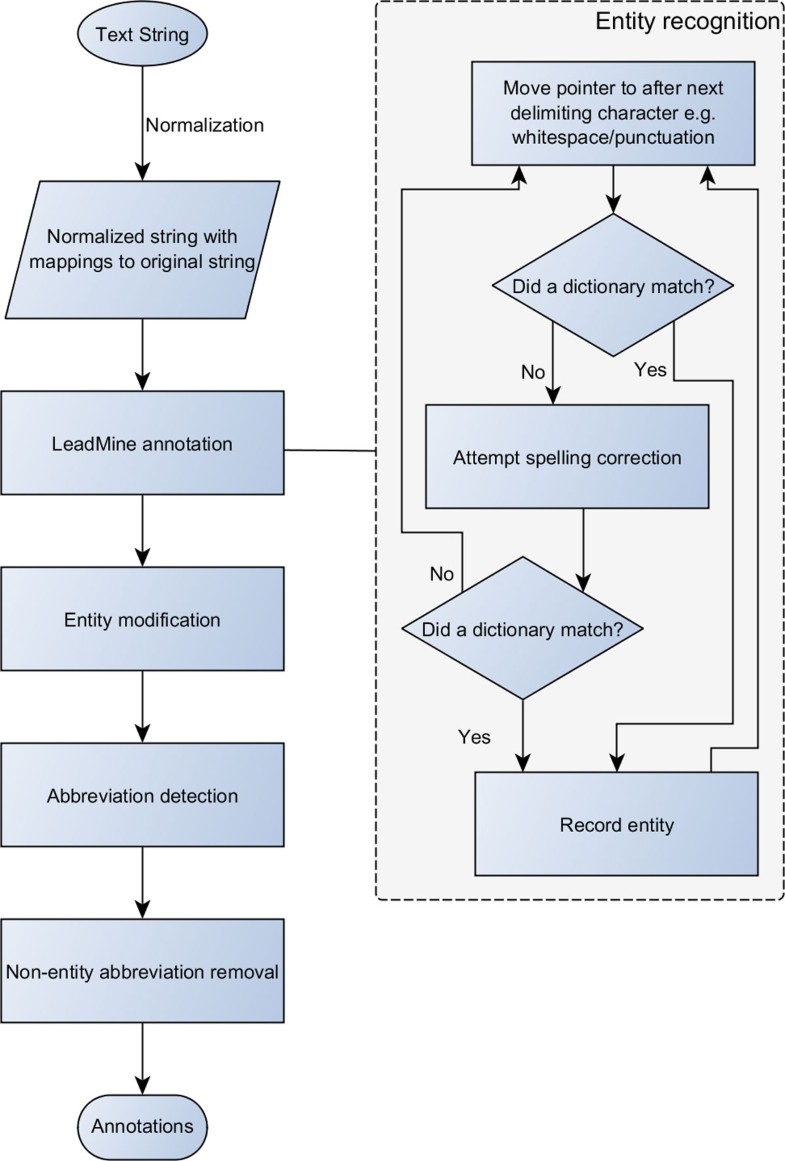 Results
All data in this section relates to the evaluation of the ability to find chemical entity mentions in the CHEMDNER test set. Results were calculated using the evaluation script provided by the task organizers and the same metrics used by the organizers (micro-averaged F1-score) are reported.
Conclusions
We have developed a fast high-precision solution to chemical entity recognition which differs from conventional machine learning approaches by being able to attribute all entities to a specific dictionary or grammar. As a result errors and omissions can be incrementally corrected. The use of dictionaries and grammars is not limited to chemistry allowing the system to recognize entities from other domains.
Declarations
Acknowledgements
We would like to thank Sorel Muresan of AstraZeneca for motivating and funding the initial development of LeadMine.
Declarations
Funding for publication was provided by NextMove Software Ltd.
This article has been published as part of Journal of Cheminformatics Volume 7 Supplement 1, 2015: Text mining for chemistry and the CHEMDNER track. The full contents of the supplement are available online at http://www.jcheminf.com/supplements/7/S1.
Authors' Affiliations
(1)
NextMove Software Ltd, Innovation Centre, Unit 23, Cambridge, UK
Copyright
© Lowe and Sayle; licensee Springer. 2015
This article is published under license to BioMed Central Ltd. This is an Open Access article distributed under the terms of the Creative Commons Attribution License (http://creativecommons.org/licenses/by/4.0), which permits unrestricted use, distribution, and reproduction in any medium, provided the original work is properly cited. The Creative Commons Public Domain Dedication waiver (http://creativecommons.org/publicdomain/zero/1.0/) applies to the data made available in this article, unless otherwise stated.