BioPhytMol: a drug discovery community resource on anti-mycobacterial phytomolecules and plant extracts
Journal of Cheminformatics
2014
6:46
Received: 7 July 2014
Accepted: 23 September 2014
Published: 11 October 2014
Abstract
Background
Tuberculosis (TB) is the second leading cause of death from a single infectious organism, demanding attention towards discovery of novel anti-tubercular compounds. Natural products or their derivatives have provided more than 50% of all existing drugs, offering a chemically diverse space for discovery of novel drugs.
Description
BioPhytMol has been designed to systematically curate and analyze the anti-mycobacterial natural product chemical space. BioPhytMol is developed as a drug-discovery community resource with anti-mycobacterial phytomolecules and plant extracts. Currently, it holds 2582 entries including 188 plant families (692 genera and 808 species) from global flora, manually curated from literature. In total, there are 633 phytomolecules (with structures) curated against 25 target mycobacteria. Multiple analysis approaches have been used to prioritize the library for drug-like compounds, for both whole cell screening and target-based approaches. In order to represent the multidimensional data on chemical diversity, physiochemical properties and biological activity data of the compound library, novel approaches such as the use of circular graphs have been employed.
Conclusion
BioPhytMol has been designed to systematically represent and search for anti-mycobacterial phytochemical information. Extensive compound analyses can also be performed through web-application for prioritizing drug-like compounds. The resource is freely available online at http://ab-openlab.csir.res.in/biophytmol/.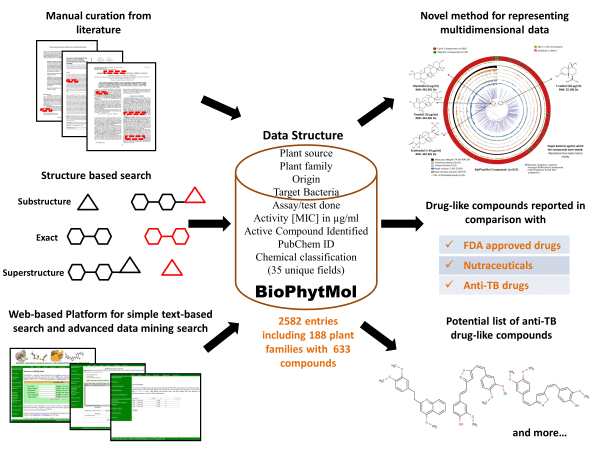 Keywords
BioPhytMolAnti-tubercularTBTuberculosisAnti-TBAnti-mycobacterialDrug discoveryCrowdsourcing
Background
According to the WHO Global Tuberculosis report, 2013, TB alone was responsible for nearly 1.3 million deaths and 8.6 million new cases in 2012 [1]. The current TB treatment regimen is lengthy and multi-therapy based. Over time, TB causing bacteria i.e., Mycobacterium tuberculosis (Mtb) has acquired resistance against existing antibiotics leading to multi-drug resistant (MDR), extensively drug resistant (XDR) and totally drug-resistant (TDR) forms [2]. The long-duration therapies also possess various side-effects and toxicity issues [3]. Bedaquiline has been recently approved by United States Food and Drug Administration (FDA) in December 2012, almost after 50 years of the discovery of the last anti-tubercular (anti-TB) drug. This drug comes with a black box warning of induction of arrhythmia followed by the risk of developing resistance if used improperly [4]. There are other anti-TB drugs too in various stages of development [3]-[5]. However, there is a need to discover novel, highly effective, less-toxic anti-TB drugs having new mechanism of action. There is an increasing demand to explore new chemical space given the emergence of drug-resistance even for newly developed therapies. Exploring natural product (NP) space may prove to be a valuable source of new and less-toxic anti-TB drugs [5],[6]. Analysis of the NP chemical space has led to the identification of novel scaffolds [7] and increased chance of discovering compounds possessing novel mechanism of action [8]. The overall chemical space covered by synthetic compounds is limited as compared to natural compounds given their higher chemical diversity [9]. More than 50% of FDA approved drugs have been either NPs or NP derivatives [10]. For example, the recent FDA approved drug, Fulyzaq (http://www.fda.gov/NewsEvents/Newsroom/PressAnnouncements/ucm333701.htm), is the first anti-diarrheal drug for adult HIV/AIDS patients derived from the plant Croton lechleri. Also, of currently known 28 anti-TB drugs [2], eight drugs i.e., Rifampicin, Rifapentine, Streptomycin, Kanamycin, Amikacin, Capreomycin, Viomycin and Cycloserine have been derived from microbial sources (NPs) (see Additional file 1: Table S1). Many experimentally tested anti-mycobacterial NPs are scattered throughout scientific literature [11],[12]. In order to systematically evaluate their anti-mycobacterial properties, this data needs to be systematically collated and analyzed. A number of pathway and cheminformatics tools for TB drug discovery have been developed but are not exclusively for plant derived anti-mycobacterial compounds [13],[14]. At present, Universal Natural Products Database (UNPD) is the largest freely available resource for NPs and holds a total of 197201 NPs of plants, animals and microbial origin [15]. The various other NP databases and chemical libraries freely available for public use are NuBBE [16], CamMedNP [17], SuperNatural [18], HIT [19], NPACT [20], TCM Database@Taiwan [21], TCMID [22], HIM-herbal ingredients in-vivo metabolism database [23], AfroDB [24] and ConMedNP [25], to name a few. However, information related to phytomolecules and plant extracts against mycobacterial strains is very limited. Moreover, such data resources should be equipped with analysis tools to prioritize compounds for early stage drug discovery, which is missing. Furthermore, all the resources may follow a standardized global ontology so that the data shared by individuals or laboratories is interoperable and facilitate implementation of the semantic web features.
BioPhytMol has been developed as a database cum drug discovery platform that can be used to prioritize drug-like compounds. A number of experimentally verified anti-mycobacterial phytomolecules along with their experimental assay preparation and bioactivity details have been manually compiled from literature. Tools providing text searching, browsing and chemical similarity searching for phytomolecules have been integrated to utilize BioPhytMol as a drug discovery platform. The chemical structure similarity tool can be exploited to perform exact, substructure, superstructure and perfect search against various drug-like chemical libraries. This facility may be helpful to assign chemical classes and bioactivity to novel compounds. Users can also generate analogs for their target specific inhibitors. As of now the resource holds a total of 2582 entries including 188 plant families (comprised of 692 genera and 808 species) from global flora. In total, 633 purified compounds have been curated against 25 different target mycobacteria. These are reported along with their biological activity and experimental details as described below. The resource is available at http://ab-openlab.csir.res.in/biophytmol/.
Construction and content
Data source and structure
The PubMed literature database (http://www.ncbi.nlm.nih.gov/pubmed) and Google search (https://www.google.com/) were considered as major sources for collecting the plant derived anti-mycobacterial compounds and extracts. Initially, the relevant papers were downloaded using keywords such as 'natural product', 'plant product', 'anti-tuberculosis', 'anti-mycobacterial', 'Mycobacterium tuberculosis', 'TB' and 'Mtb'. Papers with TB and natural product/plant product keywords in their abstract were further shortlisted. More than 150 research articles/reviews were used to retrieve anti-mycobacterial phytomolecules and plant extracts. A well-defined data structure (Additional file 1: Table S2) was followed to systematically extract, capture and store data manually for purified anti-mycobacterial phytomolecules and plant extracts. Wherever available, a PubChem ID (http://pubchem.ncbi.nlm.nih.gov/) has been assigned to purified phytomolecule. To maintain a common standard, wherever the activity was given in terms of μM, it was converted to μg/ml using GraphPad (http://www.graphpad.com/quickcalcs/Molarityform/). The structures unavailable in PubChem were drawn manually using MarvinSketch 5.11.4 software from ChemAxon (http://www.chemaxon.com/products/marvin/marvinsketch/) and were assigned a BioPhytMol ID.
Data curation
The data was manually curated using a structured-wiki platform. To perform data quality check, a semi-automated procedure was followed based on a well-defined data structure as mentioned earlier. A set of dedicated curators also checked the data manually and well-curated data was finally stored in MySQL, an open-source relational database management system (RDBMS). For both data capture and curation, crowdsourcing through online platforms have been implemented. Each database entry is tagged with the contributor's details.
Platform architecture
BioPhytMol database has been developed using open source software LAMP (Linux-Apache-Mysql-PHP) server technology. PHP, HTML, JavaScript, AJAX and CSS technologies have been used to build the web interface. The whole software system runs on IBM SAS x3800 machine under Red Hat Enterprise Linux 5 environment using Apache httpd server.
Discussion
BioPhytMol is a drug-discovery community resource with a database of anti-mycobacterial phytomolecules and plant extracts with analysis tools integrated into a web-application. The database is based on extensive literature search and curation and is the only searchable resource on anti-mycobacterial phytomolecules. In addition to the data on plant extracts or the purified active ingredients, the structure, bioactivity and experimental details are also captured systematically through a well-defined data structure. This platform is designed to perform analysis based both on chemical structure and biological properties which is the primer for any early stage drug discovery process. To facilitate structure-based analysis, BioPhytMol has been equipped with structure-based search options, which may be used to compare any new compound with the BioPhytMol database, as also with anti-TB drugs and compounds reported in DrugBank in various categories. These searches are expected to reveal shared/distinct structural features of the new and known anti-TB drugs with that of other drug-like libraries including small molecules and nutraceuticals. It is interesting to observe that there are cases where a compound has been reported to show activity against multiple species of mycobacteria. This feature of database may help in identification of the structural features responsible for highly selective or broad-spectrum activity of phytomolecules against different mycobacterial strains. Similarly, the data and the analysis tools also enable identification of structural analogs of reported anti-TB compounds and inhibitors of specific drug targets in Mtb.
A revised ontology and chemical classification is also proposed as part of systematic analysis of the compound library. This is important for data-interoperability and shared knowledgebase. The revised chemical classification, though not extensive, allows the chemists to search for compounds with specific chemical features like aromaticity or functional groups like ketone or classes like specific sugar moieties, thus, making the platform useful for researchers from multiple disciplines.
A highlight of the study is the representation of multidimensional data through circular graphs that allow interpretation of various chemical properties with respect to each other and with bioactivity data. CIRCOS has been used to generate these graphs. CIRCOS is a very popular tool among genomics and genetics community to represent the physical map and annotation of circular genomes. For this study, CIRCOS has been customized to represent the chemical and biological properties of the compound library. The same approach can be used to represent any set of properties and is expected to aid in interpretation of multi-dimensional data.
The real success of a database lies in its regular updation. Database updation and curation is an on-going activity. To ensure that BioPhytMol is regularly updated, a structured-wiki platform has been designed. This platform allows community curation of new datasets as well as modification of the existing one for any ambiguities. The submitters are duly acknowledged for their contribution as each annotation or entry is author and time stamped. The curators should register through the OSDD portal and obtain Sysborg OpenID. This ID can then be used to update the database through online form. However, database changes are committed only when the submission is quality checked for correctness and format. Efforts are ongoing to extend the search base of BioPhytMol as well as to include batch query options where multiple structures can be searched using the similarity search tool for their corresponding similar structures.
Conclusions
BioPhytMol is a drug-discovery community resource with a database of anti-mycobacterial phytomolecules and plant extracts. This a unique resource that encapsulates important information such as their bioactivity values (MIC), target bacteria, percentage inhibition of mycobacterial growth and most importantly two dimensional as well as three dimensional structures for purified anti-mycobacterial phytomolecules. Structure based searching and comparison against various drug classes aids to the features of platform to speed up the anti-mycobacterial drug discovery.
Availability and requirements
Authors' contributions
BD, GJJ and TK compiled data from literature. AS and PD curated the data and updated the fields wherever data was incomplete. MS curated the chemical structures. AS developed the database, web-based tools and the interface of BioPhytMol with inputs from PD. AB, AS, PD, NKR performed compound analysis. Chemical classification was done by MS and AB. NKR prepared visualization plots, CIRCOS and CND. AS, PD and AB drafted the manuscript. AB conceived and designed the project and refined the manuscript. AB defined the SOP for data collection and also the data structure. The manuscript is read and approved by all authors.
Abbreviations
TB:

Tuberculosis
Mtb:

Mycobacterium tuberculosis
MDR:

Multi-drug resistant
XDR:

Extensively drug resistant
TDR:

Totally drug-resistant
FDA:

Food and Drug Administration
NP:

Natural product
UNPD:

Universal Natural Products Database
LAMP:

Linux-Apache-Mysql-PHP
MIC:

Minimum inhibitory concentration
JME:

Java Molecular Editor
B_mols:

BioPhytMol compounds
A_tb:

Anti-TB drugs
FDA_small:

FDA approved small molecule drugs
FDA_nutra:

FDA approved nutraceutical drugs
PSA:

Polar surface area
HBD:

Hydrogen bond donor
HBA:

Hydrogen bond acceptor
NNs:

Near neighbours
CND:

Compound network diagram
Da:

Daltons
NCBO:

National Center for Biomedical Ontology
NATPRO:

Natural products Ontology
SAR:

Structure-activity relationships
SPR:

Structure property relationships
Declarations
Acknowledgements
The authors thank the OSDD Community for their active participation and the Council of Scientific and Industrial Research (CSIR), India, for financial support (Grant No. HCP0001). AS acknowledges CSIR for Senior Research Fellowship.
Authors' Affiliations
(1)
Open Source Drug Discovery (OSDD) Unit, Council of Scientific and Industrial Research, New Delhi, India
(2)
Department of Applied Mathematics and Bioinformatics, Faculty of Technology and Engineering, The Maharaja Sayajirao University of Baroda, Vadodara, India
(3)
Department of Bioinformatics, Christ College, Rajkot, India
(4)
St. Stephens College, University of Delhi, New Delhi, India
(5)
Department of Biochemistry and Molecular Biology, University Clinic of Bonn (UKB), University of Bonn, Bonn, Germany
References
Global Tuberculosis report. In [], [http://www.who.int/iris/bitstream/10665/91355/1/9789241564656_eng.pdf]
Zumla A, Nahid P, Cole ST: Advances in the development of new tuberculosis drugs and treatment regimens. Nat Rev Drug Discov. 2013, 12: 388-404. 10.1038/nrd4001.View ArticleGoogle Scholar
Gandhi NR, Nunn P, Dheda K, Schaaf HS, Zignol M, van Soolingen D, Jensen P, Bayona J: Multidrug-resistant and extensively drug-resistant tuberculosis: a threat to global control of tuberculosis. Lancet. 2010, 375: 1830-1843. 10.1016/S0140-6736(10)60410-2.View ArticleGoogle Scholar
Cohen J: Infectious disease. Approval of novel TB drug celebrated--with restraint. Science. 2013, 339: 130-10.1126/science.339.6116.130.View ArticleGoogle Scholar
Ngo LT, Okogun JI, Folk WR: 21st century natural product research and drug development and traditional medicines. Nat Prod Rep. 2013, 30: 584-592. 10.1039/c3np20120a.View ArticleGoogle Scholar
Palomino JC, Ramos DF, da Silva PA: New anti-tuberculosis drugs: strategies, sources and new molecules. Curr Med Chem. 2009, 16: 1898-1904. 10.2174/092986709788186066.View ArticleGoogle Scholar
Butler MS, Buss AD: Natural products–the future scaffolds for novel antibiotics?. Biochem Pharmacol. 2006, 71: 919-929. 10.1016/j.bcp.2005.10.012.View ArticleGoogle Scholar
Jachak SM, Saklani A: Challenges and opportunities in drug discovery from plants. Curr Sci. 2007, 92: 1251-1257.Google Scholar
Lahlou M: The success of natural products in drug discovery. Pharmacol Pharmacy. 2013, 4: 17-31. 10.4236/pp.2013.43A003.View ArticleGoogle Scholar
Newman DJ, Cragg GM: Natural products as sources of new drugs over the 30 years from 1981 to 2010. J Nat Prod. 2012, 75: 311-335. 10.1021/np200906s.View ArticleGoogle Scholar
Garcia A, Bocanegra-Garcia V, Palma-Nicolas JP, Rivera G: Recent advances in antitubercular natural products. Eur J Med Chem. 2012, 49: 1-23. 10.1016/j.ejmech.2011.12.029.View ArticleGoogle Scholar
Rogoza LN: Anti-tubercular activity of natural products: Recent developments. Opportunity, Challenge and Scope of Natural Products in Medicinal Chemistry. Edited by: Tiwari VK. 2011, Research Signpost, Trivandrum, Kerala, India, 103-120.Google Scholar
Ekins S, Freundlich JS, Choi I, Sarker M, Talcott C: Computational databases, pathway and cheminformatics tools for tuberculosis drug discovery. Trends Microbiol. 2011, 19: 65-74. 10.1016/j.tim.2010.10.005.View ArticleGoogle Scholar
Open Source Drug Discovery Resources. In [], [http://www.osdd.net/research-development/publications-and-presentations]
Gu J, Gui Y, Chen L, Yuan G, Lu HZ, Xu X: Use of natural products as chemical library for drug discovery and network pharmacology. PLoS One. 2013, 8: e62839-10.1371/journal.pone.0062839.View ArticleGoogle Scholar
Valli M, dos Santos RN, Figueira LD, Nakajima CH, Castro-Gamboa I, Andricopulo AD, Bolzani VS: Development of a natural products database from the biodiversity of Brazil. J Nat Prod. 2013, 76: 439-444. 10.1021/np3006875.View ArticleGoogle Scholar
Ntie-Kang F, Mbah JA, Mbaze LM, Lifongo LL, Scharfe M, Hanna JN, Cho-Ngwa F, Onguene PA, Owono Owono LC, Megnassan E, Sippl W, Efange SM: CamMedNP: building the Cameroonian 3D structural natural products database for virtual screening. BMC Complement Altern Med. 2013, 13: 88-10.1186/1472-6882-13-88.View ArticleGoogle Scholar
Dunkel M, Fullbeck M, Neumann S, Preissner R: SuperNatural: a searchable database of available natural compounds. Nucleic Acids Res. 2006, 34: D678-D683. 10.1093/nar/gkj132.View ArticleGoogle Scholar
Ye H, Ye L, Kang H, Zhang D, Tao L, Tang K, Liu X, Zhu R, Liu Q, Chen YZ, Li Y, Cao Z: HIT: linking herbal active ingredients to targets. Nucleic Acids Res. 2011, 39: D1055-D1059. 10.1093/nar/gkq1165.View ArticleGoogle Scholar
Mangal M, Sagar P, Singh H, Raghava GP, Agarwal SM: NPACT: Naturally Occurring Plant-based Anti-cancer Compound-Activity-Target database. Nucleic Acids Res. 2013, 41: D1124-D1129. 10.1093/nar/gks1047.View ArticleGoogle Scholar
Chen CY: TCM Database@Taiwan: the world's largest traditional Chinese medicine database for drug screening in silico. PLoS One. 2011, 6: e15939-10.1371/journal.pone.0015939.View ArticleGoogle Scholar
Xue R, Fang Z, Zhang M, Yi Z, Wen C, Shi T: TCMID: Traditional Chinese Medicine integrative database for herb molecular mechanism analysis. Nucleic Acids Res. 2013, 41: D1089-D1095. 10.1093/nar/gks1100.View ArticleGoogle Scholar
Kang H, Tang K, Liu Q, Sun Y, Huang Q, Zhu R, Gao J, Zhang D, Huang C, Cao Z: HIM-herbal ingredients in-vivo metabolism database. J Cheminform. 2013, 5: 28-10.1186/1758-2946-5-28.View ArticleGoogle Scholar
Ntie-Kang F, Zofou D, Babiaka SB, Meudom R, Scharfe M, Lifongo LL, Mbah JA, Mbaze LM, Sippl W, Efange SM: AfroDb: A select highly potent and diverse natural product library from African Medicinal Plants. PLoS One. 2013, 8: e78085-10.1371/journal.pone.0078085.View ArticleGoogle Scholar
Ntie-Kang F, Onguene PA, Scharfe M, Owono Owono LC, Megnassan E, Mbaze LM, Sippl W, Efange SMN: ConMedNP: a natural product library from Central African medicinal plants for drug discovery. RSC Adv. 2014, 4: 409-419. 10.1039/c3ra43754j.View ArticleGoogle Scholar
Lipinski CA, Lombardo F, Dominy BW, Feeney PJ: Experimental and computational approaches to estimate solubility and permeability in drug discovery and development settings. Adv Drug Deliv Rev. 2001, 46: 3-26. 10.1016/S0169-409X(00)00129-0.View ArticleGoogle Scholar
Csizmadia F: JChem: Java applets and modules supporting chemical database handling from web browsers. J Chem Inf Comput Sci. 2000, 40: 323-324. 10.1021/ci9902696.View ArticleGoogle Scholar
Liu K, Feng J, Young SS: PowerMV: a software environment for molecular viewing, descriptor generation, data analysis and hit evaluation. J Chem Inf Model. 2005, 45: 515-522. 10.1021/ci049847v.View ArticleGoogle Scholar
Krzywinski M, Schein J, Birol I, Connors J, Gascoyne R, Horsman D, Jones SJ, Marra MA: Circos: an information aesthetic for comparative genomics. Genome Res. 2009, 19: 1639-1645. 10.1101/gr.092759.109.View ArticleGoogle Scholar
Veber DF, Johnson SR, Cheng HY, Smith BR, Ward KW, Kopple KD: Molecular properties that influence the oral bioavailability of drug candidates. J Med Chem. 2002, 45: 2615-2623. 10.1021/jm020017n.View ArticleGoogle Scholar
Congreve M, Carr R, Murray C, Jhoti H: A 'rule of three' for fragment-based lead discovery?. Drug Discov Today. 2003, 8: 876-877. 10.1016/S1359-6446(03)02831-9.View ArticleGoogle Scholar
Kumar R, Singh G, Swami G, Krishan P, Kumari P, Rizvi SI: Nutraceuticals: a boom to medical industry. Res Gate: Pharmaceut Sci. 2013, 2: 8-Google Scholar
Oprea TI: Property distribution of drug-related chemical databases. J Comput Aided Mol Des. 2000, 14: 251-264. 10.1023/A:1008130001697.View ArticleGoogle Scholar
Ghose AK, Viswanadhan VN, Wendoloski JJ: A knowledge-based approach in designing combinatorial or medicinal chemistry libraries for drug discovery. 1. A qualitative and quantitative characterization of known drug databases. J Comb Chem. 1999, 1: 55-68. 10.1021/cc9800071.View ArticleGoogle Scholar
Bickerton GR, Paolini GV, Besnard J, Muresan S, Hopkins AL: Quantifying the chemical beauty of drugs. Nat Chem. 2012, 4: 90-98. 10.1038/nchem.1243.View ArticleGoogle Scholar
Rishton GM: Nonleadlikeness and leadlikeness in biochemical screening. Drug Discov Today. 2003, 8: 86-96. 10.1016/S1359644602025722.View ArticleGoogle Scholar
Ballell L, Bates RH, Young RJ, Alvarez-Gomez D, Alvarez-Ruiz E, Barroso V, Blanco D, Crespo B, Escribano J, Gonzalez R, Lozano S, Huss S, Santos-Villarejo A, Martín-Plaza JJ, Mendoza A, Rebollo-Lopez MJ, Remuiñan-Blanco M, Lavandera JL, Pérez-Herran E, Gamo-Benito FJ, García-Bustos JF, Barros D, Castro JP, Cammack N: Fueling open-source drug discovery: 177 small-molecule leads against tuberculosis. Chem Med Chem. 2013, 8: 313-321. 10.1002/cmdc.201200428.View ArticleGoogle Scholar
Martinez-Jimenez F, Papadatos G, Yang L, Wallace IM, Kumar V, Pieper U, Sali A, Brown JR, Overington JP, Marti-Renom MA: Target prediction for an open access set of compounds active against Mycobacterium tuberculosis. PLoS Comput Biol. 2013, 9: e1003253-10.1371/journal.pcbi.1003253.View ArticleGoogle Scholar
Clark A, Sarker M, Ekins S: New target prediction and visualization tools incorporating open source molecular fingerprints for TB Mobile 20. J Chem Informatics. 2014, 6: 38-Google Scholar
Copyright
© Sharma et al.; licensee Springer. 2014
This article is published under license to BioMed Central Ltd. This is an Open Access article distributed under the terms of the Creative Commons Attribution License (http://creativecommons.org/licenses/by/4.0), which permits unrestricted use, distribution, and reproduction in any medium, provided the original work is properly credited.