Research article
Open Access
Proteochemometric modelling coupled to in silico target prediction: an integrated approach for the simultaneous prediction of polypharmacology and binding affinity/potency of small molecules
Journal of Cheminformatics
2015
7:15
Received: 18 November 2014
Accepted: 17 March 2015
Published: 15 April 2015
Abstract
The rampant increase of public bioactivity databases has fostered the development of computational chemogenomics methodologies to evaluate potential ligand-target interactions (polypharmacology) both in a qualitative and quantitative way. Bayesian target prediction algorithms predict the probability of an interaction between a compound and a panel of targets, thus assessing compound polypharmacology qualitatively, whereas structure-activity relationship techniques are able to provide quantitative bioactivity predictions. We propose an integrated drug discovery pipeline combining in silico target prediction and proteochemometric modelling (PCM) for the respective prediction of compound polypharmacology and potency/affinity. The proposed pipeline was evaluated on the retrospective discovery of Plasmodium falciparum DHFR inhibitors. The qualitative in silico target prediction model comprised 553,084 ligand-target associations (a total of 262,174 compounds), covering 3,481 protein targets and used protein domain annotations to extrapolate predictions across species. The prediction of bioactivities for plasmodial DHFR led to a recall value of 79% and a precision of 100%, where the latter high value arises from the structural similarity of plasmodial DHFR inhibitors and T. gondii DHFR inhibitors in the training set. Quantitative PCM models were then trained on a dataset comprising 20 eukaryotic, protozoan and bacterial DHFR sequences, and 1,505 distinct compounds (in total 3,099 data points). The most predictive PCM model exhibited R 2 0 test and RMSEtest values of 0.79 and 0.59 pIC50 units respectively, which was shown to outperform models based exclusively on compound (R 2 0 test/RMSEtest = 0.63/0.78) and target information (R 2 0 test/RMSEtest = 0.09/1.22), as well as inductive transfer knowledge between targets, with respective R 2 0 test and RMSEtest values of 0.76 and 0.63 pIC50 units. Finally, both methods were integrated to predict the protein targets and the potency on plasmodial DHFR for the GSK TCAMS dataset, which comprises 13,533 compounds displaying strong anti-malarial activity. 534 of those compounds were identified as DHFR inhibitors by the target prediction algorithm, while the PCM algorithm identified 25 compounds, and 23 compounds (predicted pIC50 > 7) were identified by both methods. Overall, this integrated approach simultaneously provides target and potency/affinity predictions for small molecules.
Keywords
Target predictionchemogenomicsproteochemometricsQSARDHFRplasmodium falciparum
Background
In recent years it has been demonstrated that drugs exert their therapeutic effect by modulating more than one target, in fact six on average [1]. Therefore, the early evaluation of the bioactivity profiles of lead compounds is essential for the success in developing new drugs, although efficacy is sometimes attained by the inhibition of single targets, e.g. viral proteins. Similarly, understanding drug polypharmacology can help in anticipating drug adverse effects [2].
In parallel, the availability of public bioactivity databases has enabled the application of large-scale chemogenomics techniques to, among others, predict protein targets for small molecules, and to predict their affinity on therapeutically interesting targets [3]. These techniques capitalize on bioactivity data to infer relationships between the compounds, encoded with numerical descriptors, and their targets, which can be represented as labels in a classification model or explicitly encoded by e.g. protein or amino acid descriptors [4].
In silico target prediction algorithms assess potential compound polypharmacology through the computational evaluation of the (functionally unrelated) targets modulated by a given compound, or its selectivity to species-specific targets, as they predict the probability of interaction of that compound with a panel of targets [5]. Initially, target prediction models were developed using Laplacian-modified Naïve Bayesian classifiers [6] and the Winnow algorithm [7]. Later, Keiser et al. [8] developed a model which related biological targets based on ligand similarities and ranked the significance of the resulting similarity scores using the Similarity Ensemble Approach (SEA), followed by Wale and Karypis [9] who applied SVM and ranking perceptron algorithms to rank targets for a given compound. More recently, Koutsoukas et al. [10] compared the performance of both the Naïve Bayesian and Parzen-Rosenblatt Window classifiers, concluding that the overall performance of both methods is comparable though differences were found for certain target classes.
The ligand-target prediction methods described above generally predict the likelihood of interaction with a target, and they do not predict compound affinity or potency (e.g. Ki or IC50). On the other hand, quantitative bioactivity prediction techniques, e.g. proteochemometric modelling (PCM) [3], predict the potency or affinity for compound-target pairs, normally in the form of pIC50 or pKi values. PCM combines information from compounds and related targets, e.g. orthologs, in a single machine learning model [3,11], which enables the simultaneous modelling of chemical and biological information, and thus the prediction of compound affinity and selectivity across a panel of targets. Nonetheless, the effects of a compound at the cellular or the organism level are poorly understood in this case, as these methods cannot account for the interactions of a compound with other unrelated targets, which are not captured in the PCM model.
Given the limitations of both purely qualitative and purely quantitative bioactivity modelling approaches, in the current work, we propose an integrated drug discovery approach, combining in silico target prediction for the qualitative large-scale evaluation of compound bioactivity, and PCM for the quantitative prediction of compound potency. The proposed approach was evaluated on the discovery of DHFR inhibitors for Plasmodium falciparum (P. falciparum), the causative agent of the most dangerous form of malaria [12]. Whilst there are multiple anti-malarial drugs on the market, resistance to anti-malarial drugs is on the rise [13,14], and there are only 21 compounds in clinical or pre-clinical trials [15].
In order to combat the lack of novel drugs for malaria, big pharmaceutical companies have generated a wealth of phenotypic data, namely the GlaxoSmithKline (GSK) TCAMS dataset, as well as the Novartis-GNF Malaria Box [16,17]. Both datasets contain phenotypic readouts, describing how effective the compounds present in the datasets are in inhibiting the growth of P. falciparum. Nonetheless, none of them contain annotations about the P. falciparum target(s) involved, making it a challenge to elucidate the mode of action (MoA) of the compounds in the dataset, and hence, making the dataset difficult to interpret. This renders these datasets a very suitable case study for the algorithms we are presenting in this work.
In the context of malaria drug discovery, previous studies have applied machine learning algorithms to predict whether plasmodial proteins are secretory proteins based on their residue composition [18], and to predict the bioactivities of compounds against particular plasmodial targets [19,20]. These approaches, though, did not account for the polypharmacology of anti-malarial compounds.
To overcome the limitations of these methods, we now integrate both
in silico
target prediction and PCM in a unified drug discovery approach. As illustrated in Figure
1
, the target prediction algorithm used in this study, trained on approximately 553,084 bioactivity data points spanning 3,481 targets, used a domain-based similarity metric between targets to extrapolate target predictions from one species to another. Non-plasmodial targets were then extrapolated to plasmodial targets. Besides, the PCM model was trained on a dataset composed of 20 eukaryotic, protozoan and bacterial DHFR sequences, and of 1,505 different DHFR inhibitors and a total of 3,099 data points. To exploit the complementarity of the two prediction methods,
in silico
target prediction was used to predict MoA hypotheses for the anti-malarial compounds in the GSK TCAMS phenotypic dataset, whereas PCM was employed to quantify compound potency (pIC
50
).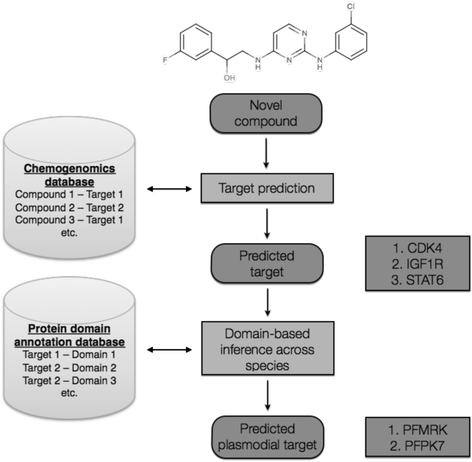 Conclusions
In this study, the complementarity of in silico target predictions and proteochemometric modelling (PCM) was evaluated for the retrospective identification of P. falciparum DHFR inhibitors. The target prediction algorithm exhibited respective recall and precision values of 79% and 100% for plasmodial DHFR. The high precision value is explained by the structural similarity of plasmodial and the T. gondii DHFR inhibitors, which were part of the training set and were found to be relevant for extrapolation (the average MOLPRINT2D pairwise similarity between the T. gondii inhibitors and the plasmodial inhibitors was 16%, whereas the average pairwise similarity within the plasmodial dataset and the T. gondii dataset was 19% and 18% respectively). We showed that high-affinity inhibitors from the GSK TCAMS phenotypic dataset are independently identified by both methods: 534 compounds from the GSK TCAMS dataset were identified as DHFR inhibitors by the target prediction algorithm, whereas the PCM algorithm identified 25 high affinity compounds, 23 of which were already identified by the target prediction algorithm. The combination of both methods permits the assessment of compound polypharmacology and provides insight into the potency/affinity of small molecules.
We presented an approach that can be potentially extended to other human, bacterial or plasmodial targets. The inherent capability of PCM to combine bioactivity data for related targets, even for targets spanning distant phyla, is likely to improve the mining of currently available multi-target bioactivity databases. Similarly, domain-based extrapolation permits in silico target predictions to be extended to non-mammalian orthologous proteins for which less bioactivity data is usually available.
Declarations
Acknowledgements
ICC thanks the Paris-Pasteur International PhD Programme for funding. ICC and TM thank CNRS and Institut Pasteur for funding. SP and APIJ thank the Netherlands Organisation for Scientific Research (NWO, grant number NWO-017.009-065) and the Prins Bernhard Cultuurfonds for funding. AB thanks Unilever and the European Research Commission (Starting Grant ERC-2013-StG 336159 MIXTURE) for funding.
Authors' Affiliations
(1)
Department of Chemistry, Centre for Molecular Science Informatics, University of Cambridge, Cambridge, UK
(2)
Division of Medicinal Chemistry, Leiden Academic Centre for Drug Research, Leiden University, Leiden, The Netherlands
(3)
Unité de Bioinformatique Structurale, Institut Pasteur and CNRS UMR 3825, Structural Biology and Chemistry Department, Paris, France
Copyright
© Paricharak et al.; licensee Springer. 2015
This is an Open Access article distributed under the terms of the Creative Commons Attribution License (http://creativecommons.org/licenses/by/4.0), which permits unrestricted use, distribution, and reproduction in any medium, provided the original work is properly credited.