Research article

Open Access
PubChem atom environments
Journal of Cheminformatics
2015
7:41
Received: 29 January 2015
Accepted: 20 May 2015
Published: 19 August 2015
Abstract
Background
Atom environments and fragments find wide-spread use in chemical information and cheminformatics. They are the basis of prediction models, an integral part in similarity searching, and employed in structure search techniques. Most of these methods were developed and evaluated on the relatively small sets of chemical structures available at the time. An analysis of fragment distributions representative of most known chemical structures was published in the 1970s using the Chemical Abstracts Service data system. More recently, advances in automated synthesis of chemicals allow millions of chemicals to be synthesized by a single organization. In addition, open chemical databases are readily available containing tens of millions of chemical structures from a multitude of data sources, including chemical vendors, patents, and the scientific literature, making it possible for scientists to readily access most known chemical structures. With this availability of information, one can now address interesting questions, such as: what chemical fragments are known today? How do these fragments compare to earlier studies? How unique are chemical fragments found in chemical structures?
Results
For our analysis, after hydrogen suppression, atoms were characterized by atomic number, formal charge, implicit hydrogen count, explicit degree (number of neighbors), valence (bond order sum), and aromaticity. Bonds were differentiated as single, double, triple or aromatic bonds. Atom environments were created in a circular manner focused on a central atom with radii from 0 (atom types) up to 3 (representative of ECFP_6 fragments). In total, combining atom types and atom environments that include up to three spheres of nearest neighbors, our investigation identified 28,462,319 unique fragments in the 46 million structures found in the PubChem Compound database as of January 2013. We could identify several factors inflating the number of environments involving transition metals, with many seemingly due to erroneous interpretation of structures from patent data. Compared to fragmentation statistics published 40 years ago, the exponential growth in chemistry is mirrored in a nearly eightfold increase in the number of unique chemical fragments; however, this result is clearly an upper bound estimate as earlier studies employed structure sampling approaches and this study shows that a relatively high rate of atom fragments are found in only a single chemical structure (singletons). In addition, the percentage of singletons grows as the size of the chemical fragment is increased.
Conclusions
The observed growth of the numbers of unique fragments over time suggests that many chemically possible connections of atom types to larger fragments have yet to be explored by chemists. A dramatic drop in the relative rate of increase of atom environments from smaller to larger fragments shows that larger fragments mainly consist of diverse combinations of a limited subset of smaller fragments. This is further supported by the observed concomitant increase of singleton atom environments. Combined, these findings suggest that there is considerable opportunity for chemists to combine known fragments to novel chemical compounds. The comparison of PubChem to an older study of known chemical structures shows noticeable differences. The changes suggest advances in synthetic capabilities of chemists to combine atoms in new patterns. Log–log plots of fragment incidence show small numbers of fragments are found in many structures and that large numbers of fragments are found in very few structures, with nearly half being novel using the methods in this work. The relative decrease in the count of new fragments as a function of size further suggests considerable opportunity for more novel chemicals exists. Lastly, the differences in atom environment diversity between PubChem Substance and Compound showcase the effect of PubChem standardization protocols, but also indicate that a normalization procedure for atom types, functional groups, and tautomeric/resonance forms based on atom environments is possible. The complete sets of atom types and atom environments are supplied as supporting information.
Keywords
Molecular graphPubChemFragmentStandardizationSMARTS
Background
The de facto standard for the representation of small molecules in chemical information and cheminformatics is the molecular graph, a mathematical construct providing the topological description of a chemical structure as a set of vertices (corresponding to atoms), and edges between those vertices (corresponding to bonds between atoms) [1, 2]. The molecular graph is deeply rooted in valence bond theory, where the structure diagram is (essentially) equivalent to the Lewis structure of a molecule [3, 4]. It helps provide the basis for several related chemical descriptions: systematic names [5–7], line notations [8–22], and connection table-based file formats [23–26]. The valence bond model description of a chemical structure has proven to be incredibly useful to chemists, even though it is simplistic compared to a full quantum mechanical description. Subgraphs, referred to as substructures or molecular fragments, are the key concept in a variety of standard methods for the assessment of chemical similarity [27–34], clustering [35–39], and structure searching [40–42]. For example, fragment-based approaches of atom-centered or variable topological characteristics are used to accelerate chemical structure searches in databases [43–45].
Chemical fragments are interesting in that they can have many uses. More than 40 years ago an atom-centered fragmentation model, referred to as 'augmented atoms', was used to analyze 28,799 molecules sampled from the Chemical Abstracts Service Registry System (CASRS) [
46
,
47
]. In that study, 2,331 unique atom environments could be distinguished based on the most discriminative of the employed fragment models, which considered atomic number and seven bond types (single/double/triple bond in a chain or ring, respectively; and aromatic bond in a ring). The resulting top-10 ranked fragments and their incidences (count of structures containing a fragment) and occurrences (count of all cases of a fragment across all structures) from this analysis are reproduced in Fig.
1
. One can consider this set of 2,331 augmented atoms a representation of the ability of chemists at that point in time to synthesize and isolate novel chemical substances (with every sampled chemical known to the CASRS at that point in time being some combination of these 2,331 fragments). If the count of scientific publications [
48
] and known chemical substances [
49
,
50
] illustrated in Fig.
2
are any indication, chemistry as a science has progressed significantly in 40 years. But how have chemists progressed in terms of their ability to synthesize and isolate novel chemistry between then and now? Using this earlier study of CASRS, one could rephrase this question as: what chemical fragments exist in chemical structures today that did not exist then?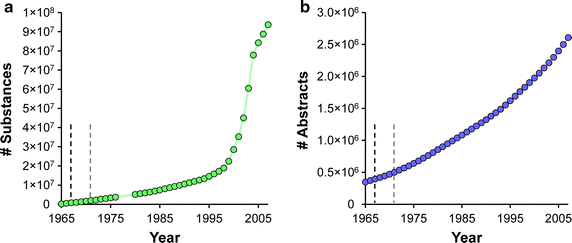 In the world of chemical information much has changed since the 1970s. For example, aided by computers and the internet, chemical information data exchange has become increasingly open. There are now chemical data repositories providing access to large quantities of aggregated chemical information without barriers or paywalls. An example of one of these repositories is PubChem.
PubChem is an open archive for chemical substances and their biological activities [51–54]. It consists of three distinct primary databases: Substance, Compound and BioAssay. Substance contains descriptions of chemical substances as provided by hundreds of contributors. BioAssay contains bioactivity information about chemical substances. Compound is derived from entries in Substance via automated protocols that generate a preferred chemical representation and identify equivalent chemicals between PubChem contributors. At the time of initially writing this manuscript (January 2013), PubChem contained more than 100 million substance and 46 million compound records. Given the size and breadth of contributing organizations (including many substance suppliers, patent databases, natural product collections, literature databases, etc.), PubChem might be considered to represent a rather large fraction of all known (small molecule, organic) chemistry.
Using PubChem chemical contents and the earlier analysis method used with CASRS, this study assesses the overall progress by chemists to access novel chemistry over the past 40 years as a function of new, unique chemical fragments. In addition, we present here detailed statistics about atom environments of different sizes in the PubChem Substance (non-standardized structures as provided by contributors) and PubChem Compound (standardized unique structures) databases.
Conclusions
The chemical structure contents of the PubChem Compound and Substance databases was examined as a function of atom types and atom environments. The relative novelty of chemical structure fragments found in PubChem is considerable. The percentage of atom environments located in only a single PubChem Compound record is 10.6, 28.5, 39.1, and 44.1% for atom environment r = 0 (atom type), 1, 2, and 3 (ECFP_6 like), respectively. Considering many chemical structures are synthesized for novelty purposes, this may not be completely surprising. Interestingly, the relative rate of increase of new atom environments, while still substantial, slows dramatically when examined as a function of increasing atom environment radius in PubChem Compound, with a 69, 42, and 6-fold increase for 0–>1, 1–>2, and 2–>3, respectively. This suggests that there is still considerable room for chemists to pursue novel chemical structures using only new combinations of smaller (e.g., r = 2) atom environment fragments.
Further emphasizing this point, plots of the incidence of atom environment fragments at various sizes show a log/log behavior. In some ways, this may suggest that chemists lack imagination in that the majority of chemical structures contain one or more of the same basic molecular fragments. One could also easily argue the opposite point, in that chemists are constantly pushing into new and unexplored areas of chemistry and are rarely using the same atom fragments twice. In the end, it seems very clear that chemists have plenty of room to explore new and sparsely explored chemistry space and, therefore, make many new discoveries for some time to come.
The analysis of PubChem Compound was compared to similar studies performed over 40 years ago by Crowe et al. and Adamson et al. of CASRS chemical structures. A near eightfold (8×) increase in r = 1 atom environments ('augmented atoms', atom and its nearest neighbors) was found. While this result can only be considered an upper bound, due to the use of structure sampling by the earlier studies and the relatively high rate of singletons found in the PubChem analysis, it does imply a substantial increase in the capability of chemists to synthesize and isolate novel chemistry as a function of time, with a noted increase in the prevalence and popularity of nitrogen and oxygen containing atom environments now as opposed to then. The supporting information provided in this study should allow for future comparisons on the progress and trends of chemists.
The differences between the PubChem Substance and Compound databases were examined, in part, by using examples of atom environments of increasing size unique to each repository. This study noted the count of unique atom environments in Substance is greater than it is in Compound. This is due to the fact that structures in Substance undergo structure standardization and have to pass validity filters before becoming part of Compound. This 'sanity' step dramatically reduces the count of atom environments by removing implausible chemistry (e.g., five bonds to carbon) and by normalizing varying functional group representations. These differences also help to emphasize the effect of PubChem standardization protocols for preferred atom types and particular tautomeric/resonance forms such that they could be used as the basis for a fragment-based structure normalization procedure.
The analysis of the Compound database is particular helpful to understand and characterize the diversity of molecular fragments found in known chemicals. Given the limited number of atom environments up to r = 3 (ECFP_6 like), it may be possible to do a more thorough examination of observed fragments to improve the efficiency of chemical information algorithms, such as those for chemical structure searching or virtual screening. Furthermore, the results of this study highlight that further refinement of standardization procedures in PubChem will be beneficial.
Methods
In this analysis, the OpenEye Scientific, Inc. OEChem C++ toolkit was used for the representation of atoms, bonds, and molecules [57].
Structure preprocessing
Most standard formats for structure representation in chemical information, such as SMILES [11, 12] and connection table file formats [23–25] do not require the specification of explicit hydrogen atoms in a chemical structure or implicit hydrogen atom counts. Instead, a standard valence model is employed, where implicit hydrogen atom counts are determined from (among other things) the atomic number, explicit atom valence and formal charge. Standard valence models can vary between file formats and software implementations. In PubChem Substance, the presence of explicit hydrogen atoms are nearly always limited to chemical structures with a hydrogen atom involved in the configuration of a stereocenter or to specify a particular isotope form. Consequently, most non-hydrogen atoms in Substance have non-saturated valences, and the chemical structures do not represent valid chemistry without additional processing to assign implicit hydrogen counts. In order to account for these effects, Substance records were subjected to a standard valence model prior to atom environment analysis by invoking the OEChem C++ toolkit [57] function OEAssignMDLHydrogens. PubChem Compound is derived from Substance through automated structure standardization protocols, including the adjustment of implicit hydrogen atom counts and subsequent assignment of explicit hydrogen atoms. For the purpose of this analysis, all explicit hydrogen atoms of substances and compounds were converted to implicit hydrogen atom counts using the OEChem C++ toolkit [57] function OESuppressHydrogens with all Boolean parameters set to 'false'. Please note that this explicit-to-implicit hydrogen atom conversion removes all explicit hydrogen atoms, including those with specific hydrogen isotopes, affecting 98,342 deuterium and 21,039 tritium containing substances, as well as 56,725 deuterium and 8,909 tritium containing compounds, respectively.
Atom types
In this study, we employed two atom typing schemes. For an adequate comparison of fragments in PubChem Compound to the results of an 'augmented atom' study of the CASRS published by Adamson et al. [47], atoms are characterized by their atomic number as sole feature. For a more detailed analysis of circular atom environments in PubChem Substance and Compound, atoms are characterized by six properties: (1) atomic number; (2) formal charge; (3) implicit hydrogen count; (4) explicit degree; (5) valence; and (6) participation in a conjugated (aromatic) system. The atom "explicit degree" is the number of explicitly connected atoms. The atom "valence" equals the sum of all incident sigma and pi bonds. The number of "incident sigma bonds" is described by the sum of "implicit hydrogen count" and "explicit degree". The number of "incident pi bonds" is the sum of bond orders of explicitly connected atoms minus the "explicit degree". This atom characterization approach allows a description of the molecular context of an atom (environment) without having to include the next layer of atoms as pseudo atoms as in other approaches [76]. Atom aromaticity was perceived using the OEChem C++ toolkit function OEAssignAromaticFlags in combination with the aromaticity model OEAroModelOpenEye. In the specific case of the comparison with CASRS, the OEAroModelMDL was used, as it allows for a more "apples to apples" comparison to the older study by allowing only six-membered rings of carbon and nitrogen to be aromatic, provided they satisfy the 'Hückel 4n + 2′ rule [58, 59] (i.e., atoms are sp2-hybridized).
Bond types
In this study, we employed two bond typing schemes. For an adequate comparison of fragments in PubChem Compound to the results of an 'augmented atom' study of the CASRS published by Adamson et al. [47], bonds are characterized by their covalent bond order (single, double, triple), and presence in ring or chain, plus an additional 'aromatic' ring bond type. Bond aromaticity was perceived using the OEChem C++ toolkit [57] function OEAssignAromaticFlags in combination with the aromaticity model OEAroModelMDL. For a more detailed analysis of circular atom environments in PubChem Substance and Compound, four different bond types are distinguished: single, double, triple, and aromatic. Bond aromaticity was perceived using the OEChem C++ toolkit [57] function OEAssignAromaticFlags in combination with the aromaticity model OEAroModelOpenEye. In addition to covalent bonds, PubChem defines and actively uses three non-standard bond types: ionic, complex and dative bonds. In this analysis, these non-standard bond types were completely ignored.
Atom environments
Atom environments combine atom types and bond types into larger fragments. In this study, we employed the concept of circular atom environments centered on a particular atom referred to as the center atom. An atom environment of radius "
r
" contains all atoms in the molecule with a topological distance
r
or smaller to the center atom [
55
], and all bonds between them. The topological distance between two atoms is measured as the number of bonds on the shortest path between them. Consequently, atom environments with radius
r
= 0 include only the atom type of the center atom. Atom environments with
r
= 1 contain the center atom, all atoms adjacent to the center atom (nearest neighbors), and all the bonds between these atoms (those connecting the center atom with its neighbors and those between the neighbor atoms, if any exist). The inclusion of all bonds between atoms in an atom environment facilitates better separation between atom environments in ring-close scenarios as illustrated in Fig.
28
. The advantages of including aromaticity and connectivity information in atom and bond types are illustrated in Fig.
29
.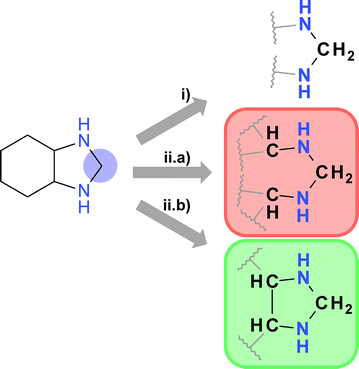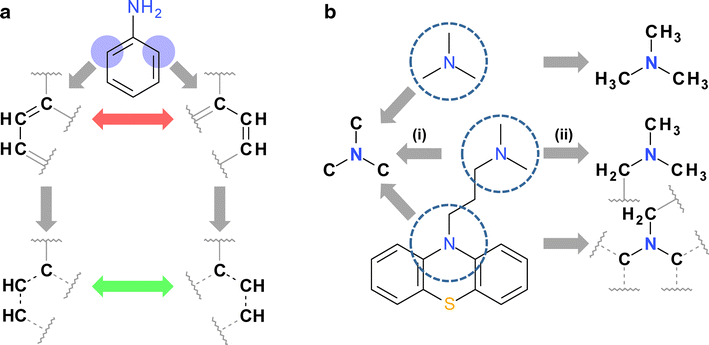 Atom environments with r > 0 were not generated with terminal atoms as center atoms, referring only to atoms that are adjacent to one other atom. These terminal atoms are included in the environment originating from the adjacent—non-terminal—partner. However, this exclusion of terminal atoms means that mono- and di-atomic structures are excluded from any atom environment analysis when r > 0, as they consist exclusively of terminal atoms. In Substance, this leads to 1,797 mono-atomic and 3,795 di-atomic structures being excluded from the atom environment r > 0 analyses. In Compound, this leads to 448 mono-atomic and 1,306 di-atomic structures being excluded from the atom environment r > 0 analyses. Statistics for these excluded structures are provided in the supporting information. (See Additional file 1: Figures S4, S5) Terminal atoms are included in the atom environment r = 0 (i.e., atom type) analysis.
In order to generate canonical representations for atom environments, we used functionalities from the OpenEye Scientific Software, Inc. OEChem C++ toolkit [
57
]. Atom environments were encoded as simplified molecular-input line-entry system arbitrary target specification (SMARTS) patterns [
77
]. For each atom in an OEMol object that represents a PubChem substance or compound record, a SMARTS representation was generated according to the encoding described in Tables
4
and
5
. This string representation of atom properties was set as the atom name by invoking the method
SetName
, after setting the atomic number to '0'. Atom environments were programmatically generated as OEMol objects containing only the atoms of a molecule with a shortest topological distance to the center atom that is lesser or equal to the atom environment radius, and the bonds between those atoms. A canonical string representation of the OEMol object representing the atom environment was generated by invoking the function
OECreateSmiString
with the OESMILESFlag values 'Canonical' and 'SuperAtoms'. As the atomic number was set to '0', canonicalization uses the string value set as atom name for prioritization during the canonicalization procedure. These canonical representations of atom environments, as provided in Additional file
4
, were the basis for our study.
Table 4
Atom and bond primitives for encoding of 'augmented atoms' in SMARTS
Feature

SMARTS encoding

Special case

Atom primitives

Element

# <atomic number>

Bond primitives

Single bond

–

@ (!@) for 'in ring' ('not in ring')

Double bond

=

@ (!@) for 'in ring' ('not in ring')

Triple bond

#

@ (!@) for 'in ring' ('not in ring')

Aromatic bond

:
Table 5
Atom and bond primitives for encoding of atom types and atom environments in SMARTS
Feature

SMARTS encoding

Special case

Atom primitives

Element

Atomic symbol

Lower case indicating aromaticity

Formal charge

±<integer>

Uncharged represented as +0

Implicit hydrogen count

h<integer>

Explicit degree

D<integer>

Valence

v<integer>

Bond primitives

Single bond

–

Double bond

=

Triple bond

#
Incidence and occurrence
In this study, atom environment frequency is expressed in terms of incidence and occurrence. Incidence refers to the absolute count or percentage of (substance or compound) records that contain a particular fragment. Occurrence refers to the absolute count or percentage of all fragments across all structures. Therefore, per chemical structure record, occurrence considers all fragments, while incidence considers only the unique fragments.
Dataset
This study uses PubChem as it existed on January 14, 2013 with maximum SID 160,655,685 and maximum CID 70,680,246. For both data sets, only PubChem records searchable ('live') at that point in time were processed. PubChem Substance records with 'auto-generated' structures were excluded. In 'auto-generated' cases, no actual structure is deposited, but a reference to a PubChem Compound record is derived using chemical names and may include chemical name conversion using various approaches, including the OpenEye Scientific Inc. Lexichem C++ toolkit [78]. Lastly, the chemical structure for a given substance had to be fully specified. Therefore, substances containing arbitrarily defined atoms (pseudo-atoms) were excluded from this analysis. By these criteria, atom environments (r = 0, 1, 2, 3) were determined for 104,669,789 Substance records. All 46,704,121 'live' records in Compound were also processed.
All atom environments (r = 0, 1, 2, 3) found are provided as supporting information in Additional files 3 (r = 0; atom types) and 4 (r = 1, 2, 3; atom environments) as SMARTS patterns. Usage of atom and bond primitives for encoding of augmented atoms and PubChem atom environments are detailed in Tables 4 and 5, respectively. Provided in this format, fragments can be visualized using appropriate techniques [79, 80], or readily imported into various toolkits. All SMARTS patterns supplied as supporting information have been tested for their validity by successfully parsing them through the OEChem C++ toolkit [57] function OEParseSmarts.
Records
Records may be referred to as SID (substance identifier) for PubChem Substance records and CID (compound identifier) for PubChem Compound records. Atom environments that occur in only a single PubChem record are referred to as singletons.
Declarations
Authors' contributions
VDH devised the environment encoding, carried out the computations and analyzed the results, and drafted the manuscript. EEB facilitated the computations and edited the manuscript. SHB reviewed the final manuscript. All authors read and approved the final manuscript.
Acknowledgements
We thank the anonymous reviewers for their careful reading of our manuscript and their constructive comments, which helped us to improve the manuscript. This research was supported in part by the Intramural Research Program of the National Library of Medicine, National Institutes of Health, US Department of Health and Human Services.
Compliance with ethical guidelines
Competing interests The authors declare that they have no competing interests.
Open AccessThis article is distributed under the terms of the Creative Commons Attribution 4.0 International License (http://creativecommons.org/licenses/by/4.0/), which permits unrestricted use, distribution, and reproduction in any medium, provided you give appropriate credit to the original author(s) and the source, provide a link to the Creative Commons license, and indicate if changes were made. The Creative Commons Public Domain Dedication waiver (http://creativecommons.org/publicdomain/zero/1.0/) applies to the data made available in this article, unless otherwise stated.
Authors' Affiliations
(1)
Department of Health and Human Services, National Center for Biotechnology Information, National Library of Medicine, National Institutes of Health, Bethesda, USA