libChEBI: an API for accessing the ChEBI database
Journal of Cheminformatics
2016
8:11
Received: 19 October 2015
Accepted: 16 February 2016
Published: 1 March 2016
Abstract
Background
ChEBI is a database and ontology of chemical entities of biological interest. It is widely used as a source of identifiers to facilitate unambiguous reference to chemical entities within biological models, databases, ontologies and literature. ChEBI contains a wealth of chemical data, covering over 46,500 distinct chemical entities, and related data such as chemical formula, charge, molecular mass, structure, synonyms and links to external databases. Furthermore, ChEBI is an ontology, and thus provides meaningful links between chemical entities. Unlike many other resources, ChEBI is fully human-curated, providing a reliable, non-redundant collection of chemical entities and related data. While ChEBI is supported by a web service for programmatic access and a number of download files, it does not have an API library to facilitate the use of ChEBI and its data in cheminformatics software.
Results
To provide this missing functionality, libChEBI, a comprehensive API library for accessing ChEBI data, is introduced. libChEBI is available in Java, Python and MATLAB versions from http://github.com/libChEBI, and provides full programmatic access to all data held within the ChEBI database through a simple and documented API. libChEBI is reliant upon the (automated) download and regular update of flat files that are held locally. As such, libChEBI can be embedded in both on- and off-line software applications.
Conclusions
libChEBI allows better support of ChEBI and its data in the development of new cheminformatics software. Covering three key programming languages, it allows for the entirety of the ChEBI database to be accessed easily and quickly through a simple API. All code is open access and freely available.
Keywords
CheminformaticsDatabaseAPILibraryJavaPythonMATLABChEBI
Background
ChEBI is a database and ontology of chemical entities of biological interest [1–3]. With a focus on small molecules, it contains names, chemical structures, synonyms, database cross-references, links to relevant literature, and classifications based on structural features and biological activity. ChEBI has been used as a resource for identifiers for the systematic annotation of chemicals in life science contexts, for example in metabolic models [4–6] and protein [7] and interaction databases [8]. It has also been used as a dictionary of names for chemical text mining [9] and as a source of semantic types for the growing chemical Semantic Web [10, 11].
ChEBI is made available via several access routes. Firstly, it is supported by a website with complex searching and browsing functionality (http://www.ebi.ac.uk/chebi/). Secondly, the data are available for download in full in several different download formats including relational database table data, flat files, the cheminformatics SDfile (structure-data file) format, and ontology formats OBO and OWL. Finally, there is a SOAP-based web service with several access methods that allow search and retrieval of any of the ChEBI content. However, for applications which make a heavy use of ChEBI content, the iterative search-and-retrieve strategy offered by the ChEBI web service may yield insufficient performance, while in order to implement applications which harness ChEBI's content from many of the different download formats, it is necessary to become familiar with the ChEBI data model. ChEBI is extensively human-curated and, as such, duplicate entries are merged, ensuring that the database contains no redundant entries. Deprecated entries are retained but linked to a parent entry, which maintains integrity of the resource and avoids dropped ids and broken links. Due to this added layer of (necessary) complexity, it is inefficient for individual programming efforts to address this issue of id mapping and deprecated entries in repeated independent efforts. libChEBI hides this from the user, ensuring seamless access to all data within the repository.
To facilitate the integration of ChEBI into new and existing software tools, libChEBI, a shared, freely available application programming interface (API) library has been developed. This simple API hides complexity and intricacies of the ChEBI data model, providing a simple interface for accessing ChEBI data. libChEBI has been developed in a generic fashion and will be applicable to any software developers who use (bio)chemical data.
Implementation
libChEBI provides a simple interface to the contents of the ChEBI database, built on top of the existing flat file download facility. Flat files are downloaded, unpacked and parsed as required, providing a simple API that is described below. As the flat files are updated on a monthly basis, libChEBI ensures that the most up-to-date version is automatically downloaded. This is the only online requirement of the library, and as such, once the flat files are downloaded, libChEBI can be used offline without any requirement for a connection to the ChEBI database (see Fig.
1
). libChEBI provides access to the entire contents of the ChEBI database while removing the need for the user to be familiar with the ChEBI flat file format, or the internal secondary identifier mapping system. Regarding memory issues, the current size (January 2016 release) of all of the unzipped flat files that are parsed is 1.2 GB. However, only a subset of these files (up to 66 MB) is held in memory at any time. Files related to structures and references are not held in memory, as these clearly would cause an excessive memory burden. The library is accessible through Java, Python and MATLAB APIs, which are described in more detail elsewhere (see Fig.
2
; Additional file
1
: libChEBI API), with examples of use provided below.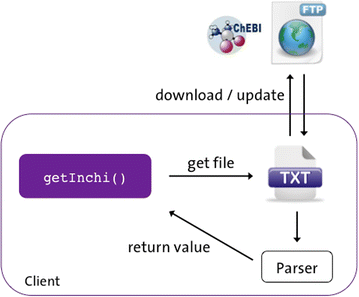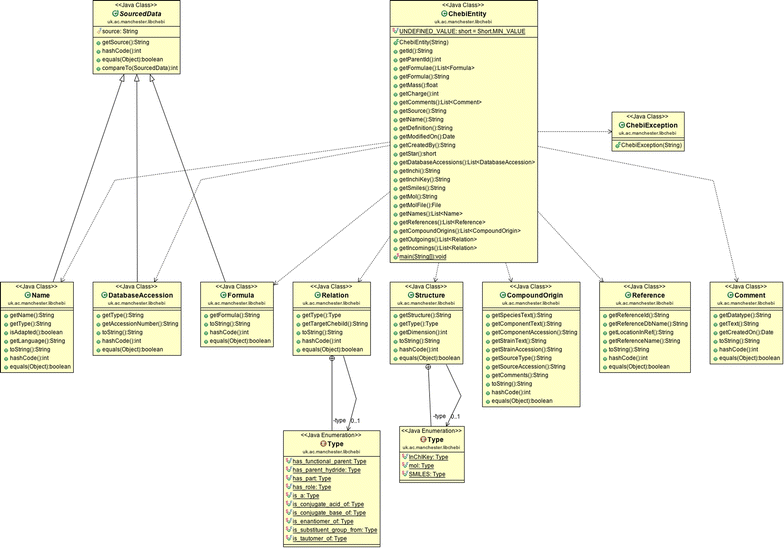 Conclusions
libChEBI is introduced to provide simple programmatic access to the contents of the ChEBI database, and has been designed specifically for developers who wish to incorporate ChEBI data into their software. Future developments may include the support of additional programming languages and implementation of a search facility. However, as a community resource, the direction in which libChEBI develops will be determined by requests from the user community, and as such feedback on this resource is welcomed and encouraged.
Availability and requirements
Project name: libChEBI

Project home page: https://github.com/libChEBI

Operating system(s): Platform independent

Programming language: Java, Python, MATLAB

Other requirements: Java 1.7 or higher, Python 2.7 or higher, MATLAB 2013a or higher

License: MIT.
Declarations
Authors' contributions
NS conceived the idea, design and coded the software, and led the writing of the manuscript. JH helped write the manuscript. AD and VM provided support with the ChEBI data model and download files. PM and CS contributed to the development of the idea and to seeking funding for the project. All authors read and approved the manuscript.
Acknowledgements
All authors acknowledge the funding from the BBSRC under Grant BB/K019783/1, "Continued development of ChEBI towards better usability for the systems biology and metabolic modelling community". NS and PM also thank the BBSRC for funding under Grants BB/M017702/1, "Centre for synthetic biology of fine and speciality chemicals", and BB/M006891/1, "Enriching Metabolic PATHwaY models with evidence from the literature (EMPATHY)".
Competing interests
The authors declare that they have no competing interests.
Open AccessThis article is distributed under the terms of the Creative Commons Attribution 4.0 International License (http://creativecommons.org/licenses/by/4.0/), which permits unrestricted use, distribution, and reproduction in any medium, provided you give appropriate credit to the original author(s) and the source, provide a link to the Creative Commons license, and indicate if changes were made. The Creative Commons Public Domain Dedication waiver (http://creativecommons.org/publicdomain/zero/1.0/) applies to the data made available in this article, unless otherwise stated.
Authors' Affiliations
(1)
Manchester Centre for Synthetic Biology of Fine and Specialty Chemicals (SYNBIOCHEM), Manchester Institute of Biotechnology, University of Manchester, Manchester, UK
(2)
European Bioinformatics Institute, Hinxton, Cambridge, UK
(3)
NextMove Software Ltd., Innovation Centre, Science Park, Cambridge, UK
(4)
School of Computer Science, University of Manchester, Manchester, UK
(5)
Center for Quantitative Medicine, UConn Health, Farmington, USA