A graph-based approach to construct target-focused libraries for virtual screening
Journal of Cheminformatics
2016
8:14
Received: 13 October 2015
Accepted: 3 March 2016
Published: 15 March 2016
Abstract
Background
Due to exorbitant costs of high-throughput screening, many drug discovery projects commonly employ inexpensive virtual screening to support experimental efforts. However, the vast majority of compounds in widely used screening libraries, such as the ZINC database, will have a very low probability to exhibit the desired bioactivity for a given protein. Although combinatorial chemistry methods can be used to augment existing compound libraries with novel drug-like compounds, the broad chemical space is often too large to be explored. Consequently, the trend in library design has shifted to produce screening collections specifically tailored to modulate the function of a particular target or a protein family.
Methods
Assuming that organic compounds are composed of sets of rigid fragments connected by flexible linkers, a molecule can be decomposed into its building blocks tracking their atomic connectivity. On this account, we developed eSynth, an exhaustive graph-based search algorithm to computationally synthesize new compounds by reconnecting these building blocks following their connectivity patterns.
Results
We conducted a series of benchmarking calculations against the Directory of Useful Decoys, Enhanced database. First, in a self-benchmarking test, the correctness of the algorithm is validated with the objective to recover a molecule from its building blocks. Encouragingly, eSynth can efficiently rebuild more than 80 % of active molecules from their fragment components. Next, the capability to discover novel scaffolds is assessed in a cross-benchmarking test, where eSynth successfully reconstructed 40 % of the target molecules using fragments extracted from chemically distinct compounds. Despite an enormous chemical space to be explored, eSynth is computationally efficient; half of the molecules are rebuilt in less than a second, whereas 90 % take only about a minute to be generated.
Conclusions
e
Synth can successfully reconstruct chemically feasible molecules from molecular fragments. Furthermore, in a procedure mimicking the real application, where one expects to discover novel compounds based on a small set of already developed bioactives,
e
Synth is capable of generating diverse collections of molecules with the desired activity profiles. Thus, we are very optimistic that our effort will contribute to targeted drug discovery.
e
Synth is freely available to the academic community at
www.brylinski.org/content/molecular-synthesis
.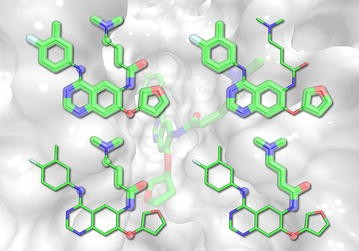 Keywords
Molecular synthesisVirtual screeningTarget-focused libraries eSynthChemical spaceTargeted drug discovery
Background
Due to extreme costs of high-throughput screening, many drug discovery projects commonly employ inexpensive computations to support experimental efforts. In particular, virtual screening, a technique that shows great promise for lead discovery, has become an integral part of modern drug design pipelines [1, 2]. Here, the idea is to considerably reduce the number of candidate compounds that need to be tested experimentally against a protein target of interest. Due to advances in computer technology resulting in constantly increasing computational power, virtual libraries comprising many thousands of compounds can be rapidly evaluated in silico prior to experimental screens and at a fraction of the cost. Virtual screening approaches, historically divided into ligand- and structure-based algorithms, prioritize drug candidates by estimating the probability of binding to the target receptor [3]. Among many methods developed to date, docking-based techniques are valuable tools for lead identification [4]. These algorithms rank compounds by modeling the binding pose of a query molecule in the binding pocket of the target protein, followed by the prediction of binding affinity from molecular interactions. There are many examples of successful applications of virtual screening to develop compounds with desired bioactivities [5, 6].
Computer-aided drug discovery traditionally utilizes large compound libraries. For example, the ZINC database is one of the most comprehensive repositories of commercially available compounds for virtual screening [7]. It currently features over 35 million compounds in ready-to-dock formats. These large generic collections of low molecular weight organic compounds provide a sufficient diversity to perform virtual screening against any molecular target, however, the vast majority of compounds will have a very low probability to exhibit the desired bioactivity for a specific target protein. Furthermore, considering the imperfections of compound ranking by virtual screening algorithms [8], the top-ranked subset of compound library may contain a very few active molecules. Consequently, the chances to identify novel, high-quality leads from large compound repositories are low. For instance, an internal analysis of the Abbott compound collection suggested that <4 % of the compounds in their library have the potential to yield novel kinase hinge-binders [9]. To address these issues, there has been a significant effort to augment existing collections with those compounds having a higher potential to bind to a specific target of interest. On that account, the trend in library design has shifted to include a strong focus on the target class in addition to diversity and drug-likeness criteria [10].
A target-focused library is a screening collection of compounds specifically tailored to modulate the function of a particular target or a protein family [11, 12]. There are a variety of approaches developed to date to design target-specific focused libraries against, e.g. protein kinases, ion channels, G-protein coupled receptors (GPCRs), nuclear receptors, and protein–protein interfaces. These libraries not only reduce waste by eliminating compounds that are unlikely to bind to target proteins, but often lead to the increased potency and specificity of binders, as demonstrated for c-Src kinase [13]. Several approaches employ molecular docking to determine target-specific thresholds that can be used as filters in virtual screening. This strategy was experimentally validated on the kinase-targeted library of 1440 compounds and 41 kinases from five different families, demonstrating a 6.7-fold higher overall hit enrichment compared to a generic compound collection [14]. Furthermore, a structure-based modeling was used to create a small, focused library against Chlamydophila pneumoniae, a common pathogen recently linked to atherosclerosis and the risk of myocardial infarction [15]. Encouragingly, the experimentally determined hit rate for the targeted library was 24.2 %, which is considerably higher than that expected for a generic library. Similar to structure-based approaches, ligand-based techniques can also be used in the focused library design, as shown for the GPCR family [10]. Compared to large and diverse screening libraries, using relatively small and targeted collections significantly improves the odds of finding potential drug candidates, thus further reduces the costs of drug discovery.
Target-focused libraries are either designed or assembled upon some understanding of a specific protein target or a protein family. These collections are often compiled from larger, more diverse libraries using either molecular docking (structure-based approach) or ligand fingerprint similarity (ligand-based approach). The former employs structural, sequence and mutagenesis data, whereas the latter is based on the biomolecular properties derived from known ligands, offering a useful way of "scaffold hopping" from one ligand class to another [16]. Target-focused libraries are often constructed around a single scaffold with one or more positions used to attach various chemical moieties or side chains. Although this approach can result in millions of different compounds [17], the chemical space remains largely unexplored, therefore, truly novel compounds will not be discovered. On the other hand, combinatorial chemistry methods can produce a vast collection of divers compounds, so vast that only a tiny fraction of them could be explored, even using supercomputers. One can hardly imagine screening the chemical universe containing from 1012 to 10180 drug-like compounds [18]. Therefore, techniques to design chemical libraries covering pharmacologically relevant regions are needed [19]. These methods hold a promise to advance our knowledge of biological processes leading to new strategies to treat diseases.
Compiling focused libraries by molecular synthesis is essentially a combinatorial problem that can be addressed using graph theory. These techniques have been already extensively used in computer science and artificial intelligence for the synthesis of plans [20], problems and solutions in geometry [21], hardware from specifications [22], and communication protocols [23]. Graph-based approaches also have a wide range of applications in drug discovery including the analysis of chemical structures to better understand the common features of drug molecules [24], the design of novel bioactive compounds with the desired pharmacological profiles [25], the structure-based modeling of protein flexibility upon ligand binding [26], the investigation of systems-level drug-target interaction networks [27], and drug repositioning [28].
In this study, we propose a new method to computationally synthesize molecules for virtual libraries, called eSynth. In essence, an exhaustive graph-based search algorithm is used to reconnect chemical building blocks procured from bioactive compounds following realistic connectivity patterns. Rather than focusing on a certain scaffold, the moieties used for synthesis come from active ligands of a specific target protein. Thus, the resulting chemical space is highly diverse, yet targeted. Given a set of initial molecules, eSynth generates new compounds to populate the pharmacologically relevant space. In order to evaluate the performance of eSynth, we conducted a series of benchmarking calculations against the Directory of Useful Decoys, Enhanced (DUD-E) dataset. First, in a self-benchmarking test, we validate the correctness of the search algorithm with the objective to recover a molecule from its building blocks. Further, the capability to discover novel scaffolds is assessed in a cross-benchmarking test. Here, bioactive compounds for each DUD-E target are first clustered into chemically dissimilar groups. Subsequently, each group considered as the validation set is reconstructed using dissimilar molecules pooled from other clusters. This protocol mimics a real application, where one expects to discover novel compounds based on a small set of already developed bioactives. Equally important, eSynth allows adding active subunits to an existing compound in order to generate a large library of prototypes of the modified ligand. Such libraries can be examined by molecular docking to explore those modifications yielding the highest binding affinity to the protein target.
Discussion
Exploring the chemical space to produce pharmacologically applicable compounds is a daunting task because of an enormous size of the search space and numerous biochemical criteria restricting compound generation, i.e. synthetic feasibility, drug-likeness, and the effective binding to the biological target. Using atom-based methods may create an enormous chemical space that can easily surpass the available computing resources. For instance, the largest library generated by an atom-based approach is the GDB-17 dataset comprising 166 billion small molecules [51]. On that account, fragment-based methods can be used as an alternative. Here, reference molecules are used as a source of building blocks, which can be subsequently combined to produce new compounds that are to some extent related to the initial molecules [52]. Fragment-based algorithms typically employ certain rules for combining various moieties, e.g. linker–linker bonds are prohibited, while ring-linker-ring connections are allowed. In contrast to atom-based methods, fragment-based techniques have capabilities to explore much larger molecules.
To facilitate the construction of target-focused libraries for virtual screening, we developed eSynth, a new fragment-based approach to molecular synthesis that follows simple combinatorial chemistry steps using an optimized, graph-based algorithm. eSynth rapidly generates series of compounds with diverse chemical scaffolds complying with criteria for drug-likeness. Although, these molecules may have different physicochemical properties, the initial fragments are procured from biologically active and synthetically feasible compounds. Consequently, we demonstrated that the constructed libraries are enriched with pharmacologically relevant molecules synthesized under loose biochemical constraints.
Our effort simplifies the synthesis process by avoiding techniques such as click chemistry, e.g. AutoClickChem [53], and those relying on statistical restrains, e.g. Fragment Optimized Growth (FOG) [54]. Moreover, in contrast to other methods designed for certain classes of compounds such as peptides generated from amino acid fragments, e.g. GrowMol [55] and LUDI [56], eSynth can construct any class of organic, drug-like molecules. Several methods employ the binding site information in order to generate molecules with a binding affinity toward a given target protein, e.g. Multiple Copy Simultaneous Search (MCSS) [57], SPROUT: structure generating software using template [58], and SMall Molecule Growth (SMoG) [59]. eSynth does not require protein structures, yet the cross-validation test clearly demonstrates that molecules highly similar to those compounds known to bind to the target protein are effectively generated.
Evolutionary algorithms that break fragments and make crossovers allow for an exhaustive exploration of the chemical space [60, 61], however, using these techniques also requires applying chemical stability and synthetic feasibility rules, which, in turn, utilizes extra computational resources. For instance, the Algorithm for Chemical Space Exploration with Stochastic Search (ACSESS) was designed to construct representative universal libraries in an arbitrary chemical space [61]. This approach implements convergent evolutionary operations through bond and/or atom modifications on an initial library of molecules to acquire a maximally diverse subset of molecules. Although using evolutionary techniques does not guarantee a completeness of the space search, ACSESS systematically explores the small molecule universe, providing a near-infinite source of novel compounds. Differ from other techniques employing generic combinatorial algorithms, chemical rules and filters, eSynth was not designed to explore a broad chemical space; rather, it is purposely confined to a chemical sub-space around a particular drug target.
eSynth relies solely on fragments and their connectivity patterns extracted from parent molecules to generate a series of drug-like compounds. Thus, it is essential to use synthetically feasible bioactive compounds as the source in order to generate molecules with similar chemical and pharmacological profiles. Importantly, eSynth is not restricted to a particular hypothesis, e.g. a pre-defined pharmacophore often used by synthesis algorithms. For example, a pharmacophore-based de novo design method of drug-like molecules (PhDD) ensures that molecules constructed from linker and rigid fragments fit a given pharmacophore model [60]. The search space in PhDD is not only confined to the fragment and linker libraries, but also it is limited to a user-defined template molecule in the form of a pharmacophore hypothesis. eSynth avoids such hypotheses in order to generate target-focused compound datasets, yet without any bias toward a specific scaffold.
Molecular synthesis methods often use knowledge-based rules to connect fragments. For example, combining the amine with the carbonyl to form the amide changes the preference of the nitrogen atom toward those moieties that might be more likely attached to an amide rather than an amine nitrogen [54]. On that account, FOG uses the statistical knowledge to create new branches and decide which branch to grow as an effective way to generate novel molecules. Similar to eSynth, FOG employs a construction algorithm using molecular fragments to generate synthetically tractable molecules, however, it grows molecules using a Markov Chain according to statistics on the frequency of specific connections in the database of chemicals. Moreover, the Topology Classifier algorithm is used to classify the constructed molecules as drugs or non-drugs. Given a set of fragments, the chemical search space in FOG may be somewhat limited to those molecules having similar characteristics as the training compounds. In contrast, eSynth creates new molecules by reusing fragments and following their connectivity patterns in the parent compounds. Therefore, it the covers a larger chemical space and does not require constructing statistical databases of fragment connections.
Conclusions
eSynth is a new algorithm to generate large datasets of chemical compounds by connecting small molecular fragments. It first establishes the width of a search space with a diverse foundation of initial small molecules followed by the stochastic exploration of the depth of the chemical space by constructing multi-fragment molecules. This hybrid approach ensures a deeper exploration of the molecular space by synthesizing larger molecules while circumventing the necessity of a complete exploration through the synthesis of all possible molecules. eSynth can compile large libraries of drug-like molecules with the desired properties, which may be unfeasible using atom-based synthesis techniques. Moreover, the resulting libraries can be further filtered based on the geometry and energy of binding, and the biological activity toward specific targets. Finally, we demonstrated that eSynth has capabilities to generate novel, biologically active ligands for target proteins from chemically distinct parent molecules.
Availability and requirements
Project name: eSynth

Project home page: www.brylinski.org/content/molecular-synthesis

Operating system(s): Platform independent, preferably Linux

Programming language: C ++

Other requirements: Open Babel, GSL, Zlib

License: GNU GPL

Any restrictions to use by non-academics: license needed
Declarations
Authors' contributions
MN implemented scripts for creating fragments, compiled datasets, and analyzed results. CA implemented eSynth. MN and CA wrote the manuscript. YD conducted the synthetic accessibility analysis. SM assisted in the development of synthesis algorithms implemented in eSynth and provided insights into the theoretical foundations of probabilistic data structures. MB provided original insights into the fragmentation process and the use of heuristics as a mechanism to prune the chemical space, and made final edits to the manuscript. All authors read and approved the final manuscript.
Acknowledgements
The authors are grateful to Dr. Peter Ertl at Novartis for sharing his SAscore code to calculate the synthetic accessibility. Portions of this research were conducted with high performance computational resources provided by Louisiana State University (HPC@LSU, http://www.hpc.lsu.edu).
Competing interests
The authors declare that the research was conducted in the absence of any commercial or financial relationships that could be construed as a potential conflict of interest.
Open AccessThis article is distributed under the terms of the Creative Commons Attribution 4.0 International License (http://creativecommons.org/licenses/by/4.0/), which permits unrestricted use, distribution, and reproduction in any medium, provided you give appropriate credit to the original author(s) and the source, provide a link to the Creative Commons license, and indicate if changes were made. The Creative Commons Public Domain Dedication waiver (http://creativecommons.org/publicdomain/zero/1.0/) applies to the data made available in this article, unless otherwise stated.
Authors' Affiliations
(1)
Department of Biological Sciences, Louisiana State University, Baton Rouge, USA
(2)
Department of Computer Science and Information Systems, Bradley University, Peoria, USA
(3)
Department of Physics and Astronomy, Louisiana State University, Baton Rouge, USA
(4)
Department of Computer Science and Engineering, Louisiana State University, Baton Rouge, USA
(5)
Center for Computation and Technology, Louisiana State University, Baton Rouge, USA