Research article
Open Access
Ligand cluster-based protein network and ePlatton, a multi-target ligand finder
Journal of Cheminformatics
2016
8:23
Received: 1 September 2015
Accepted: 18 April 2016
Published: 30 April 2016
Abstract
Background
Small molecules are information carriers that make cells aware of external changes and couple internal metabolic and signalling pathway systems with each other. In some specific physiological status, natural or artificial molecules are used to interact with selective biological targets to activate or inhibit their functions to achieve expected biological and physiological output. Millions of years of evolution have optimized biological processes and pathways and now the endocrine and immune system cannot work properly without some key small molecules. In the past thousands of years, the human race has managed to find many medicines against diseases by trail-and-error experience. In the recent decades, with the deepening understanding of life and the progress of molecular biology, researchers spare no effort to design molecules targeting one or two key enzymes and receptors related to corresponding diseases. But recent studies in pharmacogenomics have shown that polypharmacology may be necessary for the effects of drugs, which challenge the paradigm, 'one drug, one target, one disease'. Nowadays, cheminformatics and structural biology can help us reasonably take advantage of the polypharmacology to design next-generation promiscuous drugs and drug combination therapies.
Results
234,591 protein–ligand interactions were extracted from ChEMBL. By the 2D structure similarity, 13,769 ligand emerged from 156,151 distinct ligands which were recognized by 1477 proteins. Ligand cluster- and sequence-based protein networks (LCBN, SBN) were constructed, compared and analysed. For assisting compound designing, exploring polypharmacology and finding possible drug combination, we integrated the pathway, disease, drug adverse reaction and the relationship of targets and ligand clusters into the web platform, ePlatton, which is available at http://www.megabionet.org/eplatton.
Conclusions
Although there were some disagreements between the LCBN and SBN, communities in both networks were largely the same with normalized mutual information at 0.9. The study of target and ligand cluster promiscuity underlying the LCBN showed that light ligand clusters were more promiscuous than the heavy one and that highly connected nodes tended to be protein kinases and involved in phosphorylation. ePlatton considerably reduced the redundancy of the ligand set of targets and made it easy to deduce the possible relationship between compounds and targets, pathways and side effects. ePlatton behaved reliably in validation experiments and also fast in virtual screening and information retrieval.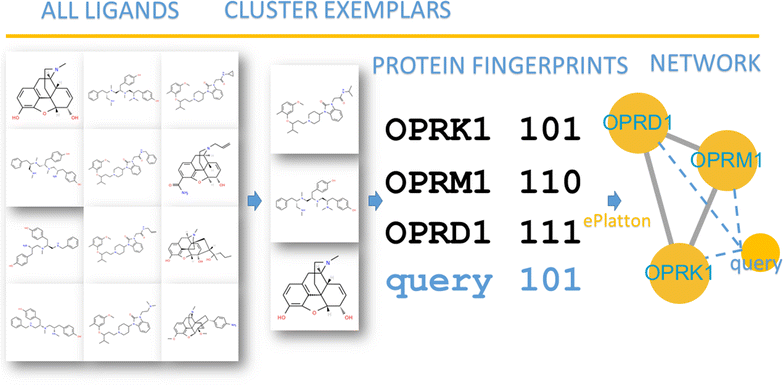 Keywords
Protein networkPolypharmacologyPromiscuityLigandPathwayGene ontology
Background
The physicochemical properties, sequence information and crystal structures have been used to study the protein function and the relationship between proteins [1–3]. With the protein-based information accumulating, millions of ligand–protein interaction records have been deposited in the open ligand databases for the past decade. These interaction data enable us to explore the properties of proteins from the perspective of ligand. The hypothesis that similar molecules should exhibit similar biological activities is generally valid and wildly used in the field of drug design [4]. At the same time, the protein network can illustrate biological information in a more powerful and effective view, which could not be easily achieved by multiple alignments and large trees [5]. So ligand-based protein network could be a stimulating way for finding drug-like compounds and protein classification.
As far as we know, there are generally two kinds of methods to build the ligand-based protein network. The first is represented by drug-target binary association [6], this helps us find not only that one target may interact with multiple drugs and one drug may interact with multiple targets but also that proteins from different gene families may link each other at the ligand level. The second is by means of similarity between ligand sets that functionally regulate their targets [7]. According to the ligand-related e-value of different proteins, proteins can be grouped and related at the ligand level. A conceptionally similar but technically different approach is based on Shannon Entropy Descriptors (SHED) derived from distributions of atom-centred feature pairs extracted from the topology of molecules [8]. However, the ligand set recognized by a certain target can be composed of different molecular types. For example, Fentanyl, Naltrexone, Alvimopan and Dezocine, four FDA-approved drugs [9], all target Mu opioid receptor (OPRM1), but they share few similarities in the 2D structure, although both Naltrexone and Alvimopan are antagonists [data source: ChEMBL_19]. Perphenazine, Pimozide and Risperidone, three antagonists of D2-like dopamine receptor (DRD2), also differentiate each other in 2D structure. We believe that it should be more rational to distinguish proteins by the 2D-structure clusters of ligands.
Here, we introduce a method to quantitatively distinguish and relate proteins by ligand clusters. For numerous ligands, we can cluster them by the similarities of their 2D structures. We presume that if two proteins share more ligand clusters, they are more similar at the ligand and ligand cluster level. Therefore, proteins can be annotated by the ligand clusters they recognize. The similarity of two annotated proteins can be represented by Jaccard index [10]. Then, we display the ligand cluster- and sequence-based protein similarity in LCBN and SBN and compare and cluster both networks. Our results underscore the biological and chemical meanings of protein modules in the LCBN and the ePlatton, a web platform with integrated information, provides a way to take advantage of the 'good' polypharmacology and get rid of the 'bad' one.
Discussion
According to the nature of the object we are looking at there are three possible approaches to mine and dissect the protein–ligand interaction. The study can be focused on targets, bioactive ligands or target-ligand complexes. Recent progress in the ligand-based pharmacology opens new door for virtual screening of high-throughput screening data and predicting polypharmacology and adverse drug reactions [28]. Our method relied on ligand clusters, whose members possessed similar 2D structures, rather than the exact target-ligand binary relationship [6] or similarity of functional ligand sets [7]. A key observation from our study was that although the topology of LCBN and SBN differed, three independent methods partitioned proteins in both networks into nearly the same communities [for detailed list, see Additional file 3]. Actually, the threshold of the similarity for network drawing only affected the found communities a little. We clustered and compared the threshold LCBN and SBN to their corresponding integrate network; we found that the average normalized mutual information was 0.97.
We took targets, pathways, diseases, drug adverse reactions and ligand cluster range of each target into consideration in our website, ePlatton, which could offer the possibility to discern polypharmacology and negative drug reactions. The ePlatton could also be used to predict the target range of the compounds that users interest as used in the validation section. Like some of the most common weaknesses in the ligand-based study and unlike the sequence-based method, the LCBN approach cannot include the protein which does not have relatively high-affinity ligands although its sequence is known.
Throughout the history, pharmaceutical and medical researchers have concentrated on a few target proteins sharing commonalities at the level of sequence and/or ligand. Nowadays, the progress of genomics and chemoinformatics has made it possible to investigate the relationship and communication among large numbers of proteins in the sequence and ligand space. Our specific method could discern the ligand cluster-based organization of targetable proteins in a panoramic view, which could not be easily achieved by studying only a few related ones. It could also provide valuable biological and chemical reference for the lead compound designing.
Abbreviations
HGNC:

HUGO Gene Nomenclature Committee
LCBN:

ligand cluster-based Network
SBN:

sequence-based Network
MPS:

pair-wise similarity
KNN:

K nearest neighbor
DUD:

directory of useful decoy
Declarations
Authors' contributions
YD and TLS conceived the study. YD collected, processed, analysed the data set, designed and developed the website. All authors read and approved the final manuscript.
Acknowledgements
We sincerely thank ChEMBL and Chemistry Development Kit for their great contribution to the open cheminformatics and ECNU HPC group for their excellent computational support. We thank Yihua Chen for his valuable suggestion for ePlatton. This work was supported by grants from the China Human Proteome Project (2014DFB30010, 2014DFB30030) and Research Fund for the Doctoral Program of Higher Education of China (20120076110006).
Competing interests
The authors declare that they have no competing interests.
Open AccessThis article is distributed under the terms of the Creative Commons Attribution 4.0 International License (http://creativecommons.org/licenses/by/4.0/), which permits unrestricted use, distribution, and reproduction in any medium, provided you give appropriate credit to the original author(s) and the source, provide a link to the Creative Commons license, and indicate if changes were made. The Creative Commons Public Domain Dedication waiver (http://creativecommons.org/publicdomain/zero/1.0/) applies to the data made available in this article, unless otherwise stated.
Authors' Affiliations
(1)
Center for Bioinformatics and Computational Biology, Shanghai Key Laboratory of Regulatory Biology, Institute of Biomedical Sciences and School of Life Sciences, East China Normal University, Shanghai, China