Research article
Open Access
Improving chemical disease relation extraction with rich features and weakly labeled data
Journal of Cheminformatics
2016
8:53
Received: 22 March 2016
Accepted: 28 September 2016
Published: 7 October 2016
Abstract
Background
Due to the importance of identifying relations between chemicals and diseases for new drug discovery and improving chemical safety, there has been a growing interest in developing automatic relation extraction systems for capturing these relations from the rich and rapid-growing biomedical literature. In this work we aim to build on current advances in named entity recognition and a recent BioCreative effort to further improve the state of the art in biomedical relation extraction, in particular for the chemical-induced disease (CID) relations.
Results
We propose a rich-feature approach with Support Vector Machine to aid in the extraction of CIDs from PubMed articles. Our feature vector includes novel statistical features, linguistic knowledge, and domain resources. We also incorporate the output of a rule-based system as features, thus combining the advantages of rule- and machine learning-based systems. Furthermore, we augment our approach with automatically generated labeled text from an existing knowledge base to improve performance without additional cost for corpus construction. To evaluate our system, we perform experiments on the human-annotated BioCreative V benchmarking dataset and compare with previous results. When trained using only BioCreative V training and development sets, our system achieves an F-score of 57.51 %, which already compares favorably to previous methods. Our system performance was further improved to 61.01 % in F-score when augmented with additional automatically generated weakly labeled data.
Conclusions
Our text-mining approach demonstrates state-of-the-art performance in disease-chemical relation extraction. More importantly, this work exemplifies the use of (freely available) curated document-level annotations in existing biomedical databases, which are largely overlooked in text-mining system development.
Keywords
Chemical-induced diseaseRelation extractionBioNLPText mining
Background
Drug/chemical discovery is a complex and time-consuming process that often leads to undesired side effects or toxicity [13]. To reduce risk and the development time, there has been considerable interest in identifying chemical-induced disease (CID) relations between existing chemicals and disease phenotypes by computational methods. Such efforts are important not only for improving chemical safety but also for informing potential relationships between chemicals and pathologies [53]. Much of the knowledge regarding known adverse drug effects or associated chemical-induced disease (CID) relations is buried in the biomedical literature. To make such information available to computational methods, several databases in life sciences such as the Comparative Toxicogenomics Database (CTD) have begun curating important relations manually [9]. However, with limited resources, it is difficult for individual databases to keep up with the rapidly-growing biomedical literature [4].
Automatic text-mining tools have been proposed to assist the manual creation [
34
,
45
,
54
] and/or to directly generate large-scale results for computational purposes [
47
,
49
]. We recently held a formal evaluation event through the BioCreative V challenge (BC5 hereafter) to specifically assess the advances in text mining for extracting chemical-disease relations [
53
]. Different from previous relation extraction tasks such as protein–protein interaction, disease-gene association, and miRNA-gene interaction [
23
,
25
,
28
–
32
,
44
], the BC5 task requires the output of extracted relations with entities normalized to a controlled vocabulary (the National Library of Medicine's Medical Subject Headings (MeSH) identifiers were used). Furthermore, one should extract such a list of <Chemical ID, Disease ID> pairs from the entire PubMed document and many relations may be described across sentences [
53
]. For instance, Fig.
1
shows the title and abstract of a document (PMID 2375138) with two CID relations <D008874, D006323> and <D008874, D012140>. While the former relation ("midazolam" and "cardiorespiratory arrest") is in the same sentence, the latter relation ("midazolam" and "respiratory and cardiovascular depression") is not. Moreover, not all pairs of chemicals and diseases are involved in a CID relation. For instance, there is no relation between "midazolam" and "death" in Fig.
1
because the task guidelines consider "death" to be too general.

During the BioCreative V challenge, a new gold-standard data set was created for system development and evaluation, including manual annotations of chemicals, diseases and their CID relations in 1500 PubMed articles [30]. A large number of international teams participated and achieved the best performance of 57.07 in F-score for the CID relation extraction task. In this work, we aim to improve the best results obtained in the challenge by combining a rich-feature machine learning approach with additional training data obtained without additional annotation cost from existing entries in curated databases. We demonstrate the feasibility of converting the abundant manual annotations in biomedical databases into labeled instances that can be readily used by supervised machine-learning algorithms. Our work therefore joins a few other studies in demonstrating the use of the curated knowledge freely available in biomedical databases for assisting text-mining tasks [17, 46, 48].
More specifically, we formulate the relation extraction task as a classification task on chemical-disease pairs. Our classification model is based on Support Vector Machine (SVM). It uses a set of rich features that combine the advantages of rule-based and statistical methods.
While relation extraction tasks were first tackled using simple methods such as co-occurrence, lately more advanced machine learning systems have been investigated due to the increasing availability of annotated corpora [52]. Typically, the relation extraction task has been considered as a classification problem. For each pair, useful information from NLP tools including part-of-speech taggers, full parsers, and dependency parsers were extracted as features [20, 56]. In the BioCreative V, several machine learning models have been explored for the CID task, including Naïve Bayes [30], maximum entropy [14, 19], logistic regression [21], and support vector machine (SVM). In general, the use of SVM has achieved better performance [53]. One of the highest-performing systems was proposed by Xu et al. [55] with two independent SVM models, sentence-level and document-level classifiers for the CID task. We instead combined the feature vector on both the sentence and document level and developed a unified model. We believe our system is more robust and can be used more easily for other relation extraction tasks with less effort needed for domain adaptation.
SVM-based systems using rich features have been previously studied in biomedical relation extraction [5, 50, 51]. Most useful feature sets include lexical information and various linguistic/semantic parser outputs [1, 2, 15, 23, 38]. Built upon these studies, our rich feature sets include both lexical/syntactic features as previously suggested as well as task specific ones like the CID patterns and domain knowledge as mentioned below.
Although machine learning-based approaches have achieved the highest results, some rule-based and hybrid systems [22, 33] showed highly competitive results during the BioCreative Challenge. In our system, we also integrate the output of a pattern matching subsystem in our feature vector. Thus, our approach can benefit from both machine-learning and rule-based approaches.
To improve the performance, many systems also use external knowledge from both domain specific (e.g., SIDER2, MedDAR, UMLS) and general (e.g. Wikipedia) resources [7, 18, 22, 42]. We incorporate some of these types of knowledge in the feature vector as well.
Another major novelty of this work lies in our creation of additional training data from existing document-level annotations in a curated knowledge base to improve the system performance and to reduce the effort of manual text corpus annotation. Specifically, we make use of previously curated data in CTD as additional training data. Unlike the fully annotated BC5 corpus, these additional training data are weakly labeled: CID relations are linked to the source articles in PubMed (i.e. document-level annotations) but the actual appearances of the disease and chemicals in the relation are not labeled in the article (i.e. mention-level annotations are absent). Hence they are not directly applicable and have to be repurposed when used for training our machine-learning algorithm. Supervised machine-learning approaches require annotated training data which may be difficult to obtain in large scale. To acquire training data, people have recently studied various methods using unlabeled or weakly labeled data [6, 37, 48, 57, 58]. However, such data is often too diverse and noisy to result in high performance [43]. In this paper, we created our labeled data using the idea of distant supervision [37] but limit the data to be the weakly labeled article that was the source of the curated relation. Thus, this work is most closely related to Ravikumar et al. [46] with regards to creating training data using existing database curation. However unlike them, we label relations both within and across sentence boundaries and use additionally labeled data only to supplement the gold-standard corpus.
Through benchmarking experiments, we show that our proposed method already achieves favorable results to the best performing teams in the recent BioCreative Challenge when using only the gold-standard human annotations in BC5. Moreover, our system can further improve its performance significantly when incorporating additional training data, by taking advantage of existing database curation at no additional annotation cost.
Results and discussion
Results
We report our system performance in two scenarios: with or without using the human-annotated entity mentions. First we evaluated our relation extraction system over text-mined mentions. This gave the real-world performance of our end-to-end system and enabled direct comparisons to others' work. Second, to help identify errors due to entity recognition, we also evaluated our system using the manual entity annotations of chemicals and diseases in the BC5 test set. Table
4
shows the named entity recognition results on the BC5 test set. Using tmChem and DNorm (trained on the BC5 training and development data) respectively, we achieved F-scores of 79.94 and 90.49 %, respectively.
Table 4
Evaluation of named entity results in normalized concept identifiers
| Named entity | Precision | Recall | F-score |
| --- | --- | --- | --- |
| Disease concepts | 78.77 | 81.14 | 79.94 |
| Chemical concepts | 88.49 | 92.57 | 90.49 |
Table
5
shows the CID results on the BC5 test set using gold, as well as text-mined mentions. The gold mentions are provided in the BC5 test set, and the text-mined mentions were computed via tmChem [
27
] and DNorm [
26
] for chemicals and diseases respectively. In both cases, we consider all possible chemical-disease pairs in an abstract and then used our machine-learning model to classify if a given pair holds a CID relation. Performance is measured by the standard precision, recall, and F-score. For comparison purposes, we also include the average and best team results in BioCreative 5 CID task, as well as a baseline result using entity co-occurrence [
53
]. For our own system, we show the system performance with an incremental change of the training data. We first used only the BC5 training set (row 1). By combining BC5 human-annotated training and development dataset, we obtained an F-score of 57.51 % (row 2), which is significantly better than the baseline or the average team results [
53
] and compares favorably to the best results during the recent BioCreative challenge [
55
]. Then, we added more automatically-labeled training data, randomly selected from the CTD database, in succession (rows 3–6). We achieved the highest performance of 61.01 % in F-score when the entire set of 18,410 articles was added for training.
Table 5
Evaluation of CID results
Team/training corpus

Using text-mined entity mentions

Using gold entity mentions

Precision

Recall

F-score

Precision

Recall

F-score

Co-occurrence baseline

16.43

76.45

27.05

Avg team results

47.09

42.61

43.37

–

–

–

Best team results

55.67

58.44

57.03

–

–

–

1. Train

51.55

59.19

55.11

62.07

64.17

63.10

2. Train + dev

64.24

52.06

57.51

68.15

66.04

67.08

3. Train + dev + 1000

63.78

53.85

58.39

68.12

68.95

68.53

4. Train + dev + 5000

62.50

56.75

59.49

67.63

72.33

69.90

5. Train + dev + 10,000

64.49

56.57

60.27

69.64

71.86

70.73

6. Train + dev + 18,410

65.59

56.94

61.01

71.07

72.61

71.83
Contribution of features
Table
6
compares the effects of different features. Row 1 shows the performance using all features. Then we removed each feature set in turn and retrained the model. In these feature-ablation experiments, only BC5 task data were used and the performance was measured based on text-mined entities.
Table 6
Contributions of different features
| | Features | Precision (%) | Recall (%) | F-value (%) | F-value change (%) |
| --- | --- | --- | --- | --- | --- |
| 1 | All features | 64.24 | 52.06 | 57.51 | |
| 2 | - BOW | 63.09 | 51.31 | 56.60 | −0.91 |
| 3 | - BOB | 61.24 | 52.63 | 56.61 | −0.90 |
| 4 | - Pattern | 61.83 | 51.22 | 56.03 | −1.48 |
| 5 | - Shortest path | 62.03 | 52.72 | 57.00 | −0.51 |
| 6 | - Statistical | 53.29 | 41.74 | 46.82 | −10.69 |
| 7 | - #1 ~ #8 | 62.54 | 50.75 | 56.03 | −1.48 |
| 8 | - #1 and #2 | 62.90 | 51.69 | 56.75 | −0.76 |
| 9 | - #3 and #4 | 63.31 | 51.97 | 57.08 | −0.43 |
| 10 | - #5 ~ #8 | 63.23 | 51.78 | 56.94 | −0.57 |
| 11 | - #9 ~ #11 | 54.04 | 45.12 | 49.18 | −8.33 |
| 12 | - #9 | 63.62 | 52.16 | 57.32 | −0.19 |
| 13 | - #10 | 57.09 | 45.31 | 50.52 | −6.99 |
| 14 | - #11 | 61.49 | 50.47 | 55.44 | −2.07 |
| 15 | - #12 ~ #19 | 63.79 | 52.06 | 57.33 | −0.18 |
The most significant performance drop occurred when the set of statistical features (−10.69) was removed. In particular, the features checking relation existence in curated databases are quite informative. The second major decrease in performance is due to the removal of EDG with numbered arguments (−1.48 for pattern and −0.51 for shortest path). On the other hand, removing those contextual features #12 ~ #19 from the statistical set did not significantly reduce the performance. It is possible that other features such as BOW, BOB, and shortest path have already captured the context information.
It is also noteworthy that by removing patterns, the precision of the system decreased 2.4 % (from 64.24 to 61.83), while the recall stayed almost the same (0.8 %). This provides support for the usefulness of pattern matching in our system.
Only one pattern ("Chemical ← arg0 ← trigger → arg1 → Disease") was used. Overall, this simple pattern can achieve a high precision of 73.11 % (Table
7
). At the same time, we observed the need to experiment more patterns in the next step.
Table 7
Precision on BC5 training set
| Trigger | TP | FP | Precision (%) |
| --- | --- | --- | --- |
| Associate | 29 | 9 | 76.32 |
| Cause | 21 | 10 | 67.74 |
| Induce | 179 | 65 | 73.36 |
| Produce | 12 | 4 | 75.00 |
| Total | 242 | 89 | 73.11 |
Error analysis
We show in Table 5 the highest performance of CID relation extraction using the BC5 test set. First, we would like to compare our performance to the inter-annotator agreement (IAA), which generally indicates how difficult the task is for humans and is often regarded as the upper performance ceiling for automatic methods. Unfortunately, the CID relations in the BC5 test set were not double annotated thus the IAA scores by expert annotators are not available for comparison. Alternatively, we compared our performance to the agreement scores from a group of non-experts where IAAs of 64.70 and 58.7 % were obtained respectively, with the use of gold or text-mined entities. As can be seen from Table 5, our system performance of 71.87 and 61.01 % in F-scores compare favorably in both scenarios.
Compared with other relation extraction tasks (such as PPI), we believe CID benefited from two main factors: a) the BioCreative V task provided larger task data which included not only document-level annotations but also mention-level annotations, which are not available in many other similar tasks; and b) the recent advances in disease and chemical named entity recognition and normalization. In fact, the automatic NER and normalization performance for disease and chemicals are approaching human IAAs (F-score in the 80 and 90s, respectively). Unfortunately, this is still not the case for other entities such as gene and proteins.
From Table
5
, our results show strong performance boost from using the weakly labeled training data. Despite noisiness, such data can significantly increase the coverage of unique chemical-disease relations in the test data set. Indeed, the overlap of unique chemical-disease relations between the union of training and development sets (train + dev) and test set are 196 relations (20.8 % of unique CIDs in the test set). But after adding additional data, the overlap increases to 685 relations, covering 72.8 % of CIDs in the test set. Figure
6
shows the relationship between the percentage of overlap and our method performance in F-scores with (fscore_gold_entity) and without using gold entities (fscore_text-mined_entity). It is clear that more curation data, despite the fact that they are not annotated for training machine-learning purposes, helps improve the coverage and system performance. We further separated CID relations in the test set into two groups with respect to whether a given relation appeared in the training set (i.e. overlapping or not). Figures
7
and
8
show the f-score changes in each group with additional data and demonstrate that both groups benefited from adding more weakly labeled data to the training set with more performance gains in the first "overlapping" group.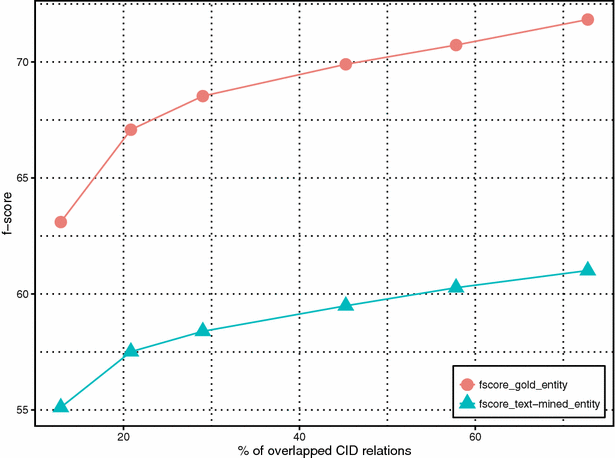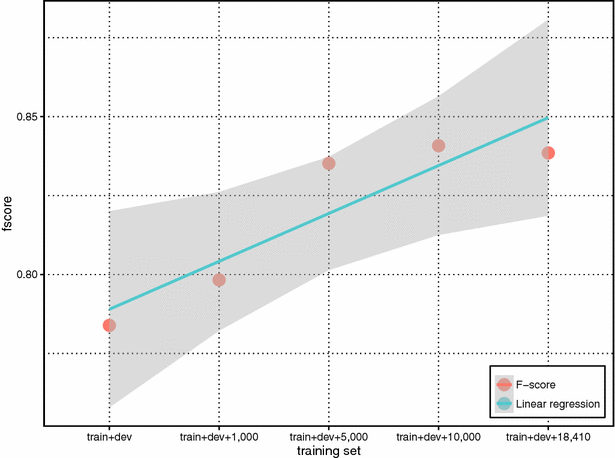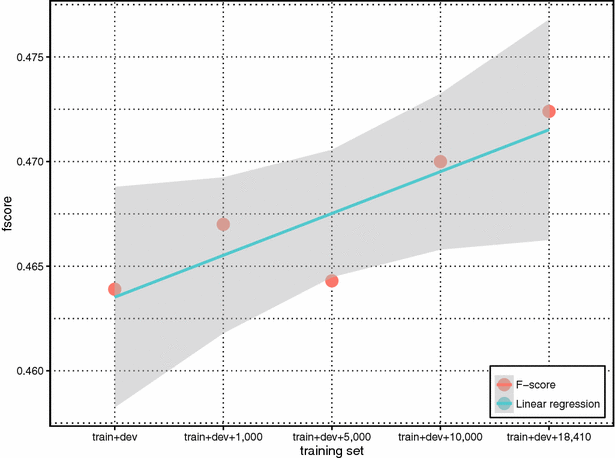 Comparing the results with and without using gold-standard mentions in the test set (row 6 in Table 5), our results indicate that errors by the named entity tagger bring 10.8 % decrease in F-score for the CID extraction.
We further analyzed the errors made by our system on the BC5 test set using text-mined entity mentions (Table
8
). About 40 % of the total errors in CID relations were because of incorrect NER or normalization. Take a false negative error as an example, in "In spite of the fact that TSPA is a useful IT agent, its combination with MTX, ara-C and radiotherapy could cause severe neurotoxicity" (PMID 2131034), "TSPA" was recognized a chemical mention but was not correctly normalized to the MESH ID D013852.
Table 8
Statistics of extraction errors by our method
| Error type | FN | FP | Total | % |
| --- | --- | --- | --- | --- |
| NER or normalization errors | 254 | 58 | 312 | 39.90 |
| CID relations mentioned in single sentences | 148 | 124 | 272 | 34.78 |
| CID relations asserted across sentences | 63 | 54 | 117 | 14.96 |
| Extracted disease or chemical in CID is too general | 0 | 46 | 46 | 5.88 |
| The extracted disease/chemical pair is a treatment relation | 0 | 29 | 29 | 3.71 |
| Annotated CID relations absent in the abstract | 6 | 0 | 6 | 0.77 |
| Total | 471 | 311 | 782 | |
Besides NER errors, nearly 35 % of incorrect results were extracted in single sentences. For example, our method failed to extract the CID relation of "renal injury" (MeSH: D058186) and "diclofenac" (MeSH: D004008) from the following sentence: "The renal injury was probably aggravated by the concomitant intake of a non-steroidal anti-inflammatory drug, diclofenac". Our pattern feature could not be extracted because "aggravate" is not one of our relation trigger words. In addition, the mixture of chemical-induced disease and chemical-treated disease relations within one sentence often poses extra challenges for feature/pattern extraction. Finally, 15 % of total errors were CID relations that are asserted across sentence boundaries, which motivates us to investigate how to capture long-distance CID relations in the future.
Conclusions
In conclusion, this paper discusses a machine-learning based system to successfully extract CID relations from PubMed articles. It may be challenging to directly apply our method to full-length articles (because considerable time may be required to process linguistic analyses) or abbreviated social media text [3, 40]. Another limitation is related to the NER errors: we can expect relation results to increase when mention-level NER results are further improved. In the future, we also plan to investigate the robustness and generalizability of our core approach to other types of important biomedical relations.
Declarations
Authors' contributions
YP and ZL conceived the problem. YP implemented methods, performed the experiments, and analyzed the results. CW participated in its design, and analyzed the results. ZL supervised the study. All authors wrote the manuscript. All authors read and approved the final manuscript.
Authors' information
YP is a visiting scholar at National Center for Biotechnology Information (NCBI), National Library of Medicine (NLM), National Institutes of Health (NIH). He is also a PhD student at University of Delaware. CW is a research fellow at NCBI, NLM, NIH. ZL is Earl Stadtman Investigator at the NCBI where he directs the text mining research and overseas the literature search for PubMed and PMC.
Acknowledgements
We would like to thank Dr. Robert Leaman for proofreading the manuscript.
Competing interests
The authors declare that they have no competing interests.
Funding
This work was supported by the National Institutes of Health Intramural Research Program and National Library of Medicine.
Open AccessThis article is distributed under the terms of the Creative Commons Attribution 4.0 International License (http://creativecommons.org/licenses/by/4.0/), which permits unrestricted use, distribution, and reproduction in any medium, provided you give appropriate credit to the original author(s) and the source, provide a link to the Creative Commons license, and indicate if changes were made. The Creative Commons Public Domain Dedication waiver (http://creativecommons.org/publicdomain/zero/1.0/) applies to the data made available in this article, unless otherwise stated.
Authors' Affiliations
(1)
National Center for Biotechnology Information, Bethesda, USA
(2)
Computer and Information Sciences, University of Delaware, Newark, USA