The Open Spectral Database: an open platform for sharing and searching spectral data
Journal of Cheminformatics
2016
8:55
Received: 14 March 2016
Accepted: 4 October 2016
Published: 14 October 2016
Abstract
Background
A number of websites make available spectral data for download (typically as JCAMP-DX text files) and one (ChemSpider) that also allows users to contribute spectral files. As a result, searching and retrieving such spectral data can be time consuming, and difficult to reuse if the data is compressed in the JCAMP-DX file. What is needed is a single resource that allows submission of JCAMP-DX files, export of the raw data in multiple formats, searching based on multiple chemical identifiers, and is open in terms of license and access. To address these issues a new online resource called the Open Spectral Database (OSDB) http://osdb.info/ has been developed and is now available. Built using open source tools, using open code (hosted on GitHub), providing open data, and open to community input about design and functionality, the OSDB is available for anyone to submit spectral data, making it searchable and available to the scientific community. This paper details the concept and coding, internal architecture, export formats, Representational State Transfer (REST) Application Programming Interface and options for submission of data.
Results
The OSDB website went live in November 2015. Concurrently, the GitHub repository was made available at https://github.com/stuchalk/OSDB/, and is open for collaborators to join the project, submit issues, and contribute code.
Conclusion
The combination of a scripting environment (PHPStorm), a PHP Framework (CakePHP), a relational database (MySQL) and a code repository (GitHub) provides all the capabilities to easily develop REST based websites for ingestion, curation and exposure of open chemical data to the community at all levels. It is hoped this software stack (or equivalent ones in other scripting languages) will be leveraged to make more chemical data available for both humans and computers.
Keywords
Spectral dataREST APIOpen scienceOpen dataJCAMP-DXXMLScientific data model
Background
Tools to make research data freely available are vitally important to the open science movement. Such tools must play well with both humans and computers because of the importance of data import/export into other systems for analysis, verification, and data mining. One important data type in this area is instrumental spectra, used for identification and analysis in a variety of different application areas. Many websites (e.g. NIST Webbook [1], ChemSpider [2], University of the West Indies—Chemistry [3]) contain spectral files available in the current de-facto data standard, Joint Committee on Atomic and Molecular Physical Data—Data Exchange format (JCAMP-DX) [4–7] and this format can be exported from the majority of instrument software available today. However, the usefulness of spectral data in JCAMP-DX format is somewhat limited due to the specification being over 30 years old, and if saved using compression, difficult to transfer to other software. Providing a mechanism to allow conversion of legacy data in JCAMP-DX format is an important activity in-of-itself, as the community needs spectral data for comparison/standardization in many different applications.
In order to leverage data in JCAMP-DX and make it more easily available and searchable, a website has been developed [8] that allows (1) upload of JCAMP-DX files, (2) extraction and conversion of the data and metadata to an extensible markup language (XML) pseudo JCAMP-DX equivalent, and (3) encoding of the data in JavaScript Object Notation for Linked Data (JSON-LD) [9] using a generic scientific data model (SDM) [10]. Each of these three formats is available for download.
The website has been developed using open-source software (as far as possible), using open standards, and is openly being made available using the GitHub code repository. The website is built in the Representational State Transfer (REST) style [11] and has a documented Application Programming Interface (API) [12] for computer based discovery and export.
Implementation
The foundation of the OSDB website is the common Apache [13], MySQL [14], and PHP [15] software stack that can be installed on any computer system as: LAMP (for Linux), WAMP (for Windows) and MAMP [for OSX (Mac)]. Coding was done using the PHPStorm [16] Integrated Development Environment (IDE) (free for faculty and students) and scripts are written in PHP implementing the CakePHP object oriented framework [17]. Because of the use of this standard open-source software developers can either; deploy on their own physical server, publish using one of a number of online hosting sites, or use a virtual machine, for creation of data websites.
Results
In addition to the index view for spectra, users can search of a specific compound using the search box at the top of the page. The search is performed over the 'identifier' database table which is populated from the PubChem PUGREST interface [34] and contains names, SMILES, PubChem CIDs, InChI strings and InChIKeys.
Features
The basic REST website provides a mechanism to add data to the repository, access it in a standardize way and download the data in multiple formats. However, the key to making the data truly accessible is by integration with other platforms and expanded search capabilities. These features have been added to the OSDB website through the following additions.
PubChem lookup for chemical metadata
When a new compound is entered on the spectra upload page and new spectrum uploaded the system does a check for the compound in the current system and if not found searches PubChem using the Power User Gateway REST API [
34
]. PubChem allows extensive searching of the data and metadata the system holds via the API, which has a myriad of options and has the generalized URL.
"http://pubchem.ncbi.nlm.nih.gov/rest/pug/

<inputspecification>/<operation specification>/[<output specification>][?<operation_options>]"
As an example of using this API to gather data about compounds, users submit the compound name along with the spectral data to the OSDB. Figure
12
shows a PHP function written to allow the system to retrieve the PubChem CID for the compound entered, which is subsequently used to retrieve the identifier data mentioned earlier.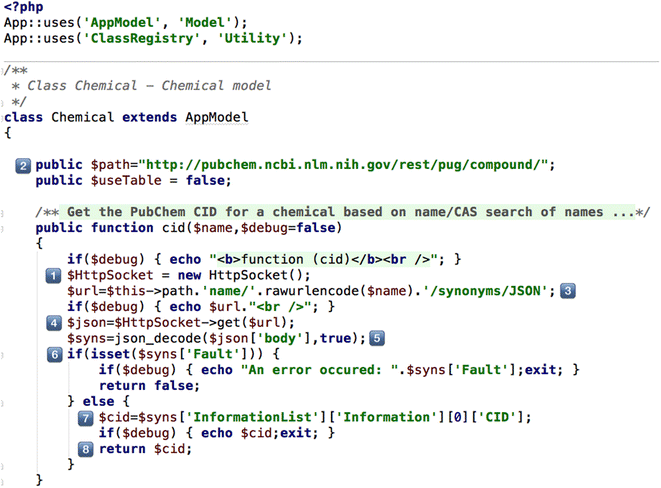 The function cid has two arguments $name, and $debug (used to check that the code is working correctly). First, access to the CakePHP HttpSocket is established [4], and URL constructed from the base PubChem API address [2], the compound name ($name), and '/synonym/JSON' [8]. The URL is requested (equivalent to a web browser) [40] and the resulting JSON data converted to a PHP array $syns [3]. The code then checks for errors in the response [3] and retrieves the CID for the compound [5]. The value of the CID is then returned to the calling function. Other functions in the Chemical class return all the synonyms for a compound, and property data for a compound.
Retrieve Wikidata ID
Similar to the PubChem example, a function was written to search the Wikidata website [
36
], this time using a SPARQL query [
41
] encoded in a URL (Fig.
13
). Three separate searches are coded to retrieve the Wikidata ID via InChIKey, SMILES, or PubChem CID. If the script calling this function tries all three approaches and does not get an ID, it assumes that the compound is not in the Wikidata database.

Generate the Splash for a spectrum
A recent addition to the identifier scene is the 'Spectral Hash' or Splash [
39
]. This identifier evolved out of work started at the 2015 Metabolomics Hackathon [
42
] where participants became enthusiastic about unique spectral identifiers similar to the InChIKey. In order to generate a Splash for a spectrum the spectral data is encoded in a JSON object and then sent to the Splash website. The code in Fig.
14
does just that.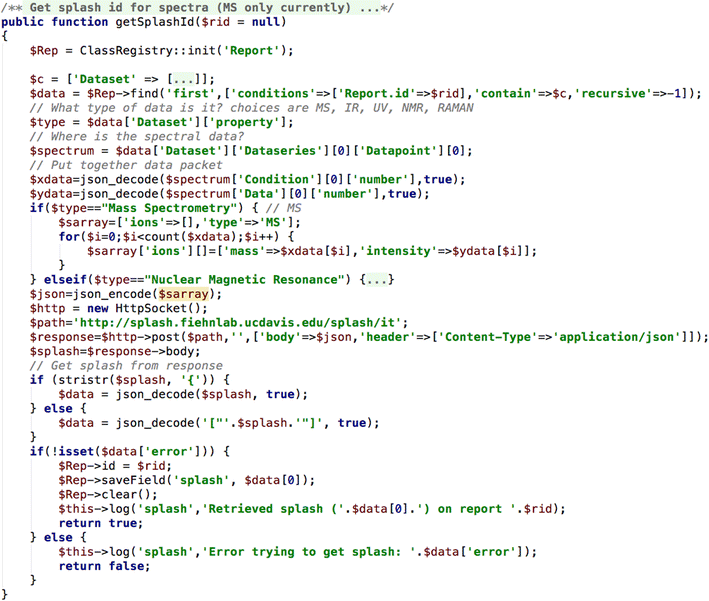 Discussion
The OSDB website, as outlined above, provides access to spectral data and its metadata in a standardize way. However, it is important to point out that what can be done with the data is up to the user. This applies to the OSDB website as well as after spectra have been downloaded. For instance, the website does not currently allow for searching the raw data/metadata across all spectra (all of it is in the database but can only be found searching for a complete spectrum).
In order to make this site truly useful the code and data of the project should be made openly available. In this way the user is not limited to the functionality that the original developers envisioned but can develop their own functions/features, enhance the integration of the site, and output the data in new formats for new web or mobile applications. In addition, the openness of the project means it can be used in education as a tool to develop the next generation of cheminformaticians—potentially building their own website from the source code as a course project.
For all these reasons (and many more) the project is available as a free download on GitHub [40]. GitHub is a hosting service for the well-respected Git source code repository system [43]. Git allows multiple developers to write code for one project and centrally coordinate version control, patching, extension and attribution. GitHub does this though a website and adds features like issue tracking, collaborative (discussion based) code review, and team management. Anyone can download the code, work on an enhancement or issue, submit updates, fix issues, and discuss project goals, timelines, and features. The basic site has been built and users can let the developers (that's all of us) know what needs to be added, changed or removed, and implement it themselves. Readers are encouraged to check out the 'Projects' page [44] for ideas on additional features/enhancements that you could work on.
Conclusion
This paper describes a new project to support open spectral research data on the web. Anyone can contribute to the content, to the code, to the concept, or to the management/vision. This paper also outlines the components needed to put together such a project and it can be used as a template to build other websites with different functionality and/or different types of chemical data.
The current version of the OSDB is just a starting point. There are many additional features one can envision for the site and it is a hope that the reader has ideas of their own and adds them. Open source code has become a mainstay in the computing world. With the tools, concepts and frameworks outlined in this paper, open source research data will hopefully become a mainstay of the scientific community.
Abbreviations
API:

Application Programming Interface
ASDF:

ASCII Squeezed Difference Form
CSS:

Cascading Style Sheet
GUI:

graphical user interface
HTML:

Hypertext Markup Language
LAMP:

Linux, Apache, MySQL, and PHP
JCAMP-DX:

Joint Committee on Atomic and Molecular Physical Data—Data Exchange
JSON:

JavaScript Object Notation
JSON-LD:

JavaScript Object Notation for Linked Data
LDR:

Linked Data Record
MAMP:

Mac, Apache, MySQL, and PHP
MVC:

model–view–controller
NMR:

nuclear magnetic resonance
OOP:

object oriented programming
OSDB:

Open Spectral Database
OWL:

web ontology language
PHP:

pre-hypertext processor
REST:

representational state transfer
SDM:

scientific data model
SMILES:

simplified molecular-input line-entry system
SPARQL:

SPARQL protocol and RDF query language
SQL:

structured query language
URI:

uniform resource identifier
WAMP:

Windows, Apache, MySQL, and PHP
XML:

extensible markup language
Declarations
Acknowledgements
Thanks to Tony Williams for encouraging me to start this project. Thanks to J. C. Bradley for pioneering open science and paving the way for projects like this to be conceptualized.
Competing interests
The author declares that he has no competing interests.
Open AccessThis article is distributed under the terms of the Creative Commons Attribution 4.0 International License (http://creativecommons.org/licenses/by/4.0/), which permits unrestricted use, distribution, and reproduction in any medium, provided you give appropriate credit to the original author(s) and the source, provide a link to the Creative Commons license, and indicate if changes were made. The Creative Commons Public Domain Dedication waiver (http://creativecommons.org/publicdomain/zero/1.0/) applies to the data made available in this article, unless otherwise stated.
Authors' Affiliations
(1)
Department of Chemistry, University of North Florida, Jacksonville, USA