Research article

Open Access
A possible extension to the RInChI as a means of providing machine readable process data
Journal of Cheminformatics
2017
9:23
Received: 24 November 2016
Accepted: 1 April 2017
Published: 11 April 2017
Abstract
The algorithmic, large-scale use and analysis of reaction databases such as Reaxys is currently hindered by the absence of widely adopted standards for publishing reaction data in machine readable formats. Crucial data such as yields of all products or stoichiometry are frequently not explicitly stated in the published papers and, hence, not reported in the database entry for those reactions, limiting their usefulness for algorithmic analysis. This paper presents a possible extension to the IUPAC RInChI standard via an auxiliary layer, termed ProcAuxInfo, which is a standardised, extensible form in which to report certain key reaction parameters such as declaration of all products and reactants as well as auxiliaries known in the reaction, reaction stoichiometry, amounts of substances used, conversion, yield and operating conditions. The standard is demonstrated via creation of the RInChI including the ProcAuxInfo layer based on three published reactions and demonstrates accurate data recoverability via reverse translation of the created strings. Implementation of this or another method of reporting process data by the publishing community would ensure that databases, such as Reaxys, would be able to abstract crucial data for big data analysis of their contents.
Keywords
Benzyl Alcohol
Phenylboronic Acid
Crucial Data
Connection Table
Miyaura Reaction
Background
In the current environment of ever increasing amounts of available chemical data both industrial and academic actors find themselves in a constant process of having to review the continuously changing state-of-the-art of their activities. In 2005 it was estimated that 1.5 million new compounds alone were being discovered annually [1]. Though this figure is slightly out-of-date, it gives an estimate of the growth rate observed and the challenges this raises when trying to keep an overview of a field of research or of practice. This trend towards higher availability of data has also seen the advent of large scale databases holding chemical reaction information, such as Reaxys (Elsevier), the CAS databases accessed through SciFinder (American Chemical Society) or ChemSpider (Royal Society of Chemistry). Data held in well-structured databases are amenable to algorithmic analyses. It has been postulated in 1990 [2] and demonstrated in 2005 [3] that data held within Reaxys (or rather its predecessors) can be converted into a network, allowing the use of graph theoretical approaches. Having a network of reactions rather than a database greatly facilitates the identification of possible synthetic pathways by using network traversal algorithms [4]. Similarly, it has been shown that the network representation can be used for the optimisation of parallel syntheses [5], the identification of suspicious purchases of precursors to controlled substances [6], the estimation of functional group cross-influence on chemical reactivity [7], or the discovery of one-pot reactions [8]. These demonstrated uses rely on connectivity data across disjoint papers and some structural information on the molecules.
Particularly from a chemical engineering or process chemistry perspective, however, it is crucial to ensure that the connectivity exploited for synthesis route planning is not superficial but that the algorithms navigate the network in a meaningful way. This definition of "meaningfulness" can necessarily be adapted to the specific use case, though could encompass criteria such as economic factors, preservation of certain chemical structure elements across the route, minimisation of process condition changes between synthesis steps, or the consideration of different sustainability criteria. We have recently demonstrated the use of sustainability criteria in this context by linking a process synthesis on the basis of network traversal, with exergy analysis, automated e-factor calculation and multi criteria decision making [9]. However, such detailed analysis of reactions requires reaction data and information on the process conditions. When analysing a set of 33.5 million reactions downloaded from Reaxys [10], which amounts to 80% of the total number of reactions contained in the database [11], and removing all incomplete and multistep reactions, which leaves 15.4 million reactions or 37%, it is discovered that a significant number of data points is missing, making any further analysis impossible. We expect that any other large scale database of chemical data would, at present, have similar data scarcity issues.
As Table
1
clearly shows, in the analysed sample set 54% of reaction entries had no yield data attached, while 53.9 and 98.4% had no temperature or pressure entries, respectively. Furthermore, the database does not record stoichiometry. The absence of such crucial data makes any automated evaluation of a synthesis route candidate along mass- or energy/exergy-based criteria nearly impossible. Analysing the multi-year trend by investigating the information content of all reactions added to Reaxys in a given year for the set of reaction data types shown in Table
1
, it becomes apparent that the picture overall is encouraging in many areas, see Fig.
1
. The number of records added every single year has more than doubled between the years of 2000 and 2015. During this time the information content of most entries seems to be rising for the properties analysed here. While in the year 2000 50% of records added were still without temperature data, to pick but one property, by 2015 this has dropped to roughly 20%. This trend is pointing in the right direction but 20% is still a large number and progress for many other properties, such as yield, which still hovers around 40%, has not been as good. Though awareness of and efforts to overcome the problem seem to have led to improvements, a systemic issue still seems to persist.
Table 1
Analysis of reaction data content in Reaxys, based on a sample set of 15.4 million reactions
| Property | Percentage of reactions with value for property |
| --- | --- |
| Yield | 46.0 |
| Temperature | 46.1 |
| Pressure | 1.6 |
| pH-value | 1.0 |
| Reaction time | 48.4 |
| Solvent ID | 70.9 |
| Reagent ID | 67.8 |
| Catalyst ID | 4.3 |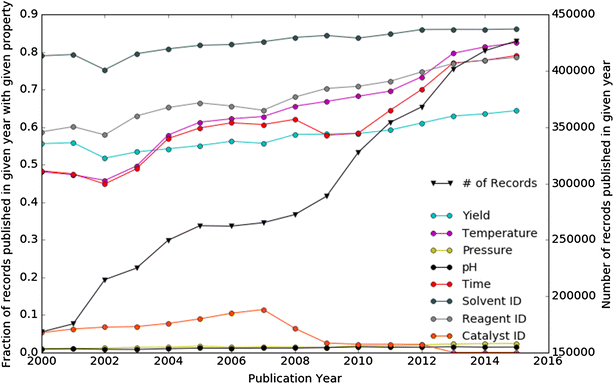 The cause for this problem is two-fold. On the one hand crucial data, such as reaction stoichiometry, is too frequently absent from publications, while on the other hand existing data, such as temperature or pressure which will be reported in some form in almost all papers, is not published in a way that allows it to be excerpted correctly. Both causes can be remedied. For example, by agreeing on clear and enforced data reporting standards the life of authors would be made easier by clearly setting out what data, and in which format, are required to allow the publication to achieve its maximum impact. At the same time the task of the database provider would be simplified by ensuring that the agreed, and provided, data are available in a machine-readable format.
Structure and reaction data formats can be roughly split into two categories, both of which are based on connection tables: those that are XML-based, such as the Chemical Markup Language [12, 13] and Reaxys's internal data storage format, and those that are line-based, such as SMILES (simplified molecular input line system) [14] and InChI [15].
Connection tables are widely used and form the basis of many other standards, but no formal standard exists for the tables [16]. Connection tables store information on the atoms, bonds and, optionally, the atoms' coordinates for a given molecule, making it a graph representation of a molecule [17, 18]. Connection tables can be canonicalised to provide one unique table per molecule, for example, using the Morgan algorithm, first proposed in 1965 and still in use with some modifications [19, 20]. By applying graph theoretical algorithms it is then possible to carry out substructure matching across a database of connection tables [16]. One of the earliest mentions of connection tables was in 1957 [21]. Subsequently, the tables found wide adoption and are used by the CAS database as well as other data formats, such as the Chemical Mark-up Language (CML) and as a basis to generate InChIs [17, 22–24]. A consequence of the way bonds are represented in traditional connection tables is that they struggle to represent delocalised bonds, inorganics and reaction intermediates, which is something that has seen some attempts at being addressed [16, 25]. In the absence of a non-proprietary standard gaining traction over time, the CTfile [26] has become the de facto standard for connection tables and the exchange of structural data [16]. It was initially developed by MDL which is now owned by Biovia, a subsidiary of the Dassault Group. This connection table forms the basis for many formats, such as of the molfile, which describes a single molecule, the reaction file (rxnfile), which contains the structural information of the reactants and products, and the Reaction-data files (RDfiles), which can represent molecules and reactions as well as their associated data. The current version of the standards can be found on Biovia's website.
XML-based data standards are useful when it comes to electronic database storage of data as they are highly extensible, flexible and all data entries are labelled. A key example of this is the Chemical Markup Language or Elsevier's Unified Data Model. This is useful when it comes to exchanging data between different software suites [27–29]. A key downside is that, if the data is not already generated by a machine, generation of a valid XML document can be complicated and requires a certain degree of IT knowledge.
SMILES is one of the major formats seeking to condense this tabular format into a more compact and easier to use linear, alphanumeric string [18]. This greatly reduces the required storage space and is faster than handling a whole connection table [16]. Conversion to line notation from connection tables does, however, incur some information loss [16].
An issue that very quickly arose, however, was that SMILES strings in use were not canonical, which severely limited the applicability of SMILES in databases [23]. Canonical SMILES strings are available but are proprietary and the algorithm is not publicly available. Thus, various different versions are in circulation and implementation is seriously hampered [15, 16, 30]. These severe drawbacks were among the factors that led to the creation of the IUPAC International Chemical Identifier (InChI) in order to create a freely available, non-proprietary identifier to allow the easier linking of data compilations and the unambiguous identification of chemical substances [31].
The InChI is a representation that allows for the canonical encoding of structures, with both known and, as of yet, unknown [32], tautomers and isotopes. In addition, it is an open standard and can be easily incorporated into in-house software [1]. The InChI has turned into a widely adopted, worldwide standard as far as line notation is concerned [15, 22]. Additionally, it can be hashed to further reduce required storage space and to facilitate indexing and searching [15, 16, 18, 33]. Though collisions of keys are possible due to the hashing, so far only two cases have been reported since 2007 [22]. In theory the probability is finite, but extremely small [22]. The collision resistance was investigated experimentally, with a conclusion "the current design and implementation seem to meet their goals" [34].
The InChI algorithm itself can, to date, process organometallic and coordination compounds as well as radicals, neutral and ionic organic molecules. Projects are being undertaken to extend the representation to reactions and polymers, which is facilitated by the fact that due to its hierarchical nature new layers can be added relatively easily [16, 35].
The InChI is composed of six hierarchical layers, where each successive layer is designed to provide further structural refinement [16, 32, 36]. All layers aside from the main one are optional, and will only appear if the corresponding information has been provided in the source file [16, 36]. If the same structure has been drawn at two different levels of detail, the InChI for the one with less detail forms a subset of the one with more [15]. For further technical information on InChIs the reader is referred to [37].
Amongst several extensions to the InChI agreed upon by the InChI Trust [
38
] is a reaction identifier termed RInChI. Largely developed by Jonathan Goodman, Chad Allen and Guenter Grethe this culminated in the publication of an interim report in 2013 [
35
]. The RInChI consists of a version field (
V
), three groups containing molecules (
group1
and
group2
, each containing the molecules on one side of the arrow in the reaction equation and
group3
containing the substances present above, below or on both sides of the arrow, such as solvents and catalysts) and an optional directionality layer showing whether
group1
contains the reactants and
group2
the products (denoted by "d+"), vice versa ("d−"), or if it is an equilibrium reaction ("d="). The molecules within each group are represented by their InChIs, separated by a double forward slash "//" and are sorted; subsequently, the order of the groups containing the starting materials and products is determined using the Unix 'sort' command [
35
]. For the exact definition of version 0.02 the reader is referred to [
35
]. A new version (0.03) has recently been released, the definition of which can be found in [
39
]. A template is shown in Eq. (
1
):
$$RInChI = 0.03.1S/group1 < > group2 < > group3/directionality$$
(1)
The "0.03" denotes the RInChI version and "1S" the InChI version used. The RInChI standard, under its current scope, does not define fields to store reaction conditions, scale, process type and kinetic data, all critical for any process calculations. The RInChI has the great advantage that it is an entirely open-source standard, building on the widely-adopted InChI and supported by both IUPAC and several major publishing houses. This presents tangible advantages to the proprietary data standards in its ease of adoption and incorporation into in-house software suites. It is understood that XML-based standards are able to capture a greater wealth of data and are better suited to use in databases. This, however, comes at a cost. Firstly, permitting a near-unlimited choice of data to include and an ability to specify units relatively freely results in a lesser engagement of the publishing author with his or her data during publication. Secondly, adoption of an XML-based format is more complicated and requires a greater degree of IT proficiency. The latter point weighs heavily as it has the potential to significantly hinder uptake of a proposed standard. Using the already in-built facility to extend RInChi through auxiliary layers we put forward a potential formal interface between authors, publishers and database providers, ultimately also contributing to the quality of data stored in XML-based datasets.
In this paper we show how an optional auxiliary field appended to the RInChI, termed ProcAuxInfo, could be used for this purpose and demonstrate data integrity upon reverse translation in three examples, before proceeding to show a plausible application of machine readable process data in automated reaction analysis by using the reverse translated data to determine a reaction mass efficiency. To our knowledge this is the first publication trying to provide this additional information in the RInChI standard, and is intended to contribute to the discussion of standards for publication of research data in machine readable formats.
Conclusions
A large gap currently exists in the chemical data reporting standards rendering much of the currently available data unusable by algorithmic analyses. This paper has proposed and demonstrated an extension to the currently existing RInChI, which itself is an extension of the InChI. The proposed extension, termed ProcAuxInfo, is able to store additional pieces of process information on operating conditions, material flows and experimental setup, which allow a deeper mining of the data currently available in journals and databases. This work has been able to recall all data stored in the ProcAuxInfo correctly, though has in two instances suffered from slight data loss due to issues of the underlying current InChI implementation. Nonetheless, it is a useful extension to the RInChI as it allows the explicit storage of process information. If adopted and routinely requested by the publishing industry at the point of manuscript acceptance, it would ensure that abstraction of data from journals becomes more accurate and that more of the data contained in publications remains available to the community.
Declarations
Authors' contributions
PMJ performed datamining, developed the final code and standard, and prepared the manuscript. TL has performed initial standard formulation and developed the initial code. JMG suggested the extension to RInchI as a method of transmission of data between authors and publishers, and edited the manuscript. AL conceived the overall project on datamining, supervised all stages of the project and edited the manuscript. All authors read and approved the final manuscript.
Acknowledgements
We gratefully acknowledge collaboration with RELX Intellectual Properties AS and their technical support, which enabled us to mine Reaxys. PMJ is grateful to Peterhouse and the Cambridge Trust for scholarships.
Competing interests
All authors agree to the terms of the SpringerOpen Copyright and License Agreement and Open Data policy. The authors have no competing interests to declare.
Funding
This work did not receive public or industrial funding. Funding of PhD scholarship of PMJ is acknowledged: Peterhouse and the Cambridge Trust were not involved in the design of the study, analysis or interpretation of the results, nor writing of the manuscript.
Publisher's Note
Springer Nature remains neutral with regard to jurisdictional claims in published maps and institutional affiliations.
Open AccessThis article is distributed under the terms of the Creative Commons Attribution 4.0 International License (http://creativecommons.org/licenses/by/4.0/), which permits unrestricted use, distribution, and reproduction in any medium, provided you give appropriate credit to the original author(s) and the source, provide a link to the Creative Commons license, and indicate if changes were made. The Creative Commons Public Domain Dedication waiver (http://creativecommons.org/publicdomain/zero/1.0/) applies to the data made available in this article, unless otherwise stated.
Authors' Affiliations
(1)
Department of Chemical Engineering and Biotechnology, University of Cambridge, Cambridge, UK
(2)
Department of Chemistry, University of Cambridge, Cambridge, UK