Research article
Open Access
Comparative analyses of structural features and scaffold diversity for purchasable compound libraries
Journal of Cheminformatics
2017
9:25
Received: 29 November 2016
Accepted: 9 April 2017
Published: 21 April 2017
Abstract
Large purchasable screening libraries of small molecules afforded by commercial vendors are indispensable sources for virtual screening (VS). Selecting an optimal screening library for a specific VS campaign is quite important to improve the success rates and avoid wasting resources in later experimental phases. Analysis of the structural features and molecular diversity for different screening libraries can provide valuable information to the decision making process when selecting screening libraries for VS. In this study, the structural features and scaffold diversity of eleven purchasable screening libraries and Traditional Chinese Medicine Compound Database (TCMCD) were analyzed and compared. Their scaffold diversity represented by the Murcko frameworks and Level 1 scaffolds was characterized by the scaffold counts and cumulative scaffold frequency plots, and visualized by Tree Maps and SAR Maps. The analysis demonstrates that, based on the standardized subsets with similar molecular weight distributions, Chembridge, ChemicalBlock, Mucle, TCMCD and VitasM are more structurally diverse than the others. Compared with all purchasable screening libraries, TCMCD has the highest structural complexity indeed but more conservative molecular scaffolds. Moreover, we found that some representative scaffolds were important components of drug candidates against different drug targets, such as kinases and guanosine-binding protein coupled receptors, and therefore the molecules containing pharmacologically important scaffolds found in screening libraries might be potential inhibitors against the relevant targets. This study may provide valuable perspective on which purchasable compound libraries are better for you to screen.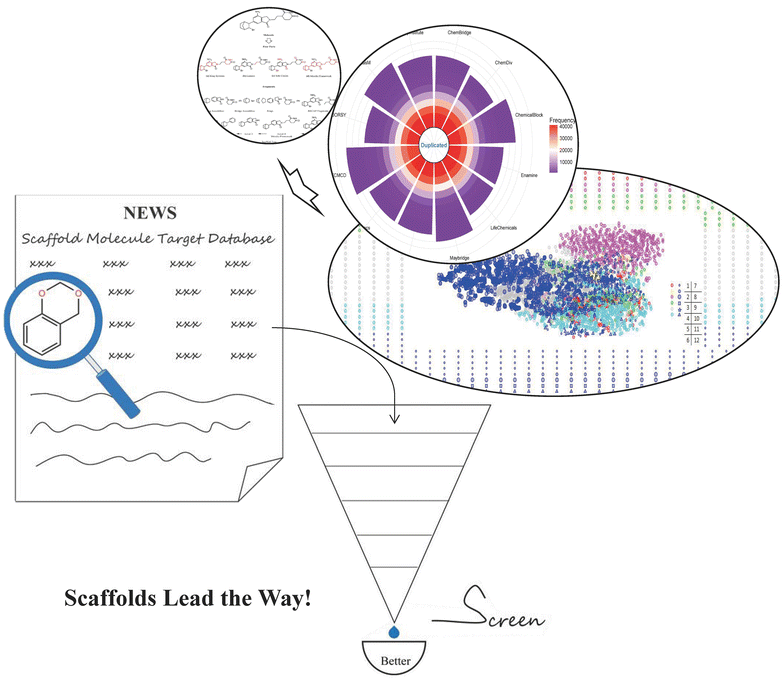 Keywords
Scaffold diversityTCMCDScaffold TreeTree MapSAR Map
Background
Virtual screening (VS) based on a variety of ligand-based or structure-based drug design approaches, such as property-based or drug-likeness rules, quantitative structure–activity relationship (QSAR) models, pharmacophore hypotheses, molecular docking, has become a powerful way to find hits in drug discovery. Certainly, screening libraries of small molecules with 2-D or 3-D structures are indispensable sources for VS campaigns. For example, the number of purchasable molecules collected in the ZINC database increases from ~0.73 million in 2005 to over 100 million in 2015 [1]. For the 176 vendors deposited in ZINC15, 37 offer more than 100,000 compounds and 9 offer more than 1 million compounds. This highlights the progress in synthesis of organic chemistry and tremendous demand of this market. In most VS applications, it is more practical and time effective to screen a compound library provided by a specific vendor rather than screen all compound libraries collected by ZINC. Certainly, the distributions of physiochemical properties, structural features and scaffold diversity of purchasable compound libraries afforded by different vendors should be different [2]. Therefore, an important question may be raised: which library should be used for VS? In order to answer this question, we need to have a deep understanding of the intrinsic features of each purchasable compound library and the difference among them.
As we know, the properties of a molecule are determined by its structure, and therefore similar structures tend to bear similar properties according to the similarity principle [
3
]. Thus, the chemical space of a compound library should be examined by molecular structures, especially chemical scaffolds, which has a huge impact on the success rate in biological screenings [
4
]. The scaffold of a molecule can be described by different ways. The most traditional way to define a scaffold is the Markush structure proposed by Markush [
5
]. Markush structures are usually used in patent applications to define chemical series [
6
], but they may be too generic to highlight the important structural features essential for pharmaceutical activity. Another scaffold representation is the Murcko framework proposed by Bemis and Murcko [
7
]. This method employs a more systematical way to dissect a molecule into four parts: ring systems (Fig.
1
a), linkers (Fig.
1
b), side chains (Fig.
1
c), and the Murcko framework (Fig.
1
d) that is the union of ring systems and linkers in a molecule. Lewell et al. [
8
] described a more chemically meaningful presentation of molecular structures, namely "RECAP" (retrosynthetic combinatorial analysis procedure), which cleaves molecules at bonds based on 11 predefined bond cleavage rules derived from common chemical reactions. As an example shown in Fig.
1
h, the molecule is dissected into two parts at the bond linked by nitrogen and carbon. Therefore, analysis of compound libraries by using the RECAP representation may be a good way to explore the synthetic feasibility of a molecule.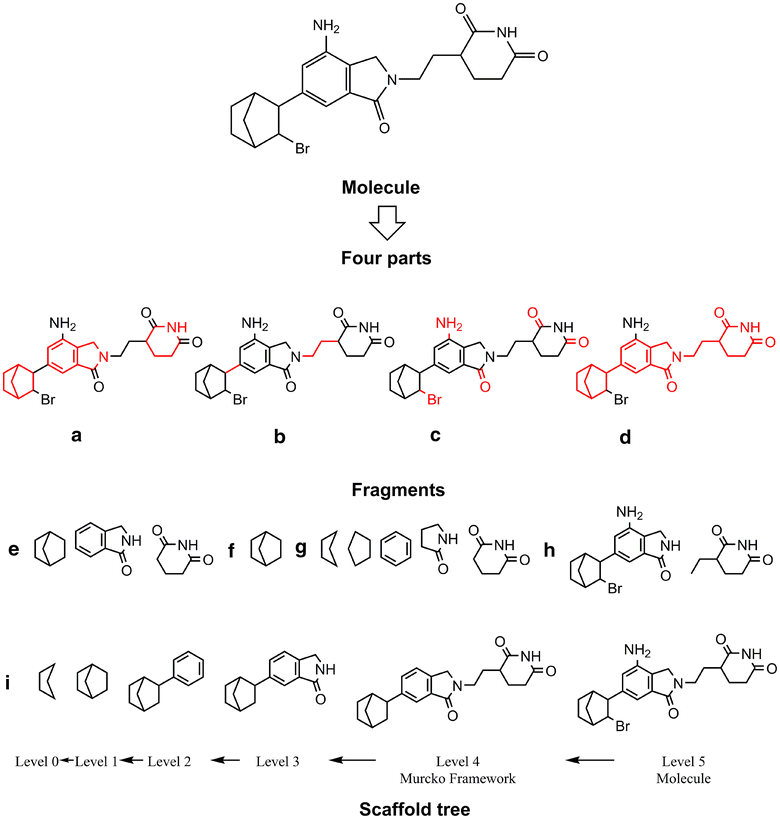 Based on the Murcko framework, Schuffenhauer et al. [9] proposed a more complicated and systematical methodology, called Scaffold Tree (ST), to describe the ring systems arranged in a hierarchical tree, which iteratively prunes rings one by one based on a set of prioritization rules until only one ring remains. The structural hierarchies of each molecule in a Scaffold Tree are numbered numerically from Level 0 (the single remaining ring usually) to Level n (the original molecule) (Fig. 1i), and Level n − 1 is the Murcko framework. Owing to the systematic partition of molecular structures, the Scaffold Tree methodology has been employed in many scaffold diversity studies of compound libraries [10–12].
A number of studies have been reported to analyze and compare the chemical space and diversity of commercially available compound libraries in the last decade [13]. Krier et al. [14] evaluated the scaffold diversity of 17 commercially available screening collections with 2.4 million compounds by analyzing the maximum common substructures (MCS), and they grouped the commercial collections into different categories with low, medium and high scaffold diversity. However, the definition of MCS is arbitrary and data set dependent, and MCS may be not a general way to represent a large number of scaffolds. Langdon et al. [12] analyzed the structural diversity of 7 commercial compound libraries by using the Murcko frameworks and Scaffold Trees, and then visualized the scaffold space by using the Tree Maps software [15]. They found that there were some emblematical scaffolds in each library. Nevertheless, the libraries analyzed by Langdon et al. are rarely used in practical VS and the numbers of molecules in three libraries are even <10,000, and therefore the results may not be informative for drug design/discovery. With the rapid increase of the number of commercially available small molecules, analysis of the structural features and scaffold diversity for representative screening libraries is quite demanding.
In this study, the structural features and scaffold diversity of eleven commercially available screening libraries and Traditional Chinese Medicine compound database (TCMCD) were explored by analyzing seven fragment representations. All the selected commercial libraries have more than 50,000 compounds and have been widely used in VS. We aimed to find the difference of the structural features and scaffold diversity among these libraries. Tree Maps and SAR Maps [16] were used to visualize the distribution of the scaffolds based on the similarity of molecular fingerprints. Moreover, the underlying pharmacological characteristics, that is the potential targets of the molecules with the representative scaffolds, were also examined. We believe that our study will help the decision making process when selecting commercially available compound libraries for VS.
Conclusions
In this study, based on seven different fragment representations, the structural features, scaffold diversity and chemical distributions of 12 libraries, including 11 commercially available compound libraries and TCMCD, were explored and compared. The analyses indicate that although Chembridge, ChemicalBlock, Mcule, TCMCD and VitasM are more structurally diverse than the other databases. TCMCD is actually not quite structurally diverse for simple molecules, but the most occurring Level 1 scaffolds of it has tremendous difference to those of the other libraries. Despite Chembridge, Mcule and VitasM are rich in different kinds of fragments, their representative molecules largely overlap with those of the other databases, suggesting that the unique compounds in these libraries may be not so high in fact. Structures in ChemicalBlock are really diverse and complicated enough for VS. As for LifeChemicals, it does not have a variety of fragments but has much dissimilar molecular structures. Some libraries such as Enamine and UORSY are not good choice for actual VS considering the structural complexity and diversity of the molecules. Besides, 40 groups of representative scaffolds were identified in these 12 databases through Tree Maps and SAR Maps, and some molecules with these representative scaffolds found in certain libraries may be potential inhibitors of kinases and GPCRs. We believe that our study may provide valuable information to select proper commercial libraries in practical VS.
Declarations
Authors' contributions
JS, DK and TH conceived and designed the experiments. JS, HS and HL performed the simulations. JS, HS, HL, FC, ST, PP and DL analyzed the data. JS, DK and TH wrote the manuscript. All authors read and approved the final manuscript.
Acknowledgements
We would like to thank the following: Zhengkun Kuang and Wenlei Peng from College of Informatics of Huazhong Agricultural University for providing guidance on employing Pipline Pilot and programming in shell.
Competing interests
The authors declare that they have no competing interests.
Funding
This study was funded by the National Natural Science Foundation of China (21275061; 81302679; 21575128) and the National Major Basic Research Program of China (2016YFA0501701; 2016YFB0201700).
Publisher's Note
Springer Nature remains neutral with regard to jurisdictional claims in published maps and institutional affiliations.
Open AccessThis article is distributed under the terms of the Creative Commons Attribution 4.0 International License (http://creativecommons.org/licenses/by/4.0/), which permits unrestricted use, distribution, and reproduction in any medium, provided you give appropriate credit to the original author(s) and the source, provide a link to the Creative Commons license, and indicate if changes were made. The Creative Commons Public Domain Dedication waiver (http://creativecommons.org/publicdomain/zero/1.0/) applies to the data made available in this article, unless otherwise stated.
Authors' Affiliations
(1)
State Key Laboratory of Agricultural Microbiology and Agricultural Bioinformatics Key Laboratory of Hubei Province, College of Informatics, Huazhong Agricultural University, Wuhan, China
(2)
College of Pharmaceutical Sciences, Zhejiang University, Hangzhou, China
(3)
State Key Lab of CAD&CG, Zhejiang University, Hangzhou, China
(4)
College of Pharmaceutical Sciences, Soochow University, Suzhou, China