The Chemistry Development Kit (CDK) v2.0: atom typing, depiction, molecular formulas, and substructure searching
Journal of Cheminformatics
2017
9:33
Received: 25 October 2016
Accepted: 16 May 2017
Published: 6 June 2017
The Erratum to this article has been published in Journal of Cheminformatics 2017 9:53
Abstract
Background
The Chemistry Development Kit (CDK) is a widely used open source cheminformatics toolkit, providing data structures to represent chemical concepts along with methods to manipulate such structures and perform computations on them. The library implements a wide variety of cheminformatics algorithms ranging from chemical structure canonicalization to molecular descriptor calculations and pharmacophore perception. It is used in drug discovery, metabolomics, and toxicology. Over the last 10 years, the code base has grown significantly, however, resulting in many complex interdependencies among components and poor performance of many algorithms.
Results
We report improvements to the CDK v2.0 since the v1.2 release series, specifically addressing the increased functional complexity and poor performance. We first summarize the addition of new functionality, such atom typing and molecular formula handling, and improvement to existing functionality that has led to significantly better performance for substructure searching, molecular fingerprints, and rendering of molecules. Second, we outline how the CDK has evolved with respect to quality control and the approaches we have adopted to ensure stability, including a code review mechanism.
Conclusions
This paper highlights our continued efforts to provide a community driven, open source cheminformatics library, and shows that such collaborative projects can thrive over extended periods of time, resulting in a high-quality and performant library. By taking advantage of community support and contributions, we show that an open source cheminformatics project can act as a peer reviewed publishing platform for scientific computing software.

Keywords
JavaCheminformaticsBioinformaticsMetabolomicsDepiction
Background
The open source cheminformatics community has made significant steps forward recently [1] as evidenced by the growing number of tools and underlying toolkits, along with the usage of these software components in a variety of applications. The Chemistry Development Kit (CDK) is one of the tools developed under the aegis of the Blue Obelisk, a movement promoting Open Data, Open Source, and Open Standards in chemistry [1, 2]. The CDK providing data structures to represent chemical concepts along with methods to manipulate such structures and perform computations on them. Previously documented CDK versions have been widely adopted [3, 4]. Use of the CDK ranges from inclusion of CDK functionality in wrapper platforms such as Cinfony [5], incorporation within the R environment (rcdk [6]), and as plugins for Taverna [7], KNIME [8], Cytoscape (ChemViz2 [9]), and for Microsoft Excel (LICSS [10]). In contrast to scenarios that have made CDK functionality available in larger systems, a number of projects have employed the CDK as a general cheminformatics toolkit. Examples include jCompoundMapper [11], ScaffoldHunter [12, 13], OMG [14], PaDEL [15], ChemDes [16], ReactPRED [17], SMSD [18–20], WhichCyp [21], MetaPrint2D [22], MetFrag [23], and the IUPHAR/BPS Guide to Pharmacology [24], BRENDA [25] and QSAR DataBank [26] databases. A number of such tools were initially developed using older versions of the CDK and are updated to new releases as they are made available. Examples include Bioclipse [27, 28] and AMBIT [29–31]. The CDK has also played a role in a number of chemical studies, such as finding the maximally bridging rings in chemical structures [32], prediction of organic reactions [33], and bioactivities of compounds [34].
While the CDK has purported to be a general purpose cheminformatics toolkit, older versions were designed by a community with specific applications in mind, primary among them being structure elucidation. In addition, an implicit goal of previous versions was to have the CDK serve as an educational resource to enable students of cheminformatics to understand the underlying algorithms. This resulted in certain functionalities, such as molecular fingerprinting [35, 36], receiving more attention than others, such as stereochemistry. The outcome was significant variance in performance and features throughout the toolkit.
The growth of open source software over the last 10 years is evidence of the ability of communities of developers to develop systems and processes that lead to high quality software systems for long term use. The CDK is no different. The adoption of automatic build systems and quality control methodologies such as unit testing, automated source code validation, and peer review by fellow developers have greatly improved the stability of the library. While it has slowed development somewhat, it has allowed for cleaning up interdependencies between modules of functionality, and importantly, has improved the scalability of the development model. This has resulted in significant new functionality in core application programming interfaces (APIs) while maintaining the quality of code depending on those core APIs.
Examples of new features supported by the improved development model include InChI functionality [37], greatly improved ring detection algorithms [38], improvements to the core atom type perception module that now covers a much more comprehensive set of elements, charge states and radical species than previous versions, a more comprehensive fingerprinting API, new depiction functionality, and many speed and stability improvements.
Implementation and results
This section describes the specifics of new APIs and improvements to pre-existing methods that are available in the latest CDK. We then discuss how we have improved and formalized the development model for the project using unit testing, code review and guidelines for handling version control. Finally we report on the availability of binary distributions of the library, allowing users to include specific modules (and their dependencies) of the CDK in their own projects (as opposed to developers who work on the CDK library itself).
New APIs and improved implementations
We here outline various new and improved APIs in the CDK library since the two previous publications in 2003 and 2006 [3, 4].
Improved coding standards
As the CDK library grew over the years, so did the complexity of the maintenance. The main branch frequently failed to compile and bug fixes became more onerous due to unexpected side effects. Often fixing a bug in one part of the code, broke some other code which made the incorrect assumptions about the fixed code. With the increased size of the CDK developer community, such issues were inevitable in the absence of any formal coding and testing standards.
To address these issues, we have adopted a number of coding standards. While not a comprehensive implementation of software engineering best practices, they attempt to find a balance between increasing code maintainability and being flexible enough to allow efficient code development. We appreciate the subjective nature of this statement, and some adopted guidelines have been heavily discussed and debated in the CDK community.
Arguably, perhaps the biggest factor in improved code quality is a peer review process where any functionality changing patch is required to be reviewed by one independent, senior CDK developer for the development branch, and by two reviewers for stable branches. This patch development system is supported by a number of automated validations steps as outlined below. The next sections describe some approaches the project have adopted that allows us to maintain the CDK library as it is today.
Stability and version identifier
Prior to CDK v2.0, the parity of the version identifier's second digit indicated stability. Even numbers (v1.2.x, v1.4.x) indicating API stability and odd numbers (v1.3.x, v1.5.x) indicating potential API instability. Versions v1.4.x and v1.5.x were developed in parallel, where possible patches were applied to both. As the APIs diverged the amount of effort to port patches from the development but more robust v1.5.x to v1.4.x became unmanageable for the core development team. This even-odd version scheme was adopted from old Linux kernel versioning that was subsequently abandoned in 2004 for time-based releases [79].
At the time of writing the development branch is more than 3000 commits ahead of v1.4.x. As the the v1.5.x API has become stable it became time to release v1.6.x. Due to significant API changes in 20112 it was felt a larger digit increment was needed. This provided the opportunity to change to a more manageable and intuitive version identifier.
From CDK v2.0 a new sequence based version scheme will be used. The version identifier indicates change significance as follows: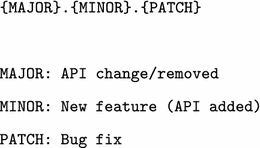 Due to limited developer resources we envision that releases will primarily increment the minor version with the occasional patch release. As per Maven convention, development versions are suffixed with -SNAPSHOT. There are no API changes from v1.5.x and v2.0.
Modularization
One of the central approaches we have adopted, is to make the CDK more modular. The CDK assigns every class to a module, and defines dependencies between modules. For example, core modules are not allowed to depend on modules with data classes implementing the CDK interfaces; instead, they may only depend on the interfaces themselves. This ensures that dependencies are minimized. Furthermore, it also allows cherrypicking CDK functionality, reducing the number of third-party library dependencies that are needed. An overview of key modules with description, important changes, and dependencies on third-party libraries is given in Table
4
and the dependencies between the CDK modules are depicted in Fig.
7
.
Table 4
A selection of key CDK modules with major changes
| Module | Description | Major changes | Dependencies |
| --- | --- | --- | --- |
| interfaces | Interfaces for the data models | | Vecmath 1.5.2 |
| core | Core functionality | | Google Guava 17.0 |
| standard | Common functionality | | |
| render | Graphical rendering | Redesigned to make it more modular and support Multiple widget toolkits, like AWT and SWT | |
| isomorphism | Isomorphism and substructure searching | | |
| atomtype | Various non-core atom type schemes | Unified approach where atom typing is separated from other algorithms | |
| ioformats | Definitions of (chemical) input/output formats | | |
| io | Readers and writers for input/output formats | The molfile reader has been rewritten and supports atom types defined in the specification | XPP3 1.1.4c |
| iordf | Stores data models as in the Resource Description Framework serialization formats | New | Jena 2.7.4 |
| inchi | IUPAC International Chemical Identifier support | | JNI-InChI 0.8 [37] |
| libiocml | Writer for the Chemical Markup Language format | | XOM 1.2.5, CMLXOM 3.1 [91] |
| sdg | Structure diagram generation. | Much improved overlap resolution | |
| smiles | Reading and writing in the SMILES format | SMILES support performance and coverage is greatly improved | Beam 0.9.1 [66] |
| smarts | Substructure searching with the SMARTS format | | Beam 0.9.1 [66] |
| hash | Molecular hash codes [92] | | |
| formula | Chemical formula support | New | |
| fingerprint | Calculate fingerprints | Many new fingerprint types (see text) | Apache Commons Math 3.1.1 |
| qsar and qsarmolecular | Molecular descriptors | | XOM 1.2.5, JAMA 1.0.3 [93] |
| signatures | Calculation of molecular and atomic signatures | | Signatures 1.1 |

Documentation
The quality of the JavaDocs was originally tested with DocCheck, and later replaced by a custom written tool called OpenJavaDocCheck. With the move to Maven (explained later), which does not have integration for this tool, we adopted CheckStyle (http://checkstyle.sourceforge.net/). This tool reports on missing documentation and on documentation which is not properly annotated in the Java source files. The new website lists a few resources to help starting CDK users, including a book [80] and the Chemistry Toolkit Rosetta Wiki (http://ctr.wikia.com/wiki/Chemistry_Toolkit_Rosetta_Wiki).
Testing
Years of development of the CDK library has resulted in a large suite of tests of various kinds. This include unit tests, which test core APIs, and functional testing, which test higher level functionality of the CDK. The latter include tests if algorithm implementations calculate the expected values, but also contain integrated tests, which involve more than one algorithm, such as SMILES parsing. The suite consists of more than 23 thousand tests.
Code quality
The project continues to use PMD (http://pmd.sf.net/) for code quality checking, but deviates from the default rules. For example, we are more liberal with variable name length. Moreover, a number of additional PMD tests have been developed specifically for the CDK, that, for example, test if a class uses the core interfaces instead of implementations of those interfaces. That is, that the code uses IAtom instead of Atom. However, these tests do generate a few false positives, as the tests check the class name only, and not the Java package the class is in.
Continuous integration
The CDK has had an automated build system for many years now. Originally, Nightly integrated various tools (building, testing, JavaDoc, etc) [2]. After the move to Maven, running various steps could be done with Maven, and Jenkins was used to execute the steps (one instance is still running at https://jenkins.bigcat.unimaas.nl/job/cdk/. The online Travis-CI service is used to build all branches, including pull requests, to ensure everything properly compiles: https://travis-ci.org/cdk/cdk.
Git, branching, and patches
Older versions of the CDK employed Subversion for version control. A few years back, the project switched to the Git version control system. A key advantage of this shift is the ability to have distributed repositories, easier branching and provision for patches. GitHub (https://cdk.github.io/) has replaced SourceForge as the main source code hosting service where we can use novel approaches for commenting on code (peer review), pull requests, etc. These new features simplify our code review process.
Support
Besides the aforementioned sources of documentation, the project has additional sources of support. First, the issue tracker welcomes questions and other types of support requests, available at https://github.com/cdk/cdk/issues. The mailing list is another place where support can be requested, while the archives document many past user questions. The list and archives can be accessed from https://sourceforge.net/p/cdk/mailman/cdk-user/.
Binary distributions
Maven packages
The build system has been converted from Ant to Maven. The shift was motivated by the easier dependency handling, cleaner separation of testing code from the main library and automated packaging. The move to modules necessitated splitting the original monolithic source code tree in to per-module source folders. While this makes the on-disk layout of the source code more complex, this is usually hidden by modern IDEs.
As a result for many modules, the test code is now more closely linked to the code being tested: both reside in the same folder, though we adhere to the Maven custom to have src/main/java and a src/test/java folders. For a few modules, however, this solution introduces circular dependencies, in which case a separate Maven module is created for the tests.
The Maven packages for the CDK are available from Maven Central, which makes it easy for other projects to use. The full library can be included in other software by depending on the cdk artifact (http://search.maven.org/#search|ga|1|org.openscience) but dependencies can also be defined on individual CDK modules.
OSGi bundles
OSGi bundles are available for the CDK too, which are used by e.g. Bioclipse [27, 28] and KNIME [8]. However, because CDK Java packages are occasionally split between CDK modules, the CDK currently needs to be bundled as a single OSGi jar. The bundle is available from http://pele.farmbio.uu.se/bioclipse/cdk/cdk-1.5.13/. This Java package and bundle incompatibilities are currently being explored and constitutes an area where improvements can be done on modularization.
Systematic benchmark
A systematic benchmark was performed to evaluate and quantify performance improvements from v1.4.19 to v2.0. The benchmark is divided into several cheminformatics tasks for common use cases. Each task was evaluated on input from ChEBI 149 [81] and ChEMBL 22.1 [82] as both SMILES and SDF.
The benchmark was run on Java SE 8, CentOS 7, Intel Core i7-4790 CPU @ 3.60GHz with 16 GB of RAM. The code to run the benchmark is available in Additional file 1 allowing numbers to be recorded on the reader's system.
The results of benchmark are summarised in Tables
5
and
6
. The total elapsed times are reported in Table
5
, Table
6
subtracts the first tasks results (Count Heavy Atoms) to provide a comparable measure without the overhead of input read time. The throughput as molecules per minute is reported but is less accurate for very fast running tasks.
Table 5
Summary of systematic benchmark comparing v1.4.19 to v2.0
Benchmark

Data set

CDK v1.4.19

CDK v2.0

Improvement

Skip

Time

Per min

Skip

Time

Per min

countheavy

ChEBI 149

smi

2112

22.51s

108.2K

9

0.85s

2.9M

26.48

sdf

0

7.21s

355.4K

25

3s

854.1K

2.4

ChEMBL 22.1

smi

0

8m39.3s

193.9K

9

10.74s

9.4M

48.35

sdf

0

3m17.29s

510.4K

0

53.27s

1.9M

3.7

rings

-mark

ChEBI 149

smi

2112

22.91s

106.3K

9

1.06s

2.3M

21.61

sdf

0

8.71s

294.2K

25

3.11s

823.9K

2.8

ChEMBL 22.1

smi

0

8m45.78s

191.5K

9

17.09s

5.9M

30.77

sdf

0

4m12.01s

399.6K

0

1m6.54s

1.5M

3.79

rings

-sssr

ChEBI 149

smi

2112

27.4s

88.9K

9

1.43s

1.7M

19.16

sdf

0

11.84s

216.4K

25

3.78s

677.8K

3.13

ChEMBL 22.1

smi

0

12m4.62s

139K

9

27.16s

3.7M

26.68

sdf

0

7m9.58s

234.4K

0

1m8.17s

1.5M

6.3

rings

-all

ChEBI 149

smi

2126

45.28s

53.8K

26

1.26s

1.9M

35.94

sdf

16

36.56s

70.1K

40

3.51s

730K

10.42

ChEMBL 22.1

smi

88

12m40.2s

132.5K

9

24.97s

4M

30.44

sdf

90

8m5.64s

207.4K

0

1m5.68s

1.5M

7.39

cansmi

ChEBI 149

smi

2112

36.58s

66.6K

9

1.91s

1.3M

19.15

sdf

35

21.15s

121.1K

26

4.37s

586.3K

4.84

ChEMBL 22.1

smi

14

14m33.86s

115.2K

9

40.84s

2.5M

21.4

sdf

0

8m59.82s

186.6K

0

1m29.33s

1.1M

6.04

convert

-ofmt smi

ChEBI 149

smi

2112

35.63s

68.4K

16

1.47s

1.7M

24.24

sdf

35

20.91s

122.5K

25

4.55s

563.1K

4.6

ChEMBL 22.1

smi

14

14m26.02s

116.3K

37

26.2s

3.8M

33.05

sdf

0

8m59.38s

186.7K

1

1m12.49s

1.4M

7.44

convert

-ofmt sdf

ChEBI 149

smi

2112

32.42s

75.1K

9

10.39s

234.4K

3.12

sdf

13

17s

150.7K

25

13.96s

183.5K

1.22

ChEMBL 22.1

smi

0

14m25.82s

116.3K

9

5m26.29s

308.6K

2.65

sdf

1

8m51.33s

189.5K

0

6m34.5s

255.3K

1.35

convert

-gen2d

-ofmt sdf

ChEBI 149

smi

2112

24m28.02s

1.7K

9

35.86s

67.9K

40.94

sdf

13

35m12.03s

1.2K

25

42.43s

60.4K

49.78

ChEMBL 22.1

smi

0

3h27m7s

8.1K

9

17m44.64s

94.6K

11.67

sdf

1

5h58m30s

4.7K

0

19m42.77s

85.1K

18.19

fpgen

-type path

ChEBI 149

smi

2112

1m38s

24.9K

9

10.28s

236.9K

9.53

sdf

0

2m11.03s

19.6K

25

13.03s

196.6K

10.06

ChEMBL 22.1

smi

0

42m56.15s

39.1K

9

6m34.67s

255.2K

6.53

sdf

0

47m5.58s

35.6K

0

7m52.32s

213.2K

5.98

fpgen

-type maccs

ChEBI 149

smi

2150

1h37m35s

416

9

19.51s

124.8K

300.1

sdf

48

1h44m17s

409

25

21.25s

120.6K

294.45

ChEMBL 22.1

smi

214

20h24m57s

1.4K

9

13m31.21s

124.1K

90.6

sdf

225

24h41m46s

1.1K

0

13m26.41s

124.9K

110.25

fpgen

-type circ

ChEBI 149

smi

0

–

9

4.37s

557.4K

0

sdf

0

–

25

6.81s

376.2K

0

ChEMBL 22.1

smi

0

–

9

2m43.45s

616.1K

0

sdf

0

–

0

3m42.01s

453.6K

0
Table 6
Summary of systematic benchmark comparing v1.4.19 to v2.0 without read times
Benchmark

Data set

CDK v1.4.19

CDK v2.0

Improvement

Skip

Time

Per Min

Skip

Time

Per min

countheavy

ChEBI 149

smi

0

0s

–

0

0s

–

sdf

0

0s

–

0

0s

–

ChEMBL 22.1

smi

0

0s

–

0

0s

–

sdf

0

0s

–

0

0s

–

rings

-mark

ChEBI 149

smi

0

0.4s

6.1M

0

0.21s

11.6M

1.9

sdf

0

1.5s

1.7M

0

0.11s

23.3M

13.6

ChEMBL 22.1

smi

0

6.48s

15.5M

0

6.35s

15.9M

1

sdf

0

54.72s

1.8M

0

13.27s

7.6M

4.1

rings

-sssr

ChEBI 149

smi

0

4.89s

498.1K

0

0.58s

4.2M

8.4

sdf

0

4.63s

553.4K

0

0.78s

3.3M

5.9

ChEMBL 22.1

smi

0

3m25.32s

490.5K

0

16.42s

6.1M

12.5

sdf

0

3m52.29s

433.5K

0

14.9s

6.8M

15.6

rings

-all

ChEBI 149

smi

14

22.77s

107K

17

0.41s

5.9M

55.5

sdf

16

29.35s

87.3K

15

0.51s

5M

57.5

ChEMBL 22.1

smi

88

4m0.9s

418K

0

14.23s

7.1M

16.9

sdf

90

4m48.35s

349.2K

0

12.41s

8.1M

23.2

cansmi

ChEBI 149

smi

0

14.07s

173.1K

0

1.06s

2.3M

13.3

sdf

35

13.94s

183.8K

1

1.37s

1.9M

10.2

ChEMBL 22.1

smi

14

5m54.56s

284K

0

30.1s

3.3M

11.8

sdf

0

5m42.53s

294K

0

36.06s

2.8M

9.5

convert

-ofmt smi

ChEBI 149

smi

0

13.12s

185.7K

7

0.62s

3.9M

21.2

sdf

35

13.7s

187K

0

1.55s

1.7M

8.8

ChEMBL 22.1

smi

14

5m46.72s

290.4K

28

15.46s

6.5M

22.4

sdf

0

5m42.09s

294.4K

1

19.22s

5.2M

17.8

convert

-ofmt sdf

ChEBI 149

smi

0

9.91s

245.8K

0

9.54s

255.3K

1

sdf

13

9.79s

261.7K

0

10.96s

233.8K

0.9

ChEMBL 22.1

smi

0

5m46.52s

290.6K

0

5m15.55s

319.1K

1.1

sdf

1

5m34.04s

301.5K

0

5m41.23s

295.1K

1

convert

-gen2d

-ofmt sdf

ChEBI 149

smi

0

24m5.51s

1.7K

0

35.01s

69.6K

41.3

sdf

13

35m4.82s

1.2K

0

39.43s

65K

53.4

ChEMBL 22.1

smi

0

3h18m28s

8.5K

0

17m33.9s

95.6K

11.3

sdf

1

5h55m13s

4.7K

0

18m49.5s

89.2K

18.9

fpgen

-type path

ChEBI 149

smi

0

1m15.49s

32.3K

0

9.43s

258.3K

8

sdf

0

2m3.82s

20.7K

0

10.03s

255.5K

12.3

ChEMBL 22.1

smi

0

34m16.85s

49K

0

6m23.93s

262.3K

5.4

sdf

0

43m48.29s

38.3K

0

6m59.05s

240.3K

6.3

fpgen

-type maccs

ChEBI 149

smi

38

1h37m12s

418

0

18.66s

130.5K

312.6

sdf

48

1h44m10s

410

0

18.25s

140.4K

342.5

ChEMBL 22.1

smi

214

20h16m18s

1.4K

0

13m20.47s

125.8K

91.2

sdf

225

24h38m29s

1.1K

0

12m33.14s

133.7K

117.8

fpgen

-type circ

ChEBI 149

smi

0

–

0

3.52s

692K

sdf

0

–

0

3.81s

672.5K

ChEMBL 22.1

smi

0

–

0

2m32.71s

659.4K

sdf

0

–

0

2m48.74s

596.8K
Count heavy atoms
This task highlights improvements in raw read performance. Each record is read in to a resident memory connection table and the number of heavy (non-hydrogen) atoms counted by iterating over the atoms sequentially.
The improvement on this task is most noticeable for SMILES input, previously it would take more than 8 min to read ChEMBL 22.1 but this is reduced to less than 11 s. On top of this improvement SMILES input is now validated and assigned a Kekulé structure. This identifies 9 invalid entries in ChEBI and another 9 in ChEMBL. Most of these rejected SMILES are due to the wrong encoding of Cis/Trans double bond stereochemistry at ring closures. The ChEBI 149 SMILES input has 2107 empty records that v1.4.19 skip, v2.0 simply reads these as empty molecules. Input from SDF also improved from ~3 to ~1 min for ChEMBL. The SDF input in v2.0 now includes perception of stereochemistry and reading CTfile Sgroups (Fig.
8
). There are 9 entries from ChEBI's SDF that are rejected because they contain CTfile query features (e.g. any bond order).

Rings
Ring perception is a fundamental step in many other algorithms. The rings task is divided as three subtasks: mark, sssr, and all.
-mark The first subtask measures the performance in marking ring membership and reporting the number of ring bonds in each record. This requires a linear algorithm based on a depth first search. The original code used a weighted spanning tree to compute the membership in linearithmic time. The run times are similar for these datasets (Table 6), larger differences are only seen for more complex cage molecules such fullerenes [38].
-sssr The second subtask computes the Smallest Set of Smallest Rings (SSSR) and reports the size of the SSSR (circuit rank) for each record. Although circuit rank can be computed more efficiently with a linear traversal (counting DFS back-edges) or with Euler's polyhedron formula we are testing the time to enumerate the SSSR set. In general SSSR is considered unfavourable due to the non-uniqueness of the set and need for Gaussian matrix elimination (cubic runtime). With some bookkeeping the time spent in the matrix elimination has been reduced [38]. For ChEMBL we see the time to generate the SSSR is now ~16 s when it previously took around ~3.5 min (Table 6).
-all The third subtask counts the number of all rings up to or equal to size 12. This includes rings that encompass other smaller rings, for example, 1H-indole has rings of size 5, 6, and 9. In general this problem is exponential and so an adjustable threshold or timeout is used to avoid problematic molecules. CDK v1.4.19 used a timeout based threshold (default 5 s) whilst v2.0 uses a counter based on properties of algorithm [38]. In v2.0 there were 15/173 records skipped from ChEBI that have complex cage-like ring systems (e.g. CHEBI:33611), no records in ChEMBL reached the threshold. By comparison in v1.4.19 there were 14/16 records skipped from ChEBI and 88/90 in ChEMBL due to reaching the time out.
The speed-up in v2.0 is slightly better than the SSSR task. ChEMBL previously spent 4–5 min and now takes only ~12–14 s (Table 6). In v2.0 finding all rings (\(\le\)12 bonds) runs faster than the non-unique SSSR computation.
Canonical SMILES
This task measures the generation of a Unique SMILES string. These can be used to compare dataset intersection and exact lookup. From SMILES input v2.0 the total elapsed time is ~20 times faster for both ChEBI and ChEMBL. For ChEMBL it now takes just under 41 s to read, reorder, and write the SMILES compared to more than 14 min previously.
Convert
This tasks tests the non-canonical conversion between SDF and SMILES input.
-ofmt smi SMILES is a very compact means of storing connection tables, v1.4.19 could only write canonical SMILES, v2.0 allows different SMILES flavours to be generated including a non-canonical variant. This task outputs CXSMILES that includes additional fields such as repeat groups (used by some ChEBI entries). As expected the v1.4.19 execution time is the same as for the Canonical SMILES task but v2.0 can generate the non-canonical SMILES faster taking less than 30 s for SMILES from ChEMBL.
Assigning double-bond configurations in SMILES is non-trivial and v2.0 has some safety checks, since the SMILES output is Keklué but input was aromatic, when the bond orders are assigned an extra double-bond may be accidental encoded in the SMILES output, this is sometimes acceptable but will currently report an error.
-ofmt sdf For writing SDF output there is minimal improvement from v1.14.19, when discounting improvements in read performance the SDF generation for ChEBI actually runs slightly slower than v1.4.19 (Table 6). This can be partially explained by the more comprehensive SDF generation that now writes Sgroups as well as computing values for atom parity and valence columns.
-gen2d -ofmt sdf When writing SDF the only portable way to store stereochemistry is with the inclusion of coordinates, this is specified with the -gen2d option. The overhaul in layout generation discussed early provides better layouts but also included performance tweaks, in CDK v1.4.19 generating coordinates and writing an SDF for ChEMBL took almost 3.5 h but now only takes ~18 min.
Fingerprint generation
This task tests the generation of fingerprints for similarity and substructure screening. Three different types of fingerprints were tested, a Daylight-like Hashed Path Fingerprint, MACCS-like 166 Keys, and Pipeline Pilot-like Hashed Circular Fingerprint (ECFP4). The task generates a hexadecimal FPS file that can be used with chemfp [83].
-type path Path based fingerprints encode paths of length 0–7. Path based fingerprints can be used for both substructure and similarity screening. The algorithm was tweaked for v2.0 to hash the paths without pre-computing all paths upfront and without needing to generate character strings before hashing. The time to encode ChEMBL previously took 42–47 min now only takes 6–8 min.
-type maccs The CDK MACCS fingerprint uses 166 keys to encode features of a structure and can be used for similarity searching. This encoding uses different aspects of the library including ring perception and the new aromaticity perception but the speed is primarily dependent on SMARTS matching performance. Generating the fingerprint previously took ~1 day for ChEMBL and ~1.75 h for ChEBI. This has been reduced to less than 13.5 min for ChEMBL and ~20 s for ChEBI.
-type circ Circular fingerprints can only be used for similarity and could not be generated in v1.4.19. However, the fingerprints are known to perform well for retrieval performance [84]. The times are included here to show they are faster to calculate than path or MACCS-like keys and therefore recommended. CDK includes two implementations based on signatures or extended connectivity [35].
Benchmark summary
In all tasks, the total elapsed time is better in v2.0 compared to v1.4.19. On many tasks the improvement is more than ten times faster. Not only is the execution time improved but improvements in robustness and correctness means v2.0 is often doing much more work than the equivalent procedures in v1.4.19.
Conclusions
Since the second CDK publication, in 2006, the library has been improved in many aspects including architecture, new functionality, improved code testing, management, peer review, and deployment. These changes have led a more functionally rich cheminformatics library, with significant performance improvements. Updates on the common SMILES and molfile formats and the improved structure diagram generation are very visible and benefit many of the tools using the CDK. Furthermore, the stability of the development model has significantly improved, providing greater stability of the library over time. With more than 90 contributors, a long list of tools based on the CDK, and hundreds of article citations, the CDK is alive and kicking.
Availability and requirements
Project Name The Chemistry Development Kit.

Project home page https://cdk.github.io/.

Operating system(s) Windows, GNU/Linux, OS/X.

Programming language Java.

Other (optional) requirements JNI-InChI, Vecmath, Beam, Guava, JGraphT, Signatures, CMLXOM, XOM, JavaCC.

License LGPL v2.1 or later.

Any restrictions to use by non-academics None additional.
Footnotes
1
Molfiles can also store tetrahedral stereochemistry as a parity value, this is read if no coordinates are specified. In general there is no guarantee the parity value is read and the only portable way to store stereochemistry in a molfile is with coordinates.
3
2 records from SDF use query bond features and are skipped when read.
Declarations
Authors' contributions
All authors wrote and contributed source code or documentation to the CDK library. Some authors have peer-reviewed source code for the library. ELW, JWM, RG, and CS are project leaders. All authors have contributed to the content of this paper. All authors read and approved the final manuscript.
Acknowledgements
The authors acknowledge the great number of people who have contributed smaller and larger contributions to the CDK library. A full list of contributors is found in the Maven parent POM [85]. OS acknowledges support from the Swedish strategic research programs eSSENCE and Swedish e-Science Research Center (SeRC). TP is a Simons Foundation Fellow of the Helen Hay Whitney Foundation. We also thank K. Dührkop for his contributions during the writing of this paper.
Competing interests
JWM and NJ work for companies that sell solutions based on the CDK. ELW sells a book describing the CDK functionality.
Publisher's Note
Springer Nature remains neutral with regard to jurisdictional claims in published maps and institutional affiliations.
Open AccessThis article is distributed under the terms of the Creative Commons Attribution 4.0 International License (http://creativecommons.org/licenses/by/4.0/), which permits unrestricted use, distribution, and reproduction in any medium, provided you give appropriate credit to the original author(s) and the source, provide a link to the Creative Commons license, and indicate if changes were made. The Creative Commons Public Domain Dedication waiver (http://creativecommons.org/publicdomain/zero/1.0/) applies to the data made available in this article, unless otherwise stated.
Authors' Affiliations
(1)
Department of Bioinformatics - BiGCaT, NUTRIM, Maastricht University, Maastricht, The Netherlands
(2)
NextMove Software Ltd, Cambridge, UK
(3)
Department of Pharmaceutical Biosciences, Uppsala University, Uppsala, Sweden
(4)
AstraZeneca, Innovative Medicines & Early Development, Quantitative Biology, Möndal, Sweden
(5)
Ideaconsult Ltd, Sofia, Bulgaria
(6)
Department of Informatics, University of Leicester, Leicester, UK
(7)
Whitehead Institute for Biomedical Research, Cambridge, USA
(8)
Química Clínica Aplicada, Amposta, Spain
(10)
National Center for Advancing Translational Sciences, Rockville, USA
(11)
Institute for Inorganic and Analytical Chemistry, Friedrich-Schiller-University, Jena, Germany