Molecular structures enumeration and virtual screening in the chemical space with RetroPath2.0
Journal of Cheminformatics
2017
9:64
Received: 3 July 2017
Accepted: 8 December 2017
Published: 19 December 2017
Abstract
Background
Network generation tools coupled with chemical reaction rules have been mainly developed for synthesis planning and more recently for metabolic engineering. Using the same core algorithm, these tools apply a set of rules to a source set of compounds, stopping when a sink set of compounds has been produced. When using the appropriate sink, source and rules, this core algorithm can be used for a variety of applications beyond those it has been developed for.
Results
Here, we showcase the use of the open source workflow RetroPath2.0. First, we mathematically prove that we can generate all structural isomers of a molecule using a reduced set of reaction rules. We then use this enumeration strategy to screen the chemical space around a set of monomers and predict their glass transition temperatures, as well as around aminoglycosides to search structures maximizing antibacterial activity. We also perform a screening around aminoglycosides with enzymatic reaction rules to ensure biosynthetic accessibility. We finally use our workflow on an E. coli model to complete E. coli metabolome, with novel molecules generated using promiscuous enzymatic reaction rules. These novel molecules are searched on the MS spectra of an E. coli cell lysate interfacing our workflow with OpenMS through the KNIME Analytics Platform.
Conclusion
We provide an easy to use and modify, modular, and open-source workflow. We demonstrate its versatility through a variety of use cases including molecular structure enumeration, virtual screening in the chemical space, and metabolome completion. Because it is open source and freely available on MyExperiment.org, workflow community contributions should likely expand further the features of the tool, even beyond the use cases presented in the paper.
Keywords
Scientific workflows
Chemical space
Reaction networks generation
Retrosynthesis
Reaction rules
Isomer enumeration
Background
The number of known chemical reactions is huge, at the time this manuscript was written there were ~84 million single- and multi-step reactions in the Chemical Abstract Service database (CAS) [1]. Yet, many reactions in CAS are redundant because the same reactions are applied to different reactants. Identifying identical reactions can be performed by computing reaction rules. Reaction rules represent reactions at the reaction center only. In other words, a reaction rule comprises only the substructures of the reactants and the products for which the atoms are either directly involved in bond rearrangements or are deemed to be essential for the reactivity of the reaction center. While a set of reaction rules is of course not available for all known chemical reactions, rules have been compiled for focused applications, such as retrosynthesis planning [2, 3], the discovery of novel chemical entities in medicinal chemistry [4], xenobiotic (including drug) degradation [5], metabolomics [6], and metabolic engineering [7–10]. Depending on the application, the number of rules varies from less than one hundred to few thousands, but in all cases the number of known reactions per application far exceeds the number of rules (there are for instance more than 14,000 reactions in metabolic databases such as MetaNetX [11]). There are several ways of coding reaction rules (for instance, BE-matrices [12] and fingerprints [13]) but most of the time the rules can be represented by reaction SMARTS [14], as it is done in the current paper.
The purpose of reactions rules is to generate reaction networks. The rules can be used in a forward manner to find for instance the metabolic degradation products of a drug, or in a reverse manner to find the reactions producing a desired product from a set of available reactants. In this later usage one produces retrosynthesis reaction networks. Several tools have been developed in the past to generate (retrosynthesis) reaction networks and reviews are available for synthesis planning [
2
,
3
] and for metabolic engineering [
15
]. Disregarding if the rules are applied in a forward or reverse manner, network generation tools are making use of the same core algorithm. Starting from a source set of compounds the core algorithm applies the rules in an iterative fashion either a predefined number of times or until a sink set of compounds has been produced. At each iteration, the algorithm fires the rules on the source set producing
new
molecular structures and determines the
new
source set of molecules the rules will be fired upon at the next iteration. That set must comprise molecules that have not been processed before. Further details on the core algorithm and the differences between the various implementations are provided in Faulon et al. [
16
] and Delépine et al. [
17
]. In the current paper we make use of an open source workflow (RetroPath2.0 [
17
]), which follows the above core algorithm. This workflow is not based on original codes but instead was constructed entirely by assembling KNIME nodes [
18
] developed by the cheminformatics community (primarily RDKit nodes [
19
]). RetroPath2.0 is the first open source release of a retrosynthesis reaction network generation, and its usage in the current paper beyond network generation demonstrates its versatility.
As already mentioned, reaction network generation tools coupled with reactions rules have been developed and used primarily for synthesis planning and metabolic engineering, but can they be used to enumerate molecules (isomers for instance) and more generally to search chemical structures in the chemical space?
In principle yes if one can devise reaction rules enabling the production of any molecule in the chemical space. Such a set of rules necessarily exists for all known molecules (such as those in the CAS database) since they have been produced through either natural or synthetic chemical reactions. In practice and as already stated, reaction rules so far developed are application limited. Yet, within their respective application fields, specific rules have been used to discover novel molecules and reaction pathways. Taking experimentally validated examples, the rules associated with the ligand-based de novo design software DOGS (inSili.com LLC) [
4
] have enabled the production of new chemical entities inhibitors of DAPK3 (death-associated protein kinase 3) [
20
], metabolic rules for promiscuous enzymes have allowed the discovery of novel metabolites in
E. coli
[
21
] and have also been used to engineer metabolic pathways producing 1,4-butanediol [
9
] and flavonoids [
22
].
Going beyond application limited reaction rules, the main contribution of the present paper is to propose a set of transformation rules that enables the generation of any isomer of any given molecule of the chemical space. Precisely, we prove the claim that any isomer of any given molecule of N atoms, can be reached applying at most O(N 2) rules.
As illustrations, our transformation rules are used to screen the chemical space for structures that are similar to a given set of well-known monomers and to search aminoglycosides structures maximizing antibacterial activities. The compounds produced by our rules are not necessarily chemically accessible, since our transformation rules are not constructed based on chemical synthesis schema. To probe the (bio)synthetic accessibility of our solutions, we also perform search in the (bio)chemical space using enzymatic reaction rules. The enzymatic rules are also used to propose novel molecules completing E. coli metabolic network and for which masses are found in cell lysate mass spectra.
All results presented in this paper have been produced making use of the open source workflow RetroPath2.0. RetroPath2.0 and the associated data are provided as Additional file 1 and can be downloaded at MyExperiment.org. The only differences between the various usages we have made of the RetroPath2.0 are within (1) the set of reaction rules and (2) the way molecules are selected at each iteration during the network generation process.
Results and discussions
The purpose of this section is to showcase the versatility of RetroPath2.0 by taking use cases of interest to the community. We first propose reaction rules to enumerate isomers ("Isomer enumeration" section), we then use the rules to screen in the chemical space structures that are similar to some known monomers ("Virtual screening in the chemical space" section) and compute property distribution (Glass transition temperature) in both the Chemical Space and PubChem, we next use a QSAR to search aminoglycosides types molecules for which antibacterial activity is maximized using both isomer transformation rules and enzymatic rules ("Search for molecules maximizing biological activities"), and we finally use enzymatic rules to find novel metabolites in E. coli and annotate the MS spectra of an E. coli cell lysate interfacing RetroPath2.0 with OpenMS [23] ("Metabolome completion and metabolomics" section).
Conclusions
In this paper we have presented a general method allowing one to explore the chemical space around a given molecule, or around a given set of molecules. The originality of the method is that the exploration is performed through chemical reactions rules. We have given a set of rules allowing us to generate any isomer of any given molecule of the chemical space. We also provide examples making use of reaction rules computed from enzymatic reactions. Using rules computed on known reactions has a definite advantage regarding the (bio)synthetic accessibility of the molecule produced, which is not necessarily the case for other techniques producing molecules de novo [33, 37, 40, 49–53].
Our method has been implemented into RetroPath2.0, a workflow running on the KNIME Analytics Platform [18]. RetroPath2.0 can easily be used with source molecules and reaction rules different than those presented in the paper. For instance the workflows provided in Additional file 1 can be used with the reaction SMARTS rules and fragment libraries (as source compounds) of the DOGS software (inSili.com LLC [4]) developed for de novo drug design, other technique evolving molecules toward specific activities or properties [40, 50–52] could also be implemented in RetroPath2.0 provided that one first codes reaction rules in SMARTS format.
Aside from searching molecules having interesting properties and activities RetroPath2.0 can also be used to complete metabolic maps by proposing new metabolites biosynthesized through promiscuous enzymes, these new metabolites can in turn be used to annotate MS spectra and to that end we provide an interface with OpenMS [23]. Finally, RetroPath2.0 was originally developed to enumerate pathways producing a given target product from a source set of reactants. While we have benchmarked the workflow in the context of metabolic engineering, [17] it can also be used for synthesis planning as long as synthesis reaction rules are available.
Methods
Generating reaction rules
All our reaction rules are represented in the form of reaction SMARTS [
14
]. Reaction rules used for canonical augmentation are provided in Fig.
1
and for isomer transformation in Figs.
3
,
4
, Additional file
2
: Figure S2 and Additional file
5
: Table S3. Enzymatic reaction rules were computed taking enzymatic reactions from MetaNetX version 2.0 [
11
]. To compute rules, we first performed an Atom–Atom Mapping (AAM) using the tool developed by [
46
] (Fig.
8
a). Next, multiple substrates reactions were decomposed into components (panel C and D in Fig.
8
). There are as many components as there are substrates and each component gives the transformation between one substrate and the products. Each product must contain at least one atom from the substrate according to the AAM. This strategy enforces that only one substrate can differ at a time from the substrates of the reference reaction when applying the rule.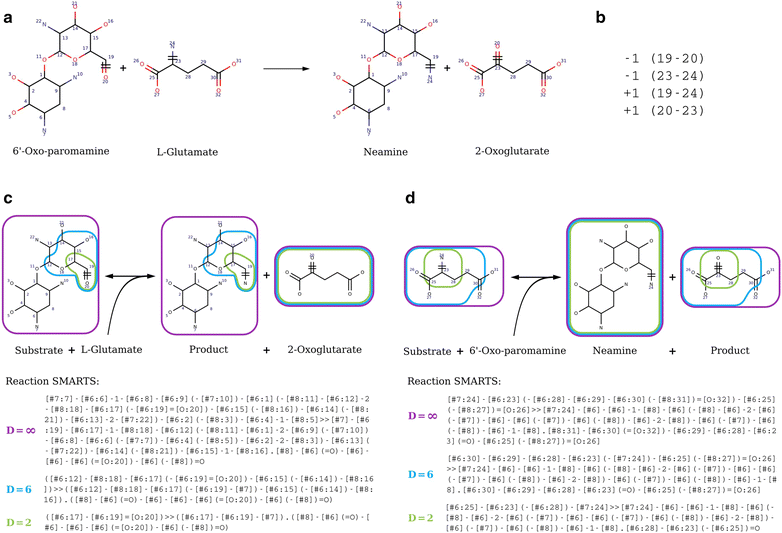 The following step consisted in computing reactions rules as reaction SMARTS for each component. We did it for diameters 2–16 around the reaction center (panels C and D in Fig. 8) by removing from the reaction components all atoms that were not in the spheres around the reaction center atoms.
We extracted more than 24,000 reaction components from MetaNetX reactions, each one of those leading to a rule at each diameter (from 2 to 16).
We provide in Supplementary at MyExperiment.org a subset of 14,300 rules for E. coli metabolism. The rules were selected based on the MetaNetX binding to external databases and the iJO1366 whole-cell E. coli metabolic model [43]. We also provide enzymatic rules enabling the biosynthesis of aminoglycosides from Glucose. The reactions were extracted from the map00524 KEGG map [47], and rules were computed as above on reactions for which a MetaNetX identifier could be retrieved. The resulting set comprised 94 rules calculated for each diameter ranging from 2 to 16.
RetroPath2.0 core algorithm
The RetroPath2.0 workflow essentially follows an algorithm proposed by some of us [
16
,
17
] and its workflow implementation, which has already been described in details [
17
], is summarized in Fig.
9
. We here focus on the different usages of RetroPath2.0 for the use cases provided in "
Results and discussions
" section.

In all cases the workflow performs the generation of structures in a breadth-first way by applying iteratively the same procedure. An iteration starts by applying reaction rules to each of the compounds of a source set. For each compound, the products are computed using the RDKit KNIME nodes one-component or two-component reactions [19]. Products are sanitized (removal of structures having incorrect valence), standardised and duplicates are merged. The set of products will become the new source set for the next iteration. The workflow iterates until a predefined number of iterations is reached or until the source set is empty.
In the case of isomer augmentation (workflow RetroPath2.0-Mods-isomer-augmentation, "Isomer enumeration" sections) the initial source set is composed of a single carbon atom and the rule used is R 1 in Fig. 1, since it is the only rule that will produce acyclic molecules. The rule is fired on the source set, and the products become the new source set in the next iteration. The workflow is iterated a number of times equal to N − 1, where N is the number of atoms one wishes the final molecule to have.
In the case of isomer transformation (workflow RetroPath2.0-Mods-isomer-transformation, "Isomer enumeration" and "Virtual screening in the chemical space" section) the initial source set is composed of a molecule that is filled with the appropriate number of hydrogens using the RDKit KNIME node Add Hs. At each iteration rules are fired on the source set and the products obtained become the new source set for the next iteration. As an additional last step of each iteration, products that have already been processed in a previous iteration are filtered out before building the next source set. This necessitates maintaining a set (named sink) comprising all molecules so far generated. All products that have already been obtained are removed from the product set and the remaining molecules are (1) added to the sink set and (2) used as the new source set for the next iteration. This avoids applying reactions on the same products during subsequent iterations. Disconnected structures are removed from the results by filtering out any product having several disconnected components (according to the SMILES representation). When enumerating alkane, disconnected structures represents between 50 and 66% (depending of the alkane size) of the generated structures before filtering and merging duplicates. To generate the results of Table 1, since we are enumerating alkanes (no multiple bonds or cycles), the rule to be used is R 1 in Fig. 3. To enumerate the isomers of the monomers in "Virtual screening in the chemical space" section, if we prohibit the transformation of multiple bonds into cycles and thus keep the number of single, double and triple bonds constant, the rules to be used are R 1, R 5 and R 9 in Fig. 3 (also found in Additional file 2: Figure S2 since the monomers used do not contain triple bonds). Since this algorithm can become computationally intensive, we also provide an additional workflow (called RetroPath2.0-Mods-isomer-transformation-queue) to deal with memory management. This workflow illustrates how to introduce a FIFO data structure for the source set (i.e. queue containing structures upon which rules will be fired) and use it for iteratively firing rules on small chunks of structures (e.g. chunk of 20 structures), new products obtained are then added to the source queue. Interestingly, the breadth-first approach for generating the structures can be replaced by a depth-first approach by replacing the queue (first in, first out structure) by a stack (last in, first out structure)."
In the case of inverse-QSAR (workflow RetroPath2.0-Mods-iQSAR, "Search for molecules maximizing biological activities" section), the source set initially comprises the molecules used in the training set when building the QSAR. At each iteration, one or two molecules are chosen at random from the source set depending on the rule set that is being used (one molecule with enzymatic reaction rules, two molecules with isomer transformation rules). Rules are then fired on the selected molecules and an activity is predicted for each product using the QSAR equation. The source set is updated retaining molecules according to a selection tournament procedure borrowed from [40]. Briefly, the initial source set (i.e. the set of structures used at the start of the current iteration) is merged with the product set (i.e. the set of structures obtained after firing the rules). This merged set is then randomly split into 10 subsets and the 10 top best structures from each subset are retained according to their predicted activity. Finally, all the retained structures are pooled together to form the updated source set to be used at the next iteration. The workflow is iterated a (user) predefined number of times.
In the case of E. coli metabolic network completion (workflow RetroPath2.0-Mods-metabolomics, "Metabolome completion and metabolomics" section), we provide three workflows. The first workflow is RetroPath2.0, which is fully described in [17] and is similar to the isomer transformation one. Here, RetroPath2.0 produces a list of molecules obtained using E. coli enzymatic reaction rules (see "Generating reaction rules" section). The second workflow takes as input the products generated by RetroPath2.0, computes the exact mass for each product and prepare files to be read by OpenMS nodes for MS data peak assignment [23]. The last workflow is built with OpenMS nodes, it reads several MS data files in mzML format, two lists of adducts in positive and negative modes, and the files generated by the second workflow (containing RetroPath2.0 generated products with masses). The workflow searches for each compound the corresponding peak in the MS spectra. The workflow was parameterized for metabolomics analysis as described in OpenMS manual [48], the AccurateMassSearch node was set to negative ion mode as the experiment were carried out with an LTQ-Orbitrap instrument operating in negative FT mode (cf. protocols in [44]).
Further details on how to run all the above workflows are provided in the Supplementary at MyExperiment.org.
Declarations
Authors' contributions
The work was directed by JLF who sketched the proof of the claim, designed all workflows, and generated the results presented in "Isomer enumeration" and "Metabolome completion and metabolomics" sections. MK wrote the proofs in "Isomer enumeration" section, TD wrote all workflows and produced the results in "Search for molecules maximizing biological activities" section. PC used the workflows to generate the results in "Virtual screening in the chemical space" section. All authors contributed to the manuscript write-up. All authors read and approved the final manuscript.
Acknowledgements
The authors acknowledge Baudoin Delépine for his contribution to the general workflow architecture and enzymatic reaction rules calculations.
Competing interests
The authors declare that they have no competing interests.
Consent for publication
Not applicable.
Ethics approval and consent to participate
Not applicable.
Funding
This work was supported by the French National Research Agency [ANR-15-CE1-0008], the Biotechnology and Biological Sciences Research Council, Centre for synthetic biology of fine and speciality chemicals [BB/M017702/1]; and Synthetic Biology Applications for Protective Materials [EP/N025504/1]. MK acknowledges funding provided by the DGA and École Polytechnique.
Publisher's Note
Springer Nature remains neutral with regard to jurisdictional claims in published maps and institutional affiliations.
Open AccessThis article is distributed under the terms of the Creative Commons Attribution 4.0 International License (http://creativecommons.org/licenses/by/4.0/), which permits unrestricted use, distribution, and reproduction in any medium, provided you give appropriate credit to the original author(s) and the source, provide a link to the Creative Commons license, and indicate if changes were made. The Creative Commons Public Domain Dedication waiver (http://creativecommons.org/publicdomain/zero/1.0/) applies to the data made available in this article, unless otherwise stated.
Authors' Affiliations
(1)
Micalis Institute, INRA, AgroParisTech, Université Paris-Saclay, Jouy-en-Josas, France
(2)
SYNBIOCHEM Centre, Manchester Institute of Biotechnology, University of Manchester, Manchester, UK
(3)
CNRS-UMR8030/Laboratoire iSSB, Université Paris-Saclay, Évry, France
References
Chemicals Abstracts Service, CASREACT https://www.cas.org/content/reactions. Accessed 28 June 17
Warr WA (2014) A short review of chemical reaction database systems, computer-aided synthesis design, reaction prediction and synthetic feasibility. Mol Inform 33(6–7):469–476View ArticleGoogle Scholar
Szymkuc S, Gajewska EP, Klucznik T, Molga K, Dittwald P, Startek M, Bajczyk M, Grzybowski BA (2016) Computer-assisted synthetic planning: the end of the beginning. Angew Chem Int Ed Engl 55(20):5904–5937View ArticleGoogle Scholar
Schneider G (2014) Future de novo drug design. Mol Inform 33(6–7):397–402View ArticleGoogle Scholar
Moriya Y, Shigemizu D, Hattori M, Tokimatsu T, Kotera M, Goto S, Kanehisa M (2010) PathPred: an enzyme-catalyzed metabolic pathway prediction server. Nucleic Acids Res 38(Web Server issue):W138–W143View ArticleGoogle Scholar
Jeffryes JG, Colastani RL, Elbadawi-Sidhu M, Kind T, Niehaus TD, Broadbelt LJ, Hanson AD, Fiehn O, Tyo KE, Henry CS (2015) MINEs: open access databases of computationally predicted enzyme promiscuity products for untargeted metabolomics. J Cheminform 7:44View ArticleGoogle Scholar
Carbonell P, Parutto P, Herisson J, Pandit SB, Faulon JL (2014) XTMS: pathway design in an eXTended metabolic space. Nucleic Acids Res 42:W389–W394View ArticleGoogle Scholar
Hadadi N, Hafner J, Shajkofci A, Zisaki A, Hatzimanikatis V (2016) ATLAS of biochemistry: a repository of all possible biochemical reactions for synthetic biology and metabolic engineering studies. ACS Synth Biol 5(10):1155–1166View ArticleGoogle Scholar
Yim H, Haselbeck R, Niu W, Pujol-Baxley C, Burgard A, Boldt J, Khandurina J, Trawick JD, Osterhout RE, Stephen R, Estadilla J, Teisan S, Schreyer HB, Andrae S, Yang TH, Lee SY, Burk MJ, Van Dien S (2011) Metabolic engineering of Escherichia coli for direct production of 1,4-butanediol. Nat Chem Biol 7(7):445–452View ArticleGoogle Scholar
Liu M, Bienfait B, Sacher O, Gasteiger J, Siezen RJ, Nauta A, Geurts JM (2014) Combining chemoinformatics with bioinformatics: in silico prediction of bacterial flavor-forming pathways by a chemical systems biology approach "reverse pathway engineering". PLoS ONE 9(1):e84769View ArticleGoogle Scholar
Moretti S, Martin O, Van Du Tran T, Bridge A, Morgat A, Pagni M (2016) MetaNetX/MNXref–reconciliation of metabolites and biochemical reactions to bring together genome-scale metabolic networks. Nucleic Acids Res 44(D1):D523–D526View ArticleGoogle Scholar
Ugi I, Bauer J, Bley K, Dengler A, Dietz A, Fontain E, Gruber B, Herges R, Knauer M, Reitsam K, Stein N (1993) Computer-assisted solution of chemical problems—the historical development and the present state of the art of a new discipline of chemistry. Angew Chem Int Ed Engl 32(2):164–189View ArticleGoogle Scholar
Carbonell P, Planson AG, Fichera D, Faulon JL (2011) A retrosynthetic biology approach to metabolic pathway design for therapeutic production. BMC Syst Biol 5:122View ArticleGoogle Scholar
Daylight Theory: SMARTS http://www.daylight.com/dayhtml/doc/theory/theory.smarts.html. Accessed 28 June 2017
Hadadi N, Hatzimanikatis V (2015) Design of computational retrobiosynthesis tools for the design of de novo synthetic pathways. Curr Opin Chem Biol 28:99–104View ArticleGoogle Scholar
Faulon J-L, Carbonell P (2010) Reaction network generation. In: Faulon J-L, Bender A (eds) Handbook of chemoinformatics algorithms. CRC Press, Boca RatonView ArticleGoogle Scholar
Delépine B, Duigou T, Carbonell P, Faulon JL (2017) RetroPath2.0: A retrosynthesis workflow for metabolic engineers. Metab Eng. https://doi.org/10.1016/j.ymben.2017.12.002
Berthold MR et al (2008) KNIME: The Konstanz Information Miner. In: Preisach C, Burkhardt H, Schmidt-Thieme L, Decker R (eds) Data analysis, machine learning and applications. Studies in classification, data analysis, and knowledge organization. Springer, Berlin, Heidelberg, pp 319–326Google Scholar
Landrum G (2016) RDKit: open-source cheminformatics http://www.rdkit.org/. Accessed 2 Aug 2016
Rodrigues T, Reker D, Welin M, Caldera M, Brunner C, Gabernet G, Schneider P, Walse B, Schneider G (2015) De novo fragment design for drug discovery and chemical biology. Angew Chem Int Ed Engl 54(50):15079–15083View ArticleGoogle Scholar
Mellor J, Grigoras I, Carbonell P, Faulon JL (2016) Semisupervised Gaussian process for automated enzyme search. ACS Synth Biol 5(6):518–528View ArticleGoogle Scholar
Feher T, Planson AG, Carbonell P, Fernandez-Castane A, Grigoras I, Dariy E, Perret A, Faulon JL (2014) Validation of RetroPath, a computer-aided design tool for metabolic pathway engineering. Biotechnol J 9(11):1446–1457View ArticleGoogle Scholar
Rost HL, Schmitt U, Aebersold R, Malmstrom L (2014) pyOpenMS: a python-based interface to the OpenMS mass-spectrometry algorithm library. Proteomics 14(1):74–77View ArticleGoogle Scholar
Thiagarajan D, Mehta DP (2016) Faster algorithms for isomer network generation. J Chem Inf Model 56(12):2310–2319View ArticleGoogle Scholar
Peironcely JE, Rojas-Cherto M, Fichera D, Reijmers T, Coulier L, Faulon JL, Hankemeier T (2012) OMG: open molecule generator. J Cheminform 4(1):21View ArticleGoogle Scholar
Jaghoori MM, Jongmans STQ, de Boer F, Peironcely J, Faulon JL, Reijmers T, Hankemeier T (2013) PMG: multi-core metabolite identification. Electron Notes Theor Comput Sci 299:53–60View ArticleGoogle Scholar
McKay B (1998) Isomorph-free exhaustive generation. J Algorithm 26:306–324View ArticleGoogle Scholar
Gally JM, Bourg S, Do Q-T, Aci-Seche S, Bonnet P (2017) VSPrep: a general KNIME workflow for the Preparation of molecules for virtual screening. Mol Inf 36:1–11View ArticleGoogle Scholar
Ruddigkeit L, van Deursen R, Blum LC, Reymond JL (2012) Enumeration of 166 billion organic small molecules in the chemical universe database GDB-17. J Chem Inf Model 52(11):2864–2875View ArticleGoogle Scholar
Isomers of Alkanes, Univ Bayreuth http://www.mathe2.uni-bayreuth.de/sascha/oeis/alkane.html. Accessed 28 June 17
Willett P (2006) Similarity-based virtual screening using 2D fingerprints. Drug Discov Today 11(23–24):1046–1053View ArticleGoogle Scholar
Durant JL, Leland BA, Henry DR, Nourse JG (2002) Reoptimization of MDL keys for use in drug discovery. J Chem Inf Comput Sci 42(6):1273–1280View ArticleGoogle Scholar
Brown WM, Martin S, Rintoul MD, Faulon JL (2006) Designing novel polymers with targeted properties using the signature molecular descriptor. J Chem Inf Model 46(2):826–835View ArticleGoogle Scholar
Subramanian MN (2017) Polymer properties. In: Polymer blends and composites: chemistry and technology. Wiley, Hoboken, NJ, USA. https://doi.org/10.1002/9781119383581.ch3
Gerdeen JC, Rorrer RA (2011) Engineering design with polymers and composites, vol 30. CRC Press, Boca RatonGoogle Scholar
RetroPath2.0 at MyExperiment.org https://www.myexperiment.org/workflows/4987.html. Accessed 29 Apr 2017
Churchwell CJ, Rintoul MD, Martin S, Visco DP Jr, Kotu A, Larson RS, Sillerud LO, Brown DC, Faulon JL (2004) The signature molecular descriptor. 3. inverse-quantitative structure–activity relationship of ICAM-1 inhibitory peptides. J Mol Graph Model 22(4):263–273View ArticleGoogle Scholar
Martin S (2012) Lattice enumeration for inverse molecular design using the signature descriptor. J Chem Inf Model 52(7):1787–1797View ArticleGoogle Scholar
Setny P, Trylska J (2009) Search for novel aminoglycosides by combining fragment-based virtual screening and 3D-QSAR scoring. J Chem Inf Model 49(2):390–400View ArticleGoogle Scholar
Kawai K, Nagata N, Takahashi Y (2014) De novo design of drug-like molecules by a fragment-based molecular evolutionary approach. J Chem Inf Model 54(1):49–56View ArticleGoogle Scholar
Wishart DS, Jewison T, Guo AC, Wilson M, Knox C, Liu Y, Djoumbou Y, Mandal R, Aziat F, Dong E, Bouatra S, Sinelnikov I, Arndt D, Xia J, Liu P, Yallou F, Bjorndahl T, Perez-Pineiro R, Eisner R, Allen F, Neveu V, Greiner R, Scalbert A (2013) HMDB 3.0—the human metabolome database in 2013. Nucleic Acids Res 41(Database issue):D801–D807Google Scholar
Henry CS, Broadbelt LJ, Hatzimanikatis V (2010) Discovery and analysis of novel metabolic pathways for the biosynthesis of industrial chemicals: 3-hydroxypropanoate. Biotechnol Bioeng 106(3):462–473Google Scholar
Orth JD, Conrad TM, Na J, Lerman JA, Nam H, Feist AM, Palsson BO (2011) A comprehensive genome-scale reconstruction of Escherichia coli metabolism-2011. Mol Syst Biol 7:535View ArticleGoogle Scholar
MetaboLights, MTBLS229 study http://www.ebi.ac.uk/metabolights/MTBLS229. Accessed 28 June 2017
Kiefer P, Schmitt U, Muller JE, Hartl J, Meyer F, Ryffel F, Vorholt JA (2015) DynaMet: a fully automated pipeline for dynamic LC–MS data. Anal Chem 87(19):9679–9686View ArticleGoogle Scholar
Rahman SA, Torrance G, Baldacci L, Martinez Cuesta S, Fenninger F, Gopal N, Choudhary S, May JW, Holliday GL, Steinbeck C, Thornton JM (2016) Reaction Decoder Tool (RDT): extracting features from chemical reactions. Bioinformatics 32(13):2065–2066View ArticleGoogle Scholar
KEGG Pathway, Neomycin, kanamycin and gentamicin biosynthesis http://www.genome.jp/kegg-bin/show_pathway?hsa00524. Accessed 28 June 2017
Walzer M, Sachsenberg T, Aicheler F, Rurik M, Veit J, Isabell B, Pedrioli P, Pfeuffer J, Liang X, Reinert K, O Kohlbacher. OpenMS tutorial https://www.openms.de/wp-content/uploads/2016/02/handout1.pdf. Accessed 28 June 2017
Visco DP Jr, Pophale RS, Rintoul MD, Faulon JL (2002) Developing a methodology for an inverse quantitative structure–activity relationship using the signature molecular descriptor. J Mol Graph Model 20(6):429–438View ArticleGoogle Scholar
van Deursen R, Reymond JL (2007) Chemical space travel. ChemMedChem 2(5):636–640View ArticleGoogle Scholar
Yu MJ (2011) Natural product-like virtual libraries: recursive atom-based enumeration. J Chem Inf Model 51(3):541–557View ArticleGoogle Scholar
Hoksza D, Skoda P, Vorsilak M, Svozil D (2014) Molpher: a software framework for systematic chemical space exploration. J Cheminform 6(1):7View ArticleGoogle Scholar
Virshup AM, Contreras-Garcia J, Wipf P, Yang W, Beratan DN (2013) Stochastic voyages into uncharted chemical space produce a representative library of all possible drug-like compounds. J Am Chem Soc 135(19):7296–7303View ArticleGoogle Scholar